The best axes for backpacking weigh between 1.5 and 3 pounds, with a handle of 14 to 20 inches long. This provides a good balance between easy transport and sufficient power to cut through any log or tree.
The Husqvarna Carpenter's Axe is my top choice because it is versatile, powerful, and affordable. It features a symmetrical bevel design for all-purpose tasks, and is more powerful than most backpacking axes. It is ideal for camper's looking for a heavier option that can perform heavy duty tasks like felling trees and cutting tough firewood logs.
This article reviews the best backpacking axe from my trips to the great outdoors. This is specifically for backpackers, not all campers – I've selected the axes considering their weight and other important features for backpackers who hike on foot and carry everything they need on their back. 
I tested each axe by strapping it to my backpack for a hike, carving a tool, felling a small tree, and chopping firewood. I judged performance, durability, balance, comfort, and value-for-money.
1. Husqvarna Carpenter's Axe
This list starts with one of the larger axes on the list. The Husqvarna Carpenter's axe, at 19 inches and 2.4 pounds, is the hefty workhorse of small backpacking axes. Designed as a carpenter's axe, I found it excels at carving and shaping wood. Its symmetrical bevel makes it more all-purpose and easier to use than many carpenter's axes which have a single-beveled blades.
I could easily make a feather stick (for easy fire-starting), but it's not as if the carpenter's axe is good only for such small tasks around your campsite. Its weight gave it more heft and allowed me to put more force into my swings when chopping down small trees or splitting logs. And that's where the beauty of this axe lies. I found it's equally good at small tasks (like carving) as it is at bigger ones, such as limbing trees that have fallen across a trail.
Its length allows you to use it comfortably with two hands, which is not always the case with smaller axes like the 13" hatchet made by Husqvarna. Finally, the size and weight of the Husqvarna Carpenter's axe makes it more viable to use it as a self-defence weapon.
The main drawback of this axe might be that it is too top-heavy to use comfortably with one hand if holding the handle at the bottom end. It also didn't come shaving-sharp, but a few minutes with a sharpening stone took care of that.
I recommend this axe for backpacking trips where you think you might need a heftier axe for heavier work. It is versatile, powerful, and affordable.
Pros
This axe is well-suited for heavier tasks such as chopping down small trees or splitting logs.
Its symmetrical bevel design makes it more all-purpose and easier to use than many single-beveled carpenter's axes.
The axe's 19-inch length allows for comfortable two-handed use, which is impossible with other smaller axes.
Cons
The weight distribution of the axe makes it top-heavy and challenging to use comfortably with one hand.
The axe does not come shaving-sharp out of the box, requiring some initial sharpening effort for optimal performance.
2. Council Tool Hudson Bay Camp Axe
The Hudson Bay Camp Axe by Council Tool is an excellent tool made in the USA. This alone almost put it on my list. This axe is based on a design that French and American traders and frontiersmen used hundreds of years ago in the Hudson Bay region. The life of a trader and frontiersman was tough, and each tool had to be the best it could be.
The design is time-tested. The relatively thin cheeks allowed the Hudson Bay camp axe to cut well and deep. The handle is advertised as being 18 inches long, but I measured it at 17 inches. That's fine – most axes are shortened in the hanging process anyway.
The steel of the axehead is excellent – it's Carbon US 1060 steel, between HRC 48-55 on the Rockwell scale. And this is where being US-made comes in – since the company is American, they have excellent customer service.
There are many good reasons to buy American, and the quality of the Hudson Bay axe and the service Council Tool provides are two.
This is an excellent quality axe made in the USA, and there is excellent service by Council Tool in case you have any trouble. It's wooden handle can be repaired or replaced if broken, and its combination of weight and power is suited for backpacking.
Pros
Made with Carbon US 1060 steel, the axe head provides excellent durability and sharpness.
The axe is manufactured in the USA by Council Tool with high-quality customer service.
It features relatively thin cheeks, allowing for deep cutting.
Cons
The axe is designed for specific tasks aligned with traditional trader and frontiersman needs, potentially limiting its versatility.
Although the steel quality is high, the hardness range of HRC 48-55 might not suit all applications or user preferences.
3. Fiskars X7 Hatchet
I hold Fiskars in high regard as a company with a lot of experience making affordable axes that use cutting-edge technology to give you the most bang for your buck. Made in Finland, a country of endless forests and which uses a lot of firewood to heat its homes throughout the long Arctic winter, Fiskars axes are designed for maximum chopping and splitting efficiency.
The Fiskars X7 hatchet is a very light hatchet that packs a big punch. The wedge-shaped design of the axehead was able to split firewood with greater ease than other axes with thinner profiles. The axehead is also coated with an anti-friction coating which stopped it from getting stuck in the wood and made it easy to keep up a steady chopping rhythm.
A big plus of this axe is the lightweight handle made out of composite materials and molded around the axehead. Fiskars claims that the material is stronger than steel (and "virtually unbreakable"), but in any case it is very tough, and you don't risk an axehead coming loose and flying off into the bush just when you need it most. At just 1.4 lbs in total weight, the Fiskars X7 is an excellent choice for those looking for a lightweight axe that provides a lot of oomph and cutting power.
I recommend the Fiskars X7 for longer hikes when weight is an issue. It is very tough to break, with no risk of the axehead coming loose.
Pros
The wedge-shaped axehead is efficient wood splitting.
The axehead features an anti-friction coating, preventing it from getting stuck in the wood.
The lightweight handle is, made from composite materials and molded around the axehead, which, is claimed to be stronger than steel and virtually unbreakable.
Cons
The focus on splitting efficiency with a wedge-shaped design limits the versatility of the hatchet for other tasks.
While the composite handle is tough, it doesn't provide the same feel as traditional wooden handles.
4. Estwing Sportsman's Axe
These are two different axes from the same well-known and highly-regarded US manufacturer – Estwing. They're similar in many ways, but different in several important ways. First of all, these axes are more or less indestructible. Forged out of one piece of US steel, these Estwing axes won't quit on you. The handle won't break (which is a risk with both wood and fiberglass handles, especially in cold weather for the latter), the axehead won't fly off, and the axe won't catastrophically fail in the middle of serious chopping – at least not in your lifetime. There are three main differences between these two axes:
The Estwing Sportsman is only twelve inches long from head to handle-end, making it hatchet that is only really suited to one-handed use.
This is a big difference, because the extra inches on the axes mean a difference in weight of a pound and a half. Specifically, the Estwing Sportsman's axe weighs 1.38 pounds, while the Estwing Camper's axe weighs 2.9 pounds. That's a significant difference in weight, and backpackers and woodsmen who'll be moving a lot or covering large distances should keep this in mind.
The Estwing Sportsman axe has a handle of stacked leather (leather rings stacked on top of one another on the handle and then shrunk tight) with some laminate on it – that's why it looks like it has a shiny wooden handle in picture. This handle design was very comfortable and non-slip, even in wet conditions.
The Estwing Sportsman's hatchet is good if you need something light to take with you on a camp-out or hike where you won't need to do a lot of heavy-duty chopping. It's best suited for splitting small pieces of firewood.
Pros
Forged from a single piece of US steel.
It is compact and lightweight at just 1.38 pounds, making it ideal for situations where weight is critical.
The handle is made of stacked leather with a laminate, providing a unique aesthetic and a sturdy grip.
The compact size of the Estwing Sportsman's hatchet makes it suitable for one-handed use.
Cons
The Estwing Sportsman's axe is not suited for heavy-duty chopping tasks. You must apply more force or swings to fell small trees or chop larger rounds.
5. Estwing Camper's Axe
The Estwing Camping axe, however, is 16 inches long, which immediately gives you the extra length needed to use it with two hands and one. The Estwing Camping axe also has a longer cutting edge (4 inches) than the Estwing Sportsman, whose cutting edge is only 2 and ¾ inches.
The Estwing Camper's axe has a handle of leather dyed blue without the laminate. This, in my opinion, provides a better grip.
The Estwing Camper's axe will serve you well if you need to clear the trail, chop down small trees, or split small to medium-sized logs. As with most American-made products, the customer service on these axes is great, and the Boy Scouts of America officially endorse Estwing. Both these axes are a great choice – durable, long-lasting, and with a sharp bite.
I would pick the Estwing Camping axe for heavier-duty cutting and chopping tasks, knowing it is heavier than the Sportsman's alternative.
Pros
The 16-inch length is versatile, allowing for both one-handed and two-handed use.
The cutting edge of the Estwing Camping axe is longer (4 inches) than the Estwing Sportsman's, offering a broader cutting surface.
The Boy Scouts of America endorse Estwing axes.
Cons
The Estwing Camping axe's larger size and weight than the Estwing Sportsman's axe make it less suitable for long hikes when weight is a concern.
While versatile, the Estwing Camping axe may be overkill for users who only need to perform lighter tasks.
6. Hults Bruk Almike all-purpose axe
Hults Bruk is right up there with Gransfors Bruks as makers of the highest-quality axes that you can still find for sale "off the shelf." The Almike is exactly what it's description says it is – a hefty 16-inch axe that'll slice through most anything you throw at it – or throw it at.
Made by hand from the highest-quality forged Swedish steel, the Almike has a cutting edge of 3 inches with a handle of just under 16 inches.
This multi-generational tool is also a work of art – if you take care of it, it'll last long after you're gone. But while you can use it, it'll serve you well – the steel's quality means that it'll take a mean edge quickly, and comes shaving-sharp out of the box.
The wood grain of the handle is perfectly straight, meaning that it's much less likely to break, and, as with all great axes, is made of American hickory.
It's lightweight – only 1.75 pounds in total weight, but will work just as well or better than larger axes of a lower quality. It also comes with a well-crafted, tough leather sheath that is both beautiful and utilitarian.
Its length – 16 inches – means you can use it one or two-handed, and choking up your grip near the top of the handle is a breeze as the Almike is also perfectly balanced.
I found that swinging is a joy with this axe. It doesn't come cheap, but it'll last a lifetime – well worth the investment. I consider Swedish axes the best in the field.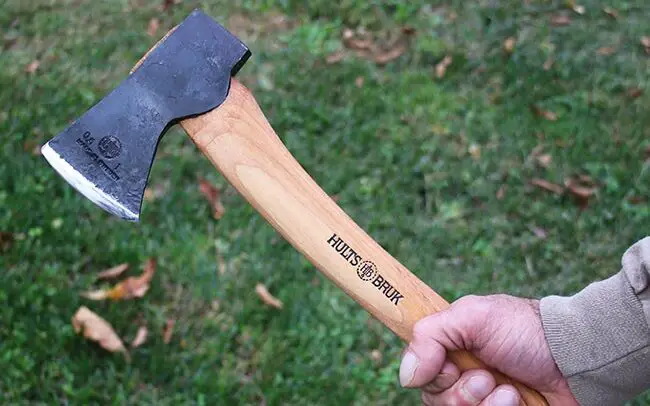 Pros
This is a high-quality, hand-made axe with a sharp, 3-inch cutting edge, made from top-tier Swedish steel.
The axe is lightweight at 1.75 pounds.
The straight wood grain of the American hickory handle increases its durability.
Cons
The Hults Bruk Almike is more expensive than many other axes on the market.
While advantageous in some respects, its size and weight may not be suitable for heavier chopping tasks compared to larger, heavier axes.
7. Gransfors Bruks Wildlife Hatchet
Another excellent compact backpacking and bushcraft axe is the Gransfors Bruks Wildlife hatchet. Coming in at 1.3 pounds and just 13.5 inches in length, it shares many of the great characteristic of the Hults Bruk axes. Mine came razor-sharp out of the box. The steel is proprietary mid-carbon steel that doesn't chip and takes and holds an edge well.
It also comes with a durable leather sheath. The main difference with the Hults Bruk Almike is that the Gransfors Bruks Wildlife hatchet is smaller and lighter. Its size meant that I couldn't use it very effectively with two hands, but as a one-handed camp hatchet it worked beautifully.  
Pros
Compact and lightweight.
It is made from proprietary mid-carbon steel, designed to resist chipping and retain a sharp edge.
The hatchet comes pre-sharpened, offering immediate use straight out of the box.
Cons
Due to its compact size, it is not as effective for larger, two-handed tasks. It is not suitable for heavy-duty chopping or splitting.
This is a high-quality axe that comes with a premium price-tag.
Frequently Asked Questions
What is the best weight for a backpacking Axe?
Backpacking axes generally weigh between 1.5 and 3 pounds. This is lightweight so that you aren't weighed down when travelling long distances but is still large enough to complete all tasks around your campsite.
What is the best handle length for a backpacking axe?
The best length backpacking axe handle is between 14 and 20 inches. This balances between being easy to carry in a belt loop or in your backpack while still generating enough power to fall a small tree or chop through hardwood firewood.
Conclusion
With the wealth of small axes and hatchets, choosing the right (or any) one for you can be tough. It isn't that hard, though – the 7 axes and hatchets listed above are all great tools. With care, they'll serve you well for a long time.
Consider your needs carefully – are you going to be walking a lot and doing light work, such as chopping off small dead tree branches, splitting pieces of wood for kindling and firewood, and so on, or do you think you might do heavier work such as trail or campsite clearing? If it's the first, you'll want something light. If it's the second, a longer and heftier axe that can be used with two hands would be more appropriate for you.
And if you have any comments or experience you'd like to share with others, leave a comment below! Thanks for reading, and good luck choosing the best backpacking and bushcrafting axe for your needs!
Sources: