The best smelling firewoods are Hickory, Oak, Cherry, Apple, and Mesquite.
The smell of wood burning in a fireplace is one of the most comforting smells in the world. It has been used for centuries to make people feel warm and cozy.
Wood is not only a source of heat, but it also provides a wonderful scent when it's burned. The smell of wood burning in a fireplace can vary depending on the type of wood being burned. Different types of wood have different scents that are often described as earthy, sweet, or smoky.
In this article, I will list my favorite 10 smelling firewoods and explain what each firewood smells like, which is an impossible task to convert a smell into text, but I will give it a go.
1. Hickory Firewood
Hickory is my favorite smelling firewood. I like it in my cooking, and I like it in my fireplace. It is the stereotypical smell of smoke. It is a sweet and earthy scent. This, along with its high heat production and slow burn, makes Hickory one of the top firewood for various reasons.
Hickory has a rich smell but is not overpowering. It is a classic American fragrance you can't beat when looking for nice-smelling firewood.
Smell: Sweet, Spicy, Earthy
Heat Production: 28 million BTU/cord
Smoke: Low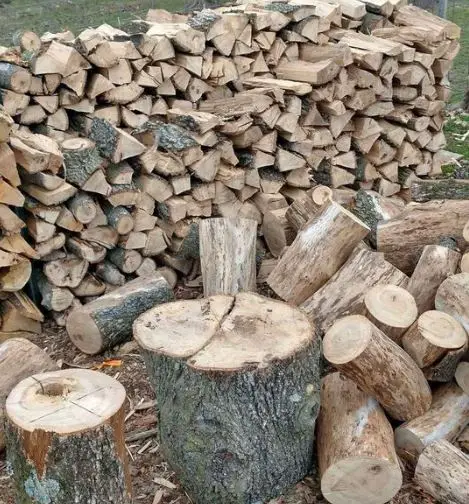 2. Oak Firewood
Another high-quality firewood for multiple reasons is Oak. It has a more subtle smell than Hickory but gives a similarly Earthy scent. It is easy to light and produces a lot of heat and good cooking coals. Oak is famous for campfires, smoking meat, and constructing furniture.
I would have no hesitation in recommending Oak as a top firewood.
Both red oak and white oak are both popular smelling firewood options.
Smell: Mild, Earthy
Heat Production: 26-30 million BTU/Cord
Smoke: Low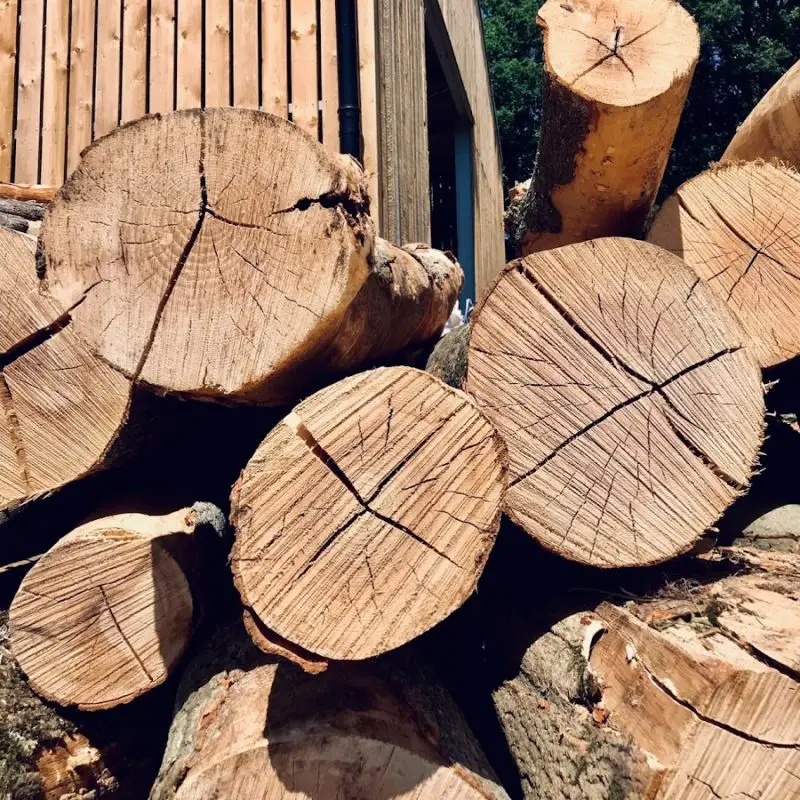 3. Cherry Firewood
Cherry wood is one of the most unique-smelling firewood and is both rich and pleasant. It has a stronger scent than Apple wood and is also visually striking. Once you have lit a Cherry fire in your home, you will be able to smell it for weeks afterward.
It is also very unique – you will be able to notice a cherry fire forever after. I have even known people to put a single log of cherry onto their fire just for the scent.
Smell: Rich, Tangy
Heat Production: 20 million BTU/cord
Smoke: Low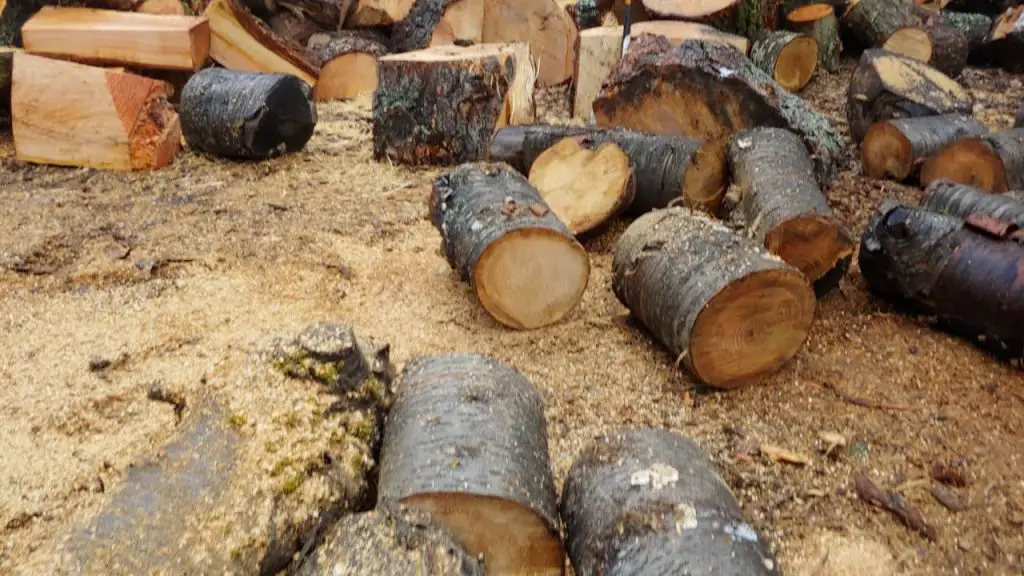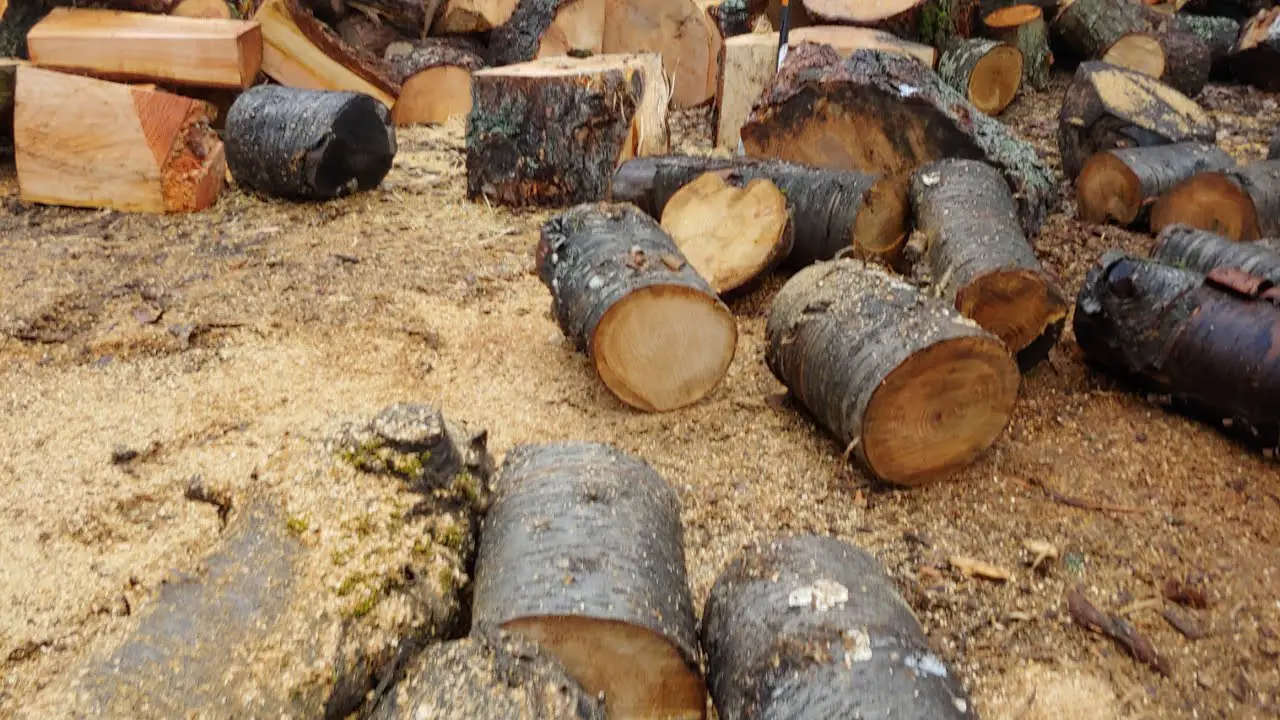 4. Apple Firewood
Apple is also a nice-smelling firewood often used in cooking for smoking meat. Apple wood smoked bacon is a popular example of this. It has a light and sweet scent that is much subtler than Cherry. You can smell a hint of the apple fruit in the smoke.
Apple wood is also a high heat producer and is high quality for numerous reasons.
Smell: Light, Sweet
Heat Production: 27 million BTU/cord
Smoke: Low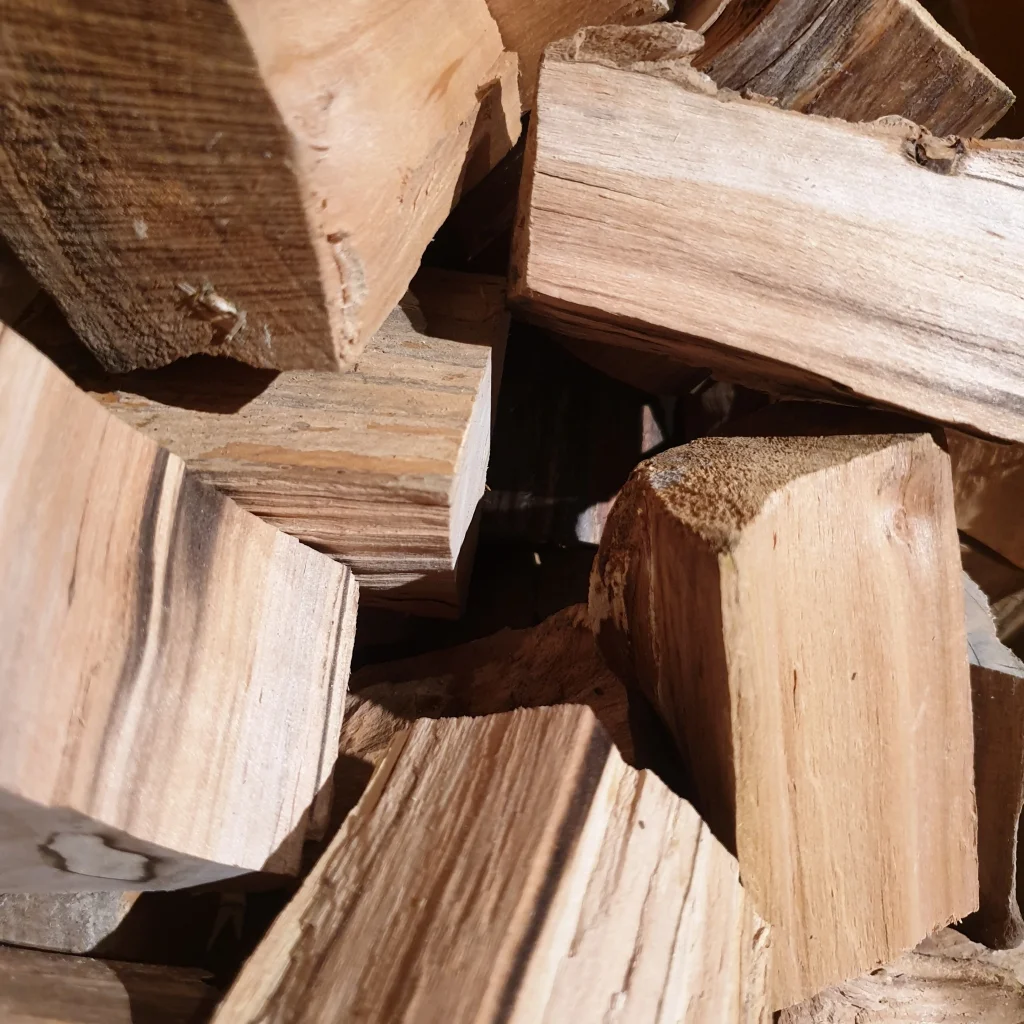 5. Mesquite Firewood
If there is one smell of barbecue, it is Mesquite. Mesquite is one of the most popular smoking woods, and you can often buy mesquite smoking chips to put in your smoker (I have a bag of these next to my barbeque right now). It does have a powerful smell and does produce more smoke than some of the other alternatives, so be careful that you don't overpower your house with BBQ. Start with a single log and experiment until you find the amount of smoke you want.
Smell: Strong, Tangy
Heat Production: 28 million BTU/cord
Smoke: Moderate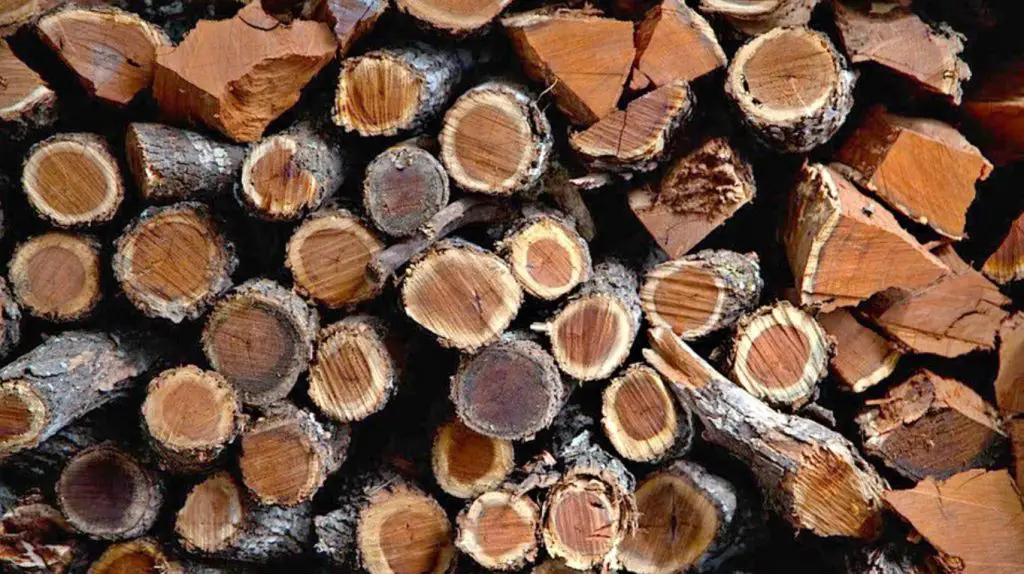 6. Alder Firewood
I tend to think of Alder as smelling similar to Oak. It has a more subtle smell but does produce more smoke which can build up over time. The heat production is on the low side and burns quickly, so you will need to replace logs frequently. This means that you can quickly produce a lot of smoke and scent with Alder firewood.
I find that Alder is better suited for smoking lighter meat such as fish.
Smell: Light, Sweet
Heat Production: 17.5 million BTU/cord
Smoke: Moderate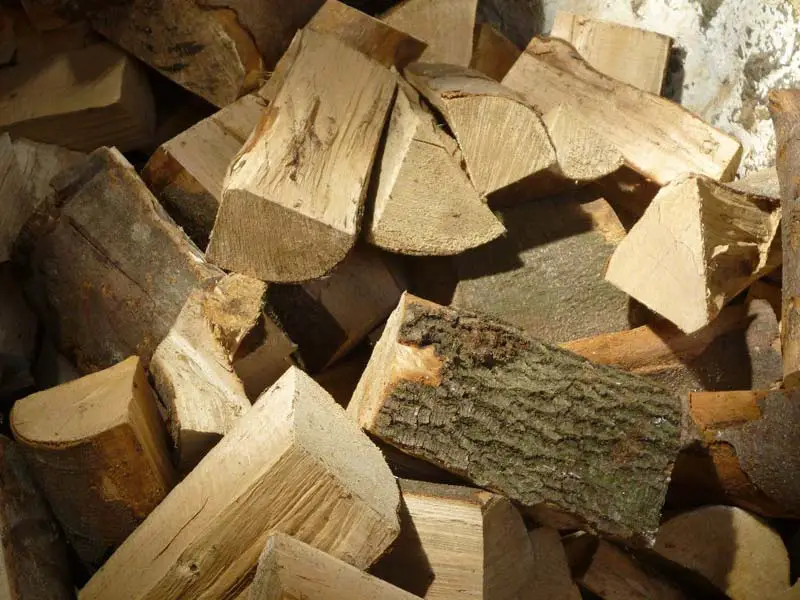 7. Pear Firewood
Pear firewood is very similar to Apple, but it does smell more like its own fruit. Their heat production and amount of smoke are also very similar. Both of these woods have a light and sweet scent. They aren't very rich, so you may need to build the entire fire out of pear wood to get the whole experience.
Smell: Light, Sweet
Heat Production: 26 million BTU/cord
Smoke: Low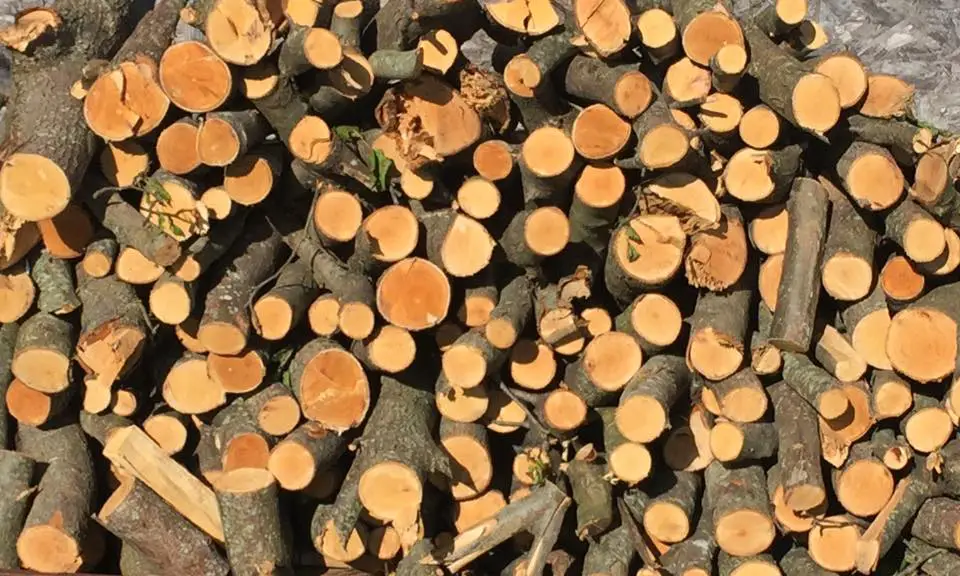 8. Walnut Firewood
Walnut has a unique smell, but I would describe it as a more subtle Hickory. It has decent heat production and low smoke production. The scent is earthy and sweet. I always have trouble throwing walnut on the fire when I could be using it for some woodworking, but Walnut offcuts or damaged wood is always an excellent addition to my wood pile.
Smell: Earthy, Sweet, Subtle
Heat Production: 22 million BTU/cord
Smoke: Low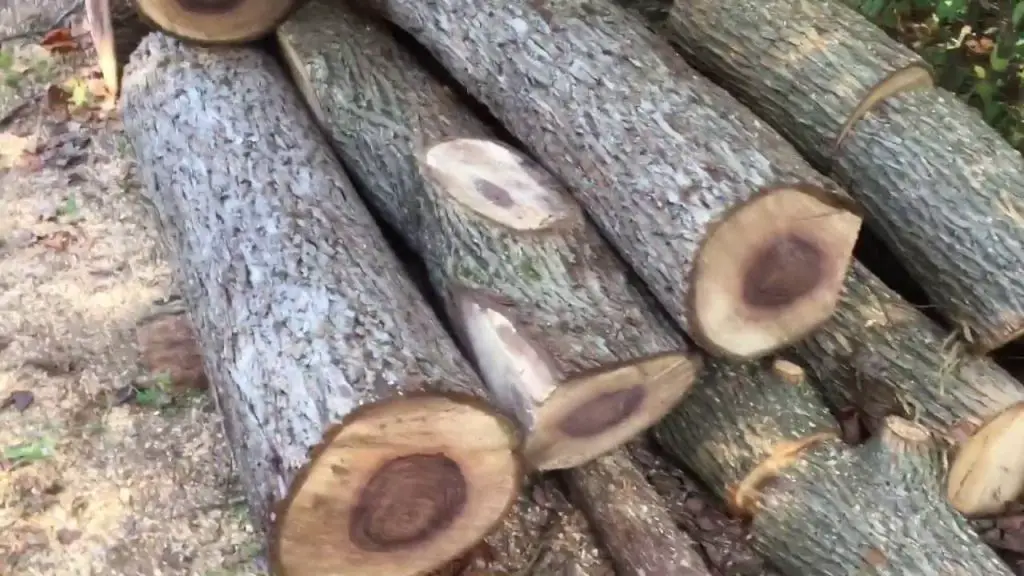 9. Pecan Firewood
Although Pecan is technically a Hickory tree type, it still has a unique smell. I would describe it as a richer version of Hickory. I prefer smoking meats with it because it seems to get more flavor into the meat. Along with Hickory, it is also a very high-quality firewood with plenty of heat production and good coals for cooking.
Smell: Richer Hickory Scent
Heat Production: 28 million BTU/cord
Smoke: Low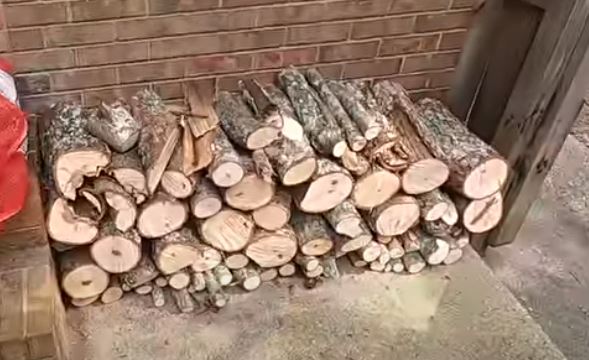 10. Birch Firewood
Birch has a delightful but subtle smell. It is a nice addition to a fireplace or campfire without dominating the area. It produces more smoke than some other hardwoods, so be aware of the number of logs you are burning at once. Birch is softwood, so it does burn quickly and can be difficult for temperature control if you are cooking with it. I have heard some people describe Birch smoke as "nature's incense."
Smell: Subtle and Sweet
Heat Production: 21 million BTU/cord
Smoke: Moderate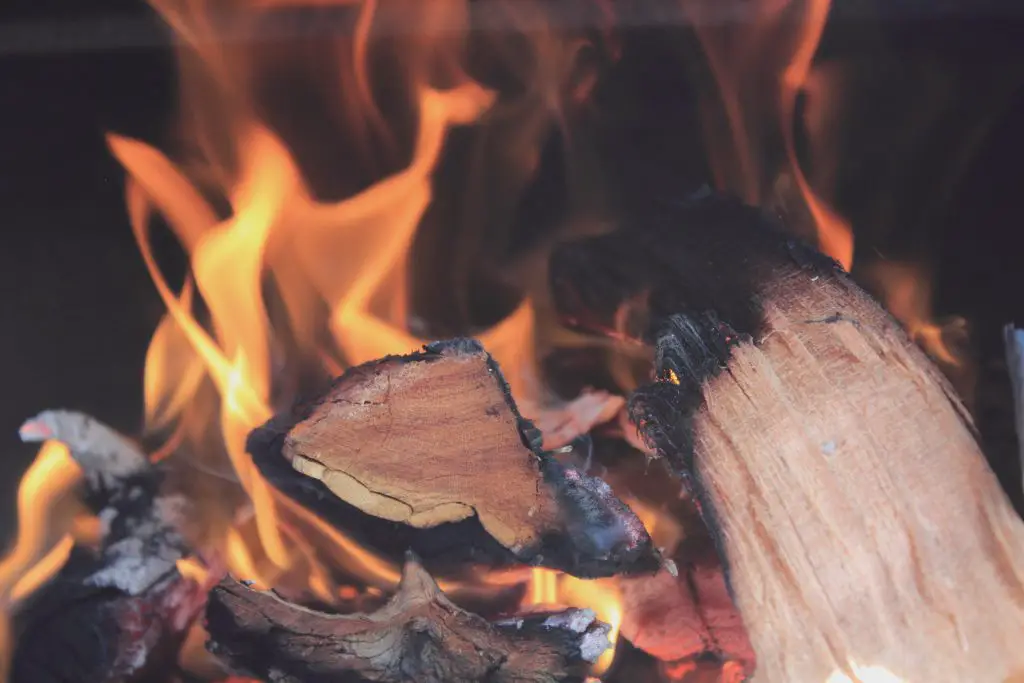 Bad Smelling Firewood to Avoid
The quality of the firewood also matters. If you think you have a type of wood that should be smelling better, check for moisture, mold, or fungus. As you can imagine, these can significantly change the scent of the wood. Green logs will also have a much higher concentration of oils, sap, and resin that can alter the smell.
But some firewood just smells bad. You may still use them in your stockpile for other reasons, but you may want to keep them for your outdoor fire pits.
1. Poplar Firewood
Poplar is renowned for having a strong scent that some people hate. I have heard it described as acrid. I recommend removing all bark and ensuring it is seasoned correctly to minimize the smell. Poplar does behave more like a softwood and can attract termites and rot easily.
If poplar firewood is clean and fully seasoned, then I don't hesitate to add it to my fireplace.
Smell: Strong, Sweet, Acrid
Heat Production: 14 million BTU/cord
Smoke: Moderate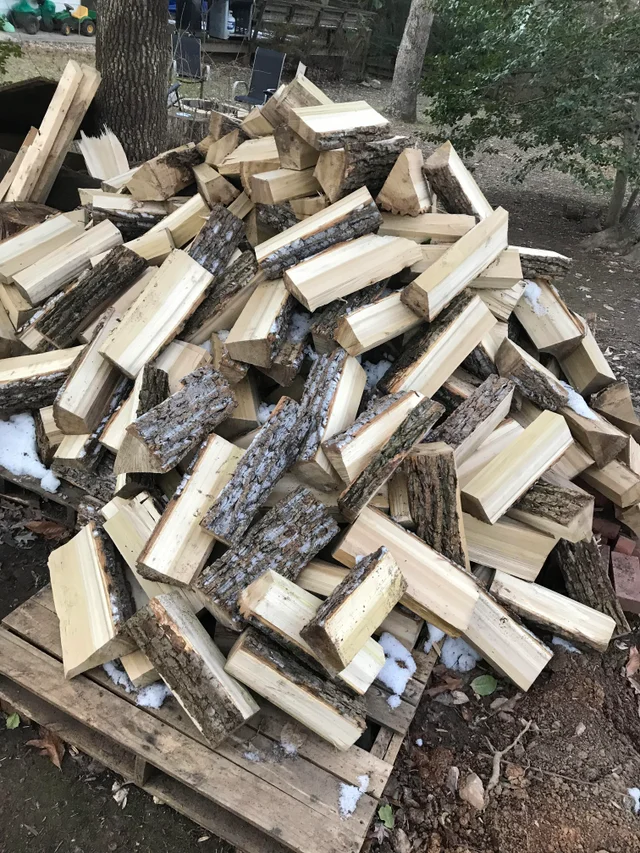 2. Catalpa Firewood
Another controversial firewood is Catalpa. I does have a slightly spicy smell that I have found unbearable at times. One of the reasons for this is its combination of low heat production and moderate smoke generation. So to get a hot fire all night, you need to burn significantly more wood than other options, which builds the scent over time.
I avoid Catalpa when cooking meat but will use it in outdoor fire pits or camping when other wood is scarce.
Smell: Spicy
Heat Production: 16 million BTU/cord
Smoke: Moderate
3. Eucalyptus Firewood
Eucalyptus oil is used extensively in medicinal products, so many people associate the smell of the wood with the smell of medicine. It has a unique scent that can be calming on its own, but as soon as your mind associates those two products, it can be challenging to enjoy.
Note – Eucalyptus wood is not dangerous to burn, but the oil in leaves can be, so ensure you remove all leaves before burning.
Smell: Medicinal
Heat Production: 34 million BTU/cord
Smoke: Low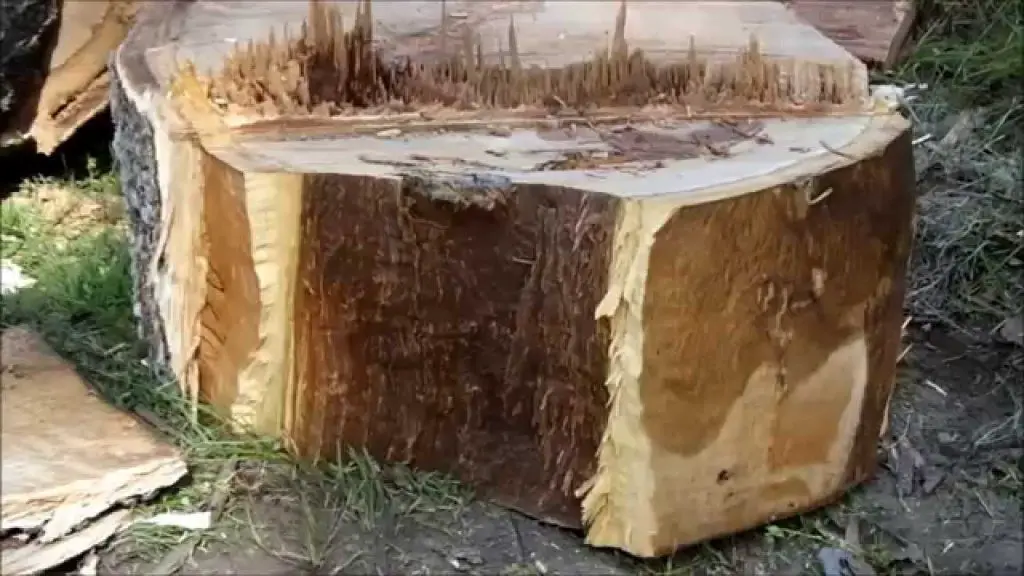 Firewood Smell Database
If you want to see more firewood types than I have highlighted above, then please have a read through this database of different wood species and their smell when burnt:
| Species | Smell Strength | Smell Description |
| --- | --- | --- |
| Alder | Slight | Light, Sweet |
| Apple | Excellent | Light, Sweet, Fruity |
| Ash | Slight | Neutral |
| Aspen | Slight | Unique, Poor |
| Basswood | Good | Minimal |
| Beech | Good | Faint, Nutty |
| Birch | Slight | Subtle and Sweet |
| Boxelder | Slight | Foul |
| Catalpa | Bad | Spicy |
| Cedar | Good | Aromatic Oils, Pleasant |
| Cherry | Excellent | Rich, Tangy |
| Chestnut | Good | Pleasant, Nutty |
| Cottonwood | Bad | Cat Urine |
| Douglas Fir | Slight | Pleasant, Pine |
| Elm | Poor | Absorbs Fell of Surroundings |
| Eucalyptus | Poor | Medicinal |
| Hackberry | Slight | Pleasant, Minimal |
| Hemlock | Good | Distinct Wood Odor |
| Hickory | Excellent | Sweet, Spicy, Earthy |
| Honey Locust | Slight | Minimal Smell |
| Juniper | Excellent | Rich, Deep Wood, Berries |
| Larch | Strong | Pleasant |
| Black Locust | Slight | Minimal |
| Maple | Good | Sweet, Syrup |
| Mesquite | Excellent | Strong, Tangy, BBQ |
| Mulberry | Good | Sweet, Pleasant |
| Oak | Good | Mild, Earthy |
| Pear | Excellent | Light, Sweet |
| Pecan | Good | Richer Hickory Scent |
| Pine | Good | Subtle, Sweet |
| Poplar | Bitter | Strong, Sweet, Acrid |
| Red Cedar | Excellent | Earthy, Citrusy |
| Spruce | Slight | No Odor |
| Sycamore | Slight | Slightly Unpleasant |
| Walnut | Good | Earthy, Sweet, Subtle |
| Willow | Strong | Unpleasant Urine Odor |