When you have an axe or hatchet, you need only one other thing – a sharpening stone for that axe that'll keep a fine cutting edge on it. A dull axe won't cut, but a good sharpening stone will take care of that in short order. This in-depth buyer's guide is all about how to pick the best axe sharpening stone for you.
The Arkansas Sharpening Stone Set is my top choice because it consists of three grits to bring your axe to a razor-sharp edge. It features a wooden base with rubber feet that prevent slippage. It is ideal for anyone looking to get the most out of their axe and have a solid surface to work from.
Here's a table of the stones I'll be considering in this article for easy reference. At the end of this article, you'll find a guide to choosing a sharpening stone and answers to frequently asked questions!
I've taken all of these stones into my workshop and tested how they perform on an extremely blunt axe. They are rated based on ability to recover a blunt axe, ease of use, portability, and quality of construction.
800 and 2000 Grit
4-in x 1.25-in Sharpening Area
Diamond and Ceramic Sides
Includes a Leather Pouch
3 Stones - Coarse, Fine and Extra-Fine Grits
Adhesive Rubber Feet
Made in USA
Lifetime Guarantee
Non-Slip Rubber Base
400 and 1000 Grit Stones
Durable Silicon Carbide
Suitable for Axes, and Knives
1. Arkansas Sharpening Stone Set
This set of Arkansas, US-made sharpening stones is a great example of sharpening stones that will give your axe or knife a razor-sharp edge, allowing you to cut faster and turn even a cheap knife or axe into a mean cutting machine.
The grits on these Arkansas stones are 600, 1200, and 2000, and are all mounted (attached) to a wooden base. The set also comes with adhesive rubber feet that you can attach to the wooden bases if you don't have a recessed cut board to mount them in and don't want them slipping around while sharpening your axe. I found this to be very useful.
They come in 6", 8", and 10" lengths. Remember that you can use either water or oil on these stones, but I noticed that oil tends to work better, and if you do use oil, you can't switch between the two – once you use oil, you should keep using it.
Overall these are high-quality American-made stones that any keen axe or knife guy (or girl) will appreciate.
Pros
They come with three different grits (600, 1200, and 2000), making them versatile for different sharpening needs.
The set includes adhesive rubber feet, preventing slippage.
These stones are high-quality, US-made, and mounted on a wooden base.
Cons
Although you can use either oil or water with these stones, once you use oil, you cannot switch back to water.
The stones come in three sizes (6″, 8″, and 10″), which could be too large or too small, depending on your needs.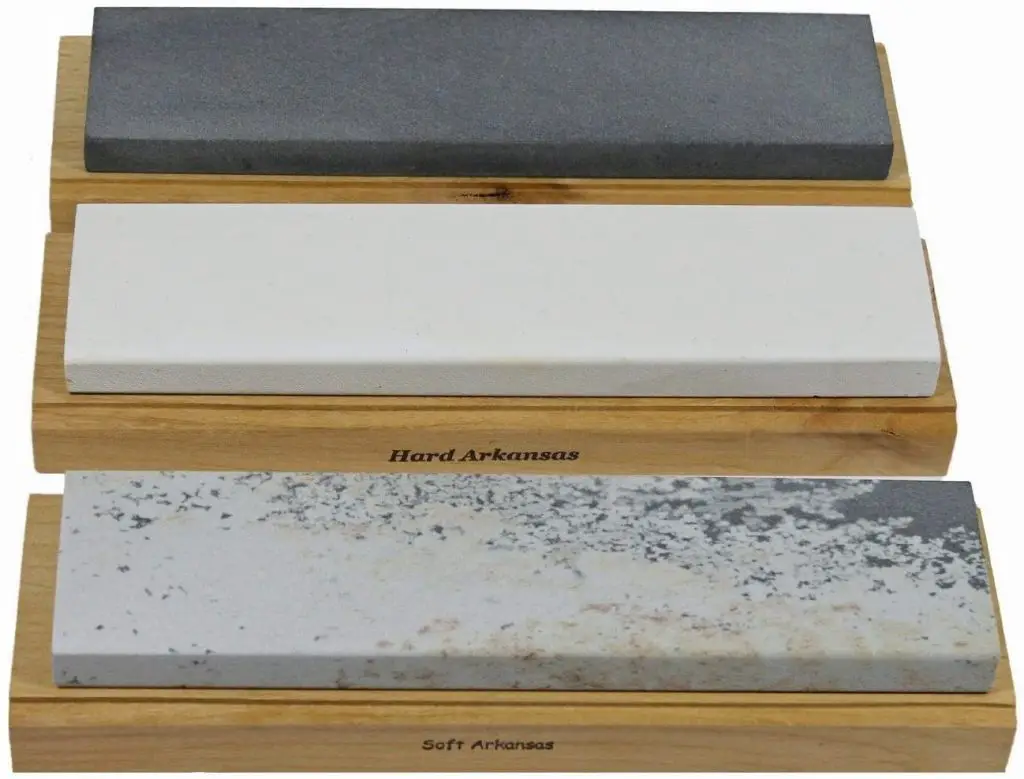 2. Fallkniven DC4 Combination Whetstone Axe Sharpener
The Fallkniven DC4 is an excellent little diamond sharpening stone. One of the best I have used. It's great for field sharpening because you don't need any oil or water and can sharpen your axe – or knife – dry. It's double-sided, with one side being rough – around 600-grit – and the other being finer, at around 1200-grit. Those are finer grits than many other field sharpening stones or pocket stones, so it'll work on finer edges, such as those of more delicate knives, and won't wear them down as much.
The only downside I experienced is that it's a bit small. On the other hand, every gram counts when you're backpacking or bushcrafting, so the Fallkniven DC4 is perfect for light travel.
Pros
The Fallkniven DC4 doesn't require any oil or water for sharpening, making it very convenient for field sharpening.
The stone offers two different grits (600 and 1200), providing versatility for different sharpening needs.
Due to its smaller size, it's ideal for backpacking where weight and space are significant considerations.
Cons
Its small size, while an advantage for portability, can make sharpening larger tools or maintaining a steady grip during sharpening more challenging.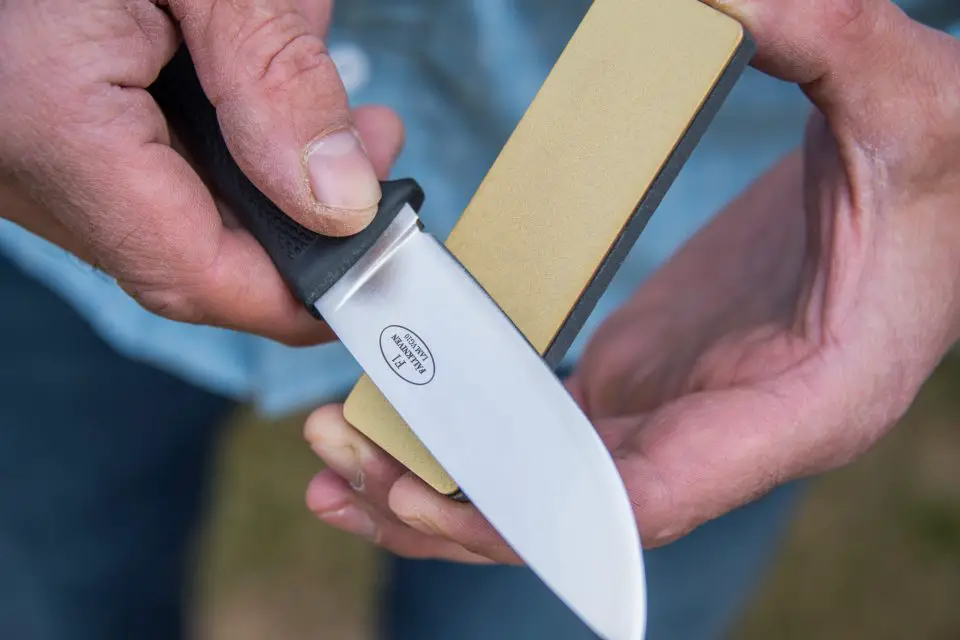 3. Sharp Pebble 400/1000 Whetstone
The Sharp Pebble 400/1000 is a fan favorite, as evidenced by the hundreds of glowing reviews it has on Amazon. It's also less expensive than many high-end water sharpening stones, which makes it a good choice for people on a budget.
It comes with a (separate, detached) rubber base to prevent slippage, the sharpening stone itself – 400 grit for rougher work and 1000 grit for polishing a fine edge – and a fix stone for making the sharpening stone straight and on level. It's 7 inches long and two inches wide, a good size for sharpening an axe or knife.
Pros
The Sharp Pebble 400/1000 is cheaper than many high-end water sharpening stones.
It comes with a rubber base for stability, a dual-grit sharpening stone for both rough and fine sharpening, and a fix stone for maintaining the level of the sharpening stone.
At 7 inches long and 2 inches wide, it's a comfortable size for sharpening both axes and knives.
Cons
The rubber base is separate and detached, which requires additional effort to set up.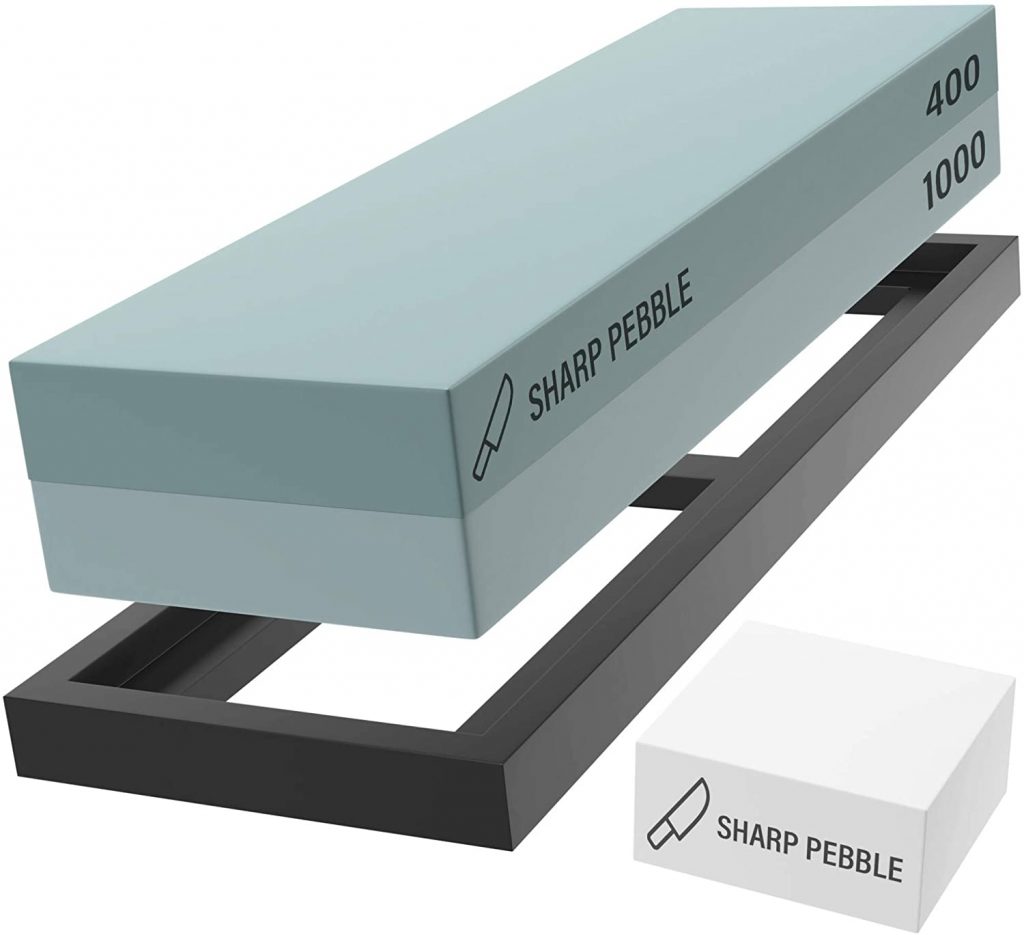 4. Norton Abrasives – St. Gobain Axe and Hatchet Sharpening Stone
Norton sharpening stones are another historical, US-made piece of axe culture. Norton Abrasives are the largest manufacturer of abrasives in the world, but are still based in Worcester, Massachusetts, and make their sharpening stones there. The Norton St. Gobain is a fine little sharpening puck, about half the thickness of a Lansky puck but with a rough side grit that is finer than the Lansky puck's fine side.
That is, it is about 400/1000-grit, while the Lansky puck is very rough in comparison at 120/280. It is a great little stone, with a diameter of 3". It's made from silicon carbide and I used it in the field with water and oil, although oil is recommended.
With a bit of practice I was able to work the puck with ease and sharpen tools anywhere, in any conditions. It weighs in at just around 5 ounces, so it's nice and light, great if weight is an issue (long-distance hike, multi-day trip).
Pros
The Norton St. Gobain sharpening puck has a fine grit of 400/1000, making it more suitable for precision sharpening compared to coarser alternatives.
It can be used in the field with either water or oil.
Weighing just around 5 ounces, it's ideal for situations where weight is a concern, like long-distance hikes.
Cons
To efficiently use the puck and achieve optimal results, a certain degree of practice and skill is needed.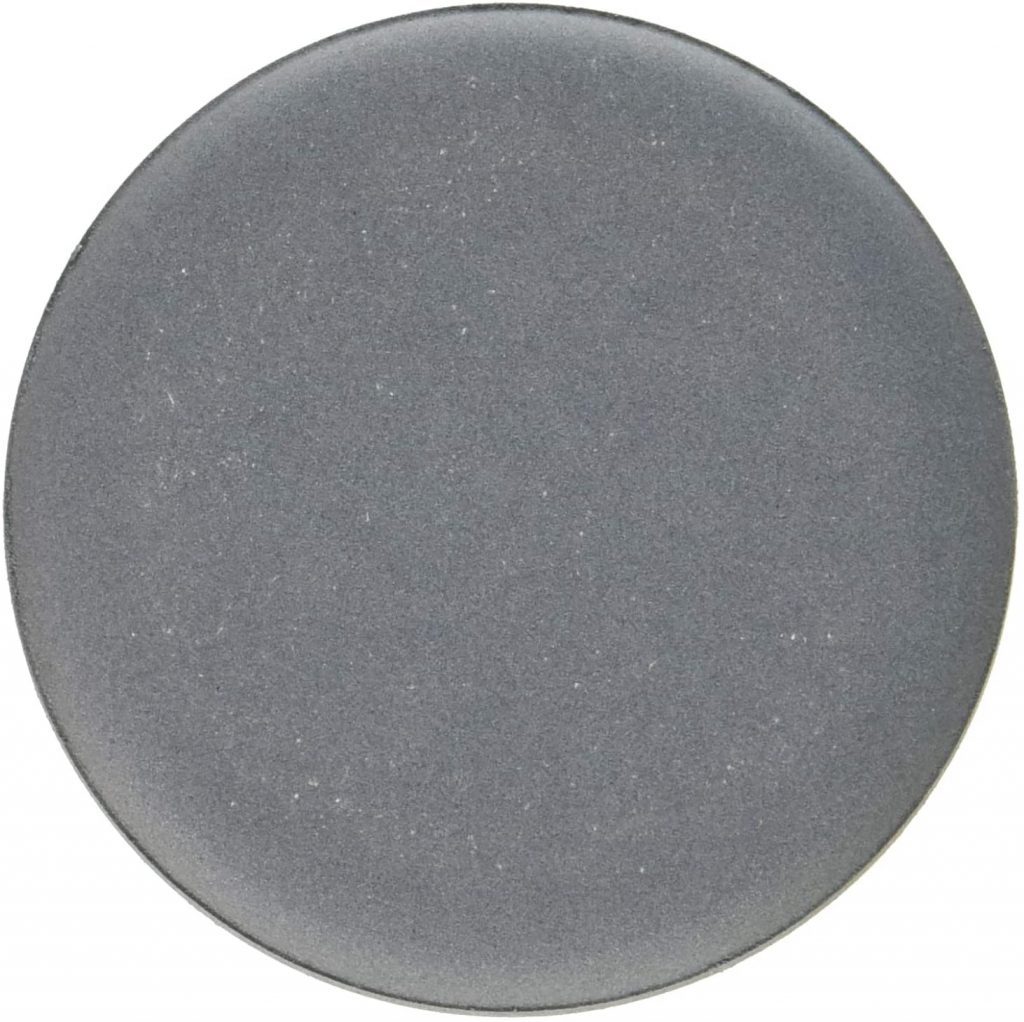 5. Lansky Dual-Grit Sharpening Puck
The Lansky puck is a well-known one – cheap and rough. It's not a sharpener that you'd be afraid to lose or one that you would choose to put a really fine, razor-sharp edge on your axe, hatchet, or knife – but it'll definitely do that job.
It comes in at 120/280 grit, which is less than most field sharpening stones. Lansky advertises it for lawnmower blades and similar blades that take a lot of abuse, but I was certainly able to put a nice keen edge on a dull axe, and even repair some damage to it (such as small chips on the edge).
It's not a bad sharpening stone, just remember that it is rough and quite a bit bigger and heavier than, say, the Norton St. Gobain or the Fallkniven DC4.
Pros
The Lansky puck is inexpensive and robust.
It is advertised for use on lawnmower blades, but it can also be used to sharpen an axe or repair minor edge damage.
Cons
With a 120/280 grit, it provides a less fine sharpening compared to other stones.
The Lansky puck is larger and heavier than alternatives like the Norton St. Gobain or the Fallkniven DC4.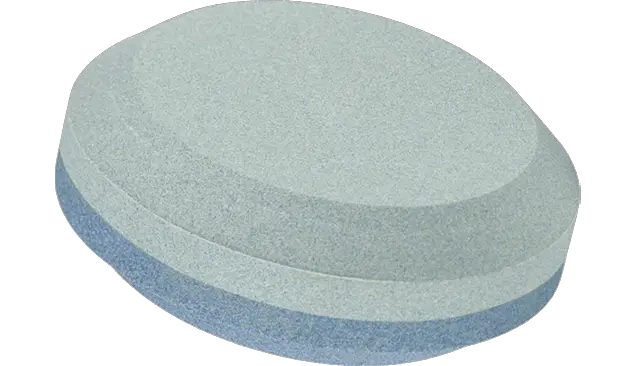 6. Gransfors Ceramic Sharpening Stone
A 180/600-grit stone, this Gransfors Bruks sharpening stone is probably the highest-quality pocket, dry sharpening stone in this lot, although the Fallkniven/Dianova DC4 is just about on par with it. The difference is that the DC4 has a diamond side, which wears down metal quickly. The Gransfors stone is ceramic only, but man does it put a great edge on any blade.
It's small and light, and while it is more expensive than the US-made stones, it is also definitely of a higher quality than the Lansky puck, for example. Everyone wants a deal, but quality costs and the Swedish craftsmen at Gransfors are widely known for their excellent products that really go above and beyond in terms of craftsmanship.
I used the Gransfors stone both dry and wet. It comes with a rubberized case to keep it in, weighs about 6 ouncs and has a diameter of about 2 inches. It is a very good sharpening stone, and not even that expensive when you consider the build quality and long use you'll get from it.
Pros
This is considered one of the best pocket, dry sharpening stones available.
It is crafted from ceramic, which provides a superior edge on blades.
The stone is small and light, making it easy to carry around.
The stone can be used either dry or wet.
Cons
This stone is more expensive than other sharpening stones, although the price reflects its superior quality.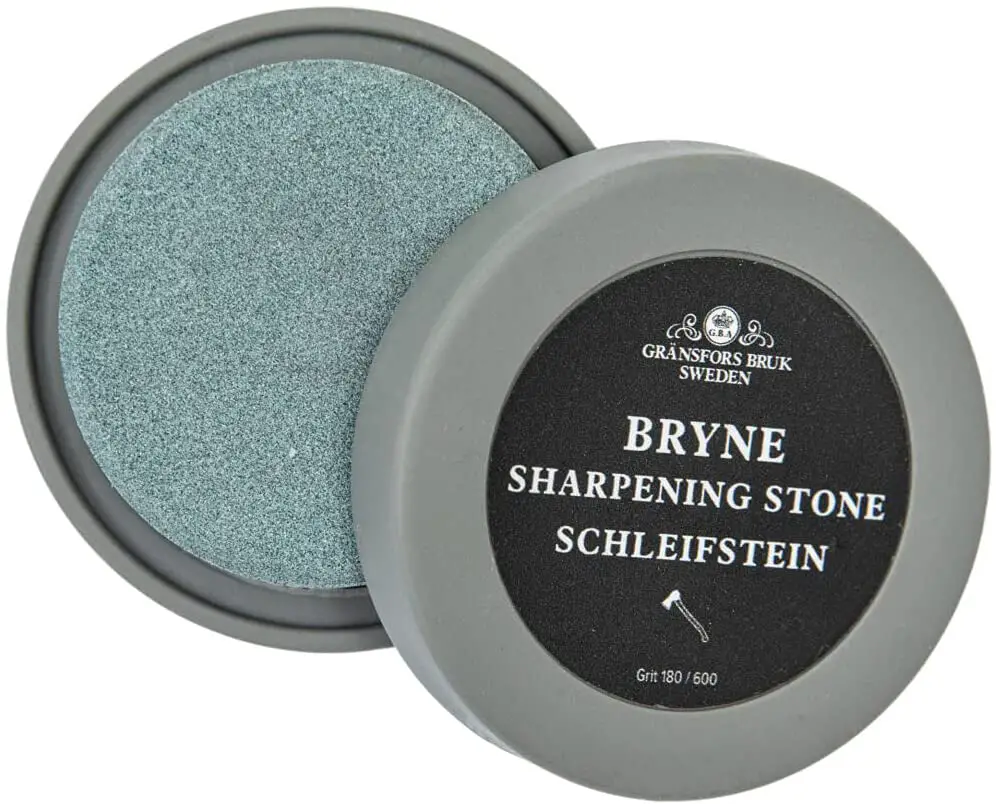 How to Choose a Sharpening Stone
Grit
The grit of the sharpening stone will determine just how sharp your axe can get. An 800-grit or less sharpening stone can help you repair chipped and otherwise damaged axe edges.  A 1000 to 3000-grit stone will help you bring a dull axe back to sharp, biting life.
Most compact field sharpening stones (or just "pocket stones") will be in this range – either on the coarser end (the Lansky Puck, 120/280-grit) or on the finer end, such as the Fallkniven DC4 dry sharpening stone (roughly 600/1200-grit). They will have a coarser side and finer side (which is the reason for the two numbers mentioned in the previous examples).
A 3000 or 6000-grit sharpening stone will make your axe so razor-sharp that you'll be able to shave with it, and is generally not necessary for most people. An axe isn't a fine kitchen knife – you're chopping wood, not cutting tomatoes into tiny slices. Still, it can be nice to put that extra effort into putting a razor-sharp edge on your axe bit, especially if you have a high-quality axe like a Gransfors Bruks or a premium Council Tool model.
Axe Sharpening Stone Types (Wet, Diamond, Oil)
The next question you should answer is – what type of sharpening stone should I get? There are three main types of sharpening stones: wet (water-based) stones, diamond (also known as dry) stones, and oil stones. Each has their own characteristics.
Wet Stones or Water Stones
As the name implies, use the slurry that forms on their surface when they're wet and you rub your axe edge along their surface. Water stones are "natural" stones, in contrast to oil and diamond sharpening stones, and are softer than them, too. Water stones were traditionally (and continue to be) used in Japan to sharpen tools, but they are now very popular in the West as well – not least because there is none of the messy clean-up that comes with using honing oil. When using a water stone to sharpen your axe, make sure to keep it nice and wet – before using, submerge it in water and wait for any bubbles to stop appearing, and keep the surface wet. Don't rub the slurry off the stone or the edge of your axe!
Dry Stones or Diamond Stones
These are the hardest and most expensive, but also longest-lasting, of all sharpening stones. Their uniqueness is in the fact that you can use them dry – no messy oil or water needed. Highly recommended for carrying with you in the field and in the bush, where oil or water can be unwanted distractions or unavailable when you need to sharpen your axe or knife. Most often they're handheld, and you can sharpen your edge by either using alternating strokes or by making small circles down the edge of your axe.
Oil Stones
They are what many people in the West used and continue to use traditionally. The benefit of an oil stone is that the honing oil you use with it to sharpen the edge of your axe also polishes it at the same time and can be used as a protective layer afterwards to ward off moisture and the rust that would eventually follow. I have an oil sharpening stone at home, but that's the only place I use it – at home or in my yard. Using in out in the bush or the woods isn't pleasant due to the clean-up and spillage potential of the oil.
Axe Sharpening Stone Size
When choosing a sharpening stone that you'll use on your axe, be sure to think about its size. On the one hand, you can get a pocket stone that is small, compact, and which you'll be able to use and carry out and about in the field and in the bush. The way to use these types of stones is by holding your axe in place and running the stone up and down its edge in straight strokes or in small circles. In either case you want to alternate sides every few strokes or even after every stroke, if you want to be very careful not to turn the edge too far in either direction.
With larger axe sharpening stones – these are, as a rule, Japanese-style wet stones or oil stones – they'll be less compact and "mobile", and will take up more space and weight in your pack if you choose to take them with you into the bush. The way they're used, too, changes – you lay them flat on a surface or in their special case and, after wetting them or oiling your axe, rub the edge over the stone's surface, turning it carefully to make sure the whole edge gets sharpened.
In any case, consider your needs when you're shopping around for a sharpening stone. A soft, delicate, and heavy wet stone sharpening kit would be a bad choice if you're going on an ultra-light, multi-day hike. And a relatively rough pocket stone like a Lansky puck would be a poor choice if you want to hone your axe to a razor-sharp state at home. As always, choose the tool that will meet your needs!
Now lets get into the best axe sharpening stones you can get. I selected these specific sharpening stones to make sure that all three types of sharpening stones were represented.