Council Tool is one of the most popular and prolific manufacturers of axes, but it can be challenging to understand which axe suits your purposes. What is the difference between a boy's axe and a camp axe? What is the difference between a Dayton pattern and a jersey pattern?
In this article, I have compared all of Council Tool's axes and explained their purpose and which tasks they should be used for.
Council Tool Axe Range
This table shows the differences between the key specification of Council Tool's most popular axe styles and the tasks they are best suited to: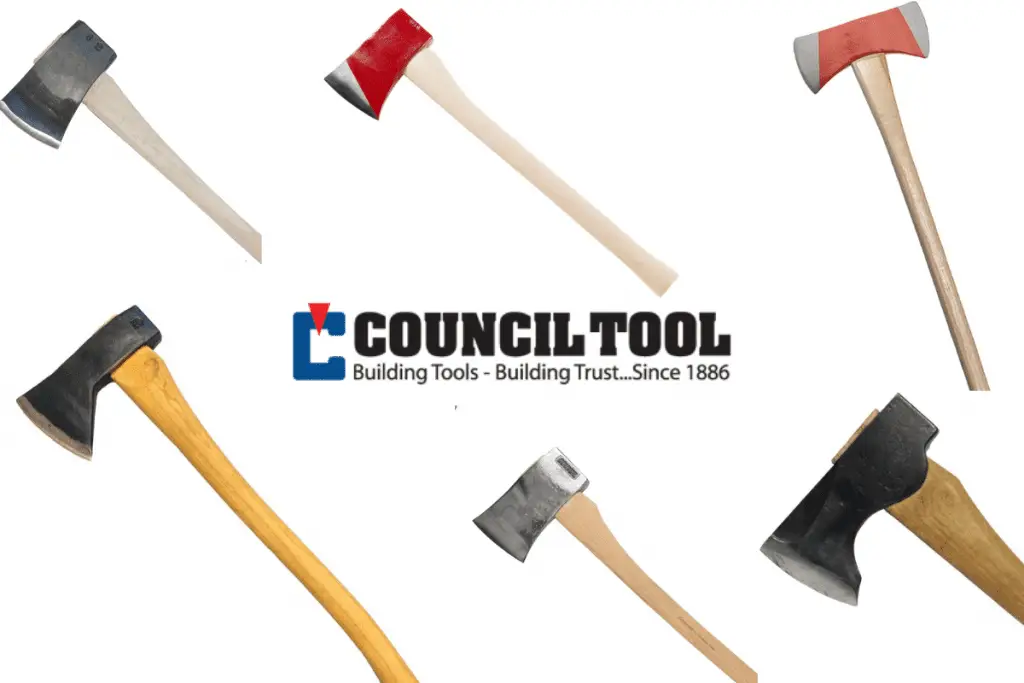 1. Council Tool Hudson Bay Camp Axe
Hudson Bay axes have a proud history as a camp axe from the fur traders of North America. They have a flat top with a square poll and a shorter handle. This makes them ideal for transport and easy to carry. They are highly versatile and can be used for anything from cutting kindling, splitting firewood, and even hammering in tent pegs. They also have an oval-shaped eye that securely attaches the axehead to the handle.
I am a big fan of the Hudson Bay style of axe, and the Council Tool model is no exception. The axe is only 2 lb in weight, making it the lightest on this list. It is ideal for camping as the poll has been heat treated and can be used conveniently as a hammer. The handle is 24 inches of American hickory and has a slight curve that makes it comfortable to wield.
Best Suited For: Camping
Weight: 2 lb
Length: 24 inch
Pros
Easy to transport and carry long distances for camping
Heat treated poll can be used to hammer in tent pegs
Comfortable curved American hickory handle
Cons
Lacks the weight and power for felling larger trees
2. Council Tool Boy's Axe
The second-lightest axe at 2.25 lb is the Boy's axe. Boy's axes are mid-sized and are not designed for youth. They are an allrounder style axe that is easy to transport and versatile enough for almost any task. The 24-in hickory handle gives it enough leverage to fell small trees and split medium-sized logs while being small enough for cutting kindling or limbing branches.
Like all Council Tool products, it is made in the USA of high-quality steel. This is an excellent, affordable axe, which, when combined with its durability, gives it high value for money.
Best Suited For: Versatile felling and splitting
Weight: 2.25 lb
Length: 24 inch
Pros
Manufactured in the USA with high-quality steel
The combination of its excellent quality, durability, and affordable price provides high value for money
Cons
It is not efficient for tasks requiring a larger, heavier axe such as felling large trees or splitting large logs
It lacks advanced features that some high-end axes might offer, like shock-absorbing handles or special blade coatings for enhanced performance
3. Council Tool Pulaski Axe
Pulaski axes were originally designed for the Forest Service Rangers. They used the combination axe and mattock to chop logs and dig trenches for fire breaks. The 36-inch American hickory handle gives it full leverage to apply massive power through either blade. This one-stop tool is ideal for rangers, firefighters, or homeowners who don't want to carry a second mattock or pick axe for any digging tasks.
The axe weighs 3.75 lb, making it a powerful and versatile axe.
Best Suited For: Forestry Rangers
Weight: 3.75 lb
Length: 36 inch
Pros
Two tools in one – axe at the front and mattock at the back
Powerful axe with a full-sized 36 in handle that can cut through almost any log
Cons
Specifically designed for forest service rangers
4. Council Tool Miner's Axe
Miner's axes were designed in central Europe for miners looking for ore in thick forestry. The combination of a short handle and a heavy axehead allowed them to swing freely in congested areas. It is ideal for cutting pathways through thick forests. The axe weighs 3.5 lbs on a 26-inch straight handle. In modern times Miner's axes have become increasingly popular with campers or backpackers because of their ease of transport and versatile function.
This budget option axe is ideal for campers or rangers looking to cut trails.
Best Suited For: Trail clearing congested forests
Weight: 3.5 lb
Length: 26 inch
Pros
Well suited for backpackers because it is lightweight enough to carry but powerful enough to clear trails
The short handle is ideal for swinging in congested areas
Cons
This is a budget option that lacks the features and materials of premium options
It is difficult to generate enough power with such a short handle
5. Council Tool Dayton Axe
The Dayton pattern is named after Dayton, Ohio, where it was used to fell large hardwood trees. They are a popular and easily recognized axehead design. The features make it best suited for swinging horizontally in a felling motion due to its curved flare and balance.
This Council Tool Dayton axe is a full-sized felling axe with a 3.5 lb axehead on a 36-in American hickory handle. This axe can apply serious force to the cutting edge to penetrate deeply into thick trunks.
Best Suited For: Full-sized felling axe
Weight: 3.5 lb
Length: 36 inch
Pros
The Dayton pattern, with its curved flare and balance, makes this axe particularly suited for swinging horizontally in a felling motion
It can apply a significant amount of force, allowing for deep penetration into thick trunks
Cons
As a full-sized felling axe, it is not as versatile or suitable for smaller tasks like limbing branches
6. Council Tool Jersey Axe
This is another full-sized felling axe with a heavy 3.5 lb axehead on a 36-inch American hickory handle. The handle is curved for grip comfort and to prevent your bottom handle from slipping past the knob. As you can see in this photo, the key feature is the 'lugs' or 'ears' on the axehead's cheeks. These bevels cut into the cheeks help to reduce friction and prevent the axe from getting stuck in the trunk of a hardwood tree.
This axe is ideal for homeowners seeking to maintain a heavily forested property who will be doing a lot of felling and need to minimize the labor of each strike.
Best Suited For: Full-sized felling axe
Weight: 3.5 lb
Length: 36 inch
Pros
The lugs cut into the axe head cheeks allow it to be removed from the trunk more easily
Comfortable curved handle design
Cons
This axe is specifically designed for felling hardwood trees and isn't suitable for splitting firewood
7. Council Tool Michigan Double Bit Axe
The advantage of a double bit axe is that you can prepare each blade differently for different tasks. In this Council Tool design, one edge is thin and sharp – ideal for cutting through knot-free wood – while the other edge is thicker and blunter – designed for where knots are present. This allows you to continue cutting with the same tool as you encounter knots in the wood.
The axe weighs 3.5 lb with a 36-inch straight American hickory handle, which is the same size as a full-felling axe. The handle must be straight to swing the axe effectively in both directions. It is also double-throated for the same reason.
Michigan axes have rounded heels and toes to prevent the axe blade from chipping when cutting into frozen wood.
Best Suited For: Cutting through knotted wood with a single tool
Weight: 3.5 lb
Length: 36 inch
Pros
Two axes in one tool – One edge is for splitting and one edge is for felling
Suited for cutting through knotted wood
Cons
Straight handle isn't very comfortable to swing after a few uses
8. Council Tool Fire Axe
This fire axe is designed primarily for firefighters to use a Halligan bar in 'the irons 'for forcible entry. The axehead is 6 lb on a 32-inch American hickory handle and can be used for chopping, battery, or other forms of door entry. The steel head is made from 4140 American steel. It also has an extended poll for weight distribution and balance to move the center of gravity back towards the eye.
The top of the axehead is also flat so that it can stand upright under its own weight for easy access.
Best Suited For: Forcible Entry for Firefighters
Weight: 6 lb
Length: 32 inch
Pros
Flat top allows it to stand upright
Extremely heavy at 6 lb isn't suitable for smaller users
Cons
Unless you are a firefighter, there are likely better axes for your needs
9. Council Tool Splitting Axe
The last on this list is probably the most useful – the full-sized splitting axe. With a 5 lb axe head and a 36-inch straight handle, this axe can split even the most enormous logs into firewood. Not many logs will require a second swing with this mighty axe. The edge has a 25-degree convex bevel to force the wood fibers apart. I find this axe to be very effective due to its wedge-shaped blade. It also has a chamfered poll to be used on splitting wedges without damaging them.
This excellent splitting axe won't have trouble cutting through any logs you need.
Best Suited For: Splitting Large Logs
Weight: 5 lb
Length: 36 inch
Pros
25 degree convex bevel is ideal for splitting firewood
The chamfered poll can be used with splitting wedges
Powerful 5 lb full-sized splitting axe
Cons
Likely too heavy for people with a smaller frame
Conclusion
That brings me to the end of this article. I have used a lot of Council Tool axes over the last decade and have positive recommendations for them, as long as they suit your purposes. They don't have the same quality as a Gransfors Bruk axe, but they certainly give good value at a much more affordable price tag. They don't have composite material handles like a Fiskars axe design, so you must maintain and replace them over time.