Thousands of different axe models are available on the market and at your local hardware store. It can be extremely difficult to tell the difference between these axe brands in terms of quality and reputation. Having built this website dedicated to axes, I have tested dozens of best and worst axe brands.
I have put together this guide exploring all the major axe brands and highlighted their features and which ones I believe give the best value for money.
Axe Brand Comparison
I have put together this table looking at all the axe manufacturers that I have used and tested over the last decade and come up with this comprehensive guide about which brands I prefer:
| | | | | |
| --- | --- | --- | --- | --- |
| Axe Brand | Quality | Cost | Value for Money | Overall Score |
| Gransfors Bruk | ⭐⭐⭐⭐⭐ | 💲💲💲💲💲 | ⭐⭐⭐⭐ | ⭐⭐⭐⭐⭐ |
| Hults Bruks | ⭐⭐⭐⭐ | 💲💲💲💲 | ⭐⭐⭐⭐⭐ | ⭐⭐⭐⭐⭐ |
| Wetterlings | ⭐⭐⭐⭐ | 💲💲💲💲 | ⭐⭐⭐⭐ | ⭐⭐⭐⭐ |
| Hultafors | ⭐⭐⭐⭐ | 💲💲💲💲 | ⭐⭐⭐⭐ | ⭐⭐⭐⭐ |
| Husqvarna | ⭐⭐⭐ | 💲💲 | ⭐⭐⭐ | ⭐⭐⭐ |
| Helko Werk | ⭐⭐⭐⭐ | 💲💲💲💲 | ⭐⭐⭐⭐ | ⭐⭐⭐⭐ |
| Ochsenkopf | ⭐⭐⭐ | 💲💲💲💲💲 | ⭐⭐⭐ | ⭐⭐⭐ |
| Adler | ⭐⭐⭐⭐ | 💲💲💲💲 | ⭐⭐⭐ | ⭐⭐⭐⭐ |
| Stihl | ⭐⭐⭐ | 💲💲💲 | ⭐⭐⭐ | ⭐⭐⭐ |
| Snow & Neally | ⭐⭐⭐⭐ | 💲💲💲💲 | ⭐⭐⭐⭐ | ⭐⭐⭐⭐ |
| Estwing | ⭐⭐⭐⭐ | 💲💲💲 | ⭐⭐⭐⭐ | ⭐⭐⭐⭐ |
| Council Tool | ⭐⭐ | 💲 | ⭐⭐⭐⭐ | ⭐⭐⭐ |
| CRKT | ⭐⭐⭐⭐ | 💲💲💲 | ⭐⭐⭐ | ⭐⭐⭐ |
| Collins | ⭐⭐ | 💲 | ⭐⭐ | ⭐⭐ |
| WATL | ⭐⭐⭐ | 💲💲💲 | ⭐⭐⭐ | ⭐⭐⭐ |
| Fiskars | ⭐⭐⭐ | 💲 | ⭐⭐⭐⭐⭐ | ⭐⭐⭐⭐ |
| Truper | ⭐⭐⭐ | 💲💲 | ⭐⭐⭐⭐ | ⭐⭐⭐⭐ |
| Cold Steel | ⭐⭐ | 💲💲 | ⭐⭐⭐ | ⭐⭐ |
| SOG | ⭐⭐⭐⭐ | 💲💲💲 | ⭐⭐⭐ | ⭐⭐⭐ |
Table of Axe Manufacturer Rankings
I'm not going to go into details about every single type of axe produced by each manufacturer, but rather give an overview of their range and quality of construction/design.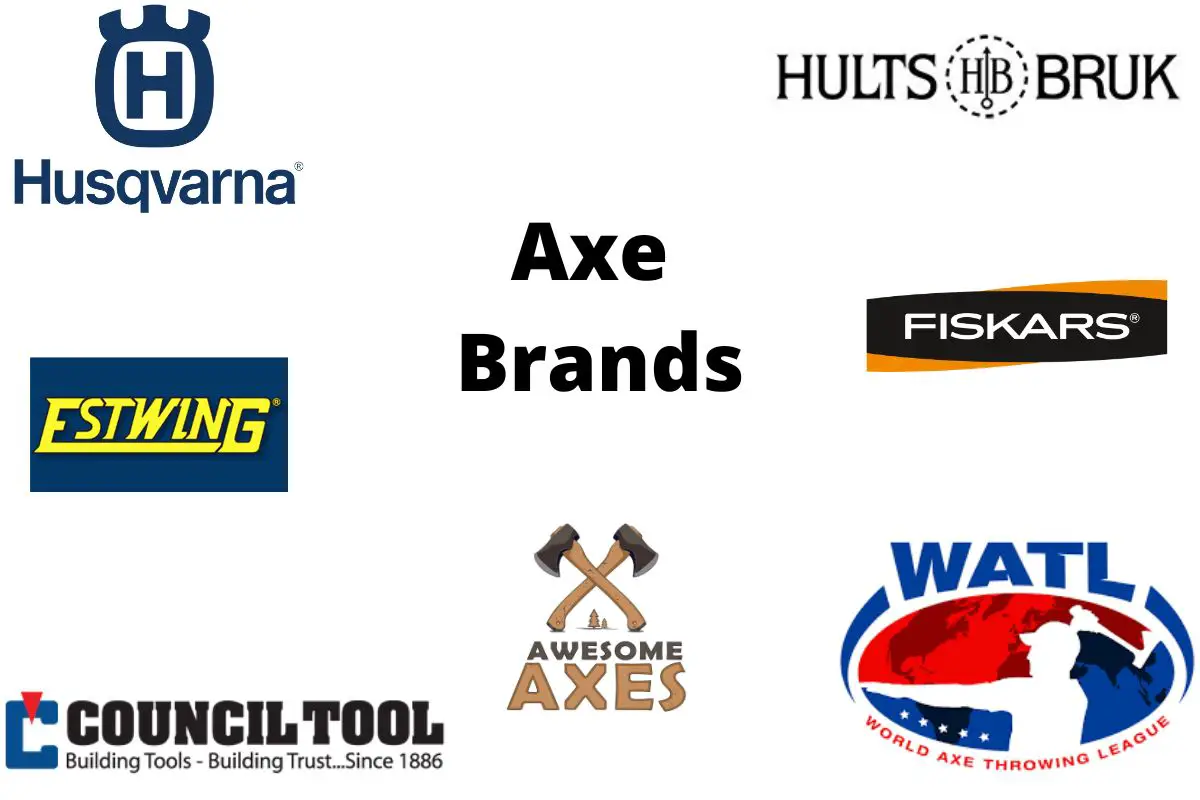 Gransfors Bruk
Gransfors Bruk is undoubtedly my favorite axe brand due to its incredible quality and craftsmanship. Each axe is stamped with the smith's initials, so you can see the person who forged your tool. These axes are certainly at the top of the price range, but they are premium and will last forever. These are the kind of axes you can pass down to your children. They are over 100 years old and know more about forging axes than I will ever learn.
The word 'bruk' means works, as in 'large-scale industrial works', so Gransfors Bruk means the 'industrial works at Gransfors.'
They produce almost all kinds of axes, from hatchets to full-sized felling axes, so you can certainly find a model that suits your needs. Their range includes:
Forest Axes
Double Bit Axes
Historical Replications
Log building and Carpentry Axes
Gransfors Bruk axes are made in Gransfors, Sweden.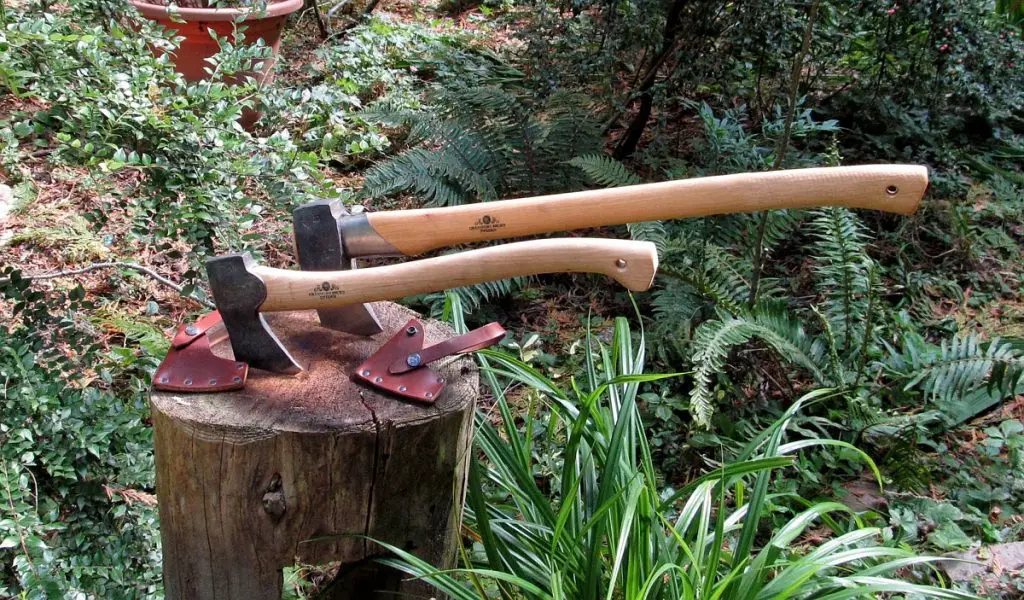 Hults Bruks
Hults Bruk are another favorite of the premium axe brands. They offer very similar quality to Gransfors Bruk but at a fraction of the price. If you are looking for a top-class axe but still care about value for money, then you can't go past Hults Bruk.
They were originally founded next to an active stream and used a water wheel to power their forge. They have modernized over the years and currently produce over 100,000 axe heads yearly.
Felling Axes
Splitting Axes
Racing Axes
Double Bit Axes
Forester's Axes
Hatchets
Carpenter's Axes
Hults Bruks axes are made in Norrkoping, Sweden.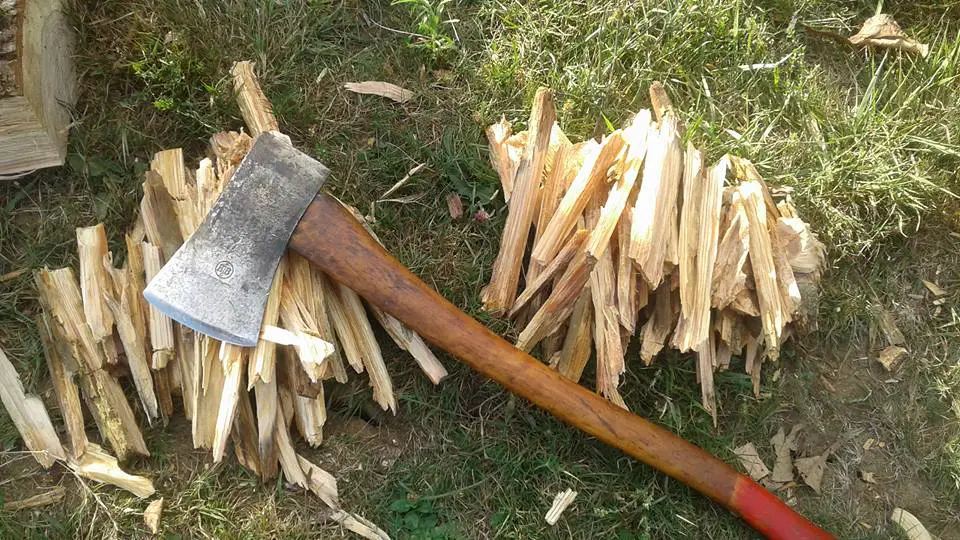 Wetterlings
Wetterlings were established in 1880 and claim to be the oldest, still producing axe forge in Sweden. They are a sister company to Gransfors Bruk and help to manufacture some of their axes. They are much more difficult to source in the United States, so they don't have the same name recognition as the other Swedish forges.
They only produce around 20,000 axe heads annually, which might contribute to their reduced visibility.
Their handles are made from hickory wood and generally include a leather sheath. Their axe heads are made from Swedish carbon specially alloyed steel with an edge hardness of 57 RwC.
Outdoorsman Axe
Hudson Bay Axe
Wetterlings axes are made in Storvik, Sweden.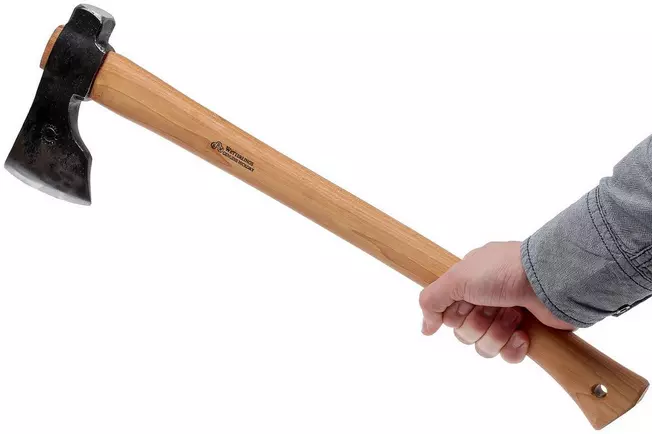 Hultafors
Hultafors are another Swedish manufacturer, however they outsource the production of their range of axes to Hults Bruk. It's become very common for some brands to buy competitors' axe heads and affix their logo and handles.
You can be confident in the quality of the axe heads made from high-quality Swedish steel. Their handles are made from American hickory and treated with linseed oil. Most of their axes come with a leather edge guard.
Hultafors also produce a wide range of other products, including hammers, clamps, screwdrivers, and tape measures.
Carpenter's Axes
Forest Axe
Splitting Axe
Throwing Axe
Hatchet
Felling Axe
Hultafors axes are made in the Hults Bruk forge in Norrkoping, Sweden.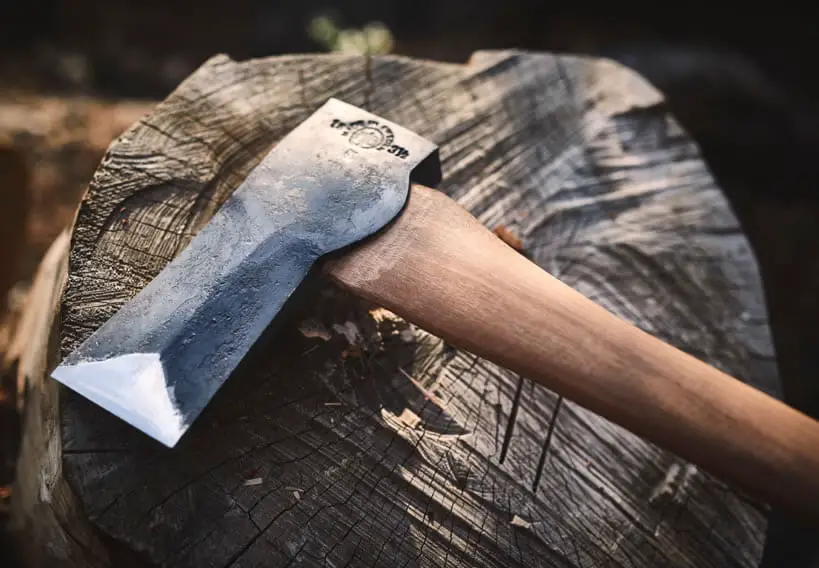 Helko Werk
Helko Werk are our first Germany axe manufacturer in this list. They also offer premium products at the top price point. Their axe heads are made from C50 carbon steel and are hand forged to 53-56 HRC hardness. Their handles are made from American hickory wood and coated in linseed oil. Each axe comes with a leather sheath to protect it and yourself.
They are renowned for creating some of the world's best axes and I have a few in my collection as well. They have recently released the Vario model, which has the head fitted via bolts rather than a wedge. This makes it easily replaceable and is well-suited for heavy-duty tasks.
Hatchets
Felling Axes
Forest Axes
Double Bit Axes
Splitting Axes
Helko Werk axes are made in Cronenberg, Germany.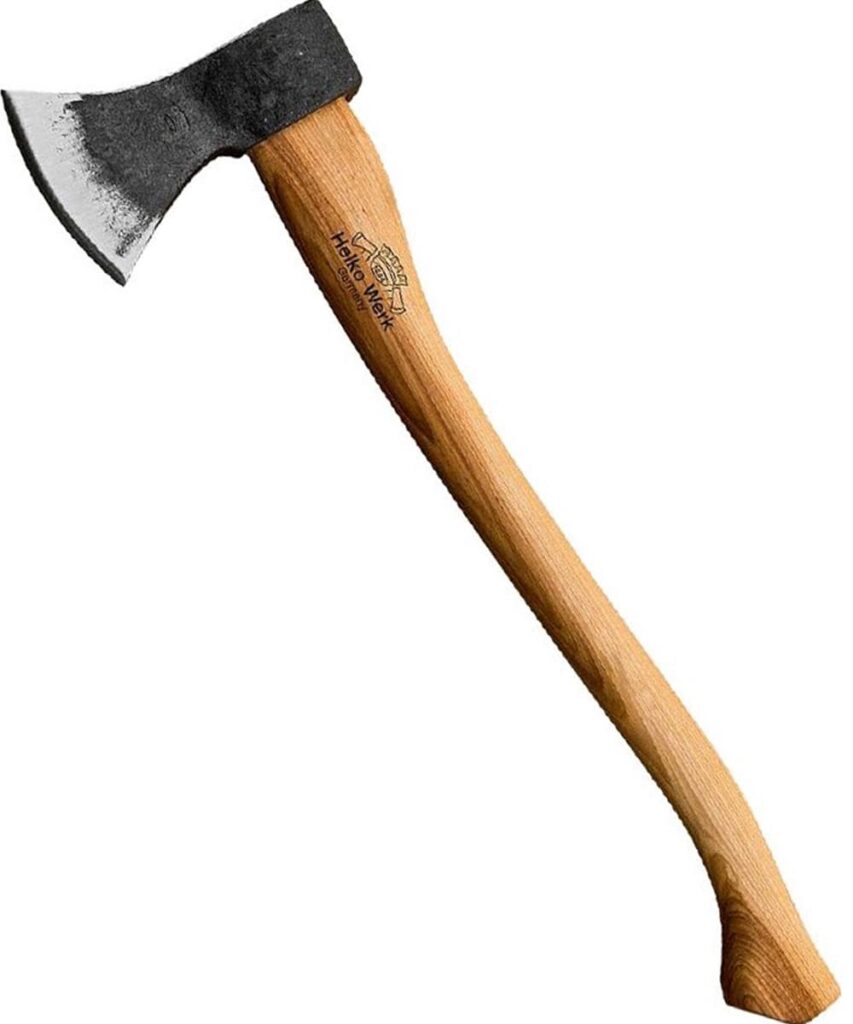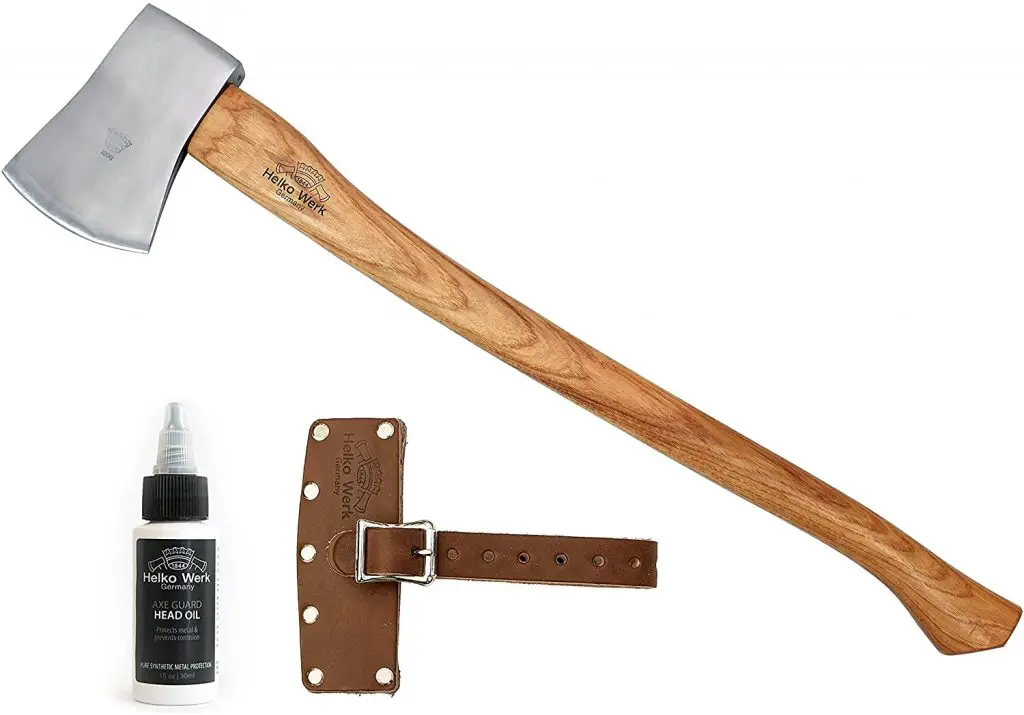 C50 High Carbon Steel Head
Handmade in Germany
31 Inch Grade A American Hickory Handle
4 Pound Axehead / 6 Pound Total Weight
Ochsenkopf
Ochsenkopf is a Germany company owned by Gedore, that has produced axes since it was founded in 1781. They use C60 steel to manufacturer their axe heads and American hickory for their handles.
They also grind the edges to a crowned grind rather than a knife edge so that it will last longer without chipping.
The word Ochsenkopf means 'Ox Head' in English as can be seen by their logo.
Oschenkopf axes are more expensive – in fact, their racing Champion axe costs over $400. I would personally pick one of the Swedish forges over this simply due to the better value for money.
Hatchets
Throwing Axes
Forestry Axes
Double Bit Axes
Splitting Axes
Felling Axes
Racing Axes
Hookeroons
Pickeroons
Ochsenkopf axes are made in Remscheid, Germany.

Stihl
Stihl are a giant manufacturer of all kinds of tools. They are best known for their chainsaws, but they do make axes. They offer a relatively cheap, middle-of-the-range axe. It won't break your budget, but it also has no superior features. Your neighbors won't be impressed when you pull out your Stihl axe.
They are not clear about the origin of their axes. Some people claim that Stihl axes are just rebranded Ochsenkopf, while other sources suggest they are made in Italy. I have also seen some of their product specifications showing they are hand forged from Swedish steel, so they may buy axe heads from Hults Bruk. Stihl itself is a German company with its heardqaurters in Waiblingen, Germany.
They generally have two different types of axe – wooden or fiberglass composites. The wooden handles are made from American hickory.
Splitting Axes
Felling Axes
Utility Axes
Hatchets
Cleaving Axes
Forestry Axes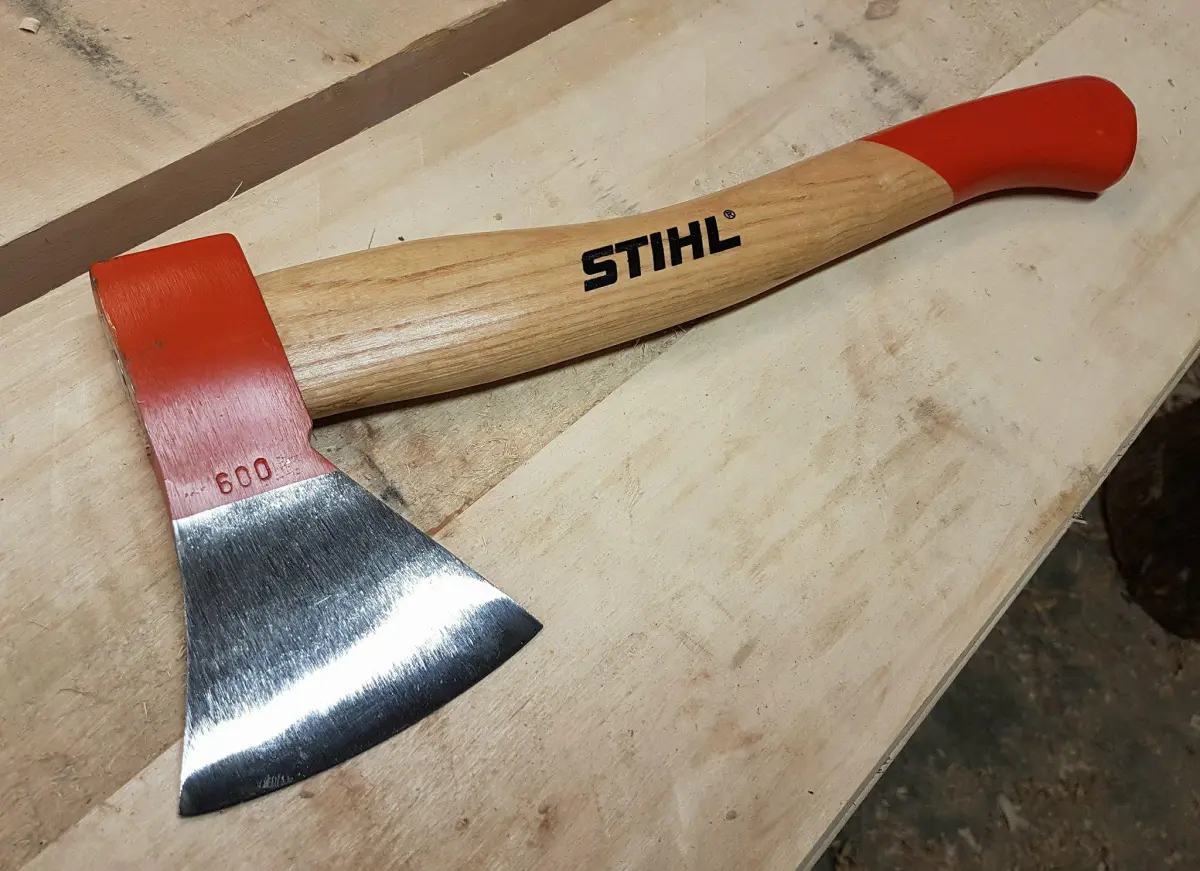 Adler
Adler are another Germany manufacturer founded in 1919. They are a family-owned company and are up to their fourth generation. Their factory is fully powered by the wood waste that they create. They also create other tools, such as shovels and hoes.
Their axes are stamped with the initials JSW, which stands for 'Josef Schmitt Wiesental', which is their founder and founding location. Their axes are made from American hickory handles and come with heavy-duty leather sheaths. Their axe heads are made from C45 carbon steel with a 47-55 RWC hardness.
You can always tell an Adler axe apart from its distinctive black and red handle styling.
Hacthets
Splitting Axes
Forester's Axe
Adler axes are made in Waghausel, Germany.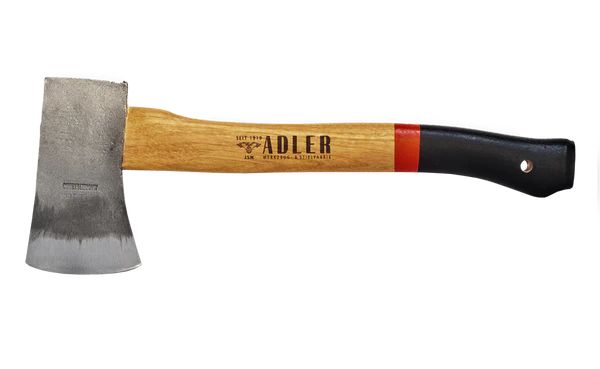 Husqvarna
Husqvarna are another giant company that makes everything from lawn mowers, chainsaws, and axes.
You can split their product range into two categories – wooden handled and composite handled. Husqvarna outsources their manufacturing of axes to Hults Bruk (they used to use Wetterlings, which are sister companies). This means you will get a top-quality axe head made from Swedish steel. They also use American hickory handles, which has become standard.
A Husqvarna axe is a much more affordable way of getting yourself an axe made by one of the top forges in the world, but it does lack an impressive reputation and branding.
I have written a guide on how to choose the best Husqvarna axe if you need more information on their product range.
Hatchets
Splitting Axes
Camping Axes
Carpenter's Axes
Universal Axes
Husqvarna axes are made in Sweden by Hults Bruk.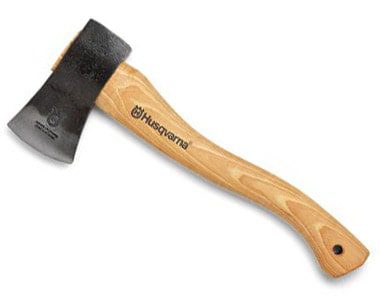 Estwing
Estwing is the first US company I have added. Their product range is focused on small axes and hatchets, but they also make hammers and specialty striking tools. They were founded in 1923 in Rockford, Illinois. They provide a great combination of high-quality materials, design, and construction at an affordable price tag.
Estwing released their proprietary grip technology in 2001 called shock reduction grip. This is extremely comfortable and you will notice the difference compared to bare steel if you are cutting a lot of firewood.
They are also a one-piece, full-tang design from American steel, making them almost unbreakable, although you can't replace the handle yourself if it gets damaged. I rate Estwing as a brilliant design that has been well executed. Their only downside is that they don't produce anything over 26 inches, so you can't get a full-sized felling axe from them.
Camper's Axes
Throwing Axes
Hunter's Axes
Hatchets
Estwing axes are made in Rockford, Illinois, USA.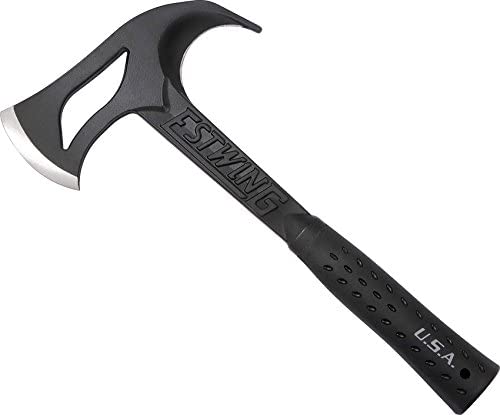 Council Tool
Council Tool is a mass producer of tools founded in 1886 whose focus is more on achieving a lower price than in delivering the highest quality product. Their axe heads are hydraulically seated with an aluminum edge. They forged their steel heads to a target hardness of 48-55 RWC with a tempered bit 1 1/4 inches from the cutting edge.
They have a huge range of axes so you can surely find a model that suits your requirements. Most of their products use American hickory wood as handles, but they do offer fiberglass alternatives as well.
All of their materials for every component are made in USA.
Pulaski Axes
Hatchets
Camp Axes
Throwing Axes
Splitting Axes
Splitting Mauls
Felling Axes
Carving Axes
Logging Axes
Utility Axes
Council Tool axes are made in Lake Waccamaw, North Carolina, USA.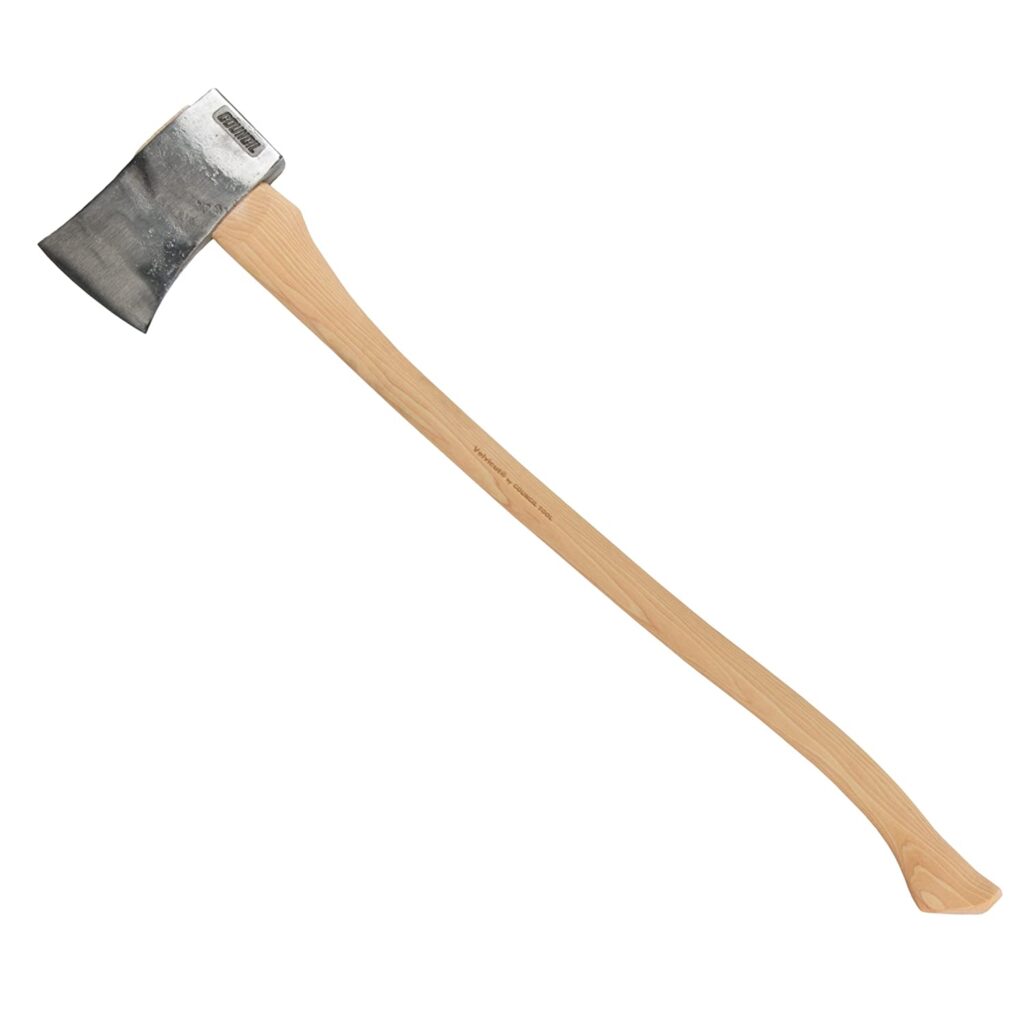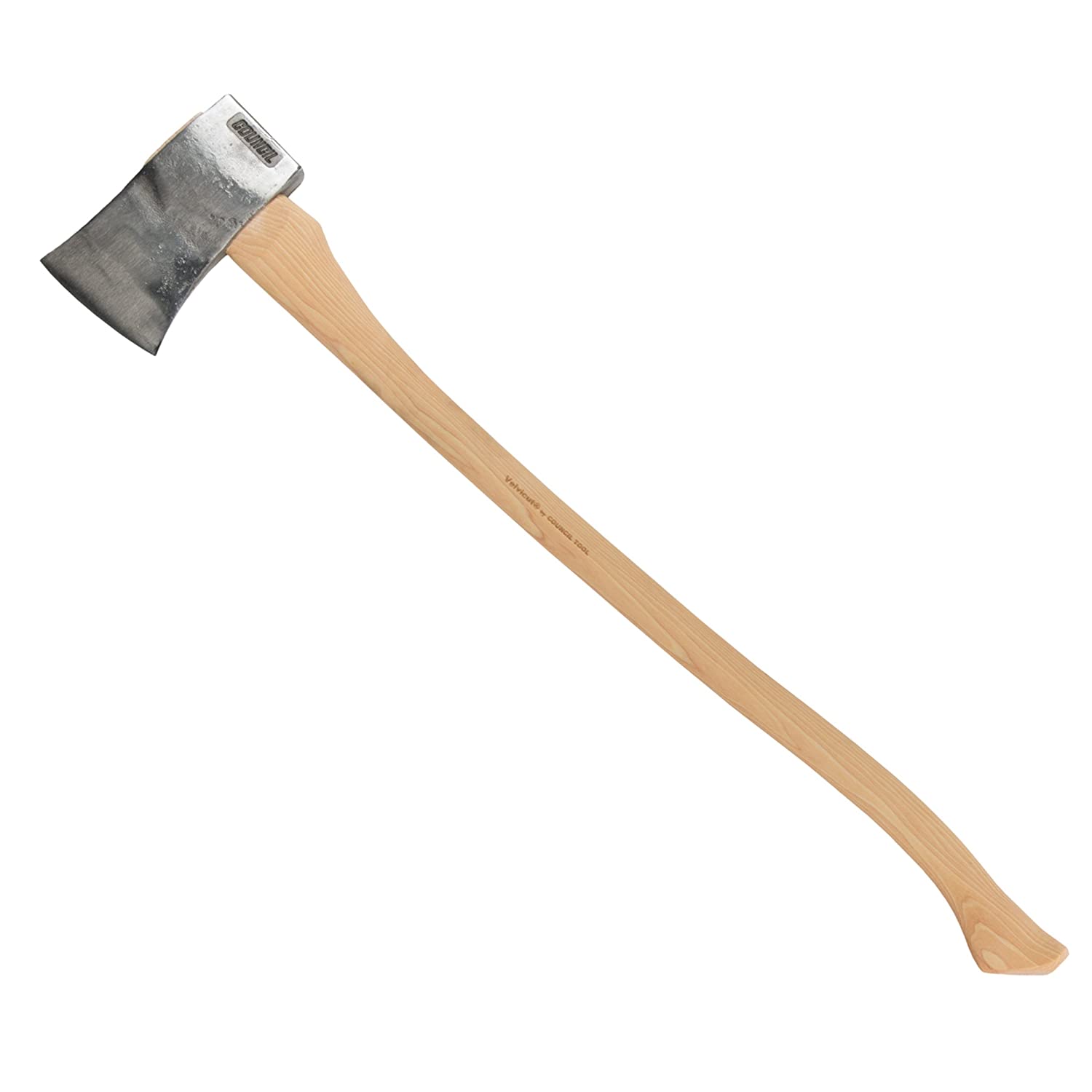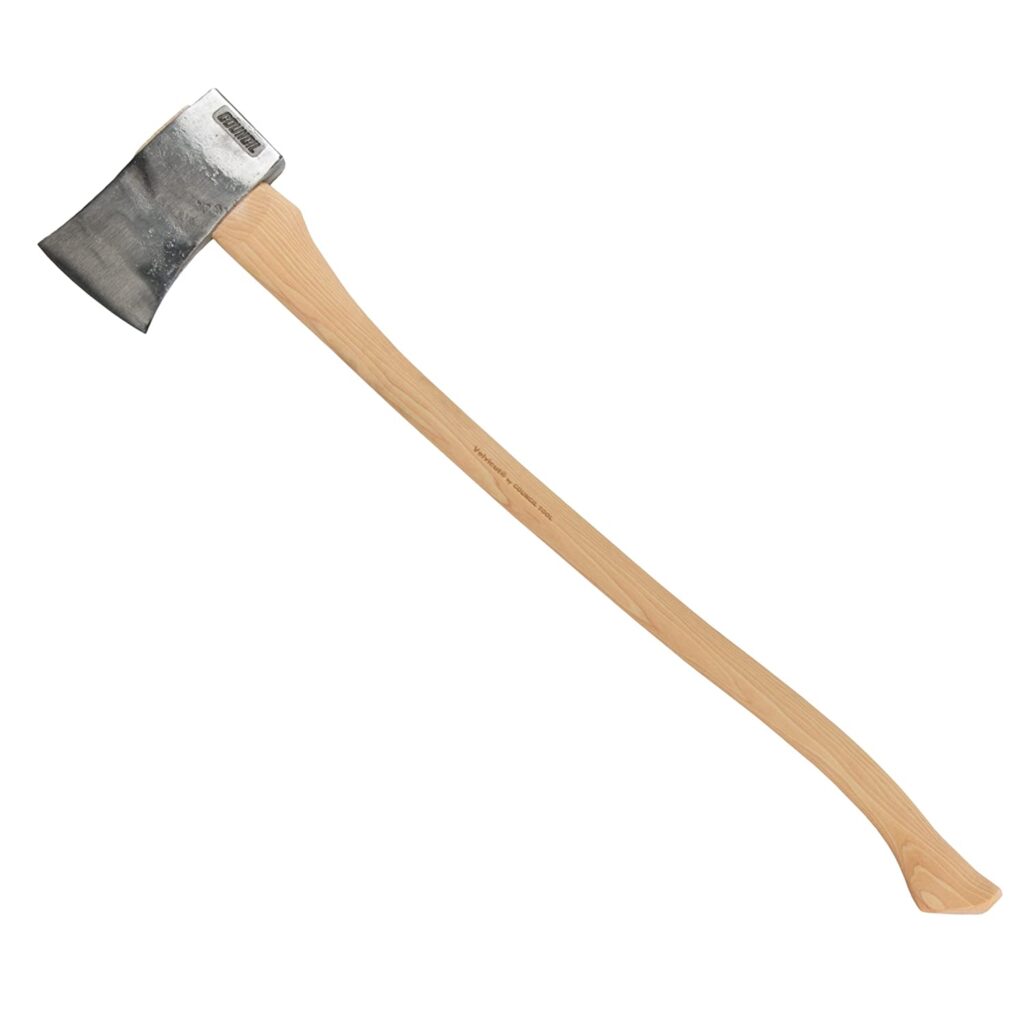 5160 American Steel
32 Inch Hickory Handle
Made in USA
5.6 Pound Total Weight
Collins
Collins axes are famous due to their history in literature and stories. It was founded in 1826 by Samuel Collins who made axes hand forged, polished and handled in Canton, Connecticut. The works of Horacio Quiroga immortalized their axes and machetes. They faced devasting business conditions in the 1950's and 1960's with the combination of a flood through their factory and the rise of chainsaws hurting sales. This was followed by a series of acquisitions including Mann Edge Tool Co, Stanley Tools and Truper Herramientas. Manufacturing was moved to Mexico in 2004.
You cannot talk about Collins axes without separating pre-2004 forged axes and post-2004 axes.
Collins axes made before 1966 are great. Collins axes made after 1966 by Mann Edge Tool Co are good. Collins are made after 2004 are just average.
I recommend selecting a higher quality axe if you are doing heavy-duty work such as felling trees, rather than buying a brand new Collins axe.
Collins axes are made in Mexico.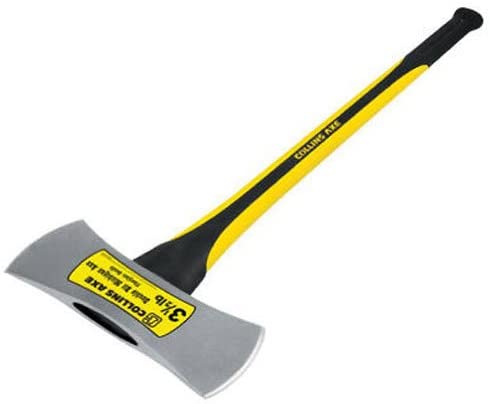 Fiskars
Fiskars are a Finnish brand founded in 1649. They are famous for their black and bright orange color scheme and their unbreakable design. I think Fiskar's designs are brilliant and provide a good balance between affordability and longevity. A Fiskars axe can handle almost anything you can throw at it and gives such a long life that it provides unbeatable value for money.
They also have a wide range of axes so you can find a weight and length to suit your frame and whatever task you are looking at. Their handle material is called FiberComp, which is a fiberglass composite that is lightweight and incredibly strong.
I have put together a guide purely focused on selecting the best Fiskars axe if you want more information. They also produce machetes and other gardening tools.
Hatchets
Felling Axes
Splitting Axes
Chopping Axes
Splitting Mauls
Fiskars axes are made in Billnäs, Finland.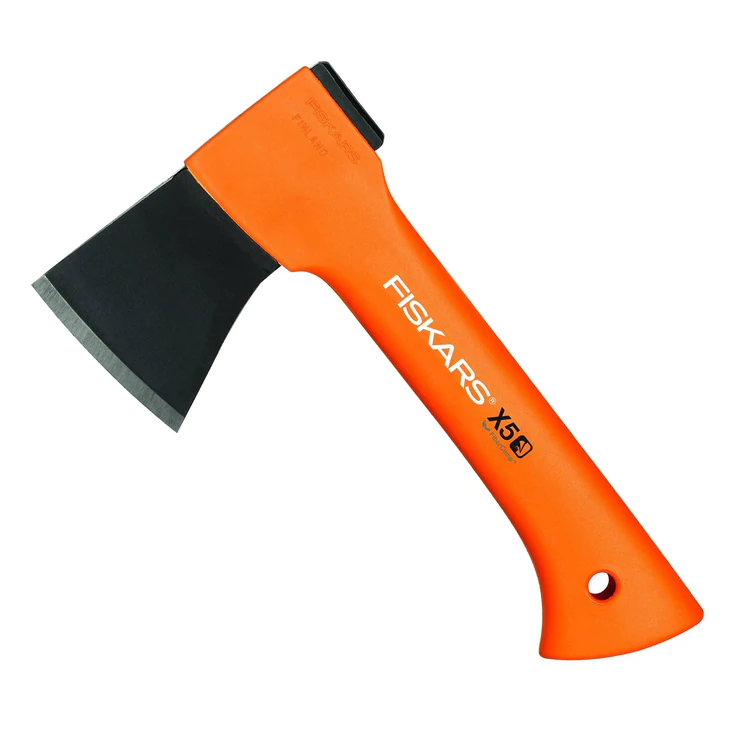 Cold Steel
Cold Steel is a company focusing on axes, knives, and other tools. Their primary customers are military and emergency services, so you know the quality is high. In terms of axes, their products are more suited for recreational use rather than heavy-duty work. You will find a wide range of throwing axes and replica battle axes, rather than felling or splitting axes.
Their axe heads are made from 1055 carbon steel with American hickory handles.
I like Cold Steel as a tactical brand, but they generally don't serve my needs for outdoor work.
Throwing Axes
Tomahawks
Hatchets
Battle Axes
Cold Steel axes are made in Irving, Texas.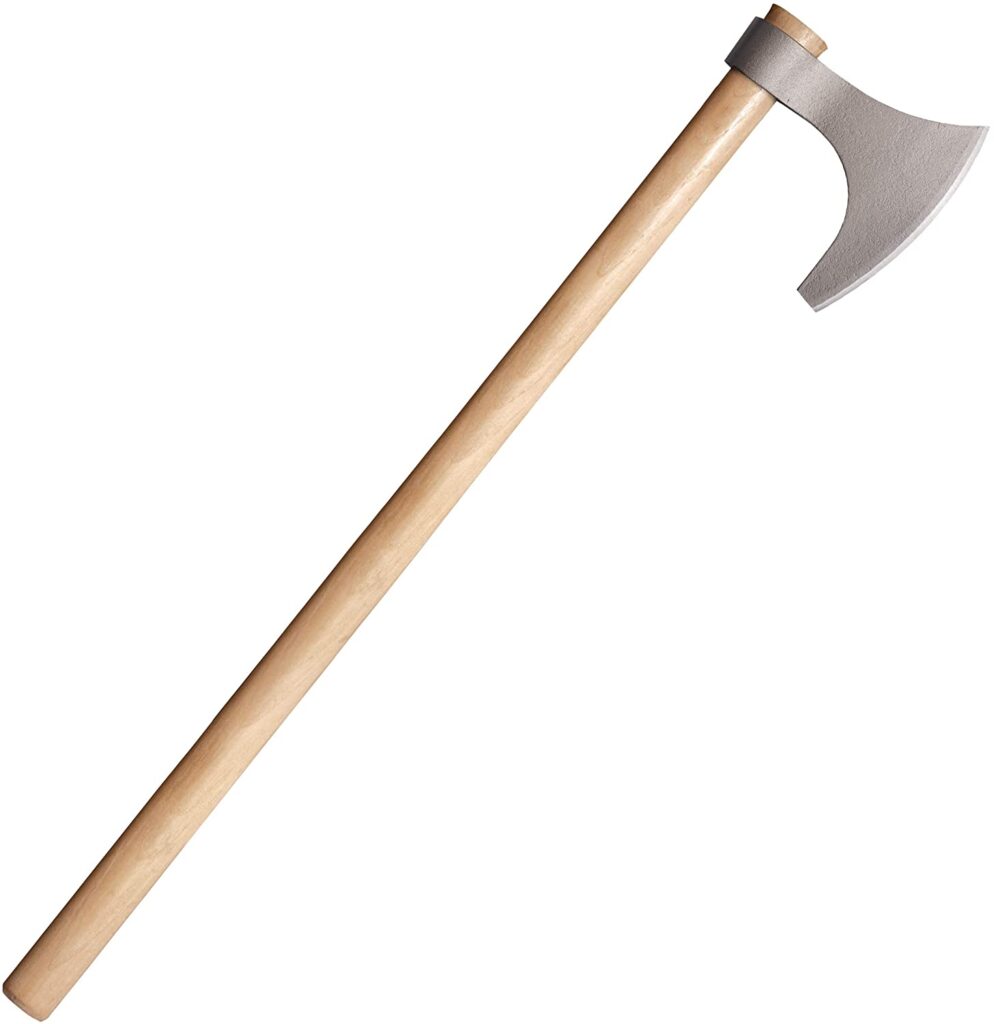 Snow and Neally
Snow & Neally axes were founded in the logging boom of the 1860s and continue to produce high-quality axes out of Smyrna, Maine. They are 100% American-made, forged, and tempered. They developed the Penobscot Bay Axe, which is a modification of the ever-popular Husdon Bay Axe.
Snow & Neally is currently owned by a member of Maine's Amish communities. These communities use axes daily and have built their knowledge and expertise into these products.
The axe heads are made from 1055 carbon steel and hardened to 50-54 RCW.
There was a period in the early 2000s when Snow & Neally outsourced their manufacturing to China and there was a clear and obvious decline in quality, however this decision was reversed and the quality remains high to this day. You may notice some used axes for sale that don't have the same quality you were expecting, and this may be why.
Camping Axe
Hudson Bay Axes
Outdoorsman Axes
Snow and Neally axes are made in Smyrna, Maine, USA.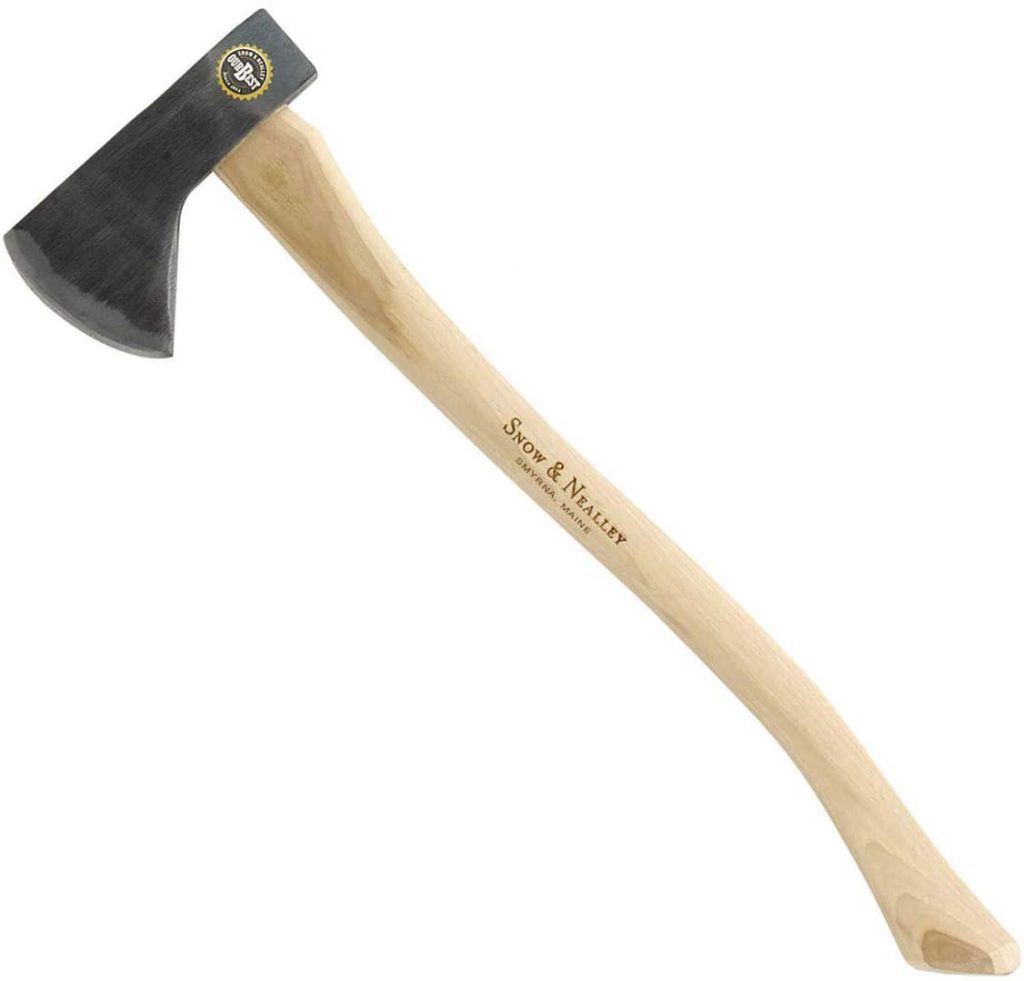 CRKT
CRKT or Columbia River Knife and Tool company is an American brand based out of Tualatin, Oregon. While their focus is on tactical knives, they do produce a few different axes.
Their axe heads are hot forged from 1060 high carbon steel and their handles are made from Tennessee hickory. Some of their tactical models are made with more modern materials, with their Kangee Tomawhawk made from SK5 carbon steel with a glass reinforced nylon handle. This is especially useful for tactical or recreational situations.
Although you can use these axes for hunting or camping, I generally prefer the purpose made hatchets for myself.
Tomahawk
Throwing Axe
Hatchets
CRKT axes are made in Portland, Oregon.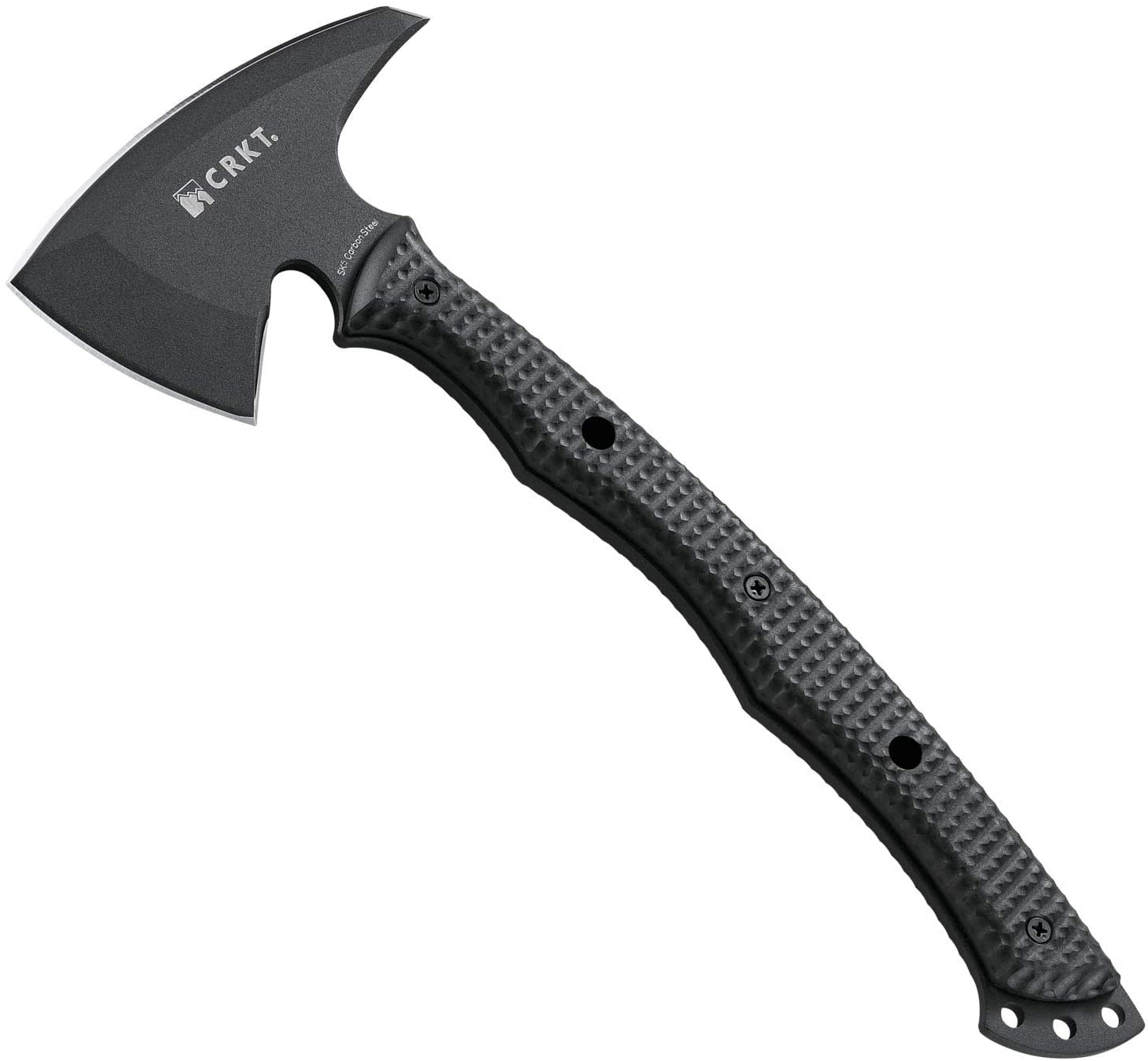 World Axe Throwing League
If you want to get into recreational axe throwing, there is no better manufacturer than the official WATL axes. These axes are made for a single purpose – insane balance to be thrown accurately. They have a big range of throwing axes, considering their limited purpose. If you are throwing for competition, you want the best of the best to get the highest score possible.
Their handles are made from American hickory wood with a 1045 carbon steel head. The bit is finished with brushed steel and the handle is coated in varnish. They are also available in a lot of different bit profiles and handle colors.
These are the kind of axes you would take into the wilderness.
WATL axes are made in China.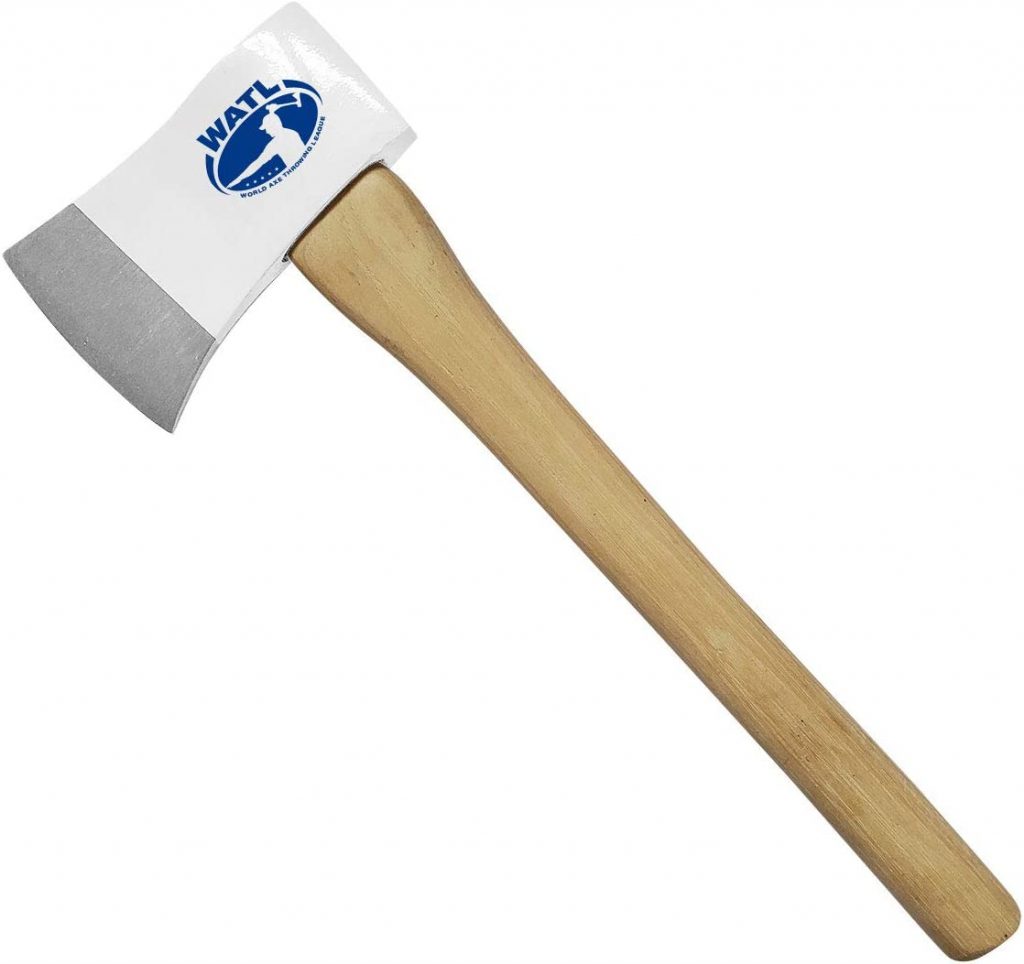 SOG
SOG (or Studies and Observation Group) is primarily a knife brand, but does produce a range of throwing axes. They were founded in 1986, inspired by the combat knife used by MACV-SOG special ops unit in Vietman. Their axes are generally made from glass-reinforced nylon handles that is broth durable and non-slip. Their edges are made to 46-52 rockwell hardness RC. The axes are made from 3Cr13MoV steel.
They are reasonably affordable, considering their modern designs and manufacturing standards. As with the other tactical brands, these axes are well suited to a fairly limited range of uses. You would never buy an SOG axe for splitting wood or preparing kindling.
Throwing Axes
Tomahawks
Camp Axes
SOG are based in Seattle, Washington, USA, but their axes are manufactured in China.