The best splitting axes are 28 to 36 inches long, weigh 4 to 6 pounds, and have a wider bit profile.
The Fiskars X25 Splitting Axe is my top choice because it has a shock absorbing composite handle, a low friction coating, and advanced bit profile. It is priced to be great value for money, and is ideal for anyone looking to process a lot of firewood.
If you're splitting a lot of wood for burning throughout the winter or year, you'll be much happier if you have an axe suited for the task. Splitting axes and mauls are made to split wood, whether cured, dry rounds of wood for firewood, or green, freshly-felled logs.
Their profiles are wider and cheeks – fatter, their axeheads are generally heavier than regular axes, and the polls – the back end of the axehead – are often hardened, meant for use as a hammer to drive in splitting wedges.
Wood splitting axes and mauls won't make good felling axes, but they'll tear apart wood when it's better than any other type of axe on the ground.
My main issue with general-purpose and especially felling axes is that their profiles are often too narrow (put another way – their cheeks are too thin), and their axeheads too light to deliver the force needed to split apart a large log or round of wood.
I often find that axes with narrow profiles also tend to get more stuck (pinched) in wood, leading to frustration when you have to pull the edge out of the log you're splitting for the fifth time. 
I tested each axe to process 30-40 pieces of firewood to understand its power, balance, comfort, and performance.
Shocked Reduction Composite Handle
Low Friction Coating
Single Piece, Full-Tang Design
Affordable Price Tag
Fiskars X27 Super Splitting Axe
Powerful 5.8 Pound Splitting Axe
36-inch Non-Slip Composite Handle
Advanced Bevel and Convex Design to Split Wood More Easily
Lifetime Warranty
Portable 26-inch Steel Core Handle
Shock Reduction Grip
Heavy Duty Sheath
Made in USA
This is an in-depth guide to the best splitting axes you can get for the money on the market today.
1. Fiskars X25 Splitting Axe
First up on the list is the Fiskars X25 28-inch splitting axe. This is a great tool and lives up to Fiskars' reputation for making well-designed, tough-as-hell tools and selling them fairly.
The Fiskars X25 has a composite material handle that'll take much more use and abuse than wooden handles. Its axehead starts with a very sharp and thin edge but then widens dramatically towards the handle.
I noticed it bit well into the wood, but immediately after that, it forced the wood fibers apart like a maul. This, along with the low-friction coating on the axehead, meant that it never got stuck in the wood as other axes might, a real boon if you're splitting lots of wood at a time or throughout the season.
The only potential drawback I experienced with this axe is that it was not large enough if you're tall or plan to split dense hardwoods. In that case, you might want something that can have more oomph in each swing – such as the X25's bigger brother, the X27 (which we'll look at next).
Also, the handle is molded around the axehead, and if the handle does break, it'll be much harder to replace than a wooden handle (and at this price point, not worth it).
The X25 is a splitting axe well suited to splitting small to medium-sized pieces of wood, such as in a typical cord of unsplit firewood. Very sturdy and well-designed and comes at a great price for the performance you'll be getting.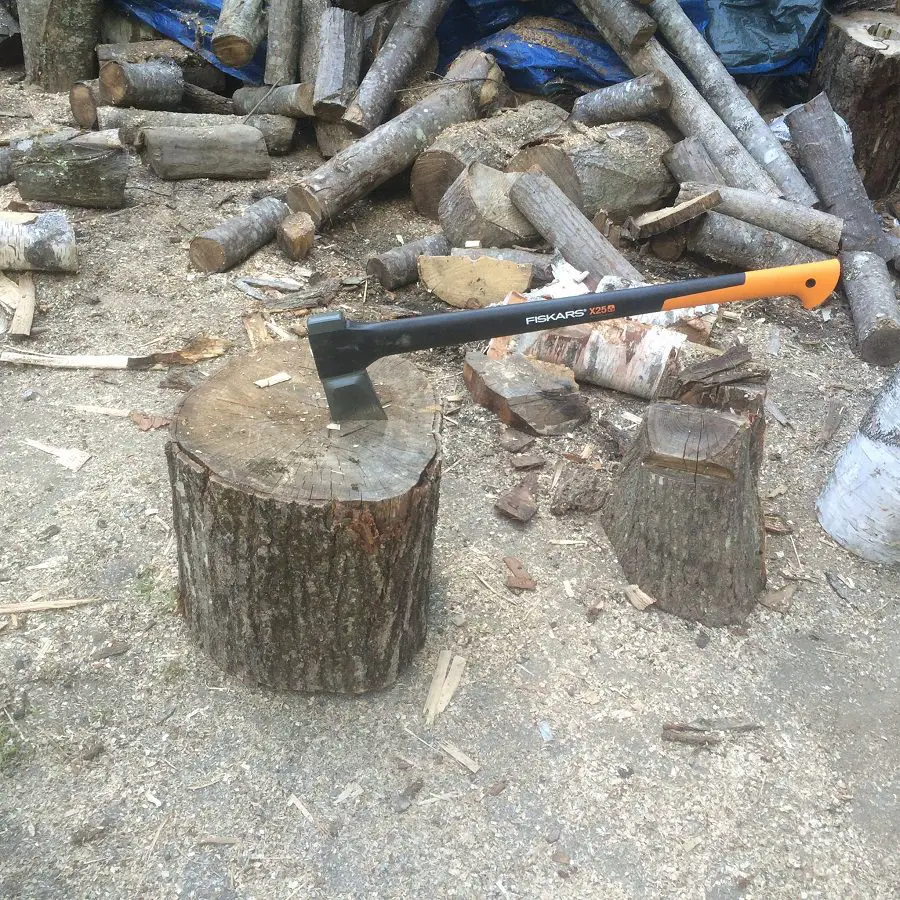 Pros
Fiskars is known for making high-quality, durable tools, and the X25 splitting axe is no exception.
The composite handle is more durable and resistant to damage than traditional wooden handles.
The axehead features a sharp, thin edge that widens dramatically towards the handle, allowing for efficient splitting without getting stuck in the wood.
The low-friction coating enhances the axe's performance and reduces the likelihood of getting stuck during use.
It offers excellent performance at a reasonable price point.
Cons
The X25 is unsuitable for taller users or those looking to split dense hardwoods.
If the composite handle were to break, you can't replace the handle and the entire axe needs to be thrown away.
It is designed for splitting medium-sized pieces of wood and did struggle with chopping large logs.
Verdict
I have rated the Fiskars X25 as the best splitting axe due to its performance, durability, and low cost, leading to high value for money. It is well suited for splitting logs and chopping wood.
2. Fiskars X27 Super Splitting Axe
The Fiskars X27 36-inch splitting axe is the bigger brother of the X25. It's ideal for taller people and those planning to use it to split medium to large logs and rounds of wood. It weighs 5.85 pounds and is the largest of the splitting axes that Fiskars offer. It is identical to the X25 in all ways except for the length of the handle.
I found it extremely powerful and able to split even the largest hardwood rounds.
Remember that if you get an axe too long for your arms, it'll be harder to handle and increase the likelihood of an overstrike (which is bad for the axe and can be bad for you, too, if it rebounds on you).
This is known as "lagging behind the line of the arms." It doesn't mean you won't be able to split wood with it. However, please be confident of your ability to handle and swing an almost 6-pound axe. If you're not going to be doing heavy-duty splitting and you're not sure of your strength, then consider going for something smaller, such as a 28- or 31-inch axe.
I noticed that the two main drawbacks of the X27 are it being potentially too large and long for your needs (don't get it if you're planning on splitting 8-inch logs for firewood, it'll be overkill) as well as the handle not being replaceable if it does break (which it shouldn't, considering how durable everyone reports it to be).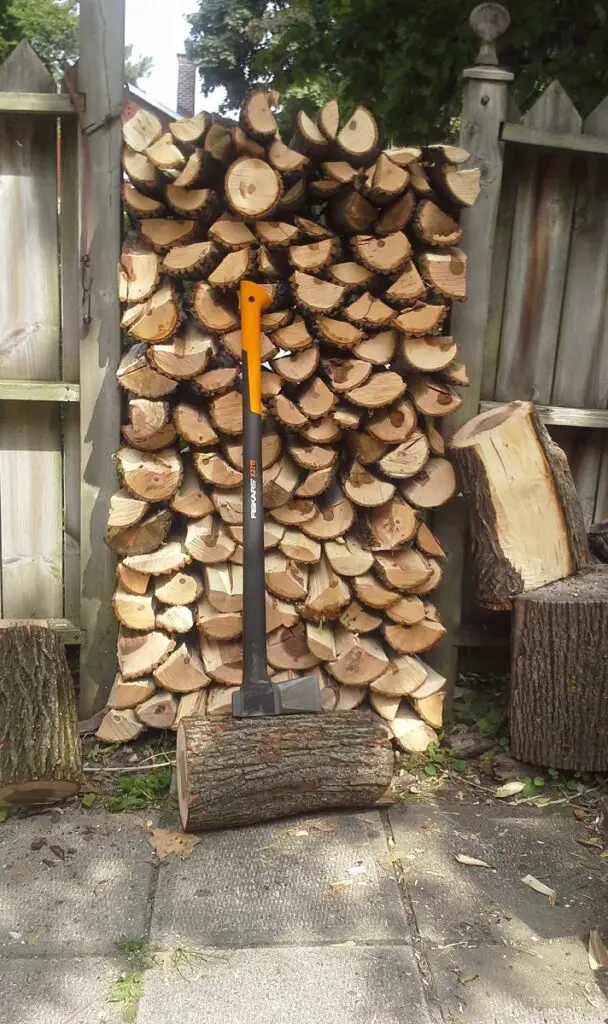 Pros
The Fiskars X27's 36-inch length suits taller individuals who might find shorter axes uncomfortable or inefficient.
Its weight and design makes it ideal for splitting large logs and rounds of wood, especially dense hardwoods.
Like its smaller counterpart, the X27 has a reputation for being exceptionally durable, making it a reliable tool for long-term use.
Given its size and performance, the X27 offers excellent value for money.
Cons
Its large size and weight may make it difficult for those with less physical strength or those not used to handling larger tools.
The X27 is overkill if you're only splitting smaller logs or not doing heavy-duty splitting.
Although the handle is durable, if it does break, it's not replaceable, which could mean purchasing a whole new axe.
Verdict
The Fiskars X27 super splitting axe is an excellent choice for heavy-duty splitting of large pieces of wood, especially dense hardwoods. It's undoubtedly one of the most affordable chopping axes at this price point.
3. Estwing Camper's Axe
Estwing is a classic made-in-USA brand of tools for heavy-duty work and is known for being virtually indestructible. Their axes are forged from a single piece of American steel at their factory in Rockford, Illinois. The Estwing Camper's axe, at 26 inches, is smaller than many axes on this list but makes up for it with its durability and weight.
In my testing, I found that it can easily split smaller logs and kindling, but it is simply too short for processing larger rounds.
This is both a strength and a weakness – but more of a strength as long as you know what you will be working with. On the one hand, you'll never have to worry about overstrikes shattering the handle. Indeed, you'll never have to worry about replacing the handle at all.
On the other hand, it makes it much heavier than similar-sized axes with wooden handles. Steel also conducts shocks and vibrations well, so this axe has a patented shock-absorbing and reducing grip. It is more of an all-around general camping axe than a proper splitting one.
Still, you can reprofile the edge to make it duller and better for splitting (instead of cutting and potentially getting stuck in the wood), and I included it in this list because sometimes you need something that you're sure won't break on you.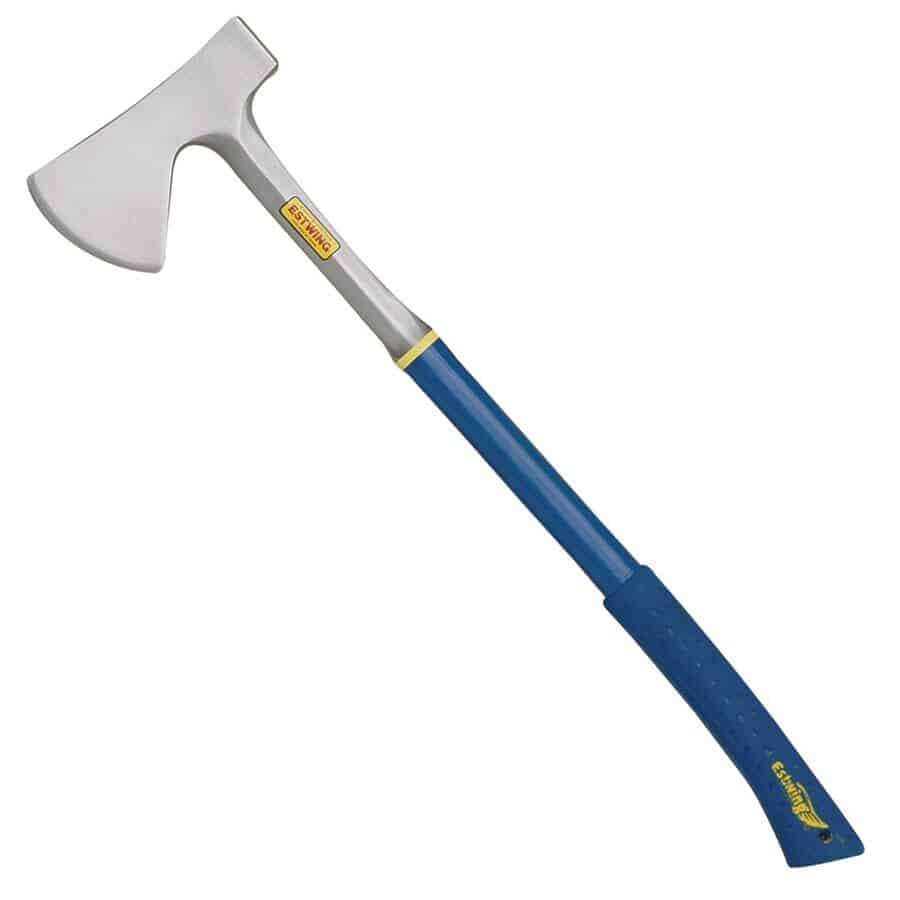 Pros
The Estwing Camper's axe is highly durable, forged from a single piece of American steel.
The axe features a patented grip that helps to absorb and reduce shocks and vibrations.
This axe is a versatile tool, useful for various general camping needs, not just splitting wood.
The single-piece design ensures the handle will not shatter, eliminating the need for handle replacements.
Cons
The solid steel construction makes this axe heavier than similar-sized axes.
While the axe can be used for splitting wood, it's not its primary function.
Despite the shock-absorbing grip, the steel construction still conducts shocks and vibrations more than wooden-handled alternatives.
Verdict
The Estwing Campers axe is the most durable axe on this list and will give the best longevity.
4. Husqvarna 30″ Wooden Splitting Axe
Husqvarna is another highly-regarded name in the axe world. The company is owned by the same parent company (Hultafors Group) that owns and makes the Hults Bruk brand of axes. Hults Bruk manufactures Husqvarna axes, so you get the hundreds of years of Swedish axe-making experience and knowledge going into Husqvarna axes.
Think of these axes as a more affordable, less "premium" line of Hults Bruk axes.
The Husqvarna 30-inch splitting axe is made specifically for splitting wood and excels at it. It is designed with a geometry that allows the edge to penetrate the wood, but then quickly expands to force it apart and split it with as little effort as possible. I was impressed with how easily it could penetrate through the wood. I also found that it rarely gets trapped in the logs.
Replacement handles are available and the straight handle makes for the most efficient use of your strength and the force of your swing.
I remember a few years ago, in 2016, there were problems with quality control and the axeheads breaking. Still, all the most recent reviews have been glowing and it seems the Husqvarna has addressed the issue that was causing the problem (which was the place where they stamped their brand name on the axehead). Since it is less expensive than Hults Bruk, Gransfors Bruks axes, or even Helko Werk, it won't come with as finely sharpened an edge or as polished a handle. Still, those are easy to solve with a sharpening stone, sandpaper, and vegetable oil.
It also comes with a fine leather sheath to protect it from moisture and elements – a welcome touch not all axes have.
Pros
Made by Hults Bruk, the Husqvarna 30-inch splitting axe comes with centuries of Swedish axe-making experience and craftsmanship.
The axe is designed for wood splitting, with a geometry that allows the edge to penetrate and split wood with minimal effort.
The axe design allows for handle replacement, increasing its lifespan and utility.
Cons
There were reports of axeheads breaking due to a quality control issue in 2016, but this seems to have been fixed.
The axe does not come as finely sharpened as some competitors, requiring additional sharpening for optimal performance.
While more affordable than premium brands, the reduced cost is reflected in the lower quality finish.
Verdict
The Husqvarna is a solid axe for splitting wood, but not felling or as an all-round axe.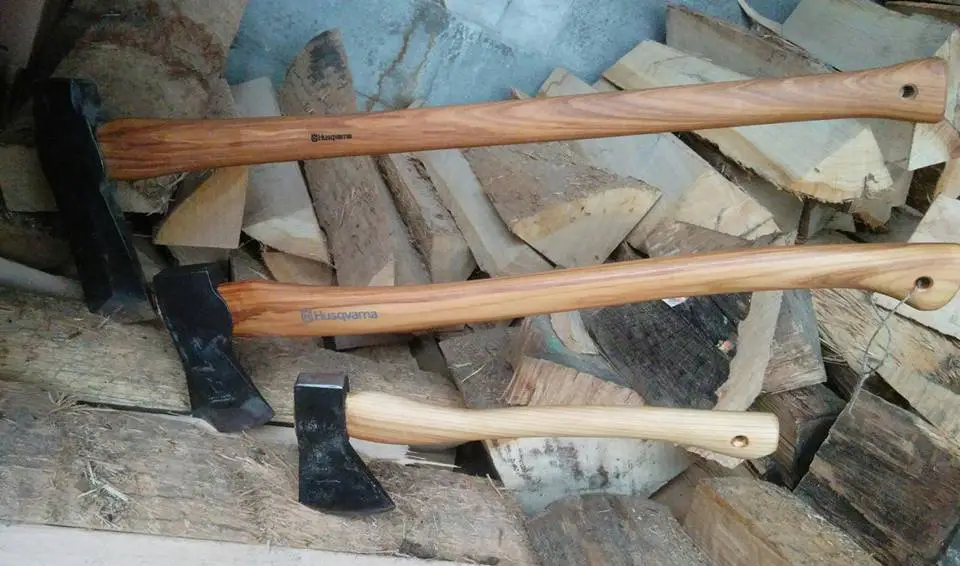 5. Gransfors Bruks Splitting Axe
Gransfors Bruks axes are one of, if not the best axes that you can get on the open retail market today. Everything on their axes says "quality" – from the razor-sharp finish straight out of the box to the grain orientation on the handle, the fit of the axehead, their ability to take and hold an edge, and their overall construction and durability. The Gransfors Bruks splitting axe (31 inches) is no different.
This beast of a splitting axe, with a 3-½ pound axehead, comes with a steel collar on the handle just beneath the axehead. This protects the handle in case of overstrikes (missing your swing and hitting the piece of wood with the handle instead of the axe edge), the most common cause of handle breakage.
The axehead has a concave wedge shape, perfect for forcing apart big rounds of wood and logs. The orientation of the grain on the American hickory handle is perfectly straight, as with all Gransfors axes. In any case, each axe comes with a 20-year manufacturer's warranty, so if you get one with a defect, they'll replace it quickly and free of charge.
I found that it's a joy to handle and use, as the Swedish axe makers who make these tools by hand know how important that is, so it has flawless balance, making all the difference in effort and ease of use.
The head design also makes extracting the axe from wood easy and smooth, which is often not the case with cheaper axes. The Gransfors Bruks splitting axe also comes with a very sturdy leather sheath (bolted, not sewn together) and an "axe book" with everything you need to know about using and maintaining your axe.
Of course, this craftsmanship and premium features come with an appropriate price tag, but you'll understand why it costs what it does when you use it.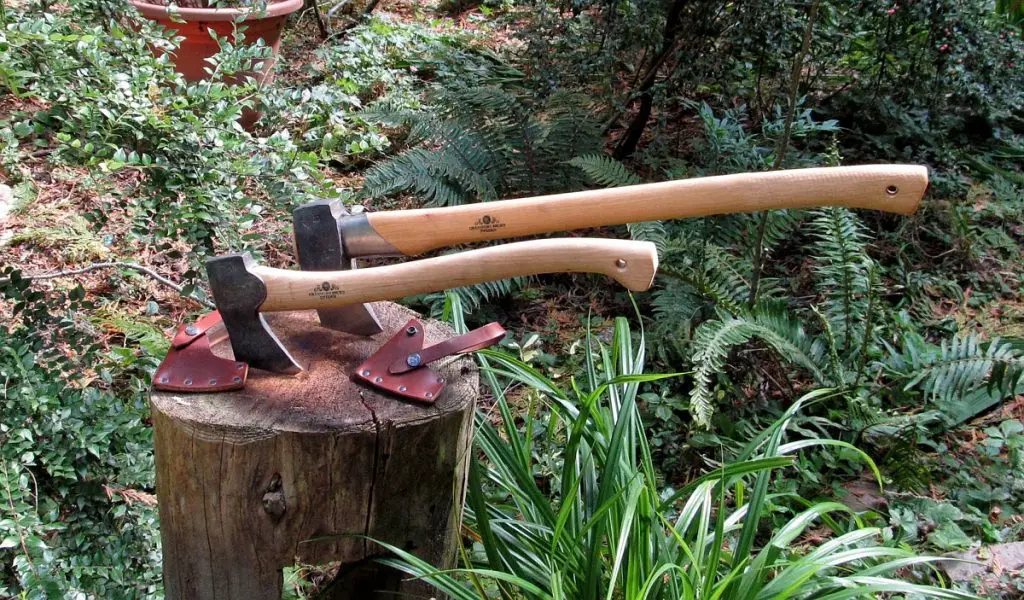 Pros
The Gransfors Bruks splitting axe is renowned for its excellent craftsmanship, including the razor-sharp finish, superior grain orientation on the handle, and exceptional durability.
The steel collar beneath the axehead protects the handle in case of overstrikes, enhancing its lifespan.
The axe has a robust leather sheath and an informative "axe book" for proper use and maintenance.
The axe comes with a 20-year manufacturer's warranty, ensuring a free replacement in case of any defects.
Cons
This axe's high-quality craftsmanship and premium features come with a substantial price tag, making it a significant investment.
Potential Overkill for Casual Users
Verdict
Even good inexpensive axes such as Fiskars don't stand up to a Gransfors – these glide through wood and leave you confused about why you aren't feeling more tired or bent out of shape—a real joy to split wood with.
I highly recommend this axe as the top-performing premium option, but it is expensive and likely not required for casual users.
6. Council Tool Jersey Classic
Council Tool has been making axes and other hand tools in the USA for over 100 years, and their classic Jersey pattern 36-inch is an all-American workhorse and a beautiful, well-crafted axe. Council Tool holds themselves to high and rigorous standards, which is why they ensure that the bit of the axe is hardened to Rc 48-55 at least 1¼ inches back from the cutting edge.
The axehead is secured to the handle with a serrated aluminum wedge, improving the grip and not changing shape and size with humidity and temperature changes. It has "phantom bevels" or hallows (the curves you see in the middle of the axehead) to reduce sticking in the wood, which is always important whether you're splitting wood or felling trees.
This is a good general-purpose axe, and I found that it will fall a tree and allow you to split wood. The bevel is neither too thin (which would make it more of a felling axe) nor too wide (which would allow it to excel at splitting at the cost of making cuts). This is good when you're doing several jobs – the Council Tool Jersey is so big and packs such a punch that you can both fell a tree and split it up.
Since it's an American company, Council Tool also offers excellent, fast customer service and will replace your axe in case of any manufacturer's defects. 
Pros
The Council Tool Jersey pattern axe is a well-crafted, all-American product with a history of high-quality manufacturing.
The axehead is hardened and attached to the handle with a serrated aluminum wedge, which doesn't change with temperature and humidity changes, ensuring durability and a secure grip.
The bevel design allows the axe to be used both for felling trees and splitting wood, making it an excellent general-purpose tool.
Cons
While its versatility is a strength, it might not perform as well as axes specifically designed for splitting or felling in those individual tasks.
Given its size and power, this tool might be larger than necessary, making it potentially unwieldy.
Verdict
The Council Tool Jersey Classic is an affordable American made axe that is an excellent general-purpose tool, but it is less specialized for splitting firewood.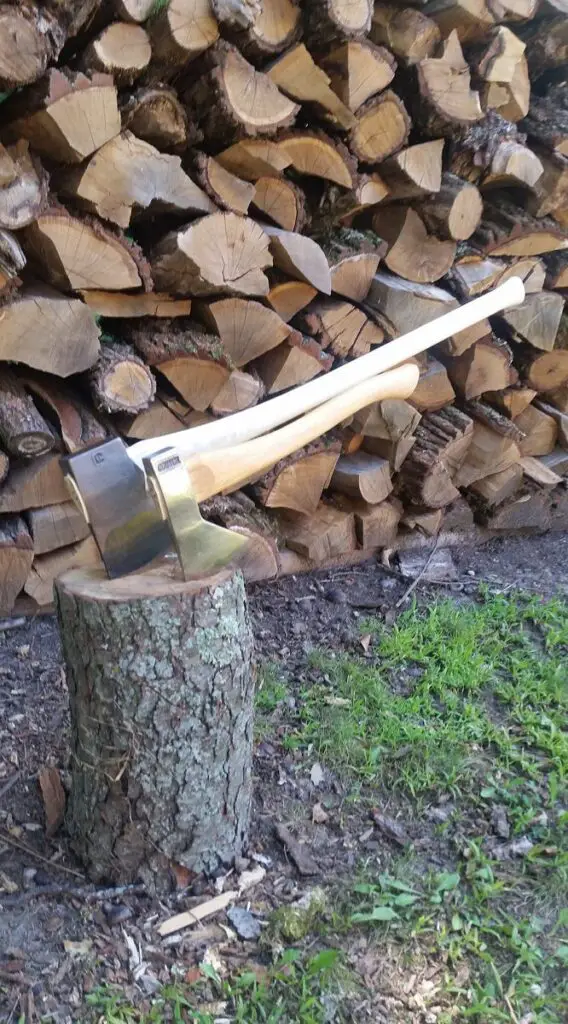 How to Choose a Splitting Axe
Splitting Axe vs Maul
People who don't know the difference between an axe and a splitting maul can be forgiven. After all, not many people in the US and other modern countries spend their time splitting wood and knowing the answer. 
The simple answer is that splitting axes are great for splitting apart rounds of wood and smaller logs. If you have a pesky piece of hardwood that doesn't want to split in one clean break, for example, you can also use the sharper edge of the splitting axe to cut into the edge of the wood, weaken the whole piece, and make it easier to split.
Mauls are essentially sledgehammers meant for splitting wood. They work best of large, hard pieces of wood. Their extra weight and blunt edges will break apart the wood from the force of the blow. But, they're generally heavier than an axe for chopping wood and slightly harder to use, especially for smaller people and those not experienced with splitting wood.
Splitting axe vs felling axe
The main difference between a splitting axe and a felling axe is the width of the axe head. Felling axes are thinner and designed to penetrate deeper into the tree trunk during each strike to cut through a tree more quickly. A splitting axe has a broader head designed to force the fibers apart when cutting firewood.
How heavy should a splitting axe be?
Splitting axes should be between 4 and 6 pounds in total weight. This allows significant force to be generated during every strike. Wood splitting mauls are often up to 8 pounds in total weight due to their larger head shape.
How long should a splitting axe handle be?
The best axe for splitting wood should have a handle length of 28 to 36 inches, depending on the user's height. This allows much force to be produced during each strike to split large rounds of hardwood more easily.