Pulaski axes are versatile and heavy-duty tools used in wildland firefighting, forestry, and even gardening.
The Council Tool Pulaski Axe is my top choice because it is durable, affordable, and won't let you down in an emergency. It is made in America from high-quality steel with a powerful 5.5 pound axehead. It is ideal for clearing brush, digging firebreaks, and cutting through roots.
Invented by Forest Service ranger, Ed Pulaski, after battling and surviving a devastating wildfire, Pulaski axes (also called Pulaski tools) were created to help save the lives of forest rangers and firefighters by helping them in their work.
A Pulaski Axe consists of an axehead with an axe bit on one side and an adze on the other. They can be used to chop down trees one moment, and churn up earth and dig up or cut through roots the next. If you can't construct a firebreak fast enough because your axe bit is dull after striking roots and the ground too many times, you might lose your home – or your life.
This article will take a look at the best Pulaski axes you can get based on my extensive testing, with a comprehensive review of each.
36-inch American Hickory Handle
Powerful 5.5 Pound Axe
Red Enamel
Made in USA 
Black Enamel
Blade Sheath Included
Federal Supply Service Standards
Made in USA
1055 High Carbon Steel Blade
21-Inch Beechwood Handle
Removable Hex Nut to Rehandle Easily
1/3-inch Steel Core Runs Through Handle
The Council Tool Pulaski is a heavy-duty tool made for serious work, including wildland firefighting. It's made in America and is of excellent quality. The Barebones Living Pulaski is smaller, with a sleeker design and a metal pommel on the end of the handle. You might not want to use this to fight fires, but still a good axe with an interesting innovation.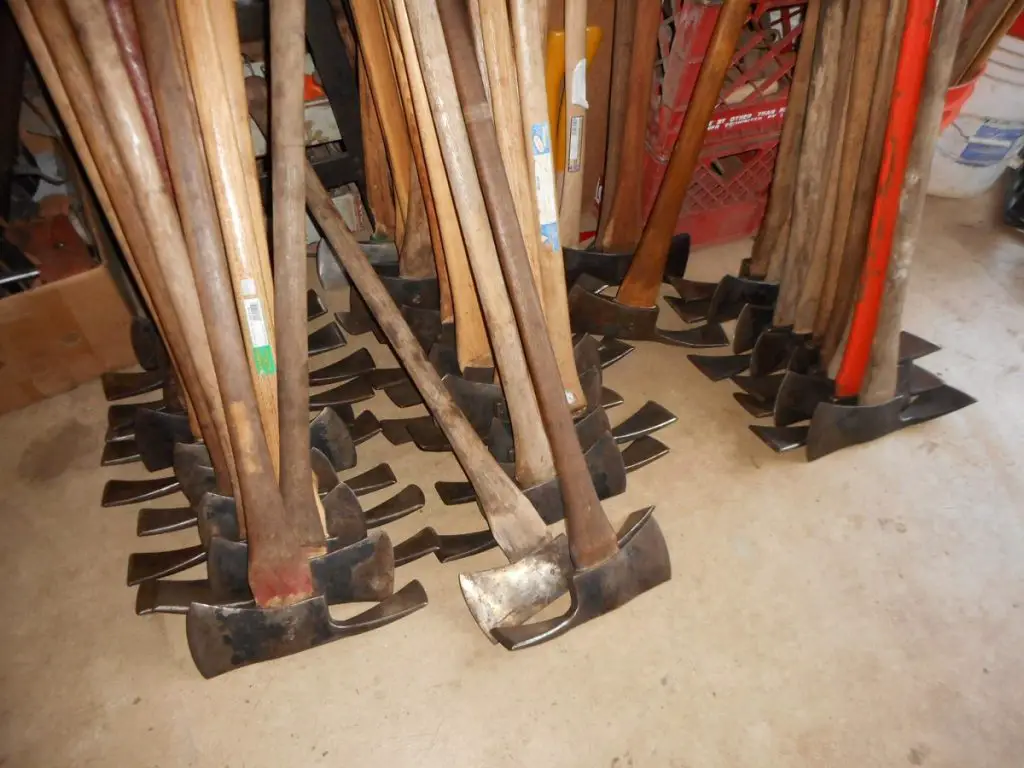 If you do want to know more, read on!
1. Council Tool Pulaski Axe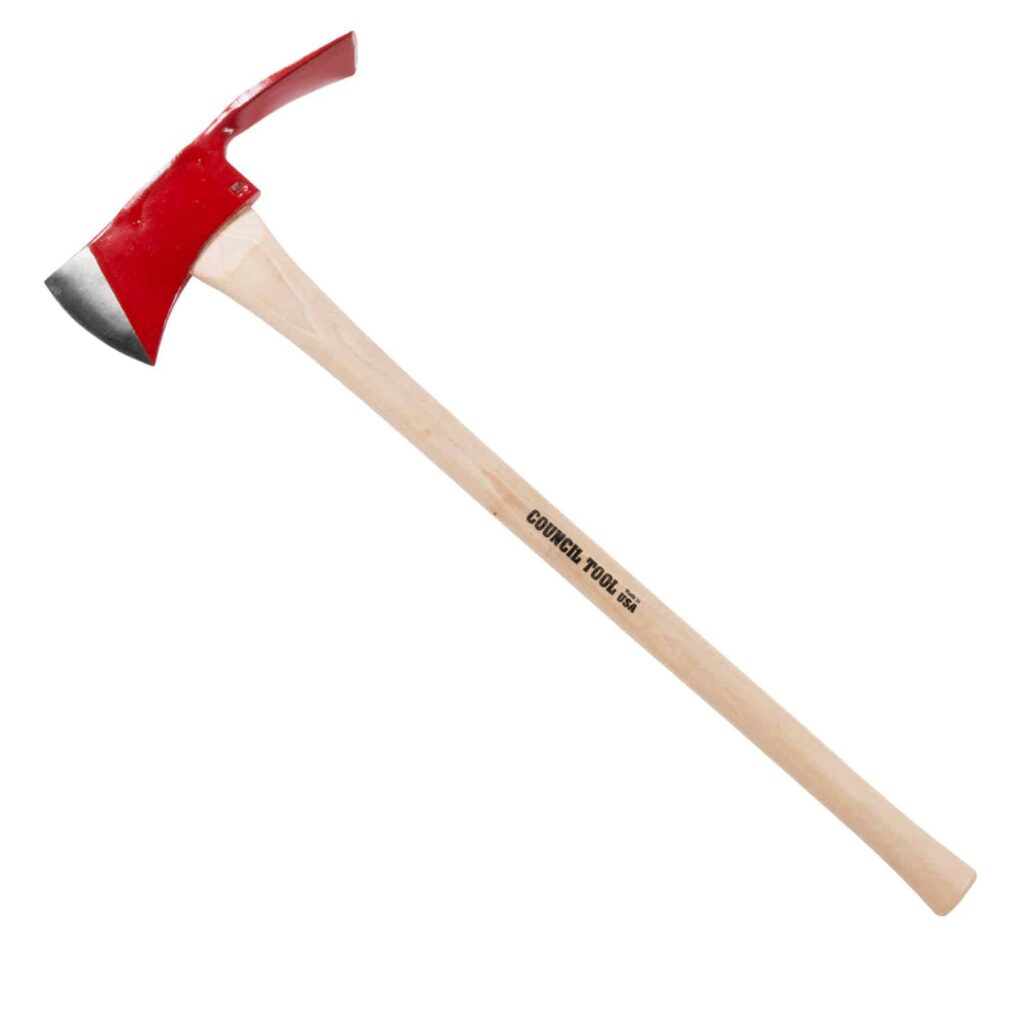 Red enamel
36 inches
4-1/2 inch cutting edge
3-3/4 pound axehead
5.5 pounds total weight
Made in USA
High-quality American steel and materials
The classic red-enamel Pulaski axe made in the USA by the legendary, American company Council Tool. It's a large and serious tool that packs a great punch, allowing you to chop down trees using its four-and-a-half inch cutting edge and punch through and pull out roots using its adze. I had no trouble in creating a firebreak through in a rugged location.
Since it's made in the USA, using high-quality US steel and materials, you know that it'll serve you well and won't fail you in hard conditions. I highly recommended it as a serious working tool.
Pulaski Guard Sheath
Steer hide leather
Riveted for extra durability
8 holes in strap to adjust for different length/size Pulaski axe heads
This steer hide leather sheath for Pulaski axes is a good accessory to pair with your Council Tool Pulaski axe, which doesn't come with one. It's riveted for extra durability and a strap connecting the two sides has 8 holes to adjust for Pulaski axeheads of different lengths and sizes.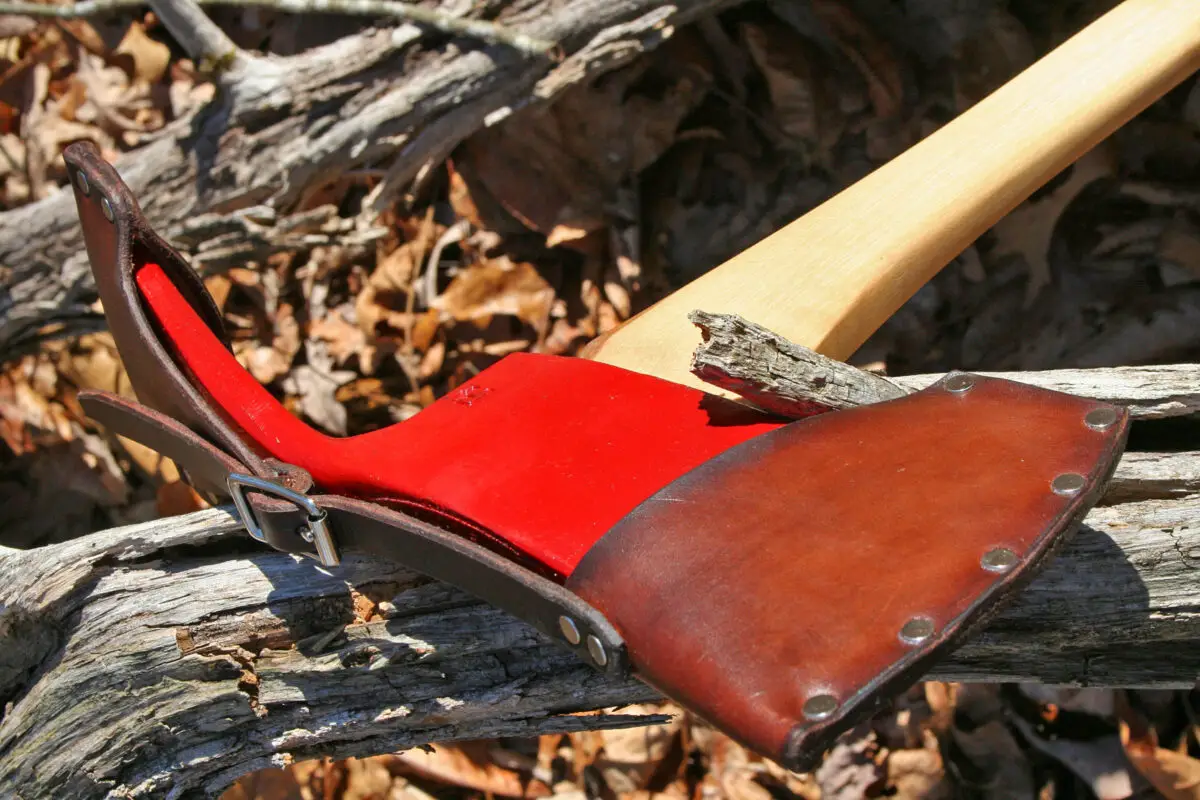 Pros
Both the Pulaski axe and the sheath are made of high-quality materials, including American steel for the axe and steer hide leather for the sheath.
The axe is made with durability in mind, with the axe being manufactured by a reputable American company.
The sheath is adjustable, with 8 holes in the strap to fit Pulaski axeheads of different lengths and sizes, which increases its usefulness.
Cons
This axe is quite heavy with a total weight of 5.5 pounds, which I did find was tiring after use.
The sheath is not included, necessitating an additional purchase to protect and carry the tool.
2. Council Tool Pulaski FSS (Federal Supply Service)
Black enamel
Sheath
Same specs as regular one otherwise
The Council Tool FSS Pulaski axe is almost identical to the red-enamel version. But it is created to Federal Supply Service standards, because Council Tool supplies federal services – such as the US Forest Service – with many tools. The axehead is covered in black enamel and comes with a sheath. But it's the same high-quality build and materials from Council Tool's Lake Waccamaw, North Carolina factory.
Pros
Made with the same high-quality materials and build as the regular version, ensuring its durability and performance.
Unlike the regular version, the FSS Pulaski axe comes with a sheath, adding value and convenience to the purchase.
Created to Federal Supply Service standards, this axe is suitable for professional use, as it meets the stringent requirements of federal services.
Cons
Beyond the color and the included sheath, this version does not offer significant differences from the regular Pulaski axe, potentially limiting its appeal to those who already own the regular version.
3. Barebones Living Pulaski Carbon Steel Axe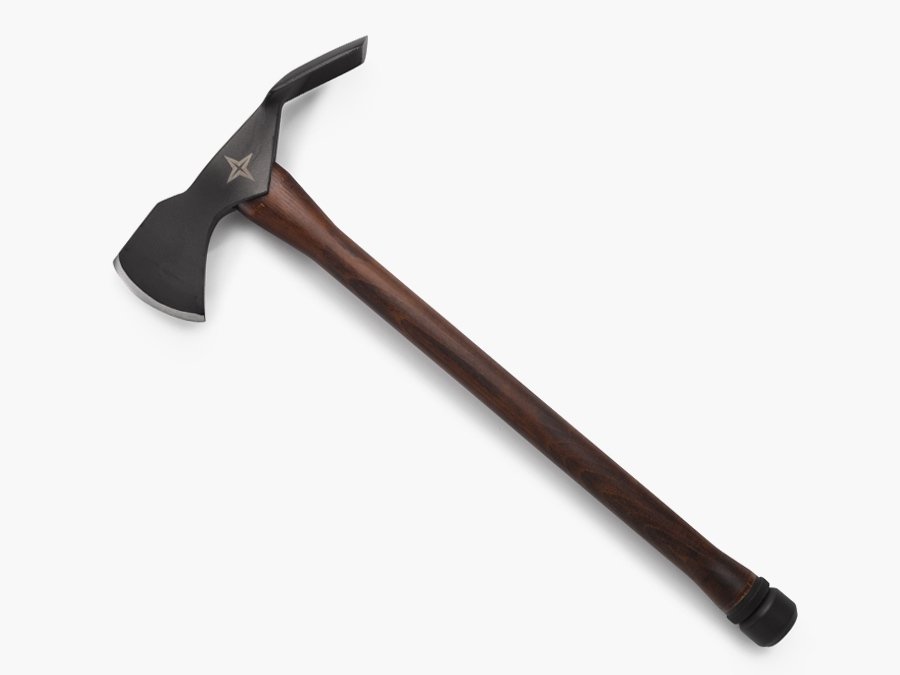 Sheath
21 inch handle
3 pound axehead
Beech handle
Steel pommel at handle base
Removable hex nut for rehandling with ease, hex key included
1055 carbon steel
1/3 inch steel core that runs through the handle – from base to eye
5.5 lb total weight
The Barebones Living carbon steel Pulaski is a different kind of axe than the Council Tool version. The Barebones Pulaski has a sleeker design and is smaller, too – both lighter and with a shorter handle than the Council Tool Pulaski. It has a beech handle and a steel core running through to a metal pommel on the end of the handle.
This might seem unnecessary, but the pommel provides a nifty feature – you're able to use it to bash something on the ground (or into the ground, like a stake). This is something that you couldn't do with a wooden-handled axe without destroying it in short order. The eye of the axe also has a removable hexnut for rehandling the axe with ease, even if you do break the original beech handle.
It comes with a wonderful sheath and is made of 1055 carbon steel, which means you'll need to take care of it to prevent rusting or spotting. Not a bad axe at all, but I did find the axehead was a bit light if you're looking to do serious work with it.
Pros
The Barebonesaxe is smaller and lighter than some alternatives, making it more portable and easier to handle for those with less strength or experience.
It features a steel core running through the handle and a steel pommel at the base, providing the ability to bash objects without damaging the handle.
The removable hexnut in the axehead allows for easy rehandling.
Cons
The lighter weight of the axehead is not be suitable for those needing to do heavy-duty work.
The 1055 carbon steel construction necessitates regular maintenance to prevent rusting or spotting, adding to the upkeep time and cost.
While the steel core enhances the handle's resilience, the beech handle won't be as durable as hickory.
4. Truper 35 inch Pulaski Axe
35 inch American hickory handle
Heat treated, allow steel blade
No guard included
The next on my list is the Truper Pulaski axe. It is a simple but effective combination of a longer wooden handle with a steel head. This option won't break the bank and will allow you to perform all the tasks of the more premium options. The head is heat treated for improved durability so it won't get damaged when clearing roots and sand. I didn't notice any damage to the head after a few hours to heavy work.
The type of Pulaski tool is better suited for landowners and gardeners rather than firefighters.
It doesn't come with a blade guard, but you can purchase one separately.
This doesn't have the manufacturing quality of the Council Tool options, but if you are just going to be using it every now and then, it is a more affordable alternative.
Pros
This is a budget-friendly option compared to premium brands.
The axe head is heat-treated for enhanced durability, ensuring it remains in good condition.
It features a 35-inch American hickory handle, which can provide improved leverage and reach.
Cons
The design and functionality of this axe isn't suited for heavy-duty tasks or professional use, such as firefighting. It's more appropriate for landowners and gardeners.
The overall manufacturing quality of the Truper Pulaski axe is lower than some other brands like Council Tool.
Pulaski Axe History
This video by the National Interagency Fire Center (one of the federal facilities which oversee wildland firefighting efforts in the western states) has a typical kind of government humor (they "interview" a Pulaski axe). But it's actually a great little mini-documentary about the Pulaski axe and the history and traditions of wildland firefighting. The best thing is the genuine footage of firefighters using the axe in action. It's a valuable piece of firefighting history and the Pulaski features prominently.
The axe bears the name of Ed Pulaski, who led 45 men to shelter down a mine shaft during the catastrophe known as the Big Burn in 1910. An area of forest the size of Connecticut burned, and Pulaski invented the tool that bears his name because he saw the need for better firefighting tools. It's an amazing story; you can read more about it on this US Forest Service page.
What are Pulaski axes used for?
Pulaski axes are extremely versatile and can chop wood, fell trees, clear brush, dig trenches, and remove roots. Firefighters use them to create fire breaks and remove excess fuel from an area.
How much does a Pulaski axe weigh?
Pulaski axes weigh between 5 and 6 pounds. They are on the heavy side compared with most axes because of the size of the axehead and the adze on the poll, which isn't present on splitting or felling axes. They are also heavy-duty enough to cut through roots and brush when digging through the soil.
Conclusion
If you want to use your Pulaski axe for serious work, especially if you plan to use it "in the field" during wildfires, the Council Tool Pulaski axe (the regular or the FFS Pulaski) should be your choice, no questions asked. It's the classic Pulaski made in the USA, and it'll serve you well  – plus, your handle will be much easier to replace with a standard factory handle that you can get from Council Tool).
However, if you're looking for something smaller and innovative, meant for less intensive use, the Barebones Living Pulaski is a great choice too. If you've got experience with these or any other types of Pulaski axes, leave a comment below – this is a great tool with an honorable history and I'd love to hear your memories and or knowledge about it. Thanks for reading!