The best camping hatchets are 12 to 14 inches long, weigh 1 to 2 pounds, and are made from durable steel.
The Fiskars X7 Hatchet is my top choice because of its shock absorbing composite handle. It features a lifetime warranty and full-tang design that will last forever. It is ideal for campers who want to buy the last hatchet they will ever own.
Forgetting your hatchet on your next camping trip can be a catastrophe, especially if you intend to cook on a fire pit. One of the main reasons for taking a hatchet or small axe outdoors is to cut kindling or trim logs for the fire.
There are several key criteria that you should consider when selecting your hatchet. This includes performance through the cutting edge, durability in the handle construction, and the ability to sharpen the blade easily and keep it sharp for long periods. Other aspects that you might not have thought about are the axe's length and weight for transport and storage.
I am a big camping fan and have tried to compile my years of bushcraft experience into this hatchet guide. I took these hatchets out on my last camping trip and spent many hours splitting kindling to judge their power, balance, performance, and comfort.
Extremely Durable Design
Carbon Steel Head and Full-Tang Design
Shock Reduction Composite Handle
Lifetime Warranty
One-Piece Forged Steel Design
Available in Multiple Colors
Patented Shocked Reduction Grip
Made in USA
Anti-Friction Coating
Heat Treated Poll for Hammering Tent Pegs
Powerful Heavy Hatchet at 1.9 Pounds
Comfortable Non-Slip Grip
1. Fiskars X7 Hatchet
One of the most popular hatchets, and rightly so, is the Fiskars X7 Composite Hatchet. It is specially designed for chopping kindling and has many features that make it at the top of my list. Fiskar's claims that the composite handle material (called FiberComp) is virtually unbreakable.
You can see the size of this hatchet from this photo of mine during field testing: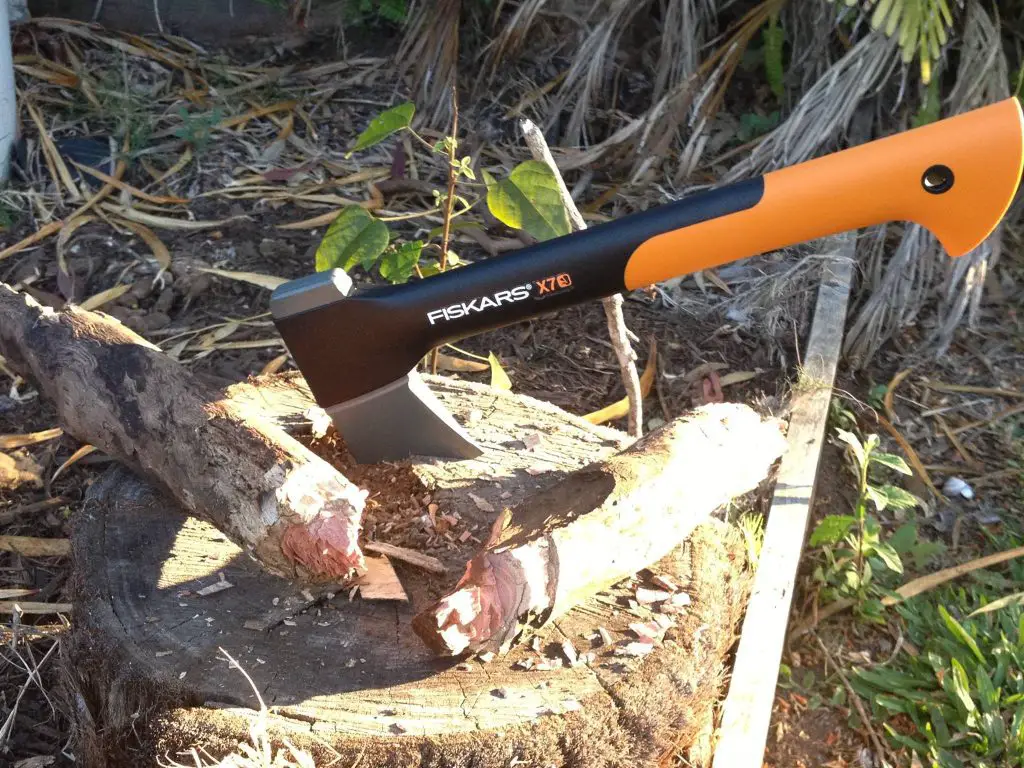 Is it unbreakable? No, but it is extremely strong and lightweight.
The photo below shows what can happen to a Fiskars composite handle over a long periods. It has broken in half. I have found this to be extremely rare. When comparing this axe to a wooden handle it is much more robust.
Fiskar's also provides a lifetime warranty, so even if it does break, it is nothing more than a few days of inconvenience. While the photo below might be confronting or even surprising, I still give this axe a 5 out of 5 in terms of durability.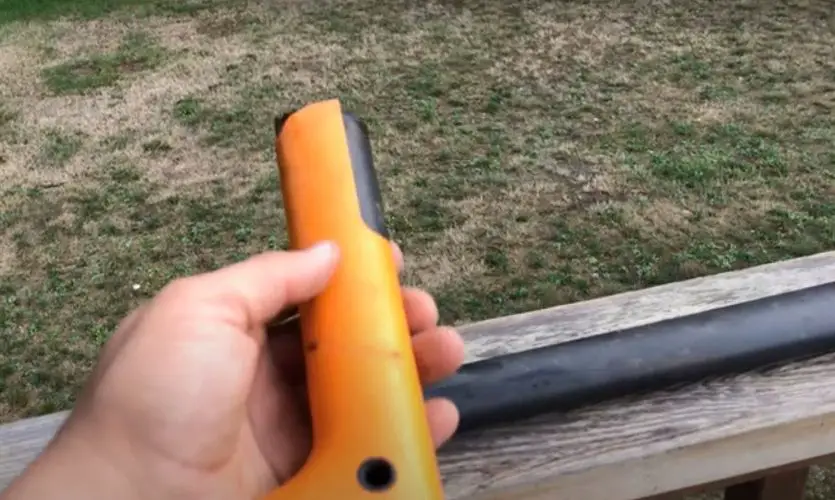 In terms of performance, I was very impressed with the X7. I found that it has enough power to split medium sized logs, and the combination of low friction coating and the wide profile meant that it didn't get stuck in the wood.
The axe also comes with a plastic sheath. This protects the blade from dulling and nicks, cutting yourself, or damaging other possessions. The sheath has a quick and easy carry case and can be attached to a backpack for camping.
This hatchet tops my list because of its overall quality and performance.
If you choose this axe then you won't have any regrets. I own the Fiskars X10, which is a slightly larger model than the X7 and handles very well.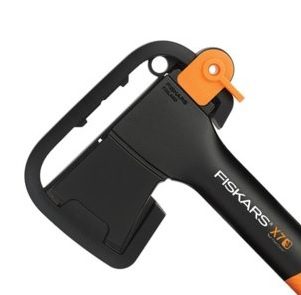 Weight – 1.4 lb
Length – 12.5 in
Head Material – Carbon Steel
Handle Material – Composite
Pros
Extremely durable composite handle
It comes with a useful plastic sheath
Strong and lightweight
Lifetime warranty
Cons
While extremely durable, it is not 'unbreakable' as the marketing might claim.
2. Estwing Campers Axe
Estwing are an American manufacturer renowned for quality, and their Camper's axe does have a good combination of performance and durability. The axe is made from one piece of fully forged tool grade steel. This makes it different from a two piece design with a removable handle from the head.
In terms of disadvantages, this means that the head cannot be replaced if damaged and the handle cannot be replaced when its worn out. But in the positive category, the likelihood of needing to do maintenance is significantly reduced.
The other important aspect to know about is the weight. The one-piece steel design makes it much heavier than some other options – particularly the lightweight composite handle competitors. I would avoid this option if you are backpacking or traveling long distances where weight matters.
However, if you are driving to your campsite and want an axe that will last for a lifetime, then the Estwing Camper's Axe is an option I would recommend.
I didn't find its performance as good as the X7, but it was still satisfactory. I didn't have any issues and was able to split kindling, and felled a small tree, that you can see in the photo below.
It also comes with a nylon sheath to protect the blade, which I always recommend to keep your axe sharper for longer.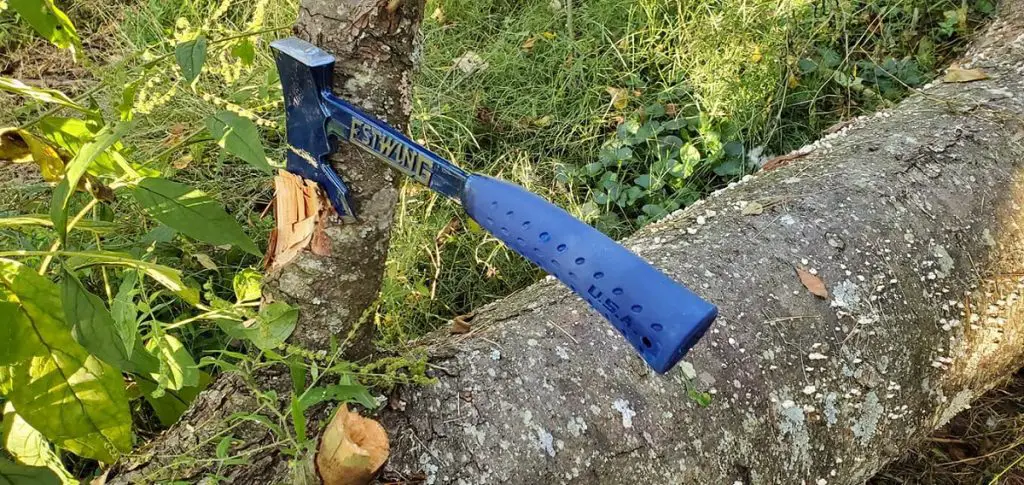 Weight – 2.0 lb
Length – 14 in
Head Material – Steel
Handle Material – Steel with a shock-resistant handle
Pros
Available in multiple colors if you care about aesthetics
Comfortable shock resistance handle
Made in USA
Cons
Remember that the axe is a forged one-piece design, so you can't replace the handle or head if damaged, although this makes maintenance much easier.
It is one of the heaviest camping axes at 2.0 lb because of its one-piece steel design.
3. Husqvarna Composite Hatchet
The first thing I noticed about this hatchet is the design of the blade – it has a flat top and a downwards facing blade. It also has a hammer function on the back of the blade which I have found to be very useful when camping for hammering in tent pegs. I am a big fan of having less tools but more functionality.
The handle is made from a fiberglass reinforced composite handle. Although it still weighs in at 1.9 lb, which is one of the heavier options on my list.
Again, you need to consider the purpose you are looking for – if its just for cutting kindling around your house then this will do the job just fine, but if you are backpacking through the mountains then I would go with a lighter alternative.
In my testing I found that the extra weight allowed me to apply more power and I was able to split medium-sized logs for firewood.
Husqvarna also claims to have an anti-friction coating on the head to help with cutting and splitting, although I couldn't notice any difference in terms of performance.
Weight – 1.9 lb
Length – 13.5 in
Head Material – Steel
Handle Material – Fiberglass Composite
Pros
I like the 13-inch length as it does give plenty of leverage for applying its significant weight to applying more force.
The design of the composite handle makes it very durable.
Cons
This is at the heavier end of the spectrum at 1.9 lbs, so is not ideal for backpacking.
4. SOG Camp Axe
This SOG Camp Axe is a different style from the previous options. I have selected this because of its lightweight and small stature. At only 11.5 inches in length and 1.0 lb in weight, it is half the weight of some previous options like the Husqvarna. If you are backpacking and care about size and weight to fit in your pack, consider this option seriously.
I must say that the axe does feel like it has a lower quality of construction, and this might be because of how it attaches the handle to the head, which is less robust than the one-piece designs. I like the stainless steel head which protects the blade from rust and sap that can cause corrosion over time.
This is not a versatile axe – it is too small for real work. You cannot fell a tree or hew any reasonably sized limbs off a log. It is for kindling and kindling only. I like SOG's other designs, in particular their throwing axes.
It also comes with a glass-reinforced nylon sheath, which I always recommend to keep your blade sharper for longer.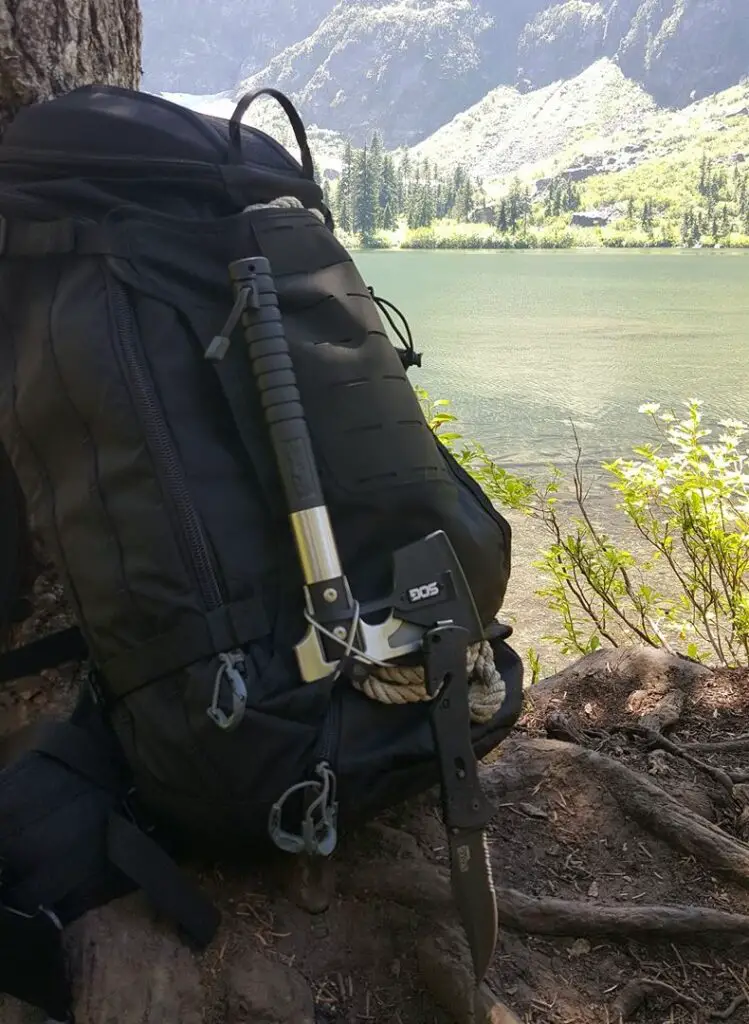 Weight – 1.0 lb
Length – 11.5 in
Head Material – 2Cr13 Stainless Steel
Handle Material – Glass-Reinforced Nylon
Pros
Extremely lightweight and portable.
Stainless steel head protects the head from long-term corrosion.
Cons
Not a versatile axe – only suitable for kindling.
The light weight means you must supply most of the power yourself.
5. Gerber Freescape Hatchet
I have picked the Gerber Freescape because it is a slightly larger option at 17.5 inches, but it is still relatively lightweight at 2.0 lb considering its extra size. The longer handle also means that you can use it in two hands and apply significantly more force.
The geometry of this Finish design has fatter cheeks in the head which gives it better performance as a log splitter, which is an advantage over the smaller hatchets. The handle is molded around the axe head, so it is extremely durable but you cannot replace the handle or head if damaged.
It also has a hammer function on the back which I have found is useful for pegs and other camping activities.
I also like that it is bright green so that you won't leave it behind at a campsite, but this is my preference.
The Freescape is extremely similar to the Fiskars X10 – they are the same axe under a different name and branding.
I have written a more in-depth review of the Gerber Freescape that you might find interesting.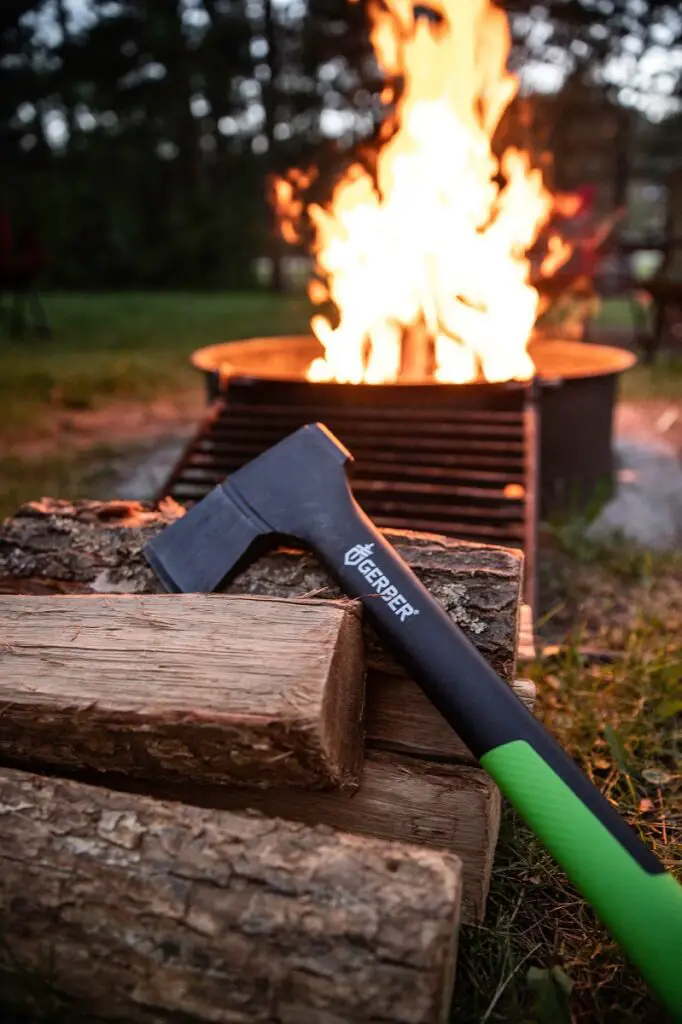 Weight – 2.0 lb
Length – 17.5 in
Head Material – Forged Steel
Handle Material – Composite
Pros
It is suitable as a log splitter and for kindling due to its thicker cheeks.
Very similar to a Fiskars X10 option.
Cons
It is a longer, larger axe than the other hatchets.
6. Coleman Camp Axe
Coleman are a common brand in camping gear, and they also make a quality hatchet. This axe has a steel handle with a rubber grip and a steel head. This makes it heavier than the composite handle options of an equal length. It can cut up kindling, hammer in pegs, and any other number of camping tasks.
At 1.8 lbs, you can also apply a fair bit of force through this axe if you want to do a little extra, although I wouldn't use it for tree felling or log splitting.
It also has a fairly unique notch in the head – designed to help you pull tent pegs when packing up. I am a big fan of less tools but multiple functions, especially when camping and this fits that bill.
The Coleman hatchet is the budget option on this list – in fact at this price, it is hard to walk past. You could throw it out, replace it every few years, and still come ahead financially. It doesn't offer anything fancy, like the blade coatings of the more premium axes – so you will just have to apply a little more elbow grease.
My father owns a Coleman hatchet and has used it for as long as I can remember, so you can be assured of its durability.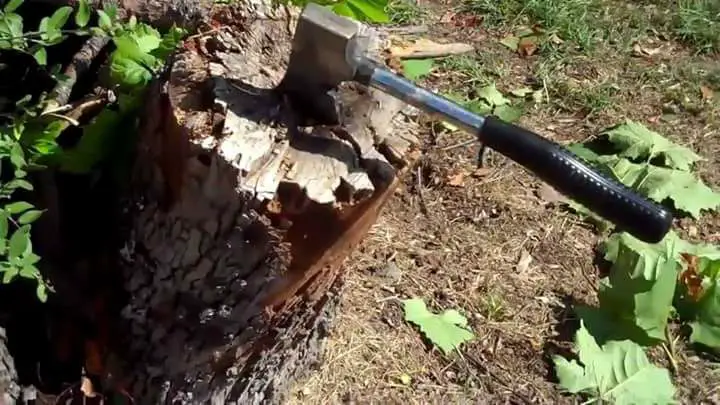 Weight – 1.8 lb
Length – 12.5 in
Head Material – Forged Steel Head
Handle Material – Steel with Rubber Grip
Pros
This is the most affordable hatchet on this list.
This no-nonsense axe will do everything you need and nothing more.
Cons
It doesn't come with a sheath to protect the blade when traveling.
The steel handle does make it heavier considering its shorter size.
Hatchet Buying Guide
There are hundreds of different brands and variations of axe available on the market, so the key is to understand your requirements to narrow your options. If you are looking to fell trees or hew logs, you will need a different axe than if you only intend to cut kindling.
This guide is focusing on hatchets – which I am defining as a one-handed axe primarily used for cutting kindling. This is ideal for camping purposes with the key criteria of being lightweight, easy to transport and pack, durable enough to last for years, and high-performing blade material and design.
I have split these key criteria so let's explore each one individually.
Handle Length
The length of the handle is an important consideration. If the handle is too long, it is difficult to store and can be unwieldy when cutting smaller logs and kindling. If the handle is too short then you cannot get enough leverage when swinging the axe head which makes cutting hardwoods more difficult.
The most common range of handle lengths in this list of camping axes is from 9 inches to 16 inches. My personal preference is slightly longer in the 12 to 14-inch range. I find that the shorter hand axes, while easy to pack, do lose significant performance in cutting.
Handle Material
Hatchet handle's have traditionally been made from wood, but in recent times fiberglass or composite handles have become more popular.
Wooden handles are cheap and durable and can be replaced or maintained in the field. They can also be damaged by rot or insects over time. To keep a wooden handle in good condition I prefer to maintain and oil it regularly.
Composite handles are lighter and provide a comfortable, non-slip grip. They are also durable but can't be maintained by the average outdoorsman, especially in the field.
Weight
Alongside the length of the shaft, the weight of the hatchet, in particular the head weight, provides leverage when cutting kindling. If you are working with harder woods or wood with knots, you will want to have extra weight to increase the force on the blade through each swing.
The heavier the axe head, the less force you need to apply personally – this can result in a big difference in muscle fatigue, especially if you are cutting a lot of wood.
Within this range of hatchets, most options from 1.0 to 2.0 lbs of weight will be available. This is also impacted by the size and shape of the axe head as well as the material of construction.
Uses and Functionality
I generally split up hatchets into three categories – traditional wooden hatchets with a steel head, composite hatchets made from synthetic materials, and tactical hatchets that are thinner, lighter, and designed for throwing.
Traditional hatchets are made from a wooden handle with a separate steel head. These are easily maintained but do require maintenance. They can last for generations as long as the wood is treated and replaced as it gets damaged. The blade can also be sharpened and replaced over time. If you went camping with your grandpa, this is the hatchet he would've used.
The composite hatchets are made from a synthetic material that is lighter and stronger than a traditional hatchet. The head is often built directly into the handle and cannot be replaced. This means it does not require as much maintenance but can be more durable over time. For beginner outdoorsmen, then I would recommend a composite design.
The tactical hatchet or tomahawk is better suited for throwing. They are made from much lighter-weight materials to be thrown further and more accurately. They are not recommended for cutting kindling, so I haven't included any.
Frequently Asked Questions
How much does a good hatchet cost?
The price range for camping hatchets ranges from $10 to $60, depending on the handle material, design, and durability. Composite handles are much stronger than wood and lighter than steel but come at a premium cost.
How much should a hatchet weigh?
A hatchet should weigh between 1.0 and 2.0 lbs, depending on whether you need to only cut kindling or perform other tasks such as splitting logs for firewood.
How long should a hatchet be?
The most common range of hatchet handle lengths of camping axes is 9 to 16 inches. My preference is slightly longer in the 12 to 14-inch range, as this gives enough leverage to provide sufficient force to cut the wood but is compact enough to pack and travel.
Conclusion
Having a high-quality hatchet is essential to any camping trip. It gives you the ability to cut firewood, especially kindling, as well as to trim firewood and hammer tent pegs. I have spent many years camping and have used a lot of hatchets, so I hope I have been able to provide some insight to help your buying decision.
The key considerations are weight, length, handle material, and head construction. If you are clear on your own personal requirements then picking a small axe from this list makes sense.