Fiskars is one of the most popular manufacturers of axes, but it can be difficult to tell the difference between their product range. I have used their axes for most of the last decade and have put together this comparison guide to help you find the axe that suits your needs.
Fiskars make dozens of different models, all with very similar names. With their composite handle material and orange styling, they even look the same. Understandably this confuses many people, so I have broken down the different products into their key specifications and for what job they are best suited.
Quick Summary
If you don't want to go through the entire article, then check out this quick summary comparison table of Fiskar's most popular axes:
| | | | |
| --- | --- | --- | --- |
| Fiskars Axe | Length | Weight | Best Suited For |
| X5 | 9.5 inch | 1.3 lb | Backpacking |
| X7 | 14 inch | 1.4 lb | Chopping Kindling |
| X10 | 17 inch | 1.7 lb | Versatile Camping Hatchet |
| X11 | 17 inch | 1.8 lb | Splitting Small 8″ Logs |
| X15 | 23.5 inch | 2.3 lb | Felling Medium 8-12″ Trees |
| X17 | 23.5 inch | 2.4 lb | Splitting Medium 8-12″ Logs |
| X21 | 28 inch | 3.3 lb | Splitting Large 12″ Logs |
| X25 | 28 inch | 4.0 lb | Splitting Large 12-24″ Logs |
| X27 | 36 inch | 4.0 lb | Splitting Extra-Large 24″+ Logs |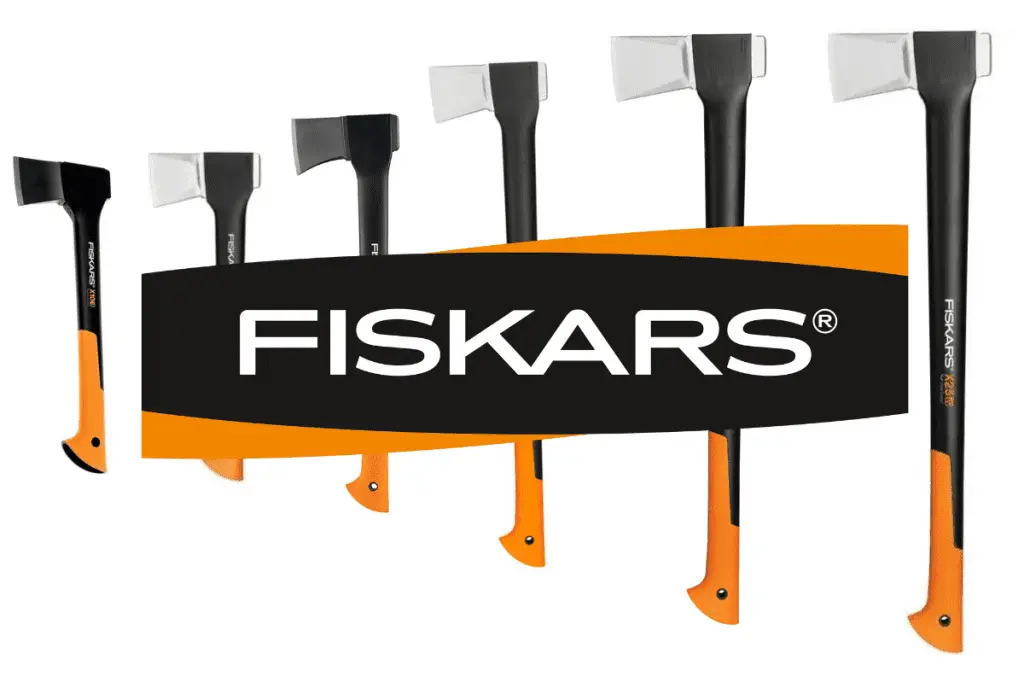 Fiskars X5 Hatchet
The Fiskars X5 is what I would recommend for anyone looking to go backpacking. It is the shorter axe at only 9.5 inches long and comes at 1.3 lb. This is only 0.1 lb less than the X7, but I find its shorter length ideal when traveling long distances and weight matters.
The shorter handle length does make it more challenging to use as I couldn't get much leverage. All of the power needs to be supplied through your swing. This axe isn't suited for anything more than cutting kindling. I wouldn't suggest you could do any significant splitting or felling.
This axe is only large enough to be used one-handed but still has a full-size axehead.
Best Suited For: Backpacking
Length: 9.5 inch
Weight: 1.3 lb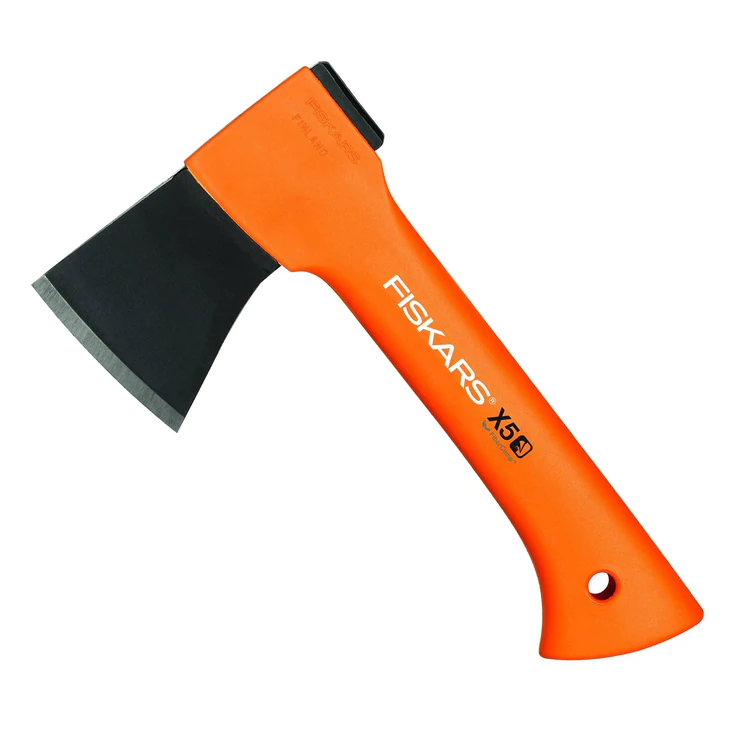 Fiskars X7 Hatchet
The X7 is one of Fiskar's most popular models. It is my go-to hatchet because of its heavy-duty composite handle and lightweight design. It is almost unbreakable – not entirely – but unless you drive your truck over it, it can handle most homeowner and camping tasks. I use it primarily for chopping kindling, but it can also limb small limbs and even fell small trees. I find it comfortable to be used one-handed.
This is a very affordable hatchet with a great design. You will never need to replace the handle or feel the axehead come loose. The X7 is a no-maintenance axe that you can buy and forget.
Best Suited For: Chopping Kindling
Length: 14 inch
Weight: 1.4 lb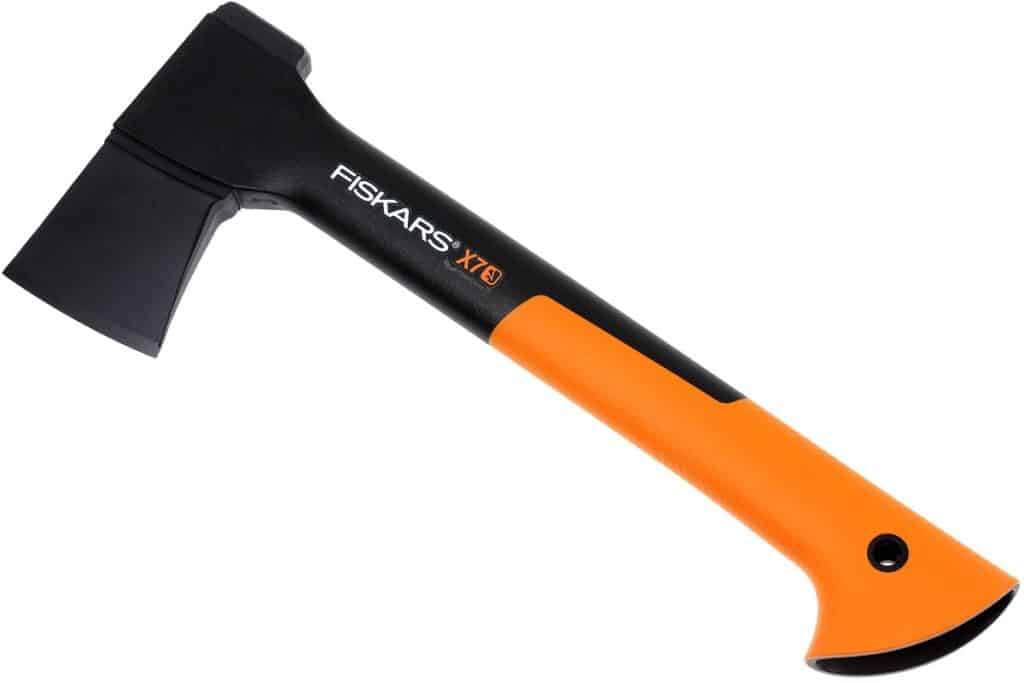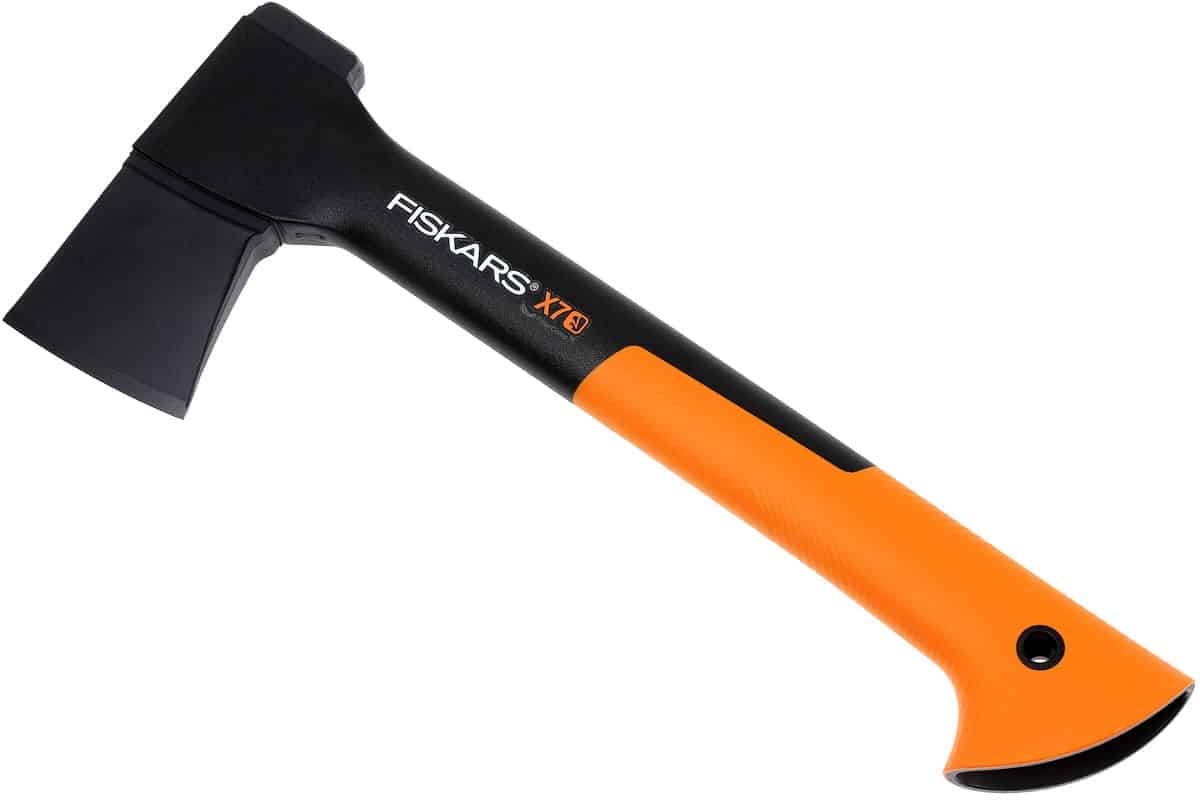 Fiskars X10 Small Chopping Axe
Compared to the spitting axes, the X10 chopping axe has a much thinner wedge axehead. This is to help the axe penetrate into the wood and is better suited for felling small trees and cutting kindling. The X10 is a very versatile camping axe, and I would put it into the bushcraft axe bucket.
This is ideal as a camping axe for splitting kindling, carving, limbing smaller branches, and other lightweight tasks.
The Fiskars X10 is also identical to the Gerber Freescape hatchet, just with different branding and color. The Gerber is often much more accessible in the US than the X10 model.
Best Suited For: Versatile Camping Hatchet
Length: 17 inch
Weight: 1.7 lb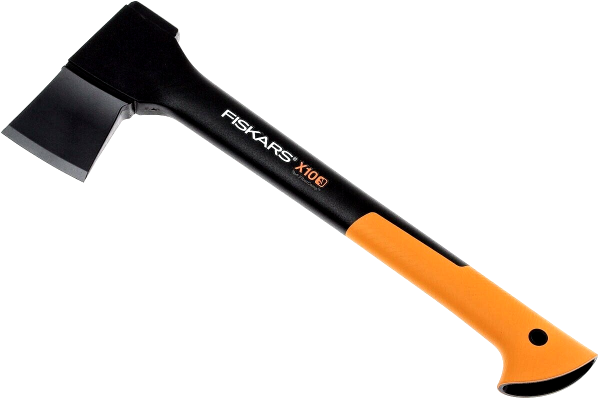 Fiskars X11 Small Splitting Axe
The X11 is the first of Fiskar's many splitting axes. All of the splitting axes have a thicker axe head with wider cheeks. This is to help the axe split apart the wood fibers, making it better suited for splitting logs into firewood. All of the splitting axes share this design feature. The shape of the axehead is the only difference between the X10 and X11 axes.
I find the X11 to be too small for anything other than splitting logs of around 8 inches in diameter that you can split one-handed. I prefer to carry a larger splitting axe and a separate hatchet rather than an intermediate-sized axe like the X11.
Best Suited For: Splitting Small 8″ Logs
Length: 17 inch
Weight:1.8 lb

Fiskars X15 Chopping Axe
The X15 is a much more versatile axe – it is large enough to start felling some serious-sized trees while also being light enough for easy transport and storage. I would skip the X11 and go straight to the X15 or X17. The X15 does have thinner cheeks so that it can penetrate wood deeper. If you are trying to decide between the X15 or the X17, then I would suggest picking the X17 if you are exclusively using it for splitting and the X15 if you want more versatility.
This is the first axe we have seen that can be used two-handed, so you can start to generate significantly more power and cut through larger diameter logs. This is ideal for homeowners but is getting too heavy for camping or backpacking.
Best Suited For: Felling Medium 8-12″ Trees
Length: 23.5 inches
Weight: 2.3 lb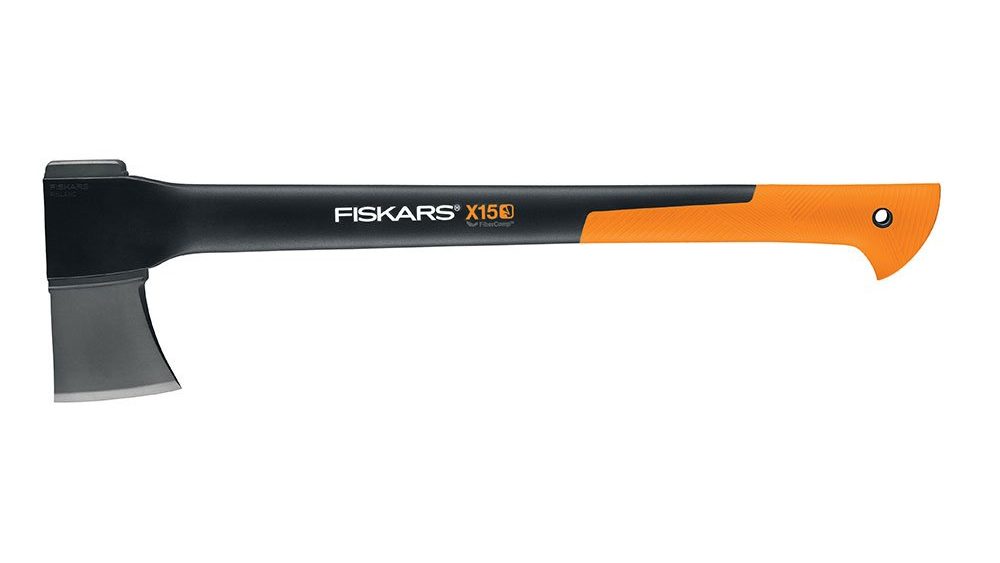 Fiskars X17 Medium Splitting Axe
The X17 is the same size as the X15 but comes with the splitting axehead design that is better suited for forcing wood fibers apart. This will be more useful if you have a lot of firewood to prepare and stack. I feel it is less helpful when felling because the thick cheeks tend to get stuck in the truck, and it takes more effort to remove before the next strike.
This is a two-handed axe, and you can generate a lot of power to start splitting larger logs, even up to 12 inches in diameter.
Best Suited For: Splitting Medium 8-12″ Logs
Length: 23.5 inch
Weight: 2.4 lb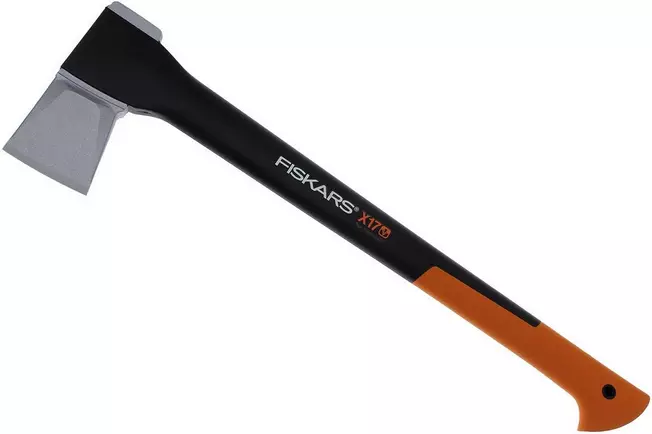 Fiskars X21 Large Splitting Axe
The following few splitting axes get heavier and longer. This means that you can apply more and more power and split larger and larger logs. The X21 is 28 inches long and can easily split logs around 12 inches in diameter. The length can be more challenging to store in an ATV and is out of the question for backpacking or camping – it just takes up too much room, and you generally don't need to split enough firewood to be worth the effort.
I think this is an ideal splitting axe for youth who can't handle the weight of the larger axes coming up.
Best Suited For: Splitting Large 12″ Logs
Length: 28 inches
Weight: 3.3 lb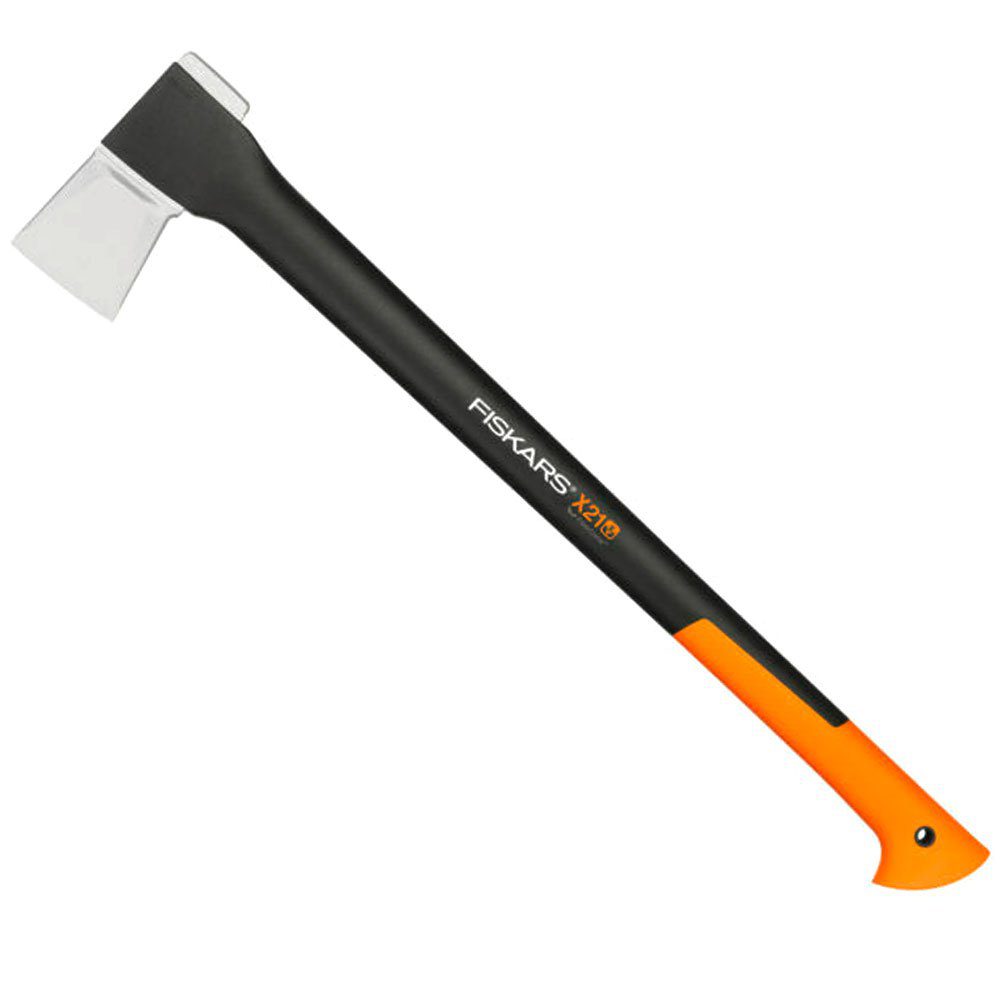 Fiskars X25 Extra-Large Splitting Axe
The main difference between the X25 and the X27 is the length of the handle – they both have the same sized axehead. This is a serious splitting axe and can chop through the majority of logs you will encounter. This is my favorite splitting axe in the range. The length and weight is well balanced without being overboard. I prefer this to the Super-Splitter size and prefer to use it, even if it means an extra swing or two to split the larger logs.
Best Suited For: Splitting Large 12-24″ Logs
Length: 28 inches
Weight: 4.0 lb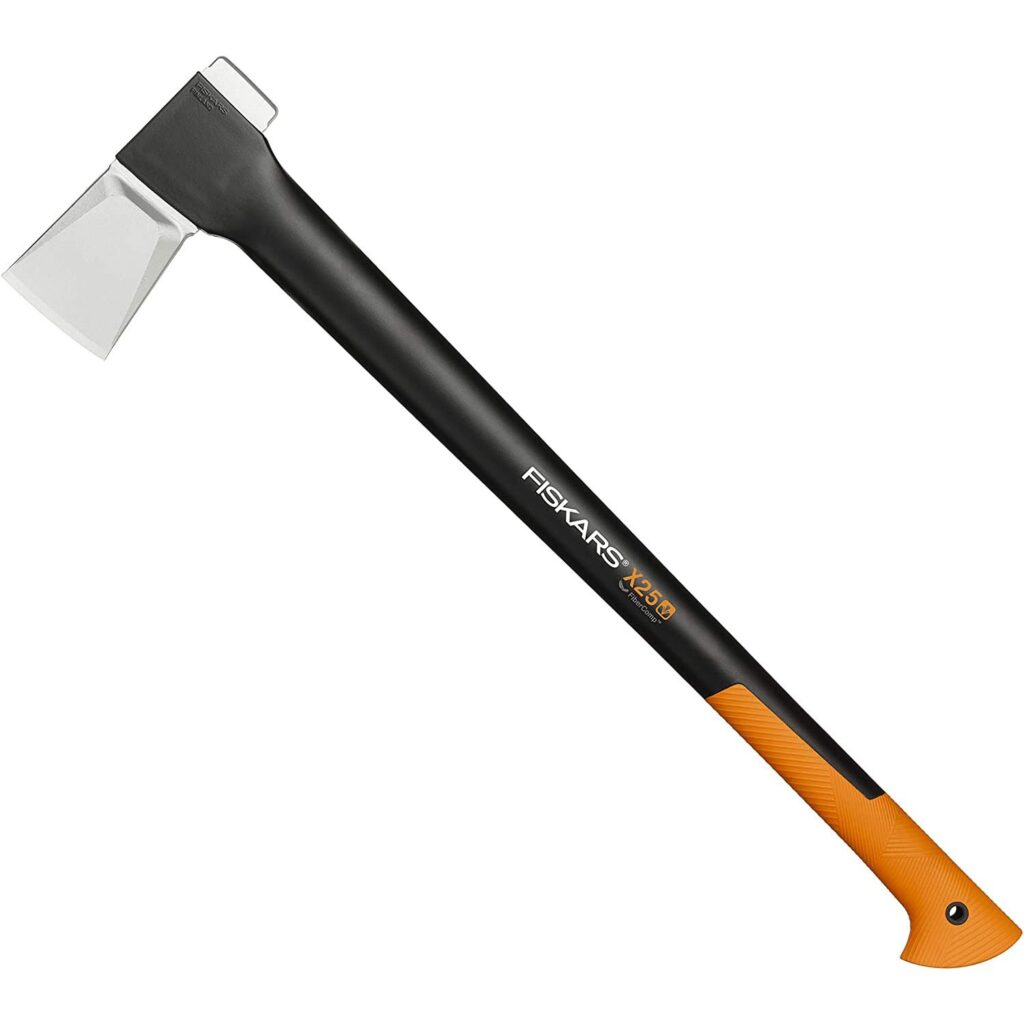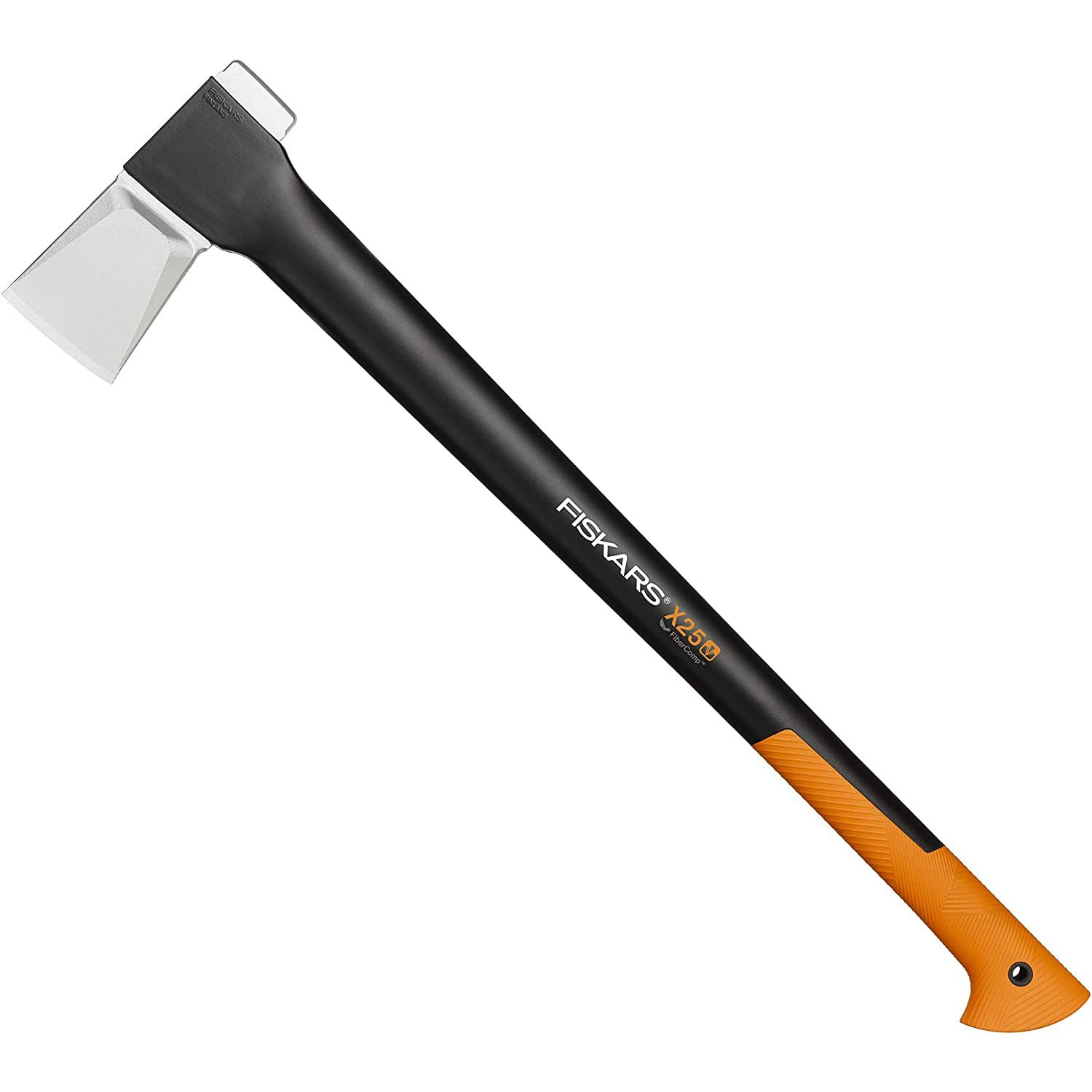 Fiskars X27 Super Splitting Axe
The X27 is the largest splitting axe in the Fiskars range. I would only recommend the X27 if you are particularly tall or have logs that are 24 inches in diameter or larger. For most people, I think the X27 is too long at 36 inches. You may lose some accuracy and have difficulty applying the full amount of power into the wood.
Best Suited For: Splitting Extra-Large 24″+ Logs
Length: 36 inches
Weight: 4.0 lb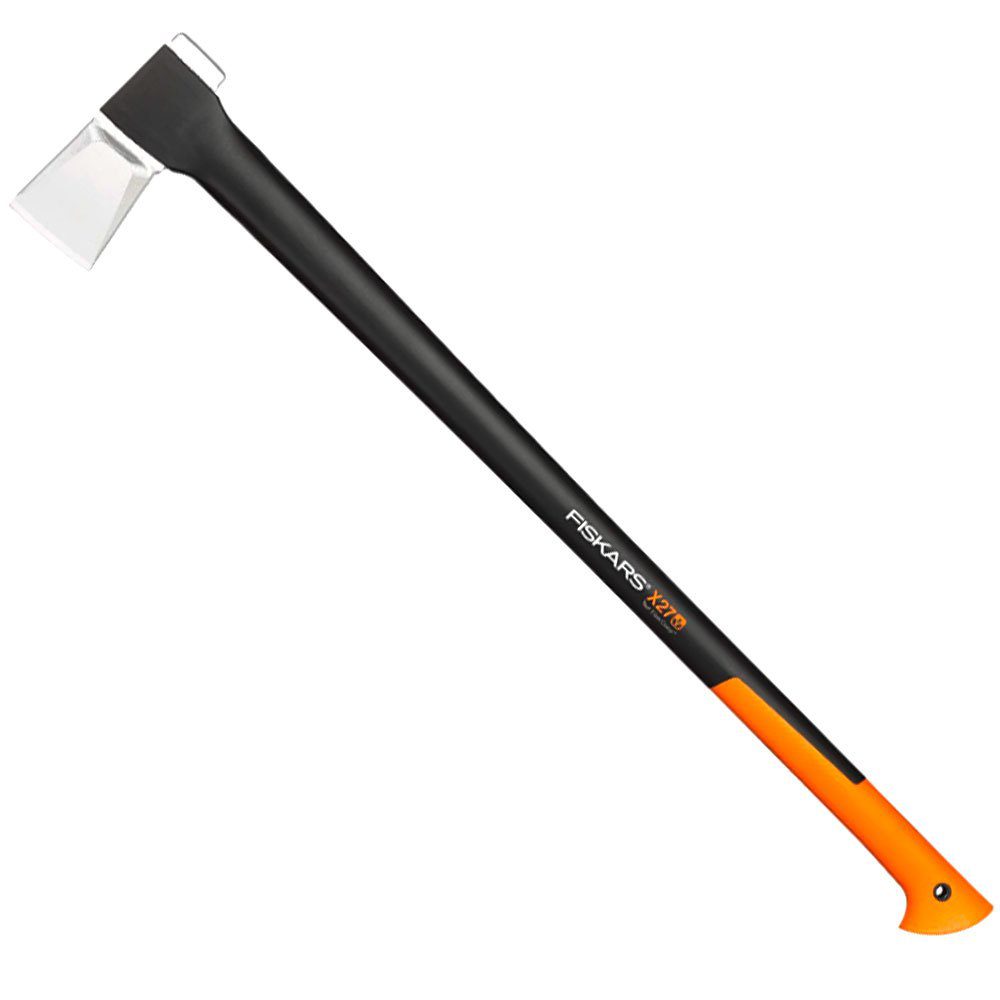 Frequently Asked Questions
What is the Difference between Fiskars X-Series and A-Series?
Fiskars X-Series are identical to the A-series in everything except the color. They have the same features and construction materials, except that the X-series are orange and the A-series are black and lack a rubber coating on the handle.
Where are Fiskars axes manufactured?
Fiskars axes are all produced in Sorsakoski, Finland. They have become some of the most popular axes on the market due to their lightweight and durable composite one-piece design, making them almost unbreakable. They are also very affordable and perform well with a friction-reducing coating on the axehead.
What is the difference between the chopping axe and the splitting axe?
Fiskars splitting axes have a wide axehead with thicker cheeks. This is used to force the wood fibers apart and helps to split logs into firewood. The chopping axes have thinner cheeks, are better suited for penetrating deep in the wood, and are ideal for felling trees or removing limbs.
Conclusion
Fiskars manufactures some of the most popular axes and cutting tools in the United States, but finding the model that suits your needs can be challenging. I hope this article has helped you pick the best axe from Fiskar's wide range.