Gransfors Bruk manufactures premium axes that come with a premium price tag. You may wonder whether these high prices are worth it and which model best suits your needs. My personal opinion is that although Gransfors Bruk axes are some of the most expensive, they also represent excellent value for money. This is the kind of tool you will be gifting to your children and passing down for generations.
In this guide, I have put together an overview of all of Gransfors Bruk's most popular axes, although I recommend looking at their catalogue to see if there is something more specific.
They manufacture a wide range of products – from full-size felling axes to hatchets, log building tools, and even specialty carpenter's axes.
Who is Gransfors Bruk?
Gransfors Bruk is the world's premier axe forge, based in Sweden. They have been operating for over 100 years, purely focused on producing the best axes possible. All of their axes are made with American hickory wood handles and Swedish carbon steel.
This steel is entirely recycled from local steelworks. It is not too hard to be brittle nor too soft to blunt easily. You will notice throughout this guide how much Gransfors Bruk care about the environment and produces minimal waste.
Each axe is signed with the initials of the smith who forged the head so that you can feel intimately connected to your axes production. Every single axe head is forged by hand. This level of quality and detail is no longer seen in modern industrial manufacturing.
Gransfors Bruk operates following these five principles:
An axe is only as good as the accumulated skills of the people who forge, grind and attach the handle to the axe.
Smarter production requires fewer natural resources.
Every unnecessary step in axe production should be stripped out.
We have unlimited responsibility for Total Quality. 
Sound knowledge of a product increases its value and life.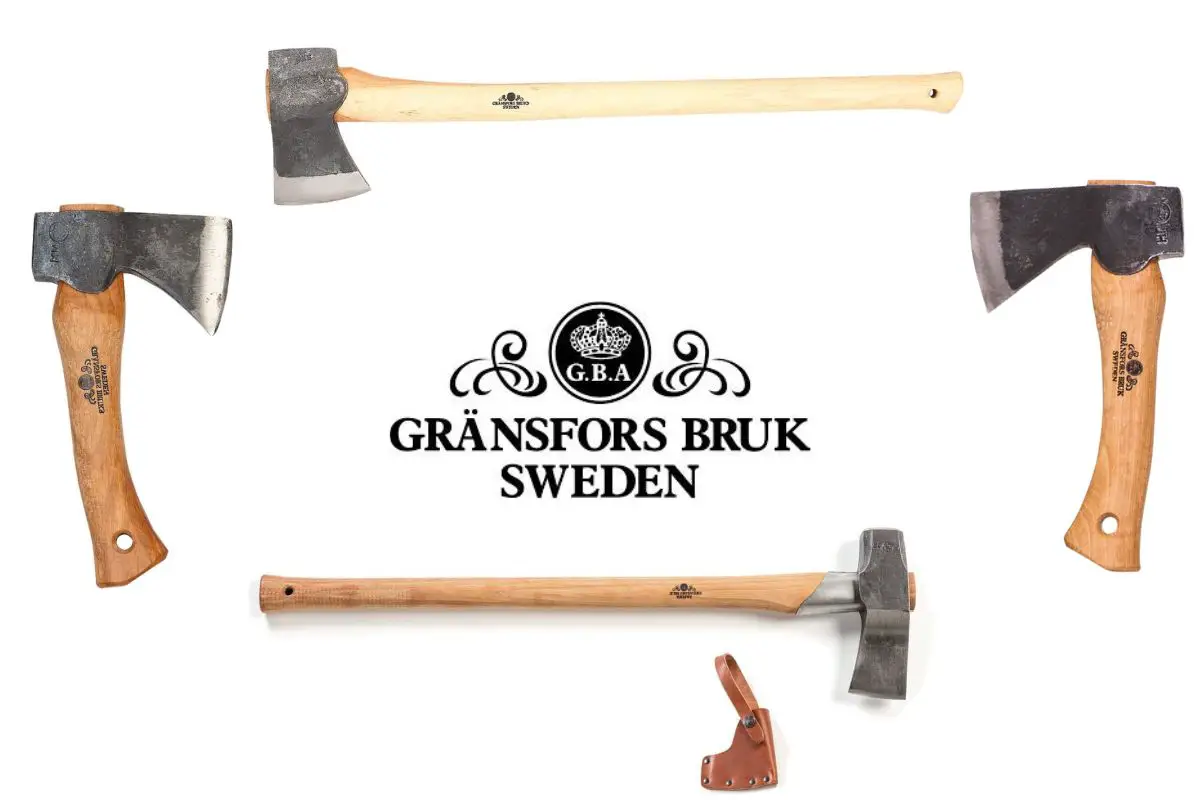 Gransfors Bruk Axe Comparison
| | | | |
| --- | --- | --- | --- |
| Gransfors Bruk Axe | Purpose | Length | Weight |
| American Felling Axe | Felling large trees | 35 inch | 4.8 lb |
| Scandinavian Forest Axe | Felling or limbing medium trees | 25 inch | 2.6 lb |
| Wildlife Hatchet | Camping | 13.5 inch | 1.3 lb |
| Carpenter's Axe | Carpentry and woodworking | 18 inch | 2 lb |
| Hand Hatchet | Splitting kindling | 9 inch | 1.3 lb |
| Splitting Axe | Splitting firewood | 31 inch | 5 lb |
| Splitting Maul | Splitting large firewood rounds | 31 inch | 7 lb |
| Double Bit Axe | Axe throwing | 29 inch | 4.2 lb |
Table comparing Gransfors Bruk axe purpose and specifications
Gransfors Bruk American Felling Axe
When picking a felling axe for cutting down large trees, there are two aspects you should care about – the cutting edge length and a thin bit profile. This allows you to cut through the grain of the wood more easily and to penetrate more deeply. This axe has a cutting edge of 4.5 inches.
The American Felling axe is available in two sizes:
31-inch and 4.6 lb total weight
35-inch and 4.8 lb total weight
The full-size option is truly of the best felling axes in existence. It can easily cut through hardwoods and doesn't require much maintenance or sharpening. This is an axe for professional axemen or landowners who will be felling trees regularly. If you are just a weekend warrior, I recommend picking an alternate Swedish axe manufacturer at a lower price tag, such as Hults Bruk.
This American Felling Axe is also twice as heavy as the Scandinavian Forest Axe next on this list. It is too heavy to be used for limbing or other tasks you need maneuverability.
Gransfors Bruk Scandinavian Forest Axe
A smaller option than the felling axe is the forest axe. This is more suited to be a camping axe. It is lightweight and versatile enough to fell small trees, clear brush, split firewood, and limb branches – everything you need to do around your campsite. It is powerful enough to do anything you can think of around your home. This is a great axe if you have a wide range of uses.
You will notice the lamb's foot design on the end of the handle, which gives a superior grip and means it won't slip from your hands, even when wet. The leather sheath that is included and the hole in the handle allows you to transport it easily when camping or backpacking.
You can also pick a Small Forest Axe which is designed to fit in a rucksack with a total weight of 2 lb and a length of 19 inches, compared to the 25 inches of the Scandinavian Forest Axe.
Gransfors Bruk Wildlife Hatchet
Next is the Wildlife Hatchet as we continue to move down the sizes. It is built as a scouting and camping axe. It has the same head as the Hand Hatchet, a few axes down in this list, but with a 13.5-inch handle. It can fit in your backpacking or you can tie it to your hip.
At 1.3 pounds, it is still powerful enough to limb branches or split smaller firewood logs. This is a great compromise between power and weight. Like all Gransfors Bruk axes, it has an American Hickory handle and mid-carbon steel axehead.
The flat pole can also be used for hammering in tent pegs as required.
Gransfors Bruk Carpenter's Axe
If you do woodworking or maybe bushcraft carving, consider this Carpenter's Axe. This axe has a long and straight cutting edge which makes it well suited for planing logs. It has a straight bevel and a narrow pole to give an even-cutting surface. It has a beard as the toe of the axehead drops lower than your top hand, allowing you to apply pressure directly behind the cutting edge.
The handle is 18 inches in length and straight. For any carpenters looking to upgrade their workshop axe, consider Gransfors Bruk purely because of the quality of their axehead. The hardness of the steel gives a good balance between being easy to sharpen and holding its edge for longer.
Gransfors Bruk Carving Axe
I am a big fan of carving when I am camping. I can make anything from bowls, spoons, axe handles, and structures. Having a high-quality carving axe with a concave edge is crucial. This shape of axehead isn't suited for splitting wood or felling trees, so you will often need a specialized carving axe.
One of the best things about Gransfors Bruk's option is that you can select different grinds on the edge depending on whether you are left or right-handed. This changes the concave bevel on the face to provide additional support when carving.
The handle is also made with an uneven surface to give better friction and a non-slip grip. You may think it hasn't been correctly sanded back, but this is as per design.
There are several different carving axes depending on your requirements:
Large Carving Axe – 14.5-inch handle length and 2.2 lb weight
Large Carving Hatchet – 14.5-inch handle length and 0.7 lb weight
Small Carving Hatchet – 10-inch handle length and 0.7 lb weight
The main difference between the carving axes and the carving hatchets is the size of the cutting edge and the associated weight.
Gransfors Bruk Hand Hatchet
The smallest axe in this list is the hand hatchet. You will notice the small handle attached to a very large axehead. The axehead is the same size as the Wildlife Hatchet. This is designed to be stored in your backpack or rucksack while camping but still has enough power to fell small trees. It is more versatile than other brands' hatchets and can also split firewood, prepare kindling, and limb some branches.
It comes with a leather sheath to protect the cutting edge and the pole. It also has a hole in the handle so that you can tie it to your hip through a leather loop or paracord.
It comes with a 9-inch American Hickory handle and only weighs 1.3 pounds – which is still heavier than other hatchets with smaller heads that can come in under the 1-pound mark.
Gransfors Bruk Splitting Axe
The splitting axe is one of the most popular axes in any landowner's garage. If you are like me and prepare all of your winter's firewood stockpile, having a high-performing splitting tool is essential. Picking a well-designed splitting axe with a thicker profile head than half the number of strikes you need to take across a season.
This axe has a concave profile that thins towards the edge. This allows it to cut into the wood and then force the fibers apart as you cut with the grain of the wood. It also has a protective steel collar over the neck of the handle, which effectively eliminates the risk of breaking your handle from misshits.
The pole is not hardened, so you shouldn't use it for striking splitting wedges.
Depending on your requirements and frame, there are four different sizes of splitting axes. I would recommend the full-size option if you have a lot of work. However, picking a smaller option may be more suitable if you have a smaller frame or will only be using it a few weekends of the year.
Large Splitting Axe #1 – 5 pounds of total weight with a 31.5-inch handle
Large Splitting Axe #2 – 5 pounds of total weight with a 27.5-inch handle
Small Splitting Axe – 3.5 pounds of total weight with a 23.5-inch handle
Splitting Hatchet – 3.3 pounds of total weight with a 18.5-inch handle
Gransfors Bruk Splitting Maul
This splitting maul is the heaviest product that Gransfors Bruk manufacture at 7 pounds. This maul can split even the largest hardwood rounds. The axe profile has a concave design to force apart the fibers of the wood rather than cut through them.
There are a few aspects you should consider when choosing between an axe and a maul, which are generally based on the size and hardness of the wood and the amount of power you need to generate.
The pole of the splitting maul has been hardened and is the only Gransfors Bruk tool that should be used to strike a splitting wedge. The pole has bevelled edges to assist with hitting a wedge.
It also has a steel collar like the splitting axe to prevent a miss strike from damaging the handle. This will significantly increase the life of the axe, especially if your accuracy isn't great.
Gransfors Bruk has also put circular grooves towards the base of the handle to improve the grip.
Gransfors Bruk Double Bit Axe
Finally, the last product on my list is the Double Bit Axe. This is effectively two different axes with two different purposes. The first is for axe throwing as a sport, which comes with a lighter head and a shorter handle. The second is a working axe for felling trees which has a full-length handle and a more powerful head:
Double Bit Throwing Axe – 4.2 pounds at 29.5-inches in length
Double Bit Forestry Axe – 4.8 pounds at 35-inches in length
Both bits are identical – you don't get one side for felling and one for splitting like some alternatives. The center of gravity and handle position has been modified to be better suited for axe throwing. The edges have also been curved to stick into an axe throwing target more easily. This axe is suited for WATL large axe requirements.
Conclusion
Gransfors Bruk also produces more specialty tools that I haven't included, such as adze, broad axes, drawknives, and chisel axes. They are one of the world's premium axe forges, and you will not go wrong when choosing them. I endorse Gransfors Bruk because of their extreme quality and craftsmanship, which gives extremely long life and durability. This is the kind of axe that will survive for generations which also gives it extremely high value for money, even with the higher price tag.