Axe Throwing is becoming increasingly popular and many people want to have a go at home. To do that you will need your own axe throwing target. But there are hundreds of different designs and sizes you could go with. How to decide?
I have put together this list of the most high-quality and inspirational DIY axe throwing targets that you can make at home. If you just want to buy your own axe throwing target rather than build your own, then I would recommend this Big Shot target – it's made from plywood backed boards with hanging hardware included and is the correct, official size.
Heavy Duty Wooden Target
Suitable for Axes and Knives
Hanging Chain Included
Official Target Size
Axe Throwing Target Dimensions
The dimensions of an axe throwing target as set out by the World Axe Throwing League is 4 feet x 4 feet with an additional 1 foot of header and footer protection on the top and bottom as per the image below.
The center of the bullseye should be 63 inches from the ground.
In terms of the bullseye painted onto the target board, use the following dimensions:
The bullseye should be 7 inches in diameter
The first ring should be 17 inches in diameter
The second ring should be 27 inches in diameter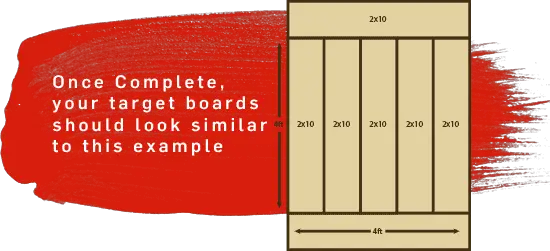 The size of the target also depends on the size of the axe. If you are throwing a full-length axe, then you should include additional protection on the sides to prevent misses from damaging anything behind the target. Here are my top 3 recommendations for throwing axes:
Total Weight - 37.6 ounces
Cutting Edge - 3.5 inch
Total Length - 16 inch
Thin Profile to Stick in Targets
Total Weight - 19.5 ounces
Cutting Edge - 3.0 inch
Total Length - 12.1 inch
Glass Re-inforced Nylon Handle
Total Weight - 20.8 ounce
Cutting Edge - 3.2 inch
Total Length - 16 inch
Full Tang - Single Piece of Steel
Best Wood for Axe Throwing Targets
The best wood for axe throwing targets should be soft enough that the axe gets embedded but not so soft that it is damaged quickly. The most popular types of wood used are:
Cotton Wood
Poplar
Willow
Pine
Spruce
Make sure you select types of wood that don't have obvious flaws or knots that could cause an axe to dislodge.
10 DIY Best Axe Throwing Targets
Let's get straight into our list.
1. Self Standing Bullseye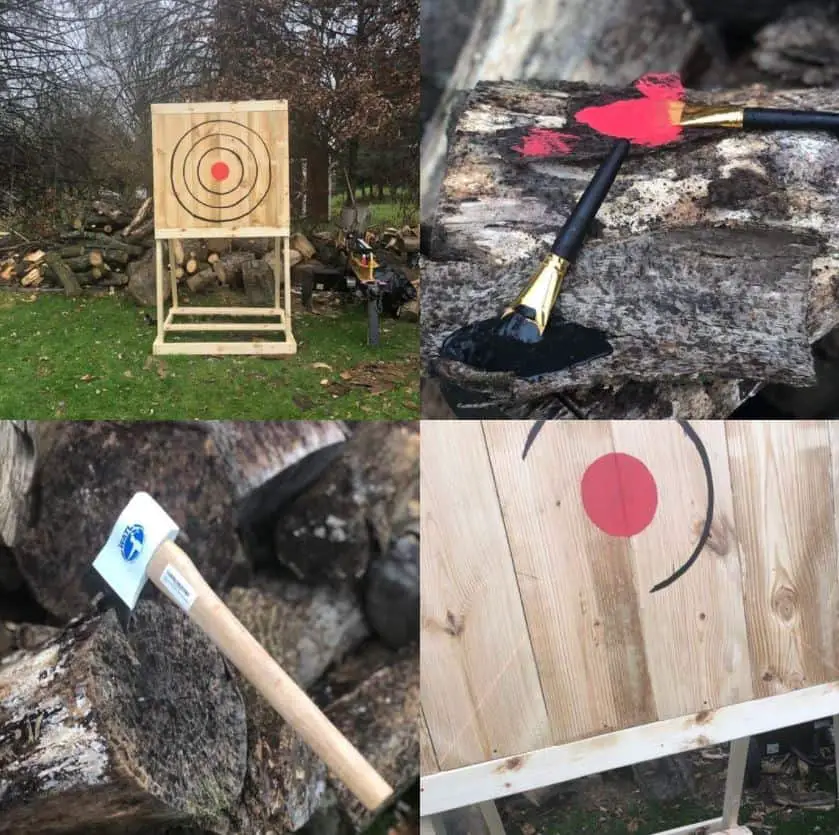 This quarantine project by Pure Romance by Becky is a great first starting point. It is self standing and can be moved easily. It doesn't need to be mounted to a wall or hung onto another structure. The bullseye is painted on.
This target is ideal for small hatchets.
2. Stationary Axe Throwing Target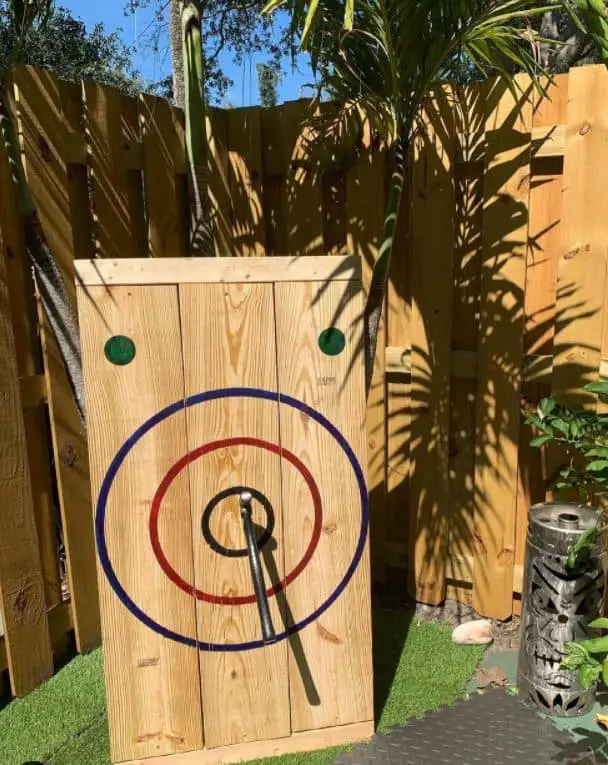 Mr Karlitos put together this stationary axe throwing target. Its design is very simple and robust. It is a solid design with a painted on bullseye. Our only criticism would be the low height but this could easily be adjusted.
3. Welcome to Boomtown
I love this DIY axe throwing target by SheDIYS. As opposed to the last item, the height of this project looks great. The styling is nice too, although might not last long when the axes start flying.
Plus the bow is a nice touch.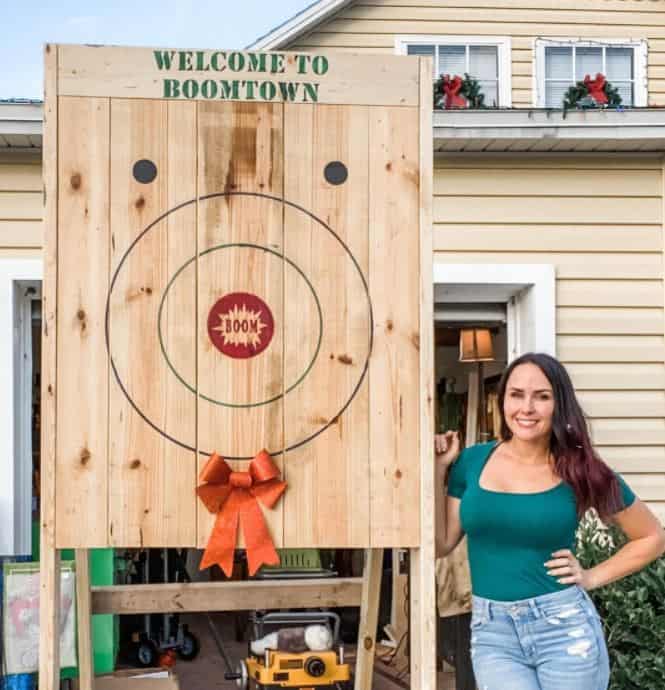 4. Engineering Target
Engineered Kitchen have designed and built this free standing option. It is large and has plenty of room on either side and top/bottom for misses. It is simple and easy to build and can be done by even novice DIYers.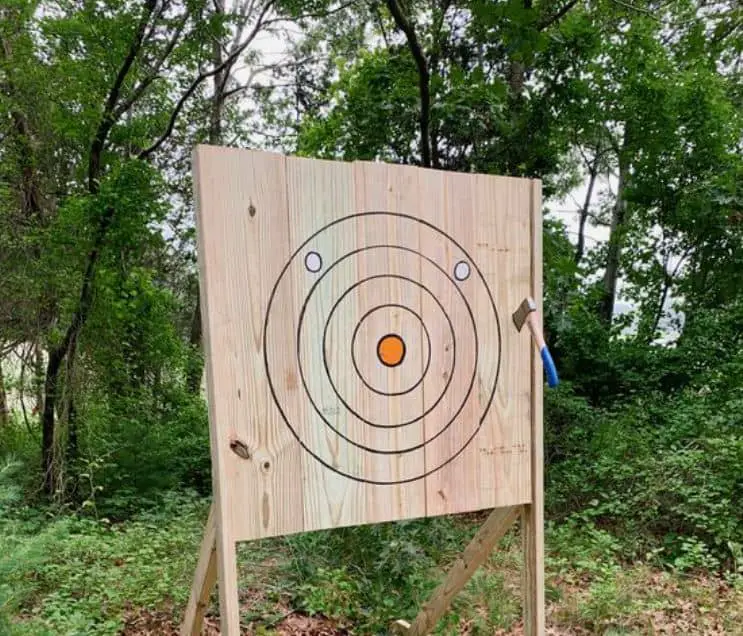 5. Replaceable Target
One of the worst parts of building your own axe throwing target is knowing that it won't take long for it to be completely destroyed and you need to build a new one. The advantage of this design by Jamie LaRue is that the wooden target can be replaced easily. Plus it is made from a thick, solid piece of wood that will last a long time.
The disadvantage is that there isn't any room on either side and you may have a lot of misses.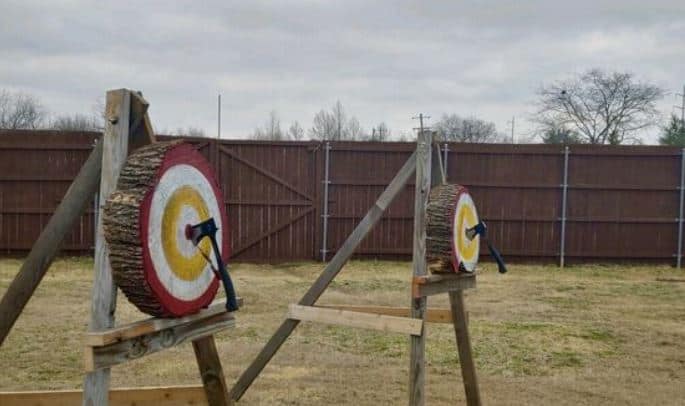 6. Hanging Axe Throwing Target
This is a unique design by Cocajo. The hanging design means that targets can be changed out easily without being attached to a stand or backing wood. Simple, easy, and effective.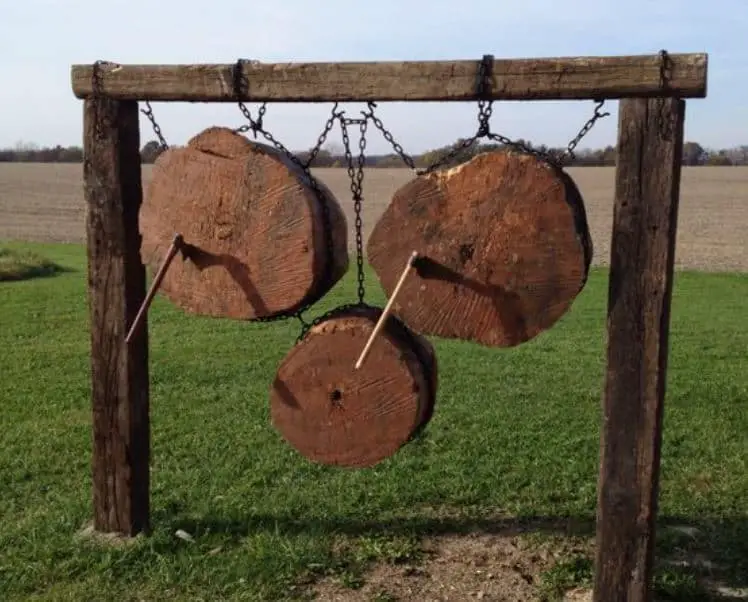 7. Custom Bullseye Design
I love the bullseye design from this axe throwing target by ITS Tactical. It is always a good feeling to hit the bullseye, and especially if you can be creative with the styling.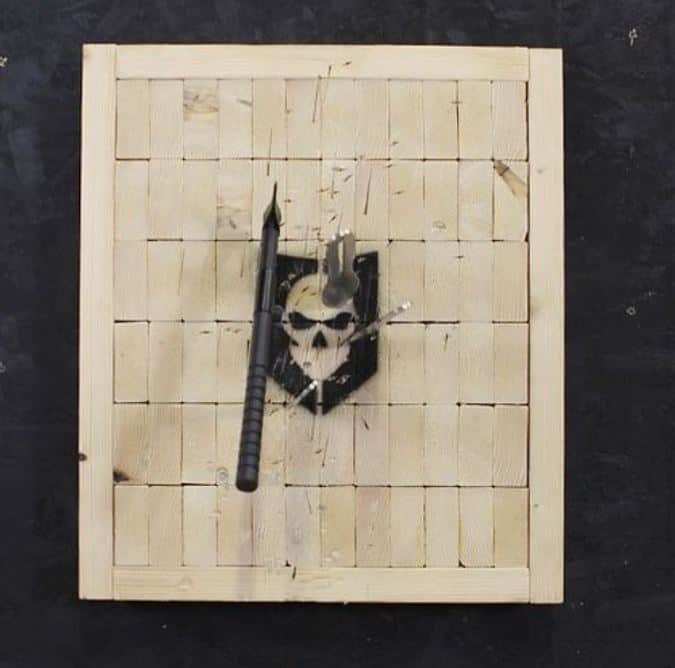 8. Replaceable Logs
Similar to item #5, this is a replaceable log on a DIY stand. This is by Arrowdox and is a brilliant, easy, simple, and effective tomahawk target.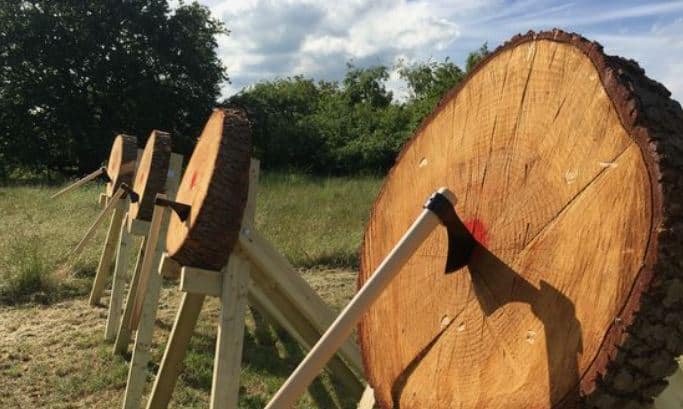 9. Build your own target at home
This video by Artfully Rogue is a step by step case study in exactly what you need to do to build your own axe throwing target at home. Certainly worth a view before you get stuck into your own project. It has plenty of external space, backing, and height. Perfect.
10. Knife Throwing Target
Last on our list is this video by Zombie Joe Knives. They have built their target out of square blocks of wood instead of planks. This is suitable for throwing hatchets and knives. This is a different approach depending on what wood you have available at your disposal.
That brings me to the end of my list. If you are still interested in giving axe throwing a go at home, then please have a read through my guide on throwing axes.
All of these designs can also be used for knives but if you want to see some inspiration for knife throwing targets I have put together a similar guide.