Axe throwing is growing in popularity every year. From casual nights out with friends to serious axe-throwing events where people compete according to official rules and regulations, axe throwing has something appealing for all levels of throwers – from absolute beginners to hardcore enthusiasts. Just as important as enthusiasm, though, is also the axe that you're going to be throwing. Cheap axes dull and chip easily, are hard to throw, and take some of the joy out of throwing them.
This is an in-depth buyer's guide to the best throwing axes and includes reviews of the top throwing axes, in my opinion, that you can get (balancing price and performance). The axes are reviewed according to the official regulations of the two main axe-throwing organizations, the NATF (National Axe Throwing Federation) and the WATF (World Axe Throwing Federation). You should keep these in mind if you're looking for an axe to train for and take part in competitions with, but the axes listed are fine choices if you want to simply toss them for fun by yourself or with friends.
Image
Features
Score
Price

Best Throwing Axe

Total Weight - 37.6 ounces
Cutting Edge - 3.5 inch
Total Length - 16 inch
Thin Profile to Stick in Targets

Check Price on Amazon

Best Value for Money

Total Weight - 19.5 ounces
Cutting Edge - 3.0 inch
Total Length - 12.1 inch
Glass Re-inforced Nylon Handle

Check Price on Amazon

Suited to Strong Throwers

Total Weight - 20.8 ounce
Cutting Edge - 3.2 inch
Total Length - 16 inch
Full Tang - Single Piece of Steel

Check Price on Amazon
So without further ado, let's get into it – read on to find out the best throwing axes for any situation.
Official Competition Throwing Axe Regulations
The world of competitive axe throwing is made up of two organizations – the National Axe Throwing Federation or NATF, and the World Axe Throwing Federation or the WATF.  They have different regulations about what kind of axes can be used at their axe throwing events. First off, the NATF:
NATF Throwing Axe Requirements
Venues and events associated with the National Axe Throwing Federation have these requirements that any axe thrown at a competition has to meet:
The axe head must weigh between 1.25 and 1.75 Lbs
The axe handle must be made of wood.
Handle length must be at least 13 inches (eye of the axehead included).
4 inch maximum blade length.
NATF Big Axe Requirements
Axe head has to weight between 2.25 and 2.75 lbs
Handle must be made of wood.
Handle length must be 25 inches minimum.
The axehead edge must be a maximum of 4 ⅝ (or 4.625) inches.
WATF Throwing Axe Requirements
Axe head weight – up to 2 lbs max.
Handle can be made of wood, steel or composite fibers (and/or fiberglass).
Length must be at least 12 inches in the eye of the axehead.
4.75 inch maximum blade length.
WATF Big Axe Regulations
The WATF actually doesn't have any official regulations regarding the use of larger axes. That's why I recommend the big axes below.
With that in mind, three great axes meet those requirements. If you're a beginner and just starting out, or looking for an axe to train hard with and unavoidably abuse, you might want to go with a steel or fiberglass-handle axe – those are more durable than wood-handled axes.
1. World Axe Throwing League Competition Thrower
The best overall throwing axe is made by the World Axe Throwing League. It is specifically designed for axe throwing competitions, which is evident in its thin profile and sharp blade, making it much more likely to stick into the wooden target. It has a 16-inch American hickory handle that is extremely well-balanced. The handle is longer than most, but that is because it is designed to be cut down to adjust based on your height and throwing style.
If you are either a complete beginner to axe throwing then I would recommend going with this WATL Competition Thrower so you can practice with the exact axe you will be using when you start competing properly.
Best Overall
Total Weight - 20.8 ounces
Cutting Edge - 3.2 inch
Total Length - 13.7 inch
Thin Profile to Stick in Targets
2. SOG Survival Tomahawk
The SOG Survival Tomahawk is a great choice if you want a light, yet very durable throwing axe. The great thing about it is that the axehead is full tang – which means that the axehead and core of the handle are forged in one piece. That, along with the high quality used to make them, makes these throwing tomahawks indestructible. An excellent lightweight throwing axe for beginners, but really for all axe throwing enthusiasts. 
Best Value for Money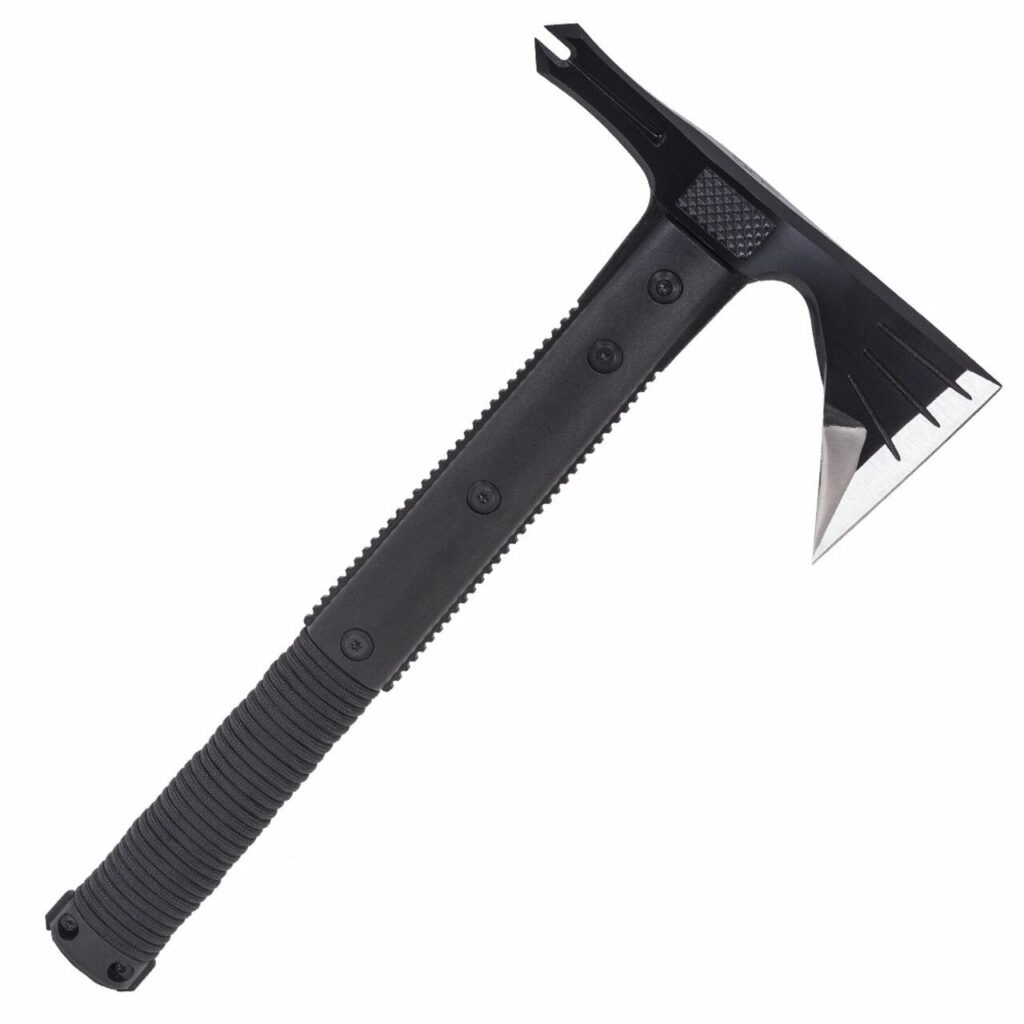 Total Weight - 19.5 ounce
Cutting Edge - 3.0 inch
Total Length - 12.1 inch
Glass Re-inforced Nylon Handle
3. Estwing Sportsman's Axe
The Estwing Sportsman's axe is another indestructible throwing axe made of a single piece of steel, with a sanded and lacquered leather grip. It's smaller and heavier than the SOG Survival Tomahawk, which is fine if you prefer something with a little more heft (as many strong axe throwers do – tomahawks can feel too light in the hand for many).
Suited to Strong Throwers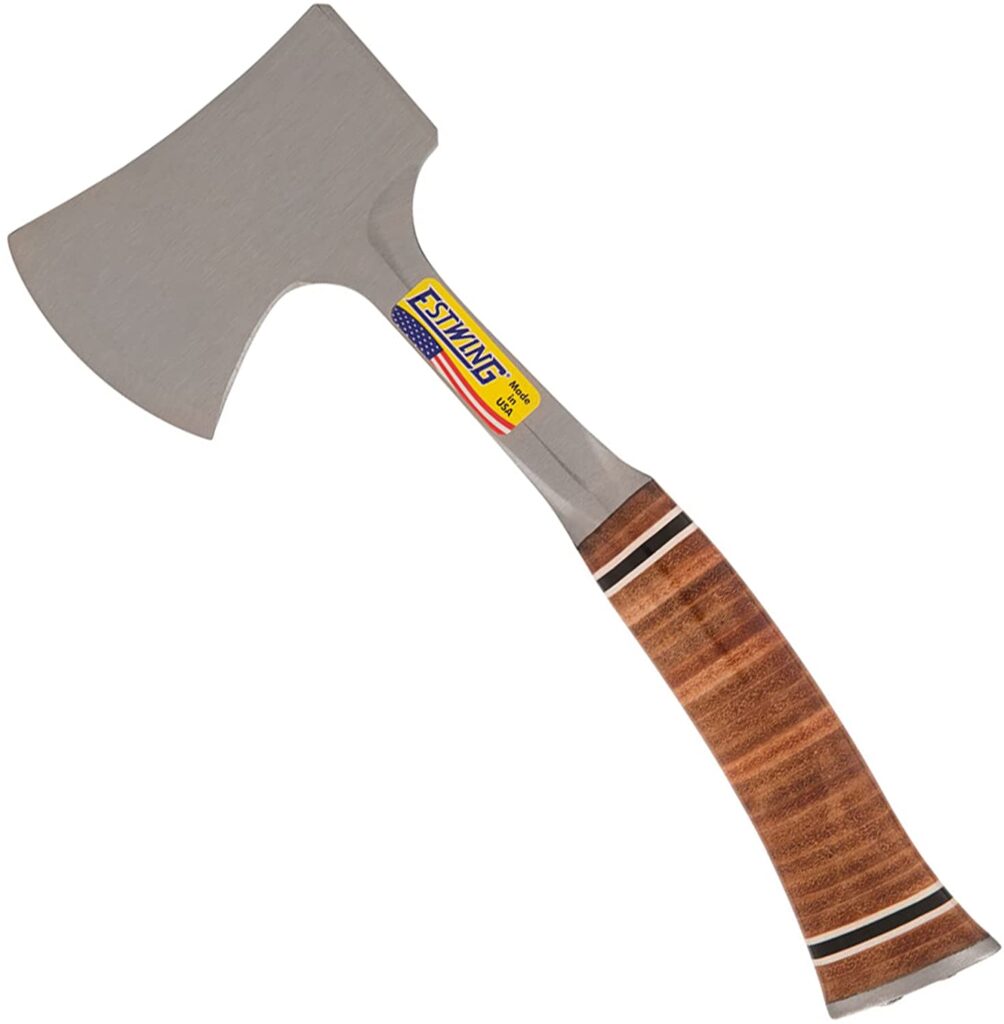 Total Weight - 20.8 ounce
Cutting Edge - 3.2 inch
Total Length - 16 inch
Full Tang - Single Piece of Steel
4. CRKT Chogan Tomahawk
Fourth on my list is this Tomahawk design by CRKT. It has a forged 1055 carbon steel head and a dense Tennessee hickory handle. One key feature I love is the lifetime warranty that shows how much faith the manufacturers have in the quality. This is a versatile throwing tomahawk that you can also use for splitting wood or the back for hammering in tent pegs.
The head is also removable so you can transport and store it more easily.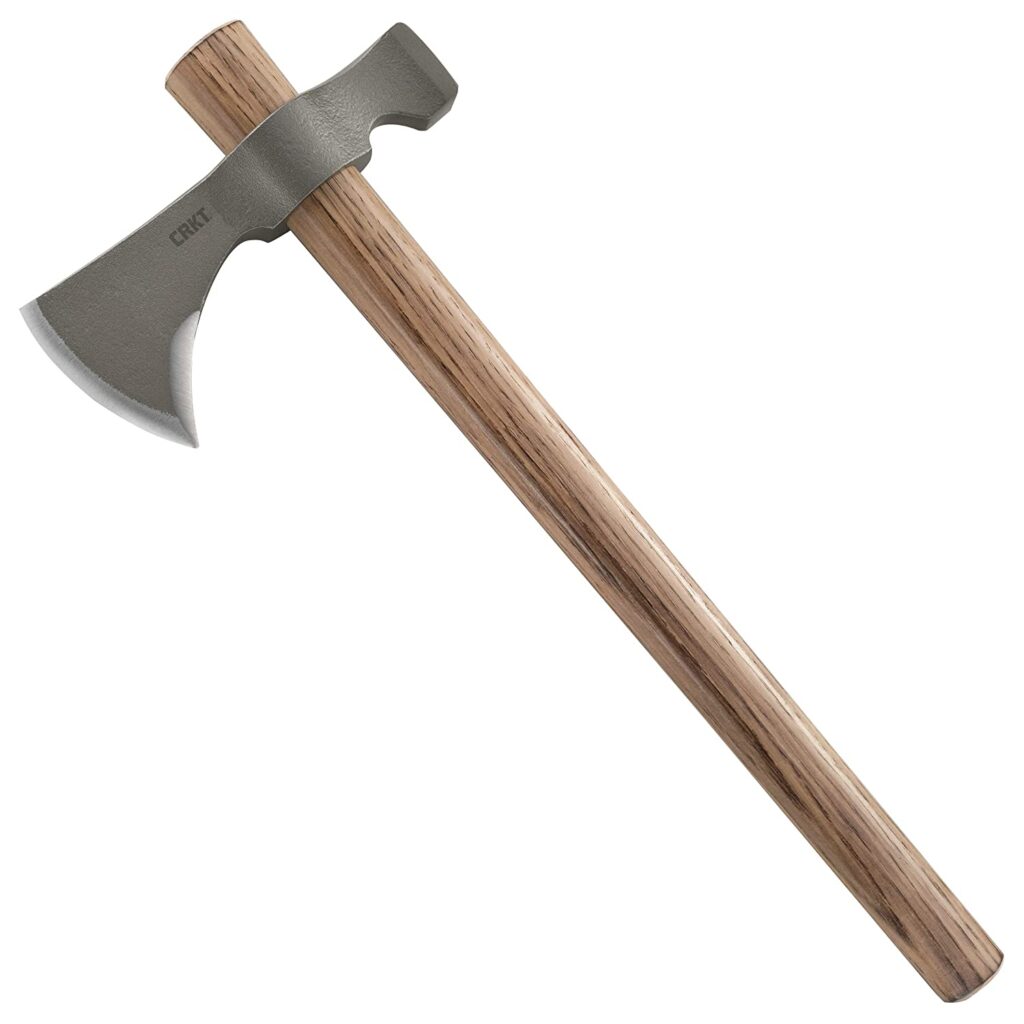 Tough 1055 Carbon Steel Axehead
Durable: Tennessee Hickory  Wooden Handle
Total Length - 19 inch 
Hammerhead Poll for Tent Pegs
5. Husqvarna 13-inch Wooden Hatchet
The Husqvarna 13-inch wooden throwing hatchet is a fine axe with a 1.2 pound axehead. A smaller handle feels heftier in the grip, which many axe throwers prefer. It's made by the well-regarded Husqvarna tools company, but the axes are actually manufactured by their parent company, Hultafors – the same group that makes the amazing Hults Bruk line of axes. The Husqvarna hatchet is much more affordable, with good construction and attention to detail. It's definitely a good choice for a small axe for throwing in NATF events, and, of course, it's great for small tasks in the outdoors as well.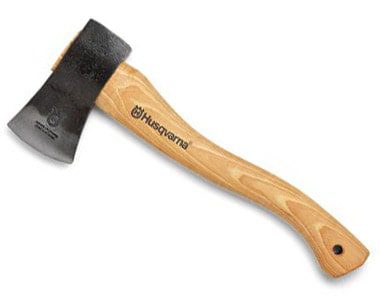 Total Length - 13 inch
Axehead Weight - 1.2 pounds
Available with a Composite Handle
Leather Edge Cover Included
6. Snow and Neally Outdoorsman's Belt Axe
This is a light, sturdy 15-inch outdoorsman's axe with a 1 ¼ lb. axe head. Snow and Neally are known for the reliable axes from their Smyrna, Maine factory, axe heads made of high-quality American steel. The Outdoorsman's Belt axe's handle is long enough to get a good heft and swing, allowing for a more powerful throw, but light enough that it's easy to control and handle. It has a fine leather cover for the whole axehead (not just the blade!)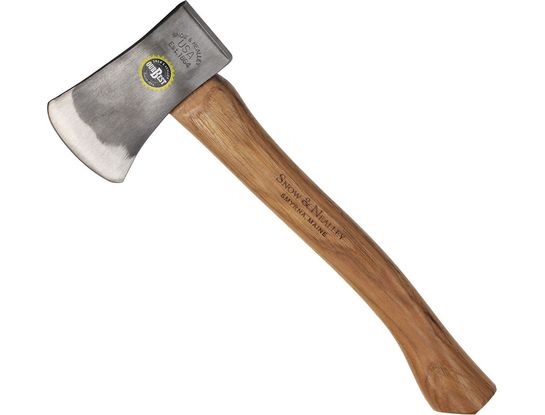 Total Length - 15 inches
High Quality American Steel
Made in USA
Includes a Leather Edge Cover
7. Council Tool Hudson Bay Axe
Did you think axe throwing was limited to hatchets and small axes? Not a chance – people also love throwing big felling axes, and the big federations have regulations for those, too. As with the smaller axe category, the NATF are more strict than the WATF regs – the handle has to be made of wood, for example. Read on to find out all about them!
Going by these standards, there are a few felling axes I can immediately recommend. They are the Council Tool 28-inch Hudson Bay camp axe and the Husqvarna 26-inch multi-purpose axe.
The main differences between them are in the handle length – a two-inch difference – and the axehead shape, with the Council Tool Hudson Bay axe having a more pronounced beard. The Council Tool is an American-made tool, and I'd say you get what you pay for in this situation – the Council Tool is nicer, pricier too, but it'll hold up to all the throwing you want to do with it (tree felling, too). The Husqvarna is also fine, but with a slightly less reliable axehead that might chip with heavy use, especially serious throwing.
Frequently Asked Questions
How Sharp Should a Throwing Axe Be?
Throwing axes should be sharp enough that you can shave with them. In my experience, you should get your axe as sharp as possible with the equipment you have on hand, whether a sharpening stone, a belt sander, or an angle grinder. A blunt axe is more likely to bounce off the target, which doesn't count towards your score.
How Heavy Should a Throwing Axe Be?
Most throwing axes are between 1 and 2 pounds, depending on their handle's material and the axe head's size. You can get large axes to throw with NATF guidelines have a weight limit of between 2.25 and 2.75 lbs for the axehead alone.
How Long Should a Throwing Axe Be?
Most throwing axes are between 12 and 20 inches depending on the style and handle design. You can get large axes for throwing, which are much more difficult. NATF guidelines for large axe throwing is a minimum of 25 inches long.
Conclusion
Ultimately, it comes down to what axes you feel comfortable handling. Axe throwing should be fun – in the end, you don't have to participate in official competitions and can do your own thing with whatever axe you like. The main thing is to find out what works best for you and practice to really nail down your throwing technique. By doing that you can impress your friends and awe your competition with how cleanly you bury your axe into the bullseye. If you want to know all about how to throw an axe, check out our in-depth guide on that which goes into detail about throwing techniques, tips and more.
Remember to follow all safety precautions – the last thing you want during your fun axe throwing event is a nasty accident.