The best bushcraft knives have a 4 to 7-inch blade, weigh 4 to 12 ounces, have a full-tang design, and are made from high-quality steel.
The KA-BAR Marine Corp Knife is my top choice because it's powerful 7-inch 1095 Cro-van steel blade can handle even heavy-duty tasks. It features a comfortable and durable stacked leather handle. It is ideal for bushcrafters looking for a tool for felling small trees and clearing brush.
I am a big fan of always carrying a bushcraft knife whenever I travel outdoors, even at the expense of an axe or saw. They are so versatile that having a high-quality knife has become an essential tool. They can be used for everything from food preparation to shaving kindling, felling trees, carving tools, and anything in between.
Ensuring you have a durable and high-performing survival knife is crucial to getting value for money and keeping you alive.
This week I went out and used each of the knives in this review for a series of tasks to make this accurate and comprehensive comparison. These are my thoughts:
I spent last week in the wilderness with these ten knives to understand which is the best and what problems exist. Through my testing, I ensured that each knife got a full trial in terms of performance and durability.
I watched how the blades held their edge, how the size impacted each task, and their handle's comfort and grip. It was a wet weekend, so having a non-slip grip quickly became critical.
The tasks included:
Felling a small tree to prepare a shelter
Preparing kindling from pine firewood
Skinning a squirrel
General camping tasks and food preparation
These reviews are also based on my extensive bushcrafting experience and insights into using these tools.
1. KA-BAR Marine Corps Knife
The first knife I tried was the famous knife of the Marine Corp, the KA-BAR. I have owned and used a KA-BAR for many years. It is a larger knife than I generally prefer for bushcrafting because of its difficulty to transport and store.
If I were going to be backpacking, I would be concerned about this knife's size and weight. This will take up substantially more room in your bag at almost 12 inches in total length and nearly 12 ounces in weight. The sheath is made of leather and has a belt loop, which is likely the best transport method.
This is almost the longest knife I brought with a 7-inch blade. I found this less maneuverable for wood carving and skinning small game. It was the most useful for heavy-duty tasks like limbing branches and felling small trees. I used it extensively for clearing brush and removing roots.
I also found the stacked leather handle remarkably comfortable and gave a good grip, especially when the rain started coming down. The handle also has a guard, which I appreciated to avoid cutting myself as I did slip a few times.
This is my recommendation as one of the best bushcraft knives that all bushcrafters should own.
Specifications
Total Length – 11 7/8 inches
Blade Length – 7 inches
Blade Material – 1095 Cro-van steel
Weight – 11.2 ounces
Handle Material – Stacked Leather
Pros
This is an iconic knife that all outdoor enthusiasts should have in their collection.
The stacked leather handle with a guard is ergonomically comfortable and non-slip in the rain.
The carbon steel blade holds its edge for longer.
Cons
This is one of my list's longest and heaviest knives, making it difficult to maneuver for delicate tasks. Depending on your needs, you may need a second, smaller knife.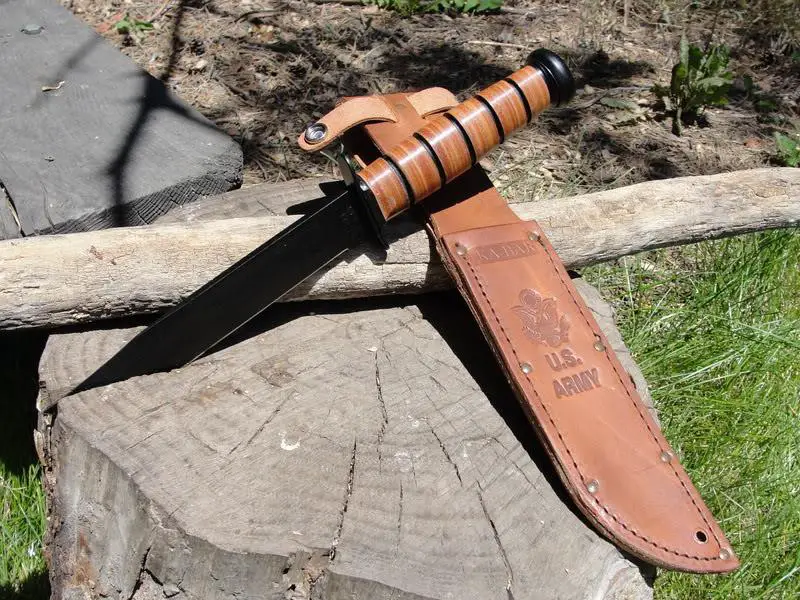 2. Morakniv Fixed Blade Knife
Next on the list is the Morakniv fixed blade knife. This is a smaller, more versatile knife than the KA-BAR. It is available in various colors, although I had the desert tan.
It was my favorite knife for carving wood and preparing kindling. I also liked it for skinning small game like squirrels.
The blade also doesn't have a guard, but the rubber grip makes this less of an issue. I didn't find any likelihood of slipping, even in the rain. This is made from a high-friction rubber grip.
It is made in Sweden and comes with a lifetime manufacturer's warranty. It also has a 3/4 length tang which is a good compromise between weight, cost, and durability. Some different sizes are available, including a serrated blade and carbon steel alternatives.
Specifications
Total Length – 8.6 inches
Blade Length – 4.1 inches
Blade Thickness – 0.1 inch
Blade Material – 12C27 Stainless Steel
Weight – 4.1 ounces
Handle Material – High Friction Grip
Pros
The Morakniv is a great bushcrafting knife with a versatile blade that can be used for almost all delicate tasks.
This smaller knife is low weight and is easy to transport and store.
The stainless steel blade is corrosion-resistant.
Cons
The plastic sheath is of low quality.
At only 4 inches of blade, this can be on the small side for more heavy-duty tasks like felling trees or hunting.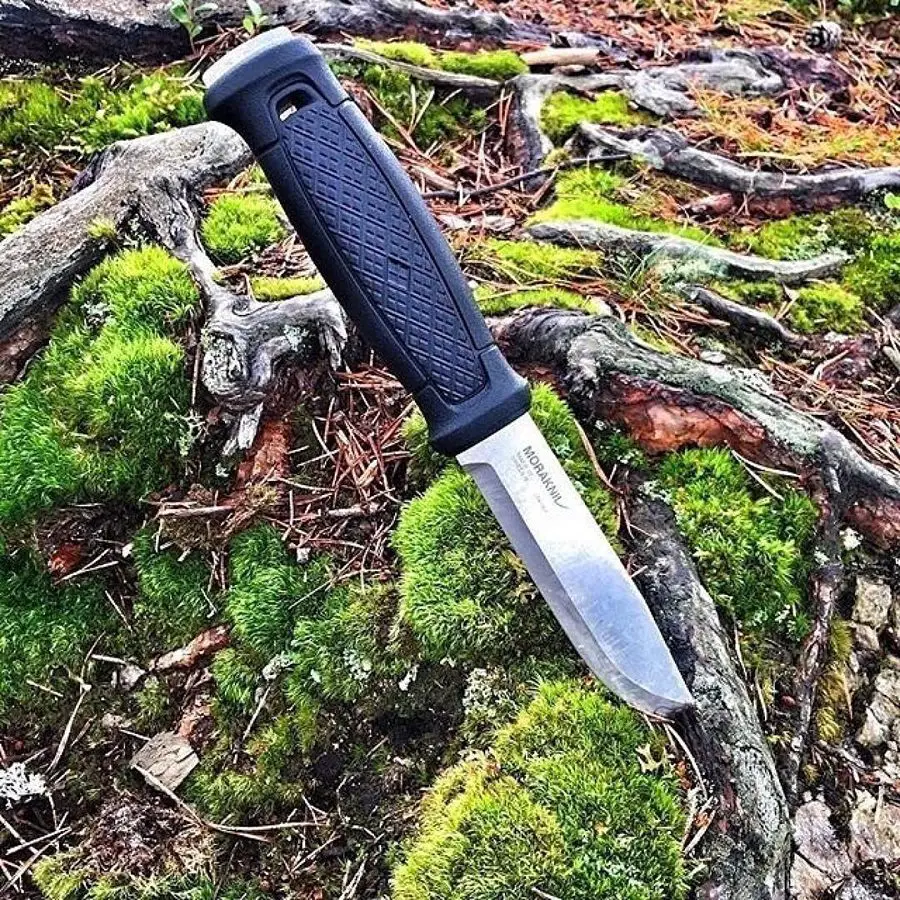 3. Condor Bushlore Camp Knife
The Condor Bushlore is my favorite-looking knife because of its Walnut Hardwood handle. I am a sucker for Walnut wood. This knife is similar to the Morakniv with a 4-inch blade, but the handle makes it significantly heavier. For a similar-length knife, it is almost twice as heavy at 7 ounces.
Its design is a full tang, which, when combined with the wood handle makes it highly durable.
I also like the carbon steel blade, which I found holds its edge well. It also has a wide spine for a small knife, making it powerful enough for heavy-duty tasks like limbing branches.
It is also one of the best value-for-money knives I found. I have no idea how they can produce such a high-quality knife at this price point.
Specifications
Total Length – 9 1/4 inches
Blade Length – 4 1/4 inches
Blade Material – 1075 High Carbon Steel
Weight – 7.0 ounces
Handle Material – Walnut Hardwood
Pros
Stunning Walnut Harwood handle.
Comes with a high-quality leather sheath.
Full tang steel design for improved durability.
Excellent value for money.
Cons
The hardwood handle makes it relatively heavy, considering its small size.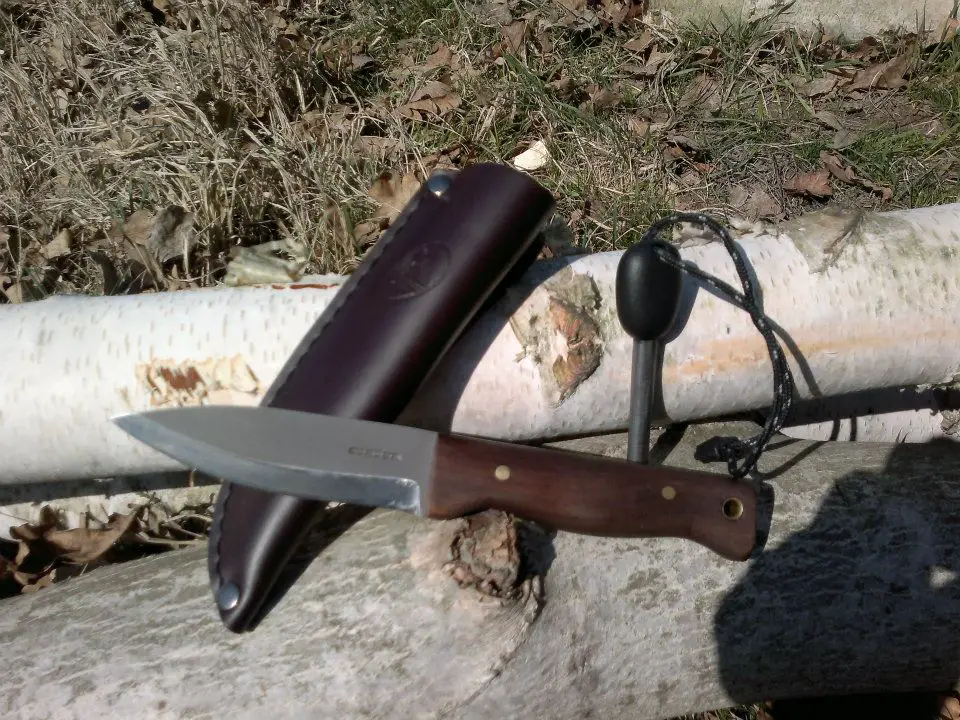 4. SOG Survival Knife
Although it has a stainless steel blade, I noticed it had great edge retention.
It came razor sharp out of the packet and the glass-reinforced nylon sheath protects it well.
This small knife is lightweight and doesn't take up much room. It is well suited for delicate tasks.
The specification sheet suggests that the SOG knife has a full tang, but I did hear some reports of this knife breaking because it actually has a stick tang that isn't as durable. You want to be extremely confident in your tools in the wilderness.
The combination of its small size and the risk of breaking means that I would be very uncomfortable striking this with a hammer or log when trying to fell a small to medium-sized tree.
Specifications
Total Length – 8.5 inches
Blade Length – 4 inches
Blade Material – Stainless Steel
Weight – 3.8 ounces
Handle Material – Thermoplastic Rubber
Pros
Extremely small and lightweight makes it ideal for camping and backpacking.
The thermoplastic rubber grip is comfortable and non-slip when wet.
Full tang design for maximum strength and durability.
Cons
I heard some stories about the full tang design is actually a stick tang that isn't as durable as I want.
5. Gerber Gear Tactical Knife
Next up is the Gerber Gear tactical knife. This is a shorter 4 3/4 inch stainless steel blade with a rubber handle. It is surprisingly heavy for a short knife, but it makes it feel more durable and performs heavy-duty tasks better than you would suspect.
I didn't have any trouble limbing branches or felling smaller trees.
The sheath is also on the remarkable side. It has a built-in sharpener and a firestarter. If you are like me, you will always carry your own sharpener and firestarters, which is a great way to optimize your weight load. I am not convinced I would replace my sharpeners and ferro rods, but it is a good option.
The handle is textured rubber and has built-in finger indentations. So, try it first to see if it sits in your hand.
The blade is also partially serrated, which gives it flexibility in cutting through wood easily, but it makes it more difficult to sharpen.
Specifications
Total Length – 10 inches
Blade Length – 4 3/4 inches
Blade Material – Stainless Steel
Weight – 11.0 ounces
Handle Material – Textured Rubber
Pros
A partially serrated blade gives it wide versatility.
The sheath includes a sharpener and firestarter, which is extremely useful to transport together.
The pommel has a steel hammer included.
Cons
For its small size this is a hefty knife.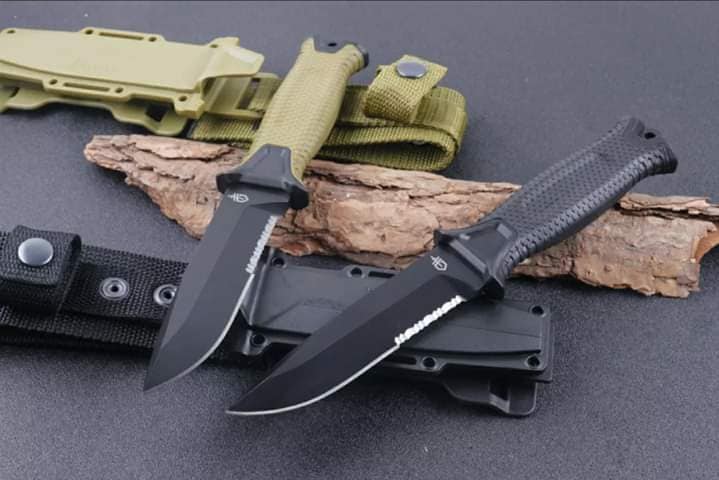 6. Schrade Stainless Steel Knife
This knife is the best value for money. It is the most affordable but does lack some of the features of the more premium alternatives. It is also the heaviest by far, even with only a 5-inch blade. This is due to the full tang carbon steel blade through the entire 10 inches.
The blade is versatile enough to conduct both delicate and heavy-duty tasks. The sheath is made from nylon and is a good way to transport this heavy tool. The handle is made from rubber which I also found to be comfortable and slip-resistant in the wet.
One of the main downsides I found was the build quality. It is made in China, and I noticed some damage to the powder coating after only a few uses. Speaking with the salesman at Home Depot this is not a one-off experience.
Specifications
Total Length – 10 2/5 inches
Blade Length – 5 inches
Blade Material – 1095 Powder Coated High Carbon Steel
Weight – 12.3 ounces
Handle Material – Thermoplastic Rubber
Pros
The full tang design makes it highly durable and rugged.
This is excellent value for money.
Cons
This is the heaviest knife on the list, even though it isn't the longest.
The powder coating wasn't as durable as I would've liked and did display some damage, even after a single week of use.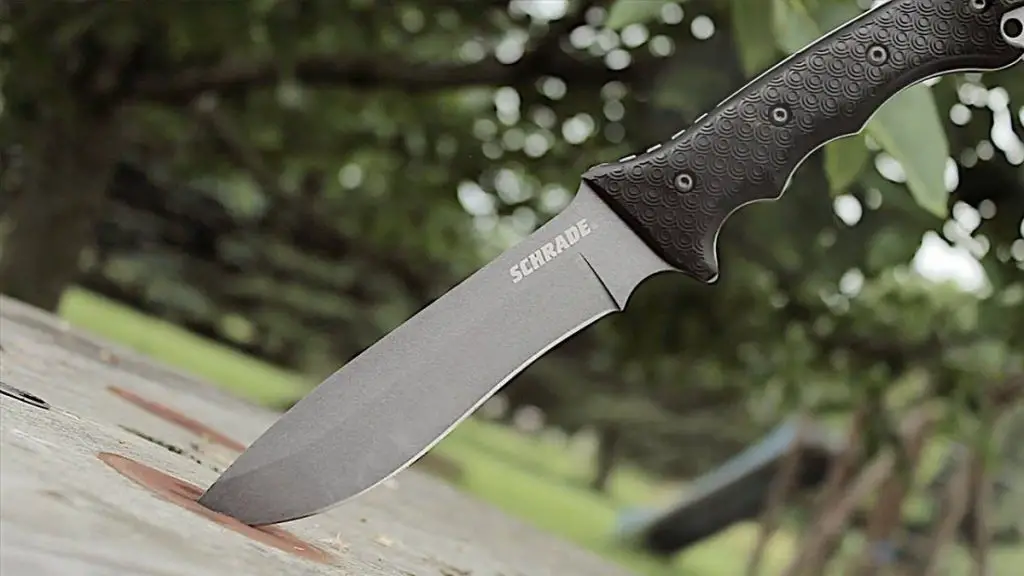 7. ESEE 5P Survival Knife
The ESEE 5P Survival Knife is a solid, dependable tool. It is well made and is one of the heaviest options. If you want something you can abuse, pick the ESEE 5P. This is the ideal knife for bashing through a tree trunk or chopping through hard materials.
Keep in mind, that the blade is carbon steel – so you will need to keep it clean and dry to prevent rust from forming. It will hold its blade's edge for a long time but comes with other disadvantages. The knife's spine has jimping for improved grip, which I noticed was handy in wet, rainy conditions.
There is also a glass breaker on the pommel. I didn't have any uses for this to test, but I could see it come in handy in extreme scenarios. It also includes a Kydex sheath, a form of thermoplastic that can be molded into any shape.
Specifications
Total Length – 11 inches
Blade Length – 5.25 inches
Blade Material – Carbon Steel
Weight – 13.6 ounces
Handle Material – Micarta
Pros
This heavy-duty knife can handle anything you can throw at it. If you are looking to fell trees by bashing the knife's spine, I would pick the ESEE 5P out of all the other options.
The carbon steel blade held its edge well, but you must weigh it against the increased corrosion risk.
Cons
This is a heavy knife, so if weight is a consideration for your backpack, then keep this in mind.
While the Micarta handle does provide one of the best grips of all the knives, it might not be as durable. You may notice some damage after a few years in the handle condition.
8. TOPS Knives Brothers of Bushcraft
TOPS Knives are all made in Idaho, USA. While the blade is made from 1095 carbon steel which is prone to corrosion if you don't treat it well, this knife has a blade powder coating to help stop rust.
In terms of field testing, the blade is thick, making processing meat and food preparation more difficult. This is a problem considering how long you will use it for this purpose. However, the thickness and its full tang make it extremely durable.
Like the knife above, it has a micarta handle. I love micarta's feel and grip, but I worry about its durability. You may find some damage after a few years of heavy use. It also comes with a thermoplastic kydex sheath with belt attachment. The sheath has a firestarter attached, but I felt this was substandard to the rest of the knife and used my own ferro rod.
Specifications
Total Length – 10 inches
Blade Length – 4.75 inch
Blade Material – 1095 Carbon Steel
Weight – 7 ounces
Handle Material – Micarta
Pros
The powder coating on the blade reduces carbon steel's corrosion risk.
This is a heavy-duty blade with a thick edge and full tang design.
It is a good combination of size of weight for storage and transport.
Cons
I worry the micarta handle could be damaged after heavy use.
The sheath is sub-standard and comes with a poor quality firestarter.
I found the knife was too thick for food preparation compared to other options.
9. SRK Cold Steel
This is a knife design for the military. It is commonly used by Navy Seals, giving it a high degree of confidence in its design and construction. The question is whether that pedigree transfers over to bushcraft skills.
The handle has a quality finger guard which is good for hunting. It is also one of the longer blades at 6 inches, which made it a bit awkward for more delicate tasks like carving wood and skinning small game. This is a good-looking knife and relatively versatile, but I didn't rate it as the best for bushcraft, hence its position down the list.
It is made from SK-5 steel, a low carbon steel with high wear resistance and holds its edge longer. SK-5 is more like 1075 carbon steel rather than 1095. It also comes with one of the highest quality sheaths I have found in this collection of tests.
This also comes at a reasonable price tag. I didn't feel it had the same performance as the more expensive options, but it certainly gives good value for money.
Specifications
Total Length – 10.75 inches
Blade Length – 6 inches
Blade Material – SK-5 Steel
Weight – 7.9 ounces
Handle Material – Alloy Steel
Pros
Trusted by the Navy Seals, this knife has a thorough pedigree.
It includes one of the best knife sheaths I have seen.
The finger guard makes it well suited for hunting.
Cons
It is long for delicate tasks, making carving more difficult.
10. Ontario Knife Company 8696
Another knife that is made in the USA (in Franklinville, NY), especially for bushcrafters. It is made with 5160 carbon steel in a full tang design with a laminated walnut handle. The knife is thick enough to cut through smaller trees but is short enough to handle delicate tasks like skinning wild game.
The handle is comfortable, but like other knives, the wooden handle increases the weight – I am a sucker for walnut handles.
The blade can take some abuse without being damaged and holds its edge. I did notice some damage on the spine when felling a small tree, so you may want to keep that in mind if you intend it for this purpose.
It is included with a black nylon sheath that provided easy access. You must keep a close eye on keeping the carbon steel dry to prevent corrosion because the sheath is far from waterproof.
Specifications
Total Length – 10.3 inches
Blade Length – 5 inches
Blade Material – 5160 Carbon Steel
Weight – 9.8 ounces
Handle Material – Walnut Wood
Pros
Short enough to handle delicate tasks easily but heavy enough to handle the rough stuff.
I love the aesthetics of walnut wooden handles for bushcraft knives.
Cons
I noticed some damage on the blade's spine when testing for felling trees.
The wooden handle does increase the weight.
Specification Comparison
Test Results
Bushcraft Knife Buying Guide
Selecting your first knife is essential for your long-term bush crafting success. I have spent many nights in the open with a broken blade after selecting a tool that is not durable enough or using it for a task it is not designed for. Durability is one of the best ways to get high value for money. I haven't needed to change my knife for many years now, after having wasted quite a few low-quality knives initially.
I have put together this buying guide to show some of the design features you must have in your next knife and some of the choices you will need to decide on based on your circumstances. This includes length, thickness, weight, design features, and construction materials.
What do you use a bushcraft knife for?
When you walk into the wilderness, there are numerous tasks that you may find you need a knife for. These are not all predictable, and versatility is essential. I have thought back over my last few years of experience and have come up with this list of 7 most common uses for a bushcraft knife:
Preparing food
Skinning animals
Hunting
Felling small trees
Preparing kindling
Carving tools
Limbing branches
Of course, there are likely 100 other tasks that may come up from time to time and ensuring your knife is versatile enough to handle anything is crucial. Having a knife that is too large, like a machete, makes it less versatile for more delicate tasks. Having a knife that is too small, makes it less versatile for heavy-duty tasks. My message if to consider versatility in your selection.
Blade Material – Carbon Steel vs. Stainless Steel
A common question for all knives is whether to pick a carbon steel or stainless steel blade. They both have their own advantages and disadvantages. The key is to pick a material based on its requirements and your own habits. If you treat your tools well, you can get away with the higher risk of rust in a carbon steel blade, but if you often forget to store your gear away from moisture, I recommend picking a stainless steel option.
Carbon Steel Characteristics
Corrosion Vulnerable
Resistant to Wear
Holds its Edge
Stainless Steel Characteristics:
Corrosion Resistant
Wears More
Blunts More Quickly
Neither material type is better than the other. I have used both in my knives before. I prefer carbon steel because it holds its edge for longer, and I spend less time sharpening. Still, I also know that I take good care of my equipment – this includes oiling it regularly, storing it in a sheath, and not using it as a hammer which can cause the brittle edge to chip.
You will notice in this list of the six most popular bushcrafting knives, there is a 50:50 split between carbon steel and stainless steel.
If you want to learn more about steel types and their impact on knives, this is a great article by Reliance Foundry.
Handle Material
I have noticed three different types of handle material: leather, wood, and rubber.
I love the aesthetics of a wooden handle. It also makes the knife durable as the handle can be maintained, sanded, oiled, repaired, and replaced. This gives it longevity that cannot be replicated.
Rubber handles have become much more popular because of their low weight and good grip in slippery conditions. But they also have disadvantages: they are not as durable and can be cut and damaged easily. They also can't be sanded back and repaired. Once they are damaged, they will stay damaged until you replace the entire knife.
There are also plastic handles available, but these are more common in the cheaper knife options, and I haven't selected any knives with plastic handles in this list.
Design Features
You should know some key design features – the tang, any guarding, fixed or folding, and straight or serrated. These designs make each knife more suited for different tasks and impact the tool's durability and cost. Let's have a look at each one.
Half Tang or Full Tang
The knife's tang describes how far the blade steel extends into the handle. A full tang knife is significantly more durable as it is one piece with a rubber grip overlay. You cannot get a full tang folding knife. Full tang knives are also heavier because of the higher steel content.
I prefer full tang knives for bushcrafting because of their improved durability, even with the higher weight.
If you are having difficulty understanding, then have a look at this illustration I have put together:
Fixed or Folding Blade
Picking between a fixed blade and a folding blade is another option. The folding blades are more easily to store as the length is halved. However, I have found them to be somewhat less durable because of the connection between the blade and the handle. If you are trying to fell a tree and hit the back of the blade with a log/hammer then there is a real chance of breaking it.
In this list, I have selected all fixed blade options. Breaking your knife while in the wilderness can be a death sentence so selecting durability is essential.
Straight or Serrated Blade
You can pick from two different types of blades – straight and serrated blades. I prefer straight blades because they are significantly easier to sharpen. A serrated blade can also make delicate tasks like carving or skinning a pain.
Another option is a knife with a straight blade at the tip and a serrated blade at the base. This does give more versatility which I am always a fan of.
Length
The average length of a bushcrafting knife is between 4 inches and 7 inches for the blade, and 8 to 12 inches in total.
The length of your knife is one of the most important aspects of performance. The longer a knife the more suited it is for heavy-duty tasks like clearing brush and cutting wood but are more awkward when trying more delicate jobs like food preparation and wood carving. A shorter knife can make felling trees almost impossible. Understanding what type of work you need your knife to be suitable for is the first question you need to answer before buying.
I recommend picking a 5 to 6 inch blade length for maximum versatility without being too small to do heavy-duty tasks.
Weight
The average weight of a bushcrafting knife is between 4 and 12 ounces.
The weight of a knife is important in terms of storage and transport. If you are backpacking, every ounce matters, and you don't want to carry a heavy knife when a lighter option will do the job. You will notice that the construction materials play a significant role in the knife's weight. This is especially true when the knife has a hardwood handle which can add considerable weight when looking at similarly sized blade sizes.
Thickness
The blade thickness is a design feature to pay attention to that is less common. The average thickness of a bushcrafting knife blade is between 3/32″ and 5/32″.
For a bushcraft knife to be practical, it needs to have just the right thickness. A too thick blade will make it difficult for the user to carry and use, but one that is too thin may not cut through materials as effectively.
I prefer a 3/32″ thin knife for fine wood carving and a 5/32″ thick knife for more heavy-duty tasks such as firewood prep.
Frequently Asked Questions
What is the difference between a bushcraft knife and a survival knife?
There is no difference between a bushcrafting knife and a survival knife. They are different names for the same tool and can be used interchangeably.
Should bushcraft knives have a serrated edge?
A serrated blade edge can help when cutting through hardwoods, removing the wood chips more quickly. I prefer a straight edge because they are significantly easier to sharpen and more versatile. Another option is a knife with a straight edge at the tip and a serrated edge at the base.
How sharp should a bushcraft knife be?
A bushcraft knife should be sharp enough to shave. This allows you to complete each cut more easily and reduces the risk of cutting yourself when applying too much force.
You can run the knife along your forearm to check whether it can shave off your hair. If not, then it is worth sharpening. Stainless steel blades don't hold their edge as long as carbon steel and must be sharpened more frequently.
Conclusion
Picking the right knife for your needs is vital to ensure you have a successful bushcrafting adventure. Think deeply about the tasks you must complete to help pick the design features that will help. If you are doing a lot of delicate tasks like carving, pick a shorter blade.
Pick a stainless steel blade if you are operating in a humid and wet environment. Each of the knives in this list has earned its place as one of the top tools on the market, and the final decision should be based on your own requirements.
Please email me if you have any questions or suggestions about adding the best bushcraft knives to this list.