The best hunting axes are between 14 to 20 inches long and weigh 2.5 to 3 pounds. They also have a hook on the poll that assists with skinning game.
Axes have been used in hunts starting in ancient times. After the animal was brought down by spears or arrows, axes could be used to deliver a finishing blow and also to process the game on the spot. Hunting axes are still a thing nowadays as well – they're used for skinning hunted game and processing it into smaller parts for easier carrying and transportation. I know people are passionate about hunting and ready to spend lots of money on it, at the same time hunting should be accessible to all.
To test each of these axes, I took them out on my latest camping trip, and used each to skin a small jackrabbit. I have written up the results and my judgements based on performance, balance, comfort, and portability.
Image
Features
Score
Price

Best Performance

2 Pound High-Quality Steel Axehead
Forged in Sweden
American Hickory Handle
Ideal for Bushcrafting and Hunting

Check Price on Amazon

Best Value for Money

Full Tang One-Piece Steel Handle
Powder Coated for Increased Durability
Comfortable Shock Reduction Grip
Hand Sharpened in USA

Check Price on Amazon

Most Affordable

18-inch Hickory Wood Handle
3.5-inch Cutting Edge
Great Value for Money
Made in El Salvador

Check Price on Amazon
That's why this list includes both premium, high-quality hunter's axes as well as the best hunter's axes under $100. So whether you're looking for a premium Swedish Gransfors Bruks hunter's axe or a more budget choice, you'll hopefully find something for you on this list. Let's get into it! 
1. Estwing Hunters Axe
First up is the Estwing Hunter's axe. This is a single-piece forged steel hatchet made by Estwing in Rockford, Illinois. It's 14.5 inches long and weighs 2.85 lbs, with a 3-inch cutting edge. 
What's I think is great about this axe – and really makes it a hunter's axe – is the gut hook on the poll side of the axehead. Gut hooks on knives and such can have the problem of being too small – getting stuck up with hair and such. The large gut hook on the Estwing Hunter's axe doesn't have this problem, plus the handle allows you to leverage your grip and even use two hands to open up the deer or other large game. I also found that the cutting edge can be used as a cleaver – for cutting through muscle and connective tissue to split the pelvic bone, for example.
The axe has a composite shock-reducing grip, which is always nice to have, and comes with a sheath and sharpening stone. The sheath isn't anything special, but will cover the axe and give it some protection from the elements. The pocket is for the sharpening stone, which is good in that it is rounded on one side – for sharpening the gut hook. Generally you should be maintaining and sharpening your cutting edges before going out and bagging big game, but the sheath and sharpening stone would be useful if you damage the cutting edge in the field or on extended (multi-day) hunting and camping trips.
The only real downside to this axe, in my experience, is the black paint on the axehead – it'll come off with use, not to mention bubble up and peel off in an unattractive way if the axe is exposed to too much moisture for too long. Also, the all-black color of the axe (although you can get one with a bright orange handle) means that if you drop it in the dark… good luck finding it!
Luckily, I was able to fix both of these problems quite easily – the first by stripping the paint, and the second by wrapping some reflective tape around the handle or threading some colorful, reflective paracord through the lanyard hole at the end of the handle.
Pros
The Estwing Hunter's axe is a single-piece forged steel tool with a gut hook and cutting edge, allowing for diverse uses such as opening large game or cutting through muscle and connective tissue.
The composite shock-reducing grip provides comfort and ease of use, while the large gut hook design allows better grip and leverage.
Cons
The black paint on the axehead is prone to peeling off with regular use or exposure to moisture.
Its all-black color may make it difficult to find if dropped in the dark.
The sheath, while functional, is not particularly high-quality or special in terms of design or materials.
Verdict
Overall, I think the Estwing Hunter's axe is an excellent tool for processing game and chopping wood or saplings at camp. It's good value for a US-made axe with quality US steel. Estwing being in the US means you'll also get great customer support in case of any defects. It's not the cheapest axe, but for all the features and positives mentioned, I consider it the best overall hunters axe under $100, and the overall winner of this list.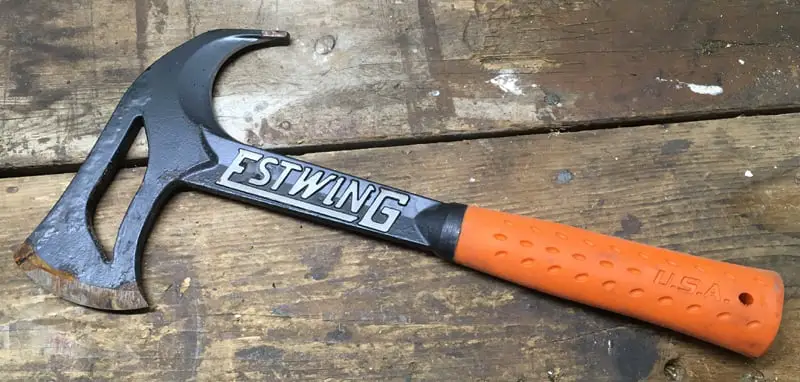 2. Hults Bruk Aneby
Next up is the Hults Bruk Aneby, a premium hunter's axe from the distinguished Swedish forge. With a handle that's 20 inches in length, it's considerably longer than the Estwing Hunter's axe. The axehead weighs 2 lbs, and the Aneby's overall weight is 2.75 lbs. It's certainly not a hatchet, but more like a stout medium-sized camp axe. What makes the Aneby a hunter's axe is the rounded poll of the axehead, which is meant to be used for skinning hunted game. If you use an axe with a flat, angular poll, you're liable to damage the hide of the animal and it's more cumbersome in general.
With the Hults Bruk, I found you can simply slide it down through the skin and hide easy as can be. The longer handle allowed for more leverage and putting more force into skinning, if you feel that's necessary. The Aneby is also great for chopping through connective tissue or bones such as the pelvis (although you should definitely keep in mind some best practices – more on that later).
And, last but not least as with any axe, the Aneby's premium Swedish steel edge – made of high carbon steel and hardened – will stay sharp for a long time and can certainly be used for tasks around camp, such as cutting down dead trees and branches and processing firewood. The Aneby is great for splitting firewood as it has slightly thicker, wider cheeks than, for example, the Gransfors Small Forest axe.  
As with all Hults Bruk axes, it comes with a vegetable-tanned leather sheath which is nice and sturdy as it is riveted, not sown, together. As with the Estwing, it has a hole drilled at the bottom of the handle for paracord or something similar.
Pros
The Hults Bruk Aneby's design, including a rounded poll for skinning game and a sharp edge for camp tasks, makes it a multi-purpose tool for hunters.
Made of high carbon steel, the axe's edge is hardened for long-lasting sharpness.
Due to its slightly thicker, wider cheeks, the Aneby is ideal for splitting firewood, providing versatility beyond hunting tasks.
Cons
The Aneby's 20-inch handle length, while providing more leverage, makes it less portable and heavier to carry.
While versatile, the Aneby lacks specialized hunting features such as a gut hook, which limits its efficiency for hunting.
Verdict
If you're looking for a hunter's axe that will last you a lifetime if treated well and maintained, and you're willing to spend a bit more for that quality, the Hults Bruk Aneby stands above almost all other hunter's axes on the market.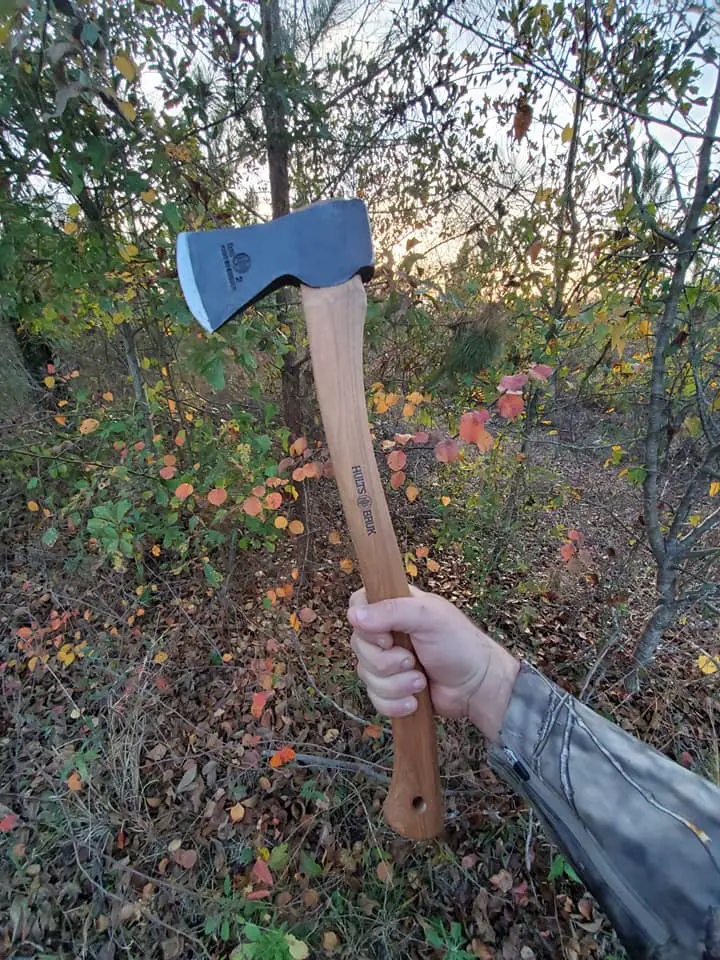 3. Marbles Hunter's Axe
Next we have the Marbles Hunter's axe. Marbles are a well-regarded US brand that now makes their axes abroad – in El Salvador, in this case. The Marbles Hunter's axe has an 18-inch handle and with a 3.5 inch cutting edge on the head.
It has a 1045 carbon steel axehead, so pretty standard, but just fine for the price. The poll isn't rounded, but what's nice with this axe is that it's cheap enough that you won't feel bad about filing down the poll to make it rounded and use it for skinning if you so desire.
Pros
The Marbles Hunter's axe is a budget-friendly option, making it a suitable choice for individuals who are price-conscious.
With some modifications, like filing down the poll, this axe can be adapted for skinning tasks, adding to its utility.
The axehead is made of 1045 carbon steel, providing good durability and toughness.
Cons
To utilize this axe for hunting-specific tasks like skinning, some DIY modifications are necessary.
Despite being functional, the axe's features and materials are relatively standard, offering less performance compared to higher-end models.
While Marbles is a US brand, the production of this axe in El Salvador might be a downside for those who prioritize domestically-produced goods.
Verdict
It's a decent work axe, and with a few modifications can be used to skin an animal, too. If the Estwing Hunter's axe is out of your budget, then I recommend getting the Marbles Hunter's axe and doing some DIY work to round down the poll.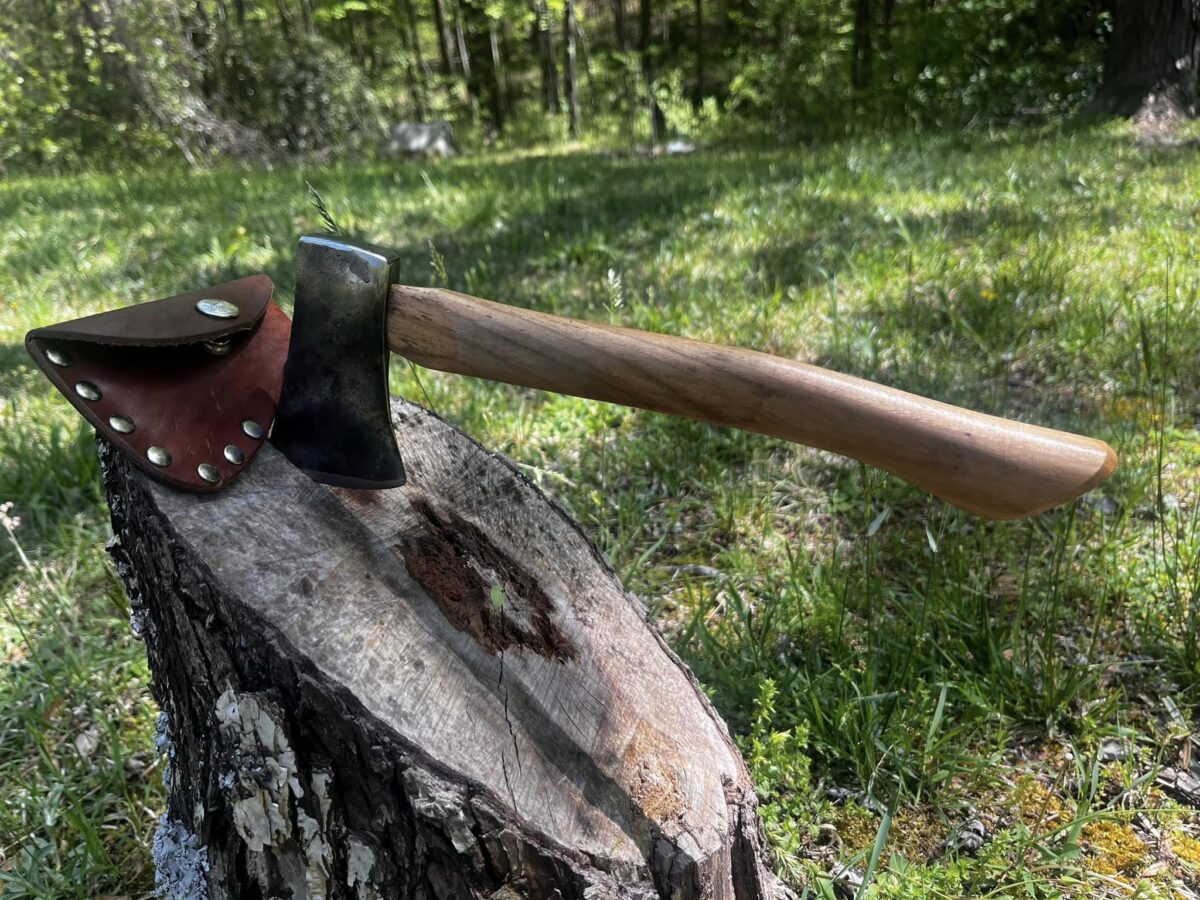 4. Workpro Axe and Fixed Blade Set
The Workpro Axe and Fixed Blade set is a two-set of tools that can be useful for hunters. They're both full-tang tools, with 3CR13 steel blades, so you'll never be in a situation where the axehead comes off the handle, and for what they are are a cheap and decent buy. The knife can be use for gutting and skinning the animal, and with the hatchet you can chop through connective tissue and maybe even the pelvis or sternum.
The hatchet is 10 inches in length, with the handle being 5.25 inches, while the knife/machete is 13 inches overall and the same handle length – 5.25 inches. Both weigh just about 0.8 lbs (0.36 – 0.30 kg). The advantage these have over other hunter's axes is that the price is very low. If you're looking for something simple and functional, the Workpro set will do. The downsides are that the handles are pretty small – I have big hands and did find them to be uncomfortable.
Another negative is that they're made in China so customer service, at the least, will be lacking, and you can't really be sure about the quality you'll receive. Still, if it comes with any defects, you can send it back and you'll probably get your money back. For the price – you're not risking much.
Pros
The Workpro set offers two tools – an axe and a fixed blade – at a very affordable price, providing value for budget-conscious consumers.
Both tools are full-tang, meaning the metal extends through the handle, enhancing the tools' durability and reducing the risk of breakage.
Each tool weighs about 0.8 lbs, making them relatively easy to carry around during hunting or camping trips.
Cons
The handles of both tools are relatively short, minimizing the amount of power you can apply.
As the product is manufactured in China, there could be potential issues with customer service and quality assurance.
How to skin an animal with an axe
The process of skinning an animal such as a deer or moose with a hunter's axe isn't much different than normal. You open up the hind legs first (either by using the axe edge or a knife) and start pulling the skin down. When pulling the skin down, you hold the hide with one hand and, holding the axe in the other, pound the skin at the place just a bit before it connects to the meat with the rounded poll. The cutting edge of the axe can be used for making any cuts needed, and even for cutting through joints and connective tissues and even small bones. 
It's true that you can skin a lot of animals such as whitetail deer and caribou with just a knife and remove the skin using just your fist and fingers. Axes – with more force to their blow – can and do come in handy for animals with tougher hides, such as old bull moose.
Here's a video where the proper technique is demonstrated:
What do you use a hunting axe for?
Hunting axes are used primarily in hunting for chopping meat and skinning small game. The best hunting axes have polls on the back of the axe head that assist in skinning, such as a flay poll or gut hook. Hunting axes are also extremely useful for chopping through tough joints and bones in larger animals. These axes must be small and maneuverable enough to skin an animal without damaging the hide.
What size axe is best for a hunting axe?
The best hunting axes have a handle length of between 14 and 20 inches with a total weight of 2.5 to 3 pounds. This makes them maneuverable enough to skin small game easily while still having enough weight to cut through difficult joints in larger animals.