While lumberjack axes have mostly been replaced by chainsaws and other heavy machinery in forestry, the lumberjack tradition is still alive and well in competitions. It's a true test of skill and endurance, as chopping through big pieces of wood as fast as possible is no easy task.
Big, burly men go at it in events such as the Stihl Timbersports series, and it leaves them red-faced and breathing hard. Axe racing pushes you to the limit – it tests your strength, endurance, and wood chopping form. It requires you to use your whole body. But just as much as your body, your competition axe is tested as well.
A cheap, mass-produced axe with soft steel just isn't going to cut it in such competitions. That's why I've drawn up a review list of the best lumberjack axes for racing and competitions on the market today. Read on to find out all about them!
Best Axes for Lumberjack Racing Competitions
1. 1844 Helko Werk Germany Classic Tasmania Competition Axe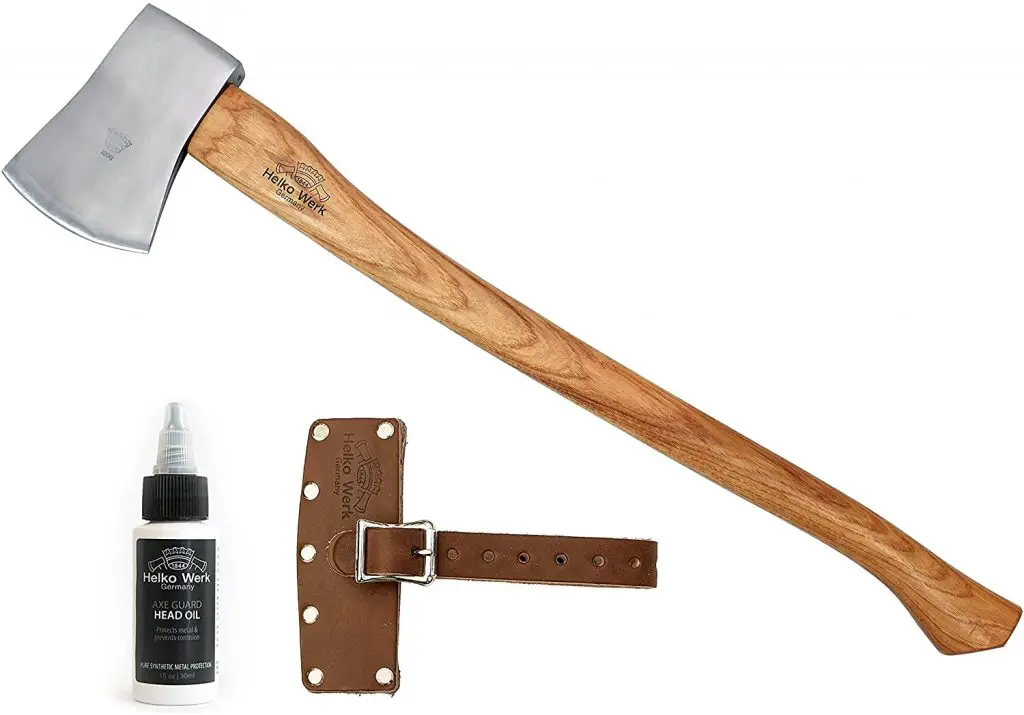 C50 High Carbon Steel Head
Handmade in Germany
31 Inch Grade A American Hickory Handle
4 Pound Axehead / 6 Pound Total Weight
The Helko Werk Tasmania Competition axe is probably one of the top axes you can get for axe racing and competitions. It's handmade in Germany from C50 high carbon steel and comes in at the hefty weight of 6 lbs overall with a 4-pound axehead. The handle length is 31 inches and it comes with a protective leather sheath and 1 oz. of axe guard oil. This axe really does the trick, as German engineering and manufacturing standards mean that it is built to a very high standard, based on the classic Tasmanian axe pattern.
If you're serious about taking out big chunks of wood at a high speed, you can't do much better than this model. Furthermore, it's just as good, but less expensive compared to more hyped and better-marketed brands such as Gransfors Bruks. Whenever you're not competing, this axe will also serve you well as a general-purpose felling axe – it's no one-trick pony. With proper care, this axe will last you a lifetime and longer.
2. Council Tool Velvicut Premium American Felling Axe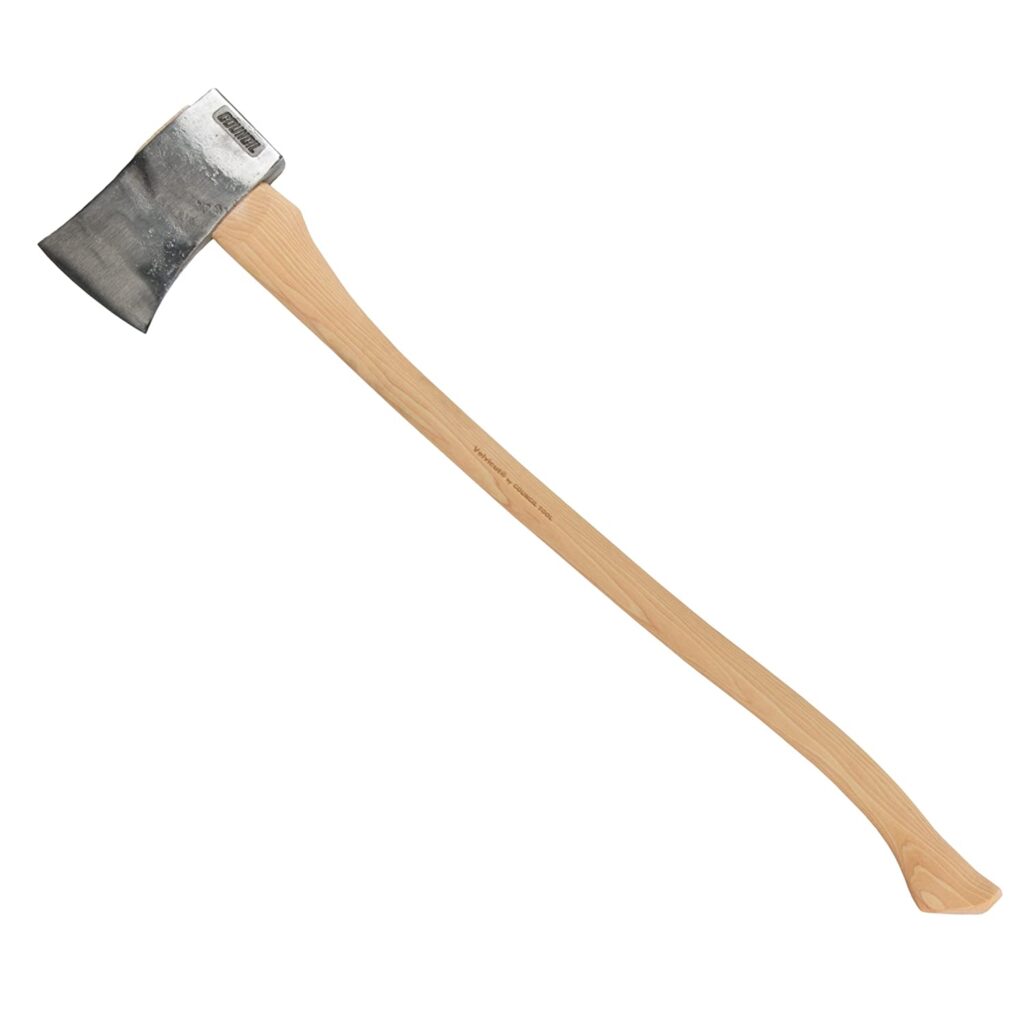 5160 American Steel
32 Inch Hickory Handle
Made in USA
5.6 Pound Total Weight
The Council Tool Velvicut American Felling axe is another fine example of a lumberjack axe that you can use for competitions. The head weighs the same as the Helko Werk Tasmanian – 4 lbs – but the overall weight is 5.6 lbs, 0.4 lbs less than the Helko. The axehead is made of 5160 American steel and the handle is 32 inches of American hickory.
For the US patriots out there, this axe – like all Council Tool axes – is proudly made in the USA, at the Lake Waccamaw, North Carolina factory. It's also a hair cheaper than the Helko Werk, with no real difference in quality.
Overall weight: 5.60 lbs.
Head weight: 4 lbs.
5160 American Steel
32″ American hickory handle
3. Hults Bruk Atran Felling Axe
Best Value for Money

Hand Forged Swedish Steel Hickory Handle 32 Inch Length
The Hults Bruk Atran Felling axe is an excellent offering from the Swedish master axe-makers that many know and appreciate. The axehead weighs less than the Helko Werk and Council Tool Velvicut American, coming in at just 3.5 lbs, but that can be a good thing depending on your needs. In axe racing competitions, they generally use softwoods, and Hults Bruk axe models excel at chopping through softwoods. It has a 4.25 inch cutting edge, a 32-inch handle, and is hand-forged from Swedish steel in a foundry that has been operating since 1697.
Finally, it is also noticeably less expensive than both previous models. If you want an axe of excellent quality that doesn't break the bank, definitely consider the Hults Bruk Atran.
4. Council Tool Jersey Classic With Forged Bevels 32 Inch
The Council Tool Jersey Classic is a great felling axe at the budget end of the list. It has a 3.5 lbs axehead that has forged bevels, which are meant to prevent the axe from getting stuck in wood while chopping.
While it is less "premium" than the previous three models (the Velvicut line is the premium-quality line of Council Tool), it is still a very solid axe and can be made great with a good sharpening stone and some patience.
5. Council Tool 28" Boy's Axe
The next two axes are smaller than the previous ones – for those who want to engage in lumberjack and axe racing competitions but can't really handle full-sized felling axes. The Council Tool Boy's Axe is an excellent choice, with a relatively light axehead coming in at 2.25 lbs and a 28-inch handle.
As with all Council Tool axes, it is made in the USA and is a great axe for all occasions, including general use. It is also one of the cheapest listed here – but thankfully, cheap doesn't mean low-quality. In fact, it's just the opposite, and the Council Tool Boy's Axe is great value for the money. Highly recommended.
6. Husqvarna 26 inch Multi-Purpose Axe
The Husqvarna 26-inch Multipurpose Axe can be used for all sorts of things, including axe competitions. The axehead is light – only 2 lbs – and the handle is the shortest out of this list at 26 inches. Husqvarna is owned by the same group (Hultafors) that own Hults Bruk, so they have the know-how and the tradition, although Husqvarna axes are not as polished and high-quality as Hults Bruk models (which is understandable, as they are also less expensive).
It's a good choice for beginners and those who are more comfortable with smaller, lighter axes.
Premium Racing and Competition Axe Brands
There are a few racing axes that you won't find on Amazon. Made by highly respected axemakers, these axes are the cream of the crop for competitions. Here are a few of these manufacturers. Interestingly, most are from Australia and New Zealand. That's because Australia has a rich tradition of both forestry and axe racing competitions.:
Tuatahi Axes
Tuatahi is one of the best-known names in the racing axe manufacturing business. They are based in New Zealand, and Tuatahi means "number one" in the Maori language. Their axes have been used by many timbersports competitors, and multiple World Champion lumberjack and axeman Adam Lowe is on the record as saying that many of his champion's titles have been gained while using Tuatahi axes and saws.
Keech Axes
Keech is a historical Australian tool manufacturer, and nowadays their axe workshop is only a marginal part of their business, although it was once one of the most important. They keep the axe workshop going, though, and are well-known in Australia and beyond for their high-quality racing axes. They use a proprietary method of casting steel to ensure excellent edge sharpness and retention, as well as overall steel quality. One of their best-known models is the Timberman KC23. Your best bet to find one of these axes is by keeping your ear to the ground on eBay or contacting the company directly.
Osborne Racing Axes
Osborne axes are made specifically for racing by Mike Osborne, who has been making axes for more than 15 years. His workshop is located in Australia, and many competitors go to him for high-quality axes based on various classic Australian patterns.
Ochsenkopf Axes
Ochsenkopf is Germany's oldest axe forge, and they make all manner of axes, but also craft the Ochsenkopf Champion axe, which is specifically designed for racing and lumberjack/timbersport competitions.
Lumberjack Axe Racing Competitions
There are several lumberjack axe competitions out there, some better-known than others. Perhaps the most famous is the Stihl Timbersports series, started in 1986 and still going strong to this day. It is based on the informal competitions held by loggers and lumberjacks in the USA, Canada, the UK, New Zealand, and Australia. In it, competitors use axes and saws to chop, saw, and even climb (using a special wooden board that is stuck into the cuts the competitor makes) pieces of wood.
There are seven disciplines in Stihl Timbersports competitions:
Springboard
Stock saw
Single buck
Hot saw
Relay
There are both professional, collegiate, and professional women's divisions, and the competitions as a whole are seen by more than 20 million viewers on sports channels each year.
Apart from the Stihl Timbersports series, there are less well-known (but just as intense) lumberjack competitions out there. One of these is the Lumberjack World Championship, held each year in Hayward, Wisconsin at the Lumberjack Bowl. This competition is even older than the Timbersports series since it has been going on since 1960 – more than half a century! Competitors come from across the US, Canada, UK, and Australia to fight for more than $50,000 in prize money. It's not just cutting and chopping events there. There's:
Log rolling (keeping your balance on a floating log while trying to spin it to unbalance your opponent and throw them into the water first)
Boom running (running across linked floating logs known as a boom)
Pole climbing (climbing massive 60 or 90-foot poles with spurs and other lumberjack forester climbing gear and then dropping down as fast as possible)
Axe throwing (self-explanatory – hit the target!)
In addition to the classic axe chopping and sawing disciplines. 
There are also smaller and even more local competitions, usually happening alongside or as part of larger events or fairs. In any case, whether you want to compete for fun or for money, you've got options.
What brand of axe do lumberjacks use?
The premium axe brands for lumberjack racing competitions include Helko Werk, Gransfors Bruks, Hults Bruk, Tuatahi, Keech, Osbourne, and Ochsenkopf.
What style of axe do Timbersports use?
Timbersport athletes use specialised racing axes that are sharpened by hand. They are typically 32-inch felling axes with a 4-pound axehead.