The best tactical tomahawks are 12 inches long and weigh between 15 and 20 ounces, are made from 420 stainless steel, and have a non-slip handle, such as the SOG Fasthawk.
Tomahawks are great tools for many purposes – bushcraft, self-defence, axe throwing competitions, even for hunting and in emergency situations. Tactical tomahawks take the traditional wood-handled tomahawk design and take it to the next level – more durable and sometimes with more features – such as a pick or hammer on the back or poll side of the axehead. Some even have a crowbar at the end of the handle.
As you can see from some of my photos, I took all these tomahawks out to test in the field. I judge each tomahawk based on its performance, quality, balance, comfort, and value-for-money.
So read on to find out what I consider to be the best tactical tomahawks for the money on the market.
1. SOG FastHawk Tactical Tomahawk
Best Value for Money
420 Stainless Steel Hatchet Blade
Hammer Edge and Piercing Spike Poll
Lightweight at 19 Ounces
Glass Reinforced Nylon Grip
12.5 inches
2 inch cutting edge
19 ounces
Ballistic nylon sheath
Checked hammering surface
Poll spike
420 stainless steel
Glass-reinforced nylon handle
The SOG Tactical Tomahawk is one of the most popular models out there, and for good reason. I found it is light, sharp, with a sleek design and has a solid construction. It's also multi-functional – apart from the axe edge itself, it has a spiked poll end and a checked hammering surface on the side of the axehead.
The straight cutting edge is 2 inches long, more than enough to penetrate into whatever I threw it at and also usable for cutting small saplings and branches. It's marketed as a throwing axe, which is what tomahawks are, but the hammering surface on the side of the axehead is useful when out camping for hammering tent stakes into the ground. The poll spike can be used for breaking up ice or earth. The axe can, of course, be used for self-defence against aggressive animals.
Finally, the SOG Tactical Tomahawk comes with a ballistic nylon sheath, which is a useful accessory for keeping the axe from cutting through anything in your bag or accidentally nicking you.
Overall I rate this as a great tactical tomahawk, good value for money combined with solid construction. Highly recommended. 
Pros
This tomahawk features a spiked poll end and a checked hammering surface on the side of the axehead.
The SOG Tactical Tomahawk is built with 420 stainless steel and a glass-reinforced nylon handle, ensuring durability and longevity.
Cons
While the 2-inch straight cutting edge is effective for penetrating targets and cutting small saplings, it is be insufficient for more extensive wood cutting tasks.
At 19 ounces, this tomahawk is relatively lightweight but might still be considered heavy, particularly for backpacking.
2. Estwing Black Eagle Tactical Tomahawk
16 inch handle
3 inch cutting edge
27 ounces (1.68 lbs)
Heavy-duty nylon sheath
Poll spike
Full tang design
1055 carbon steel
Patented shock reduction handle
The Estwing Black Eagle Tomahawk is an excellent tool that is made in the heart of the USA – Rockford, Illinois, using American-made 1055 carbon steel. Estwing are one of the few companies to still make their axes in the USA, and they have a reputation for ensuring high quality at a surprisingly affordable price. The Estwing Tomahawk has a 16 inch handle and 3 inch cutting edge and is forged in one piece, making it virtually indestructible. There was nothing I could do to it that would damage this axe.
It comes with Estwing's patented shock reduction grip, which reduces vibrations from strikes and which is something you want to have with full-tang axes (believe me, your wrists and arm joints will thank you). This tactical tomahawk is primarily a self-defense or breaching tool – getting into or out of a car, for example, or defending yourself from animal (or human) threats to your life.
You can also get it in different colors and with a lacquered leather handle, but the Black Eagle is my choice as a top tactical tomahawk. Highly recommended.
Pros
Made in Rockford, Illinois, from 1055 carbon steel..
It has a patented shock reduction grip, reducing vibrations from strikes.
Cons
The tactical focus of this tomahawk limits its efficiency in more traditional axe tasks such as chopping wood or bushcraft.
Weighing 27 ounces (1.68 lbs), this tomahawk is quite heavy for carrying long distances.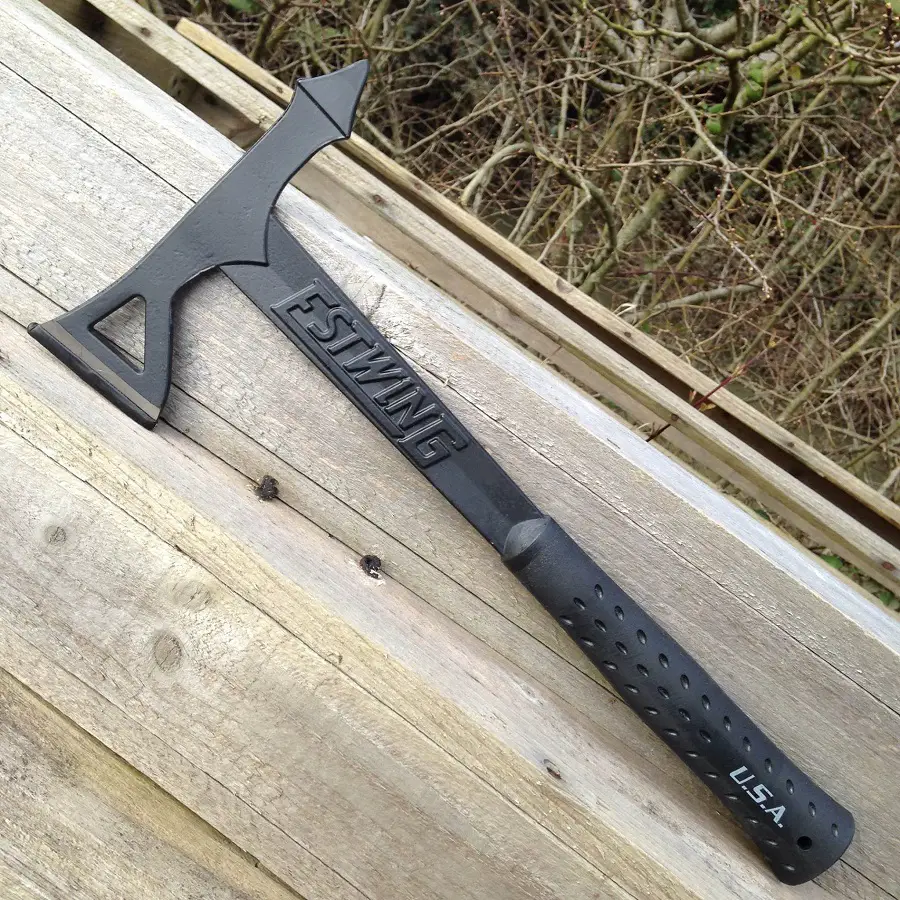 3. HX Outdoors Multifunctional Tactical Tomahawk
Full tang
Leather sheath
Stainless steel 440C
Prybar handle end
Hammer poll
The HX Outdoors Multifunctional Tactical Tomahawk is a multi-purpose tool. It is a full-tang tomahawk-type axe, but it also has a prybar at the end of the handle and a hammer face on the poll. I found this to be a good truck/vehicle axe to keep in the front in case you need to escape your vehicle or help get someone else out of theirs.
As it is full-tang, it is practically indestructible 440C stainless steel. It comes with a leather sheath.
Pros
The HX Outdoors Multifunctional Tactical Tomahawk not only functions as an axe, but also includes a prybar at the handle's end and a hammer face on the poll.
Its full-tang design and 440C stainless steel construction make it nearly indestructible.
Including a leather sheath is a valuable addition for safe storage and transportation of the tomahawk.
Cons
Although its multi-functional design is advantageous, the tool is designed primarily for vehicle-related emergencies, which won't appeal to people looking for a more traditional camping axe.
The materials make it heavier than other options, making it less suitable for prolonged use.
4. Smith and Wesson Full Tang Tactical Tomahawk
420 Stainless steel
Full tang
Poll spike
16.5 inch overall length
2.5 lbs weight
Hard rubber handle
Nylon sheath
The Smith and Wesson Tactical Tomahawk is another full-tang axe with a very sleek design. It's a simple tactical tomahawk, but it does what it's supposed to do very well. 16.5 inches in overall length and 2.5 pounds in weight, the S&W has a hard rubber handle, curved cutting edge, and poll spike. Comes with a nylon sheath.
I was able to do almost anything I could think of, from throwing to chopping kindling, felling small trees, and clearing my campsite.
Pros
The Smith and Wesson Tactical Tomahawk's full-tang design and 420 stainless steel construction ensure long-lasting durability.
The hard rubber handle provided a firm and comfortable grip.
The included nylon sheath provides safe storage and transportation, preventing accidental cuts or damage to the tomahawk.
Cons
Weighing 2.5 pounds, this tactical tomahawk is heavy for extended long-distance travel.
While the tool is effective as a simple tactical tomahawk, it doesn't offer the range of functions that I want from a multi-tool axe.
5. CRKT Kangee Tactical Tomahawk
Full tang construction
SK5 carbon steel
3 inch cutting edge
13.75 inch length
1.53 lbs
Glass-reinforced nylon handle
Powder coated
The CRKT Kangee tomahawk is an excellent little axe that is both light and durable, as it is a full-tang construction (handle and axehead are forged together). The Kangee is 13.75 inches long, has a 3-inch cutting edge, and weighs just over 1.5 pounds – not bad for a metal tomahawk. Its reinforced nylon handle, with the "ribbed" design, gave me a good grip on the hawk. There are holes at the bottom of the handle that I was able to thread paracord through.
The SK5 steel holds an edge very well, although it is slightly more brittle than tool-grade steel (SK5 is knife-grade steel). The upside is that it is easy to sharpen. As many good tactical tomahawks do, the Kangee also has a spike on the reverse side of the axehead. 
Pros
With a weight of just over 1.5 pounds, the CRKT Kangee Tomahawk offers a balance of lightweight design and robustness thanks to its full-tang construction and SK5 carbon steel.
The glass-reinforced nylon handle with a ribbed design ensures a firm grip.
The SK5 steel used in the axehead holds an edge well and is relatively easy to sharpen, reducing the time and effort required for maintenance.
Cons
While the SK5 steel holds an edge well, it is also slightly more brittle than tool-grade steel, potentially leading to chipping or cracking under heavy use.
6. Milletech Tactical Tomahawk/Survival Multi-Tool
Includes Knife, Hammer, Flint, Whistle, Safety Hammer, Compass, Extension Bars, Sheath
Extension bars and thick aluminum alloy handle
17 inch handle
2.2 lbs weight
The Milletech Tactical Tomahawk is a jack-of-all trades in that it everything you need to survive can be found within its handle. Not only is it a 17-inch tactical tomahawk, it is designed so that the handle can be screwed apart to access a knife, flint, whistle, compass, and hammer, as well as two extension bars. Each element can be screwed together with an extension bar for independent use.
The best thing? The whole thing only weighs 2.2 lbs. A good choice if you're looking for an all-in-one survival tool within a tactical tomahawk (which also has a hammer poll). 
Pros
The Milletech Tactical Tomahawk includes multiple survival tools like a knife, flint, whistle, compass, and hammer, all conveniently stored within the handle.
Despite its numerous features, the tomahawk maintains a low weight of 2.2 lbs, making it easy to carry for extended periods.
The tool is designed with extension bars that can be attached to each element for independent use.
Cons
I am concerned about the numerous removable parts, especially under heavy use.
The multi-tool design is more complex to use than a simple tomahawk.
7. CRKT Chogan Tomahawk – Best Traditional Tomahawk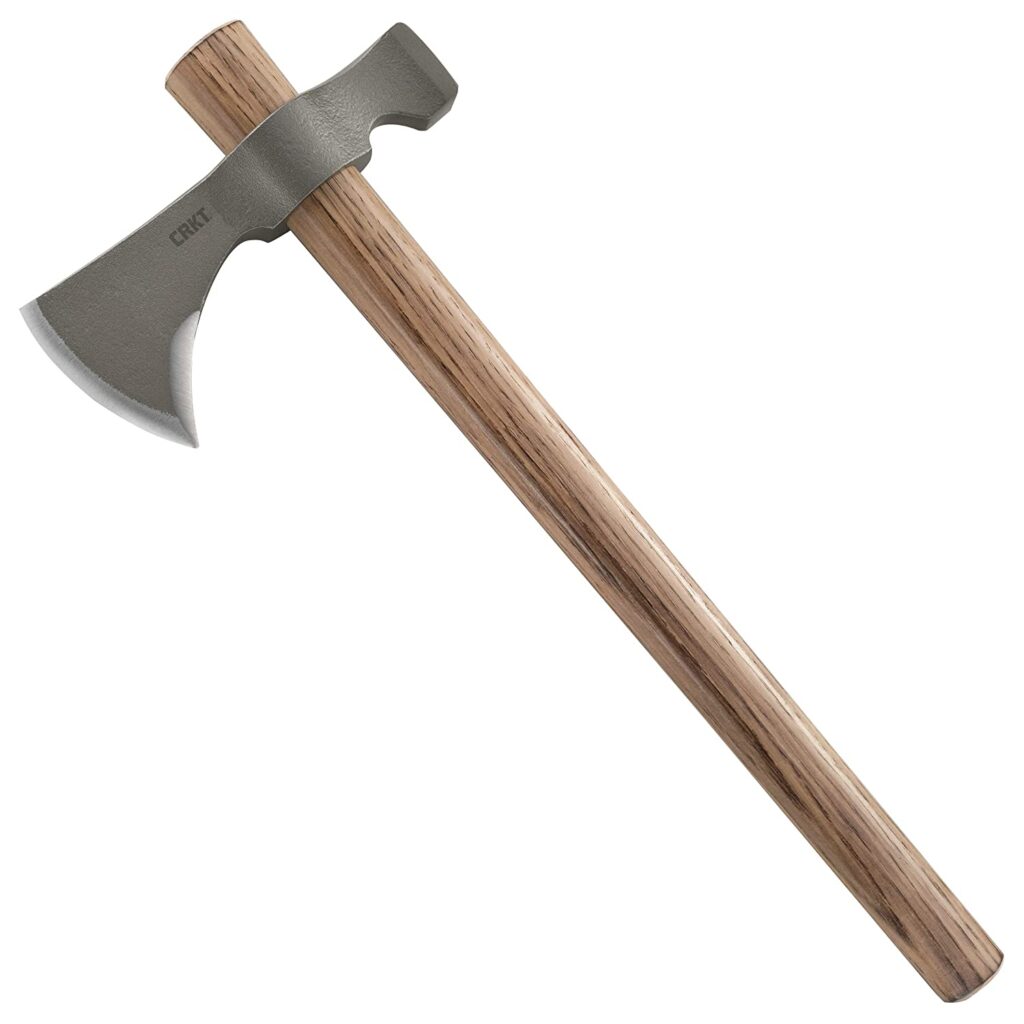 Tough 1055 Carbon Steel Axehead
Durable: Tennessee Hickory  Wooden Handle
Total Length - 19 inch 
Hammerhead Poll for Tent Pegs
Tennessee hickory wood handle (easy to replace)
3.5 inch blade
19 inch overall length
1.9 lbs weight
1055 carbon steel
Hammerhead poll
The CRKT Chogan tactical tomahawk is a more traditional design – with a wooden handle. However, this makes it easy to rehandle in case of handle breakage. It has a 3.5 inch cutting edge, is 19 inches in overall length, and 1.9 lbs in weight. The axehead and cutting edge are 1055 medium-high carbon steel, so you can get it very sharp.
Finally, the axehead also has a hammerhead poll, for driving stakes and, for example, tenderizing freshly-caught meat out in that bush. It was designed by Ryan Johnson of RMJ Tactical in Chattanooga, Tennessee.
Pros
The Tennessee hickory wood handle is easily replaceable.
Made from 1055 medium-high carbon steel, the 3.5-inch cutting edge can be honed to a sharp edge.
Weighing only 1.9 lbs, this tactical tomahawk is easy to carry.
Cons
While the wooden handle is easily replaceable, it may not be as durable as some synthetic or metal handle options.
Compared to other tactical tomahawks, this model does not offer additional tools or features beyond the cutting edge and hammerhead poll.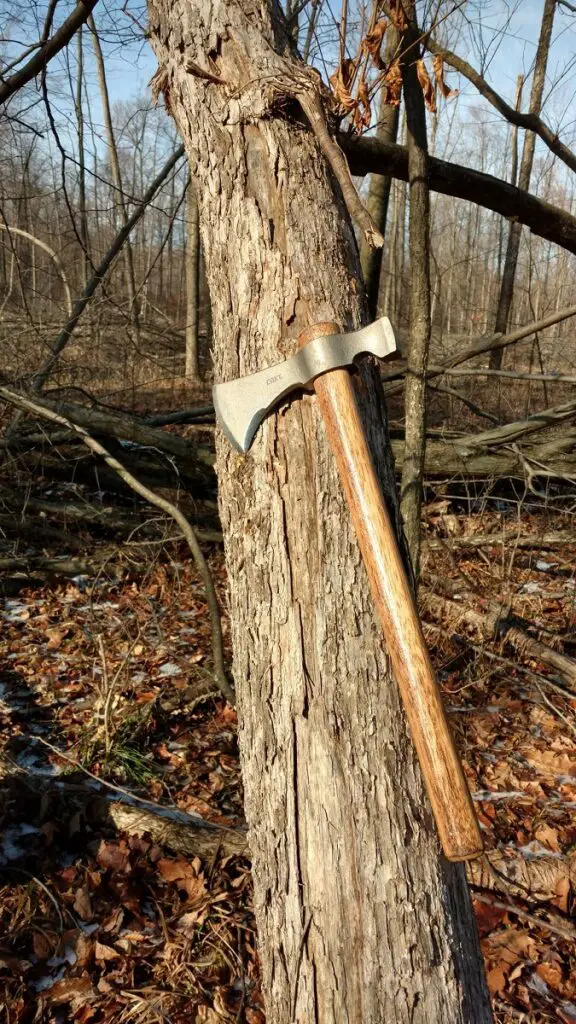 Tactical Tomahawk History
Tomahawks are a Native American tool. At first just stone axeheads attached to a handle with strips of leather, they were adopted by European settlers. In the American War of Independence, men serving in the revolutionary forces were required to carry either a tomahawk or a sword as a backup weapon for close combat. The tactical tomahawk became popular in another war, except this time it was across the world – in the jungles and rice paddies of Vietnam.
A World War 2 veteran of Mohawk descent, Peter LeGana, founded the American Tomahawk Company. He supplied GIs and other military men in Vietnam with mail-order tactical tomahawks. These were simple designs – a wooden handle, painted forest green, with an attached axehead. The axehead had the cutting edge, but it also had a sharp spike on the poll side. These tomahawks were usable both as field tools – for chopping through dense bush, for example – but also, undoubtedly, as weapons to eliminate the enemy with. These tomahawks were popular among special operators, who would use them for quick, silent, but very lethal takedowns.
In more modern days, tactical tomahawks have been seen from Iraq to Afghanistan. They're tougher now, often full tang and with fiberglass handles to reduce the chance of breakage. These tactical tomahawks can be used as breaching tools, to break windows or locks on doors, and the spike can be used to penetrate through Kevlar armor (such as a helmet). They're not widely used, of course, and are often more of a novelty item, but there's a reason why small axes have been a melee weapon of choice for hundreds and even thousands of years. The design works and is deadly. 
Are tomahawks effective in combat?
Tomahawks have been an effective weapon of war throughout history. They are also highly versatile and can be used in combat, self-defence, bushcraft, and recreation. Throwing axes have become increasingly popular as a sport, with axe throwing bars popping up in all major cities.
How is a tactical tomahawk different to a throwing hatchet?
The construction material is the main difference separating a tactical tomahawk from a standard throwing axe. Tactical tomahawks are made from lightweight but durable stainless steel or carbon steel rather than wooden handles. This reduces their weight and increases their longevity.
Do special forces carry tomahawks?
Yes, in 2003, special forces groups like Air Force security groups and Army Rangers announced they have added tomahawks to their basic gear. They are versatile like a knife, but the additional handle length means they can apply significantly more force when striking.