A chainsaw is a power saw that uses a chain that continuously moves around two circular plates to cut material. Chainsaws are most commonly used in woodcutting, as well as in the forestry and firewood industries.
The chainsaw is one of the most essential tools for any forestry worker or firewood cutter. A chainsaw can cut logs into smaller pieces, which are easier to handle with other tools. Chainsaws can also be used for cutting down trees and branches, which are often too big to cut with an axe or saws.
You should always buy your chainsaw if you plan on using it regularly. This way, you can make sure that it's perfect for your needs and use it when you need it without worrying about renting one.
I have spent decades working extensively in the timber industry and have a lot of thoughts about what makes a good chainsaw. This is especially important for performance, but today I will focus on the value for money aspect.
In this article, I will explain the critical design features of chainsaws so that you can find the best chainsaw for the money that suits your needs.
8 Best Chainsaws for the Money
Let's dive into my list of the best chainsaws for the money. This list is based on both performance and price.
1. Makita 20in Gas Chainsaw – Best Under $700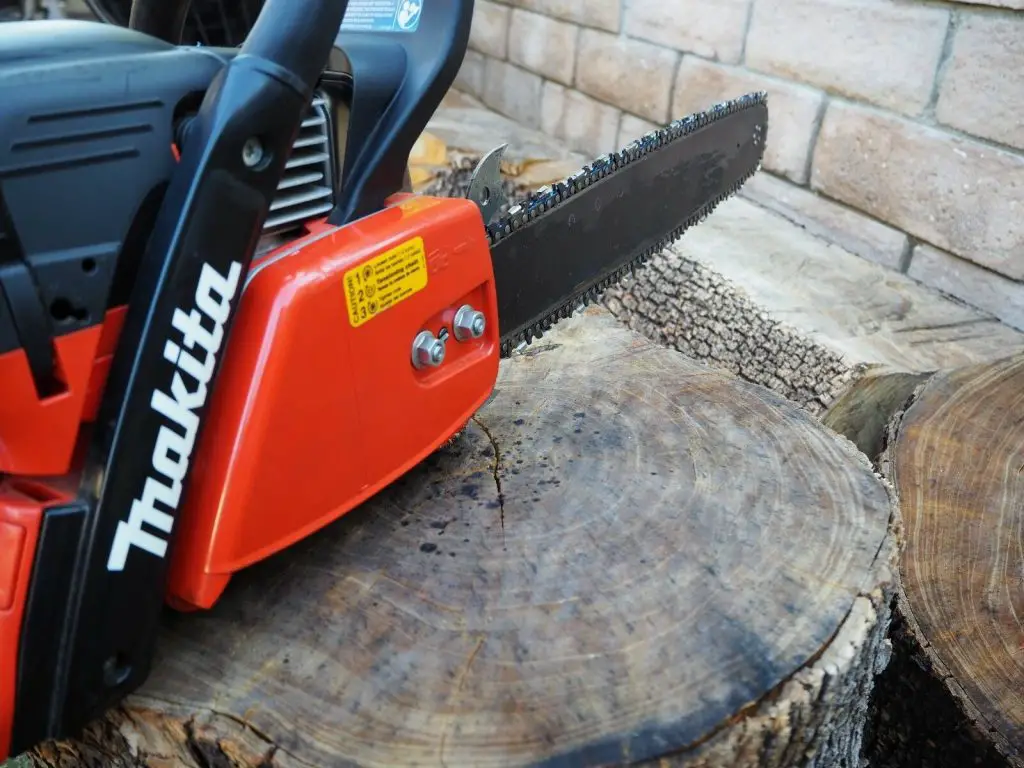 First on the list is my personal favorite. It is a more expensive option but comes with high-performance and can handle any industrial task. I have used it extensively, and at this price point, I still see it as value for money because of its durability and the amount of work this tool can deliver.
The Makita 20in Gas Chainsaw is a perfect chainsaw for home use. It is lightweight enough to do the job with ease. It also has a powerful engine that can cut through the toughest wood without slowing down.
The Makita 20in Gas Chainsaw is designed for cutting logs and branches up to 20 inches in diameter. The 4-cycle engine provides power, speed, and durability. The chain tensioning system ensures that your chain will always be under the proper tension for optimal performance – a feature that I can't live without.
This chainsaw is not for the faint of heart. Its powerful engine can cut through anything you throw at it.
Weighing in at 13 pounds, this chainsaw is a beast. The Makita 20in Gas Chainsaw is made for heavy-duty tasks and will last years with proper care and maintenance. Although I didn't have any problems lifting it, if you have a smaller frame, you may want to consider the weight of this tool.
The Makita 20in Gas Chainsaw has a high-quality, durable design that will stand up to all your toughest cutting jobs. This chainsaw also comes with an easy-to-use oiler that makes changing the oil quick and easy.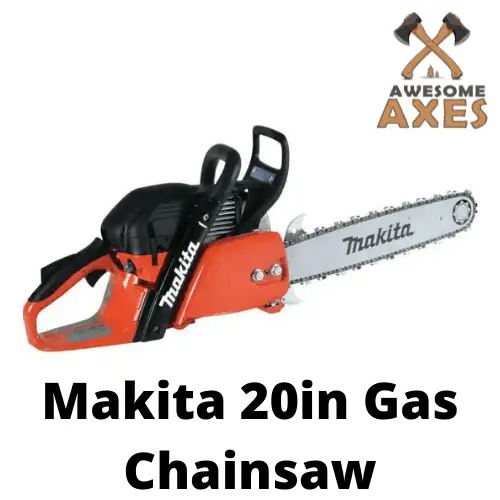 Specifications
Bar Length: 20 in
Weight: 13.2 lb
Power: 4.6 horsepower
Motor Size: 61cc
Max Speed: 13,800 RPM
Pros
This is an extremely powerful chainsaw with one of the longest bars. It is suitable for cutting the largest logs and for industrial use.
The quick oil change and the chain tensioning system make it much more user-friendly than the chainsaws I started using over a decade ago.
Cons
I did find this to be a heavy tool that you should think about carefully if you have a smaller frame or intend to use it for extended periods.
I can't imagine a situation that a landowner would need such a large chainsaw unless there is a very specific circumstance.
Bestseller No. 1
2. Milwaukee M18 FUEL Chainsaw – Best Under $600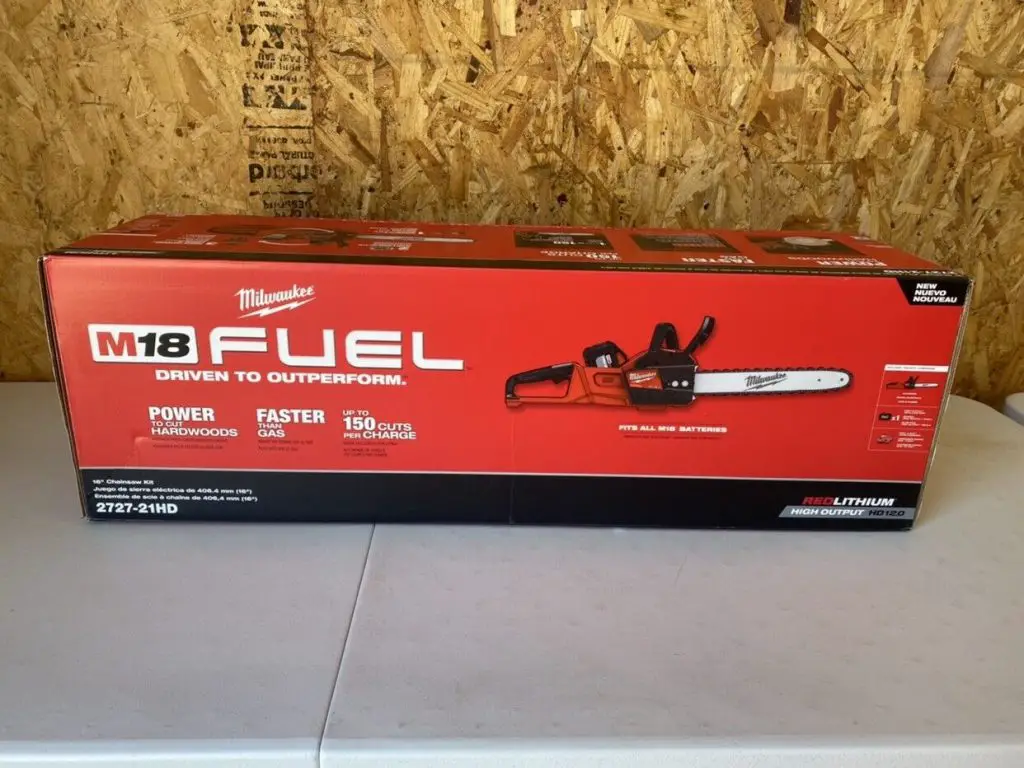 The Milwaukee M18 FUEL Chainsaw is a cordless electric chainsaw with an 18V battery lasting up to 45 minutes. For someone like me, this is simply not enough charge. I recommend getting several batteries if you are going to be using your chainsaw for extended periods – the last thing I want to do is to have to wait for the battery to charge midway through the job.
The saw comes with an 18-volt lithium-ion battery and charger with a 3-year warranty. The chainsaw has a 16-inch Oregon bar and chain and weighs just under 14 pounds, which I found to be heavy for carrying around the yard or cutting through branches in one go.
You will also notice how physically long this chainsaw is, which I think made it more challenging for storage in your shed.
If you intend to spend a full day cutting, you will want to get a secondary battery that you can swap to quickly.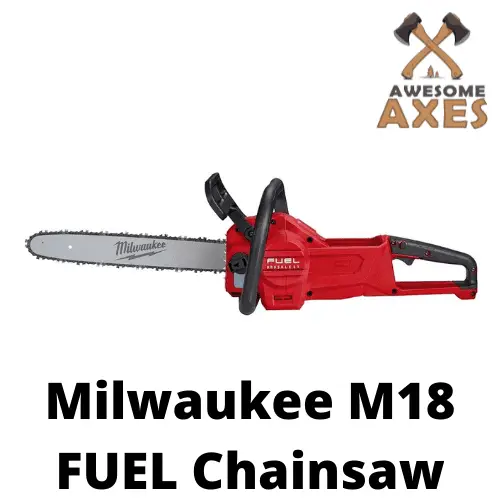 Specifications
Bar Length: 16 in
Weight: 13.9 lb
Motor Size: 40cc
Pros
It may seem like there are a lot of problems with this chainsaw, but it is one of the top-performing electric chainsaws of this size. It can handle large logs and gives higher RPM than most gas equivalents. The 16-inch bar allows it to cut logs of up to 24 inches.
The 3-year warranty does give me some assurance that the manufacturer trusts in their workmanship and quality of construction. I have always found that Milwaukee products are of high quality, although at a premium price, and the M18 FUEL Chainsaw is no exception.
Cons
For an electric chainsaw, I found this to weigh as much as a gas chainsaw. This large tool can be difficult to use for extended periods if you have a smaller frame.
I recommend getting a secondary battery if you intend to use this for longer than the 45 minutes battery charge at a time.
The chainsaw is very long, which I found to be more challenging to store in my shed shelving. I measured the full length from tip to tail to be 33 inches.
3. Echo 20in Gas Chainsaw – Best Under $500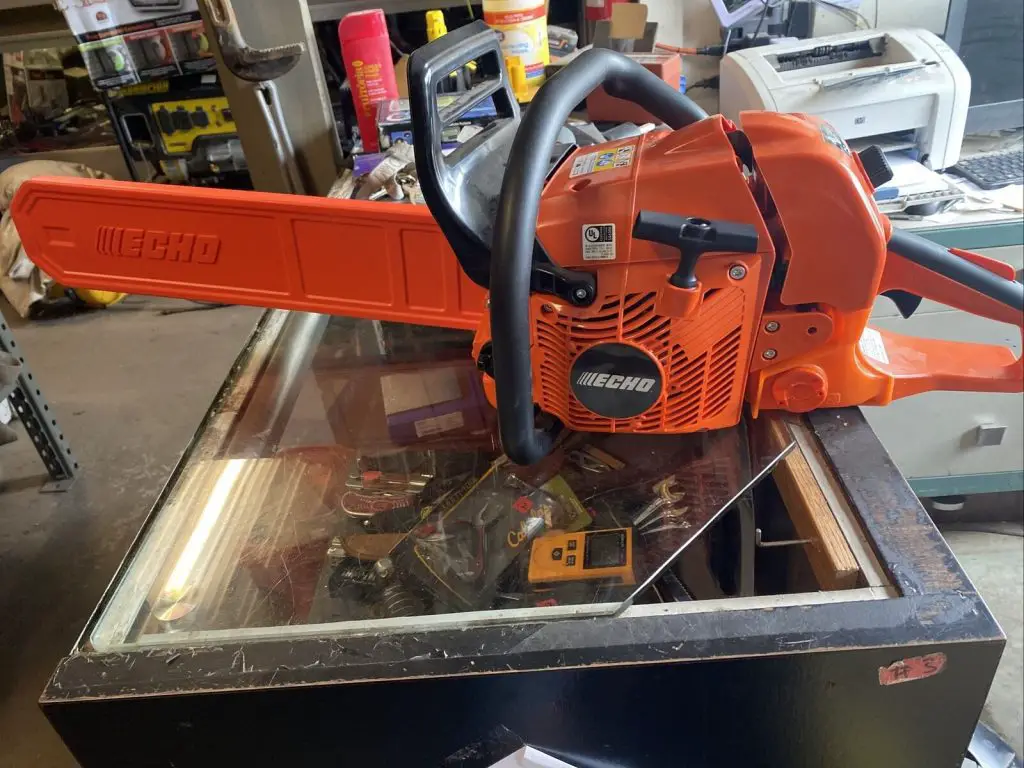 This chainsaw has the power of gas with the convenience of electricity. It has an electric start and a powerful 20-inch Oregon bar and chain. The Echo 20in Gas Chainsaw is a powerful machine.
The Echo 20in Gas Chainsaw is designed with the user in mind and has many features that make it easy to use. It has a safety lock, so you don't have to worry about the saw starting when you are not using it, and a built-in chain brake, so you don't have to worry about restarting the engine when you need to stop cutting for any reason.
The Echo 20in Gas Chainsaw is a chainsaw that has a few weaknesses. The first one is the weight of the chainsaw. It weighs 16 pounds, which I found hard to use for an extended period. It is the heaviest chainsaw on my list. This is a 2-stroke engine, so you have to mix your fuel and oil before use at a 50:1 ratio.
This chainsaw can cut logs up to 35 inches in diameter.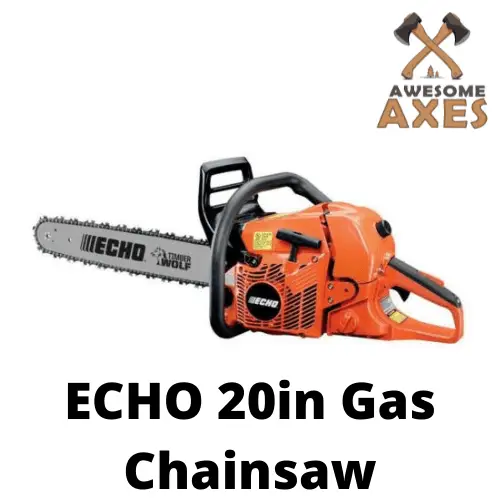 Specifications
Bar Length: 20 in
Weight: 16.1 lb
Motor Size: 59cc
Pros
This powerful chainsaw can handle any job you can throw at it, and at this price range, it is excellent value for money. This industrial-quality tool will last for years based on its high-quality construction.
Cons
This is the heaviest chainsaw on my list, and I noticed that it can wear on your muscles over time. I recommend a lighter alternative if you have a smaller frame or are getting on in years.
Sale
Bestseller No. 1
4. EGO Power+ CS1401 Chainsaw – Best Under $400
The EGO Power+ CS1401 Chainsaw is a powerful chainsaw that is designed for a variety of cutting tasks. It has a 14″ bar and chain intended to cut through wood up to 14 inches in diameter. The chainsaw has an automatic oiler that lubricates the bar and chain. This means that the user doesn't have to worry about constantly checking the oil levels. You can just go about your work.
The saw operates with a battery power source to be used in remote locations with no access to electricity. It also features an automatic chain oiling system, which eliminates any need for manual maintenance during use.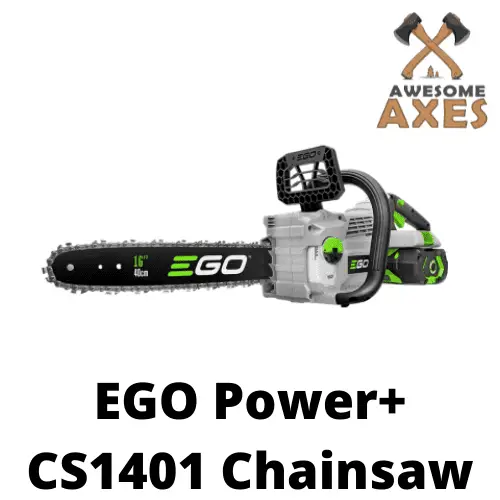 Specifications
Bar Length: 14 in
Weight: 11.4 lb
Max Speed: 6,800 RPM
Pros
The automatic chain oiling system reduces maintenance requirements, which are already very low on an electric chainsaw.
This is a medium-sized chainsaw and is more lightweight than some of the heavy-duty options listed above. This makes it better suited for homeowners.
Cons
You are starting to see a drop in construction quality at this price range. Not enough that I would avoid this chainsaw, but it is something to keep in mind. In my mind, the best way to ensure high value for money is to get a tool that will last for decades.
5. Makita UC4051A Chainsaw – Best Under $300
The Makita UC4051A chainsaw is lightweight and compact, perfect for homeowners who need to trim branches or cut small trees. This chainsaw has a powerful engine that generates up to 3,600 RPMs. It also has a low kickback bar and chain design to help reduce kickback risk.
This chainsaw is designed with an ergonomic handle that provides comfort and control during use. The Makita UC4051A also features an automatic oiler to keep the chain lubricated. With this chainsaw, homeowners can get their yard work done without worrying about being tired or sore after using it for long periods.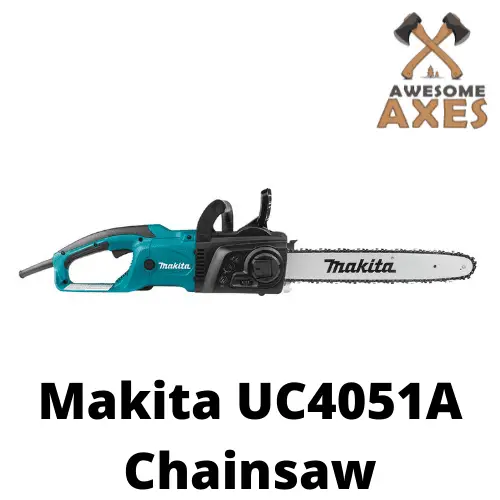 Specifications
Bar Length: 16 in
Weight: 12.3 lb
Max Speed: 3600 RPM
Pros
I am a big fan of anything that will reduce maintenance requirements, just like the automatic oiler in this chainsaw.
This is a great price tag for an outstanding brand like Makita and is still a decent size that makes it suitable for almost any task a homeowner will encounter.
Cons
You won't be able to cut large logs or do industrial-scale cutting.
Sale
Bestseller No. 1
6. Greenworks 40V Chainsaw – Best Under $200
This chainsaw is a lightweight and cordless chainsaw. A 40V battery powers it, and it does not require gas or oil to work. This saw is designed for light-duty tasks like pruning, limbing, and cutting firewood.
This chainsaw has many advantages over other models of chainsaws on the market. It is easier to start up, quieter than other models, making it easier to use in residential areas, and has an ergonomic design that makes it easy to handle.
This chainsaw has a lot of strengths, but there are some weaknesses to it as well. The saw does not have a battery indicator, meaning you cannot tell how much charge is left in the battery before starting to cut wood. There is also no way to know if the blade is sharp enough for cutting wood, so you might need to stop and sharpen it during use.
It can cut logs up to 26 inches in diameter and gets 75 cuts on a single charge, making it only suitable for landowners who aren't expecting industrial performance.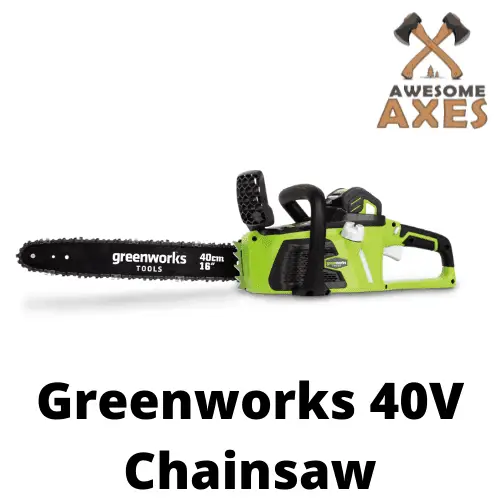 Specifications
Bar Length: 16 in
Weight: 9.8 lb
Pros
This chainsaw has a good combination of a long bar length that can handle almost any homeowner task and lightweight at under 10 pounds. This makes it easy to transport and store.
Cons
There is no battery indicator which I found very frustrating. When you only get 75 cuts per charge, you need to know how much battery you have left. Depending on your requirements, I recommend getting at least one secondary battery. If you are like me and want to complete your cutting job in one go without waiting for a recharge, then make sure you have enough batteries.
Bestseller No. 1
7. Greenworks 24V Chainsaw – Best Under $100
The Greenworks 24V Chainsaw is an excellent tool for those who want to get into chainsawing. Weighing in at just 8 pounds, this saw is easy to use and has plenty of power. The saw has a 10-inch bar that can only cut through small logs and branches. It is more suited for landscaping than for hardwood.
The Greenworks 24V Chainsaw is a lightweight chainsaw that offers excellent power for its size. It features a powerful 24-volt motor and a chain brake that helps to reduce kickback.
This product is perfect for homeowners, homeowners, gardeners, and landscapers. However, it has some weaknesses that might be deal-breakers for people looking to buy this product. One of the significant weaknesses of this chainsaw is its lack of power which can be an issue if you are looking to cut through logs or branches with large diameters.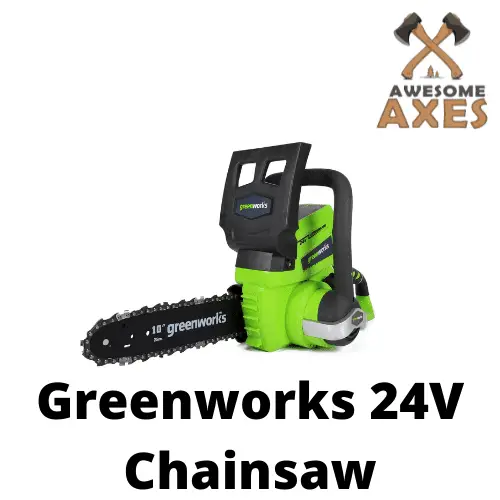 Specifications
Bar Length: 10 in
Weight: 7.8 lb
Pros
This lightweight chainsaw is under 8 pounds, making it ideal for homeowners looking to cut through smaller branches and do some light landscaping.
I did find the chain brake to work effectively at reducing kickback.
Cons
This chainsaw lacks the bar length and power to cut through logs of significant size or hardness. But that is not what it is designed for.
This is not an industrial-scale chainsaw by any means – as long as you understand that, it might still suit your needs.
Sale
Bestseller No. 1
8. Worx WG303.1 Chainsaw – Best Electric
Worx chainsaws are designed for professional and home use. They are lightweight, durable, and designed to handle the most challenging jobs.
Worx chainsaws are designed for professional and home use. They are lightweight, durable, and designed to handle the most challenging jobs. Worx saws come with quick-start technology that provides instant power without pulling on a starter cord or choke cords or easy-to-use variable speed throttle with an automatic idle control that adjusts engine speed to match cutting demands.
However, this chainsaw is not without its weaknesses. The first weakness of the Worx WG303.1 chainsaw is that it has an automatic oiler which is not very efficient at lubricating the chain when needed. You will have to stop periodically while cutting and run the motor to lubricate the chain manually. The second weakness of this chainsaw is that it does not have safety features like an anti-kickback bar or blade guard for cutting overhead branches or limbs.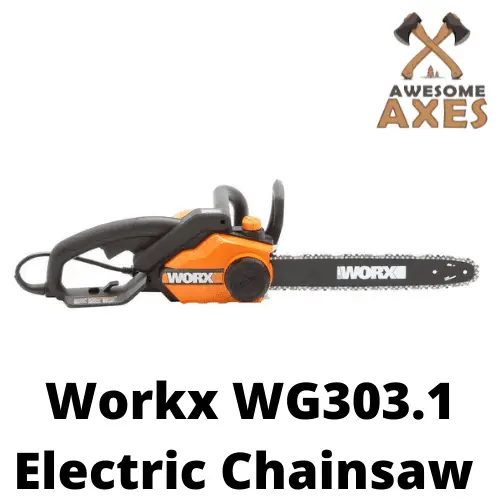 Specifications
Bar Length: 16 in
Weight: 11 lb
Pros
This lightweight chainsaw is only 11 lb for a 16-inch bar and is easier on your muscle fatigue as well as transport.
I did appreciate that you can replace the chain without any tools.
I am also a big fan of anything that reduces maintenance, and this chainsaw has an automatic chain lubrication system.
Cons
Although I didn't have any problems with it personally, I did hear some stories from the tool store owner that people have had problems with the durability of the brushes, and replacements are not easily available.
Sale
Bestseller No. 1
Specification Comparison
It can be difficult to read through all of the text in this chainsaw review guide and understand the nuances, so I have put together the key specifications in this table so you can see it in one place:
| | | | | |
| --- | --- | --- | --- | --- |
| Chainsaw | Type | Bar Length | Weight | Cost |
| Makita 20in | Gas | 20 in | 13.2 lb | $$$$$ |
| Milwaukee M18 FUEL | Electric | 16 in | 13.9 lb | $$$$ |
| Echo 20in | Gas | 20 in | 16.1 lb | $$$ |
| EGO Power+ CS1401 | Electric | 16 in | 11.4 lb | $$$ |
| Makita UC4051A | Electric | 16 in | 12.3 lb | $$ |
| Greenworks 40V | Electric | 16 in | 9.8 lb | $$$ |
| Greenworks 24V | Electric | 10 in | 7.8 lb | $ |
| Workx 303.1 | Electric | 16 in | 11 lb | $ |
Chainsaw Buying Guide
In this section, I will explore the process of buying a chainsaw. I will look at the different types of chainsaws available and what to look for when purchasing one.
I will also discuss how chainsaws can be used in forestry and firewood cutting.
This is a guide to help you buy your first chainsaw or replace your old one. My experience comes from working in the timber industry, where I have used a chainsaw for 8 hours per day, and more limited experience as a landowner.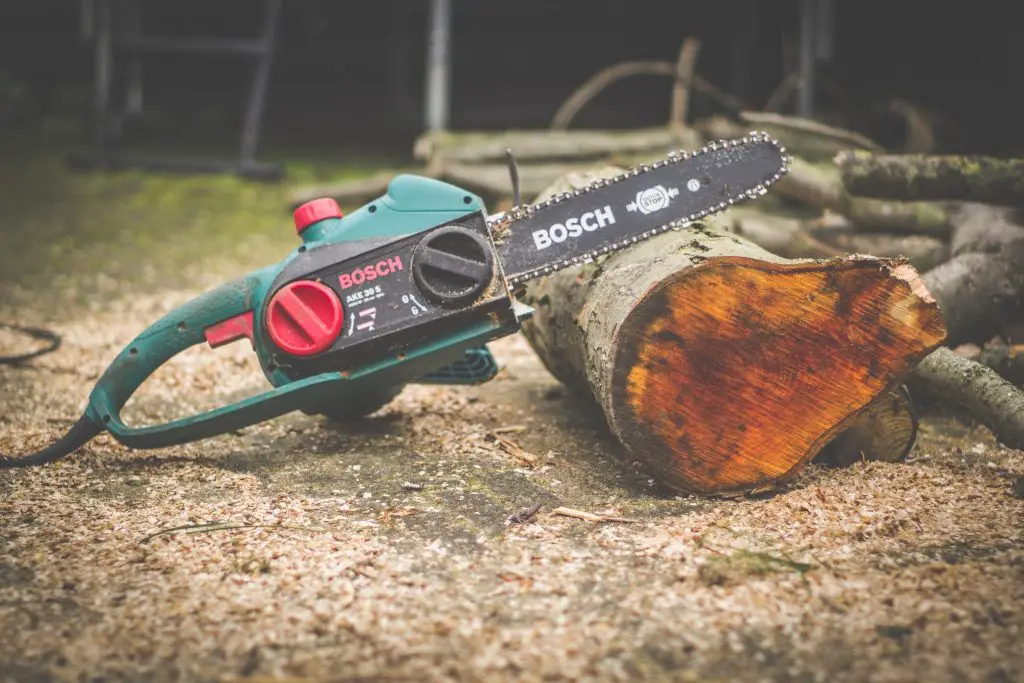 Types of Chainsaws
Different chainsaws have different advantages and disadvantages. Electric chainsaws are more expensive but are easier to use and less dangerous than gas chainsaws. Gas chainsaws are cheaper and more powerful than electric chainsaws, but they can be hazardous if not handled properly. Manual chainsaws require the user to cut the wood by hand, which is the cheapest method, but it requires a lot of physical effort and is not as effective as other types of saws.
I have found there are types of chainsaws better suited for particular tasks than others. I have written a comparison of electric vs gas chainsaws that you may enjoy.
Electric
The most obvious pro is the electric chainsaw's lack of need for gas. It is much cleaner and safer to use than a gas chainsaw. The electric chainsaw also has a lower weight, making it easier to transport and use on smaller branches.
Modern electric chainsaws come with various batteries to get extended use out of a single battery and swap out batteries quickly and easily.
I have never used an electric chainsaw in my timber career, but I have used them around my land for smaller tasks.
Gasoline
A gas chainsaw is a type of chainsaw that uses a gas-powered engine to drive the chain. Gas chainsaws are generally heavier and more powerful than electric ones but are also louder and more polluting.
Gas chainsaws are usually better suited for cutting large trees and logs due to the amount of power and speed they can generate. I have only ever used gas chainsaws in my industrial experience.

Manual
A manual chainsaw is a tool that is powered by human strength. It can be used to cut trees, branches, and logs. Manual saws are usually used for smaller projects, requiring more work on behalf of the person using them.
Manual chainsaws are much cheaper than electric or gas chainsaws, which means they are more affordable for people who need a chainsaw on a budget. They are also not as powerful as electric or gas saws, which means they can cut smaller branches and trees where an electric or gas saw would be too powerful to use safely.
I have not included any manual chain saws in this list, and I don't have much experience with them either.
Bar Length
The chainsaw bar is the metal arm that supports and holds the chain during cutting. It's also sometimes called a "chainsaw blade."
The length of the bar determines the size of the log or tree that the chainsaw can cut through. The motor is often designed based on the bar length, so a shorter bar will also come with a less powerful engine. The bar length is a good indicator of the type of work a chainsaw can do.
This is my breakdown of what different chainsaw bar lengths can be used:
Small Trees and Shrubs – 14 inches or less
Homeowners – 14 to 18 inches
Large Trees and Logs – 18+ inches
Weight
Chainsaws can vary in weight from 8 lb for the smallest electric options up to 20 lb for the largest gas-powered devices. The weight of a chainsaw can vary depending on the size, type, and material. I have found over the years that the weight of the chainsaw can be a problem as it makes it more difficult to use and may cause strain on the body. It also can cause pain or injury if you are not careful when using one since they make your arm tired and sore if you hold up the saw for too long.
A heavy chainsaw can cause a lot of muscle fatigue after a long day of use. You should consider your strength and physical fitness before selecting a heavier design. I only recommend the 16+ pound chainsaws for high-intensity, industrial use.
Safety
Chainsaws can be dangerous for beginners without appropriate training. It can easily cut through flesh and bones, so safety features are essential to protect the user from injury.
Many safety features have been developed for chainsaws to make them safer for users. The most notable safety feature is the chain brake which stops the chain when it comes in contact with something it shouldn't. Safety features for chainsaws include guards which protect the user's hands and fingers.
You should also consider getting some personnel protective equipment to keep yourself safe even if something goes wrong, such as gloves, boots, and goggles. I have seen some awful injuries through improper use of a chainsaw and I will never start one without considering the risks.
Electric chainsaws also shouldn't be used when it is raining, so that might tip your preference towards gas-powered.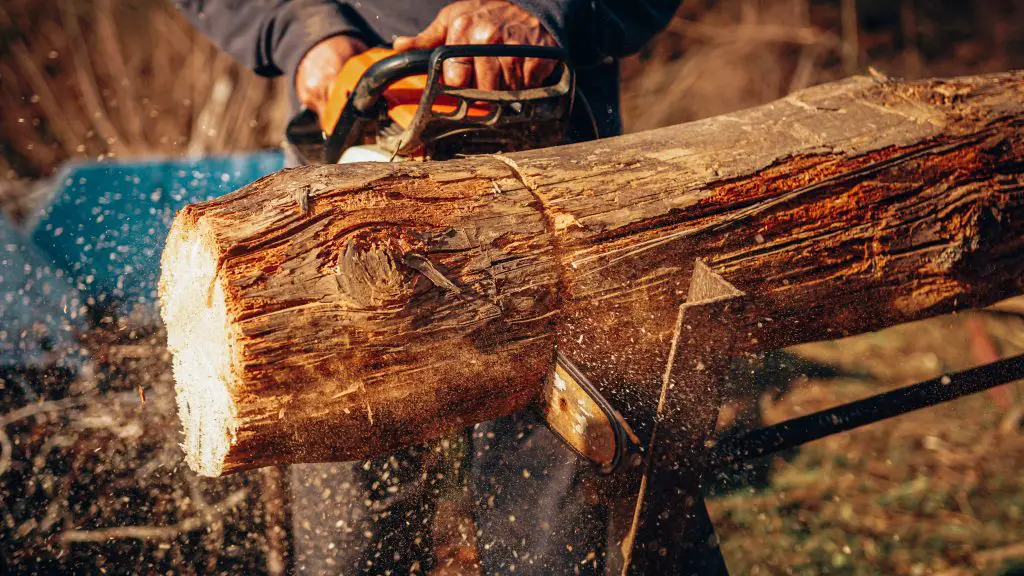 Frequently Asked Questions
What is the best-sized chainsaw for a homeowner?
The best chainsaw for a homeowner depends on the size of the trees. I recommend a 14 to 18 inch bar length to give you sufficient versatility to cut through even larger logs you will come across. If you are only going to cut through smaller branches or shrubs, you can get away with a chainsaw less than 14 inches in bar length.
How many cc do I need in a chainsaw?
The size of a chainsaw's engine can be measured in cubic centimeters (cc). The more cc it has, the more powerful it will be and the faster it will work. I recommend a chainsaw between 45 and 55 cc for most homeowners. You will only need a larger chainsaw if you intend to cut through huge logs or want to ensure high efficiency.
What size chainsaw for milling?
The size of the chainsaw will depend on the milling you will be doing. If you need to cut logs, you need a large chainsaw of 18 to 20 inch. If you are cutting thin pieces of wood or firewood, a small chainsaw of 14 to 18 in would be more appropriate.
How often to sharpen a chainsaw?
Most chainsaw users will quickly sharpen their chains every time they refuel the tank. This is a repeatable timeframe to ensure your equipment is in top condition. This means that the chain gets sharpened after 3 hours of continuous use.
A chainsaw chain should be replaced after every ten sharpens.
Conclusion
Chainsaws are an excellent investment, and they will last you a lifetime. They are also versatile and can be used in many different situations. I have compiled this list of the best chainsaws for the money to help you find your perfect choice. If you have any concerns or questions, please email me so I can keep this article up to date. If you are a beginner looking for an introduction to chainsaws, I have also put together this guide explaining the key parts of a chainsaw.
Last update on 2022-11-29 / Affiliate links / Images from Amazon Product Advertising API