A splitting axe has a wider, wedge-shaped head designed to split wood fibers apart, while a chopping axe features a thinner, sharper blade ideal for cutting and felling trees. Splitting axes focus on force distribution, and chopping axes prioritize precise cuts in various woodcutting tasks.
When you first walk into a hardware store and notice all of the different axe styles and designs it can be somewhat overwhelming. But all of these axes have different purposes and functions. Two of the most common types of axe are the splitting axe and the chopping axe. Seeing how different a splitting axe vs chopping axe will help you to find the tools you need to complete any task on your land. They can seem very similar in terms of length and weight, but if you take a closer look, you will see that they have a very different shaped axehead.
Splitting axes have a thicker profile designed for forcing the fibers apart while splitting wood into smaller pieces while chopping axes have a thinner profile designed for cutting through the fibers when chopping down trees.
What is a Splitting Axe
Splitting axes are used for cutting large pieces of wood into smaller pieces, generally for firewood. The most likely scenario is to take a round of wood from a tree trunk and split it into smaller firewood logs. This is done by striking with the heavy axe head into the centre of the round with the grain and allowing the profile of the axehead to force the fibers apart. Learning how to split firewood is a great skill for any landowner or camper to know.
You will notice that a splitting axe is much more likely to tear the wood apart and into smaller logs than any other type of axe. You will also find splitting mauls that are designed for the same purpose, although their head is blunt and thicker than a splitting axe.
Shocked Reduction Composite Handle
Low Friction Coating
Single Piece, Full-Tang Design
Affordable Price Tag
Fiskars X27 Super Splitting Axe
Powerful 5.8 Pound Splitting Axe
36-inch Non-Slip Composite Handle
Advanced Bevel and Convex Design to Split Wood More Easily
Lifetime Warranty
Portable 26-inch Steel Core Handle
Shock Reduction Grip
Heavy Duty Sheath
Made in USA
Splitting Axe Design Features
Splitting axes have clear design features that make them extremely effective at cutting firewood. They have clear differences between chopping axes and splitting mauls.
Axe Head Shape – Sharp, thick profile
Axe Head Weight – 2 to 4 pounds
Axe Total Weight – 3 to 5 pounds
Axe Handle Length – 28 to 32 inches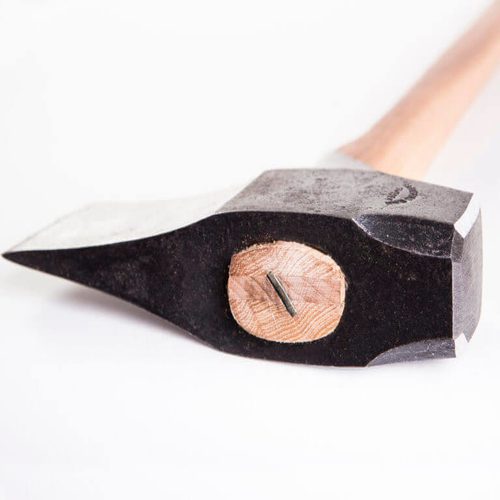 What is a Chopping Axe
Chopping axes are used to chop down trees by cutting through the fibers of a tree trunk. They are extremely sharp and have a much thinner profile. This helps to prevent the axe being stuck in the wood while cutting across the grain of the wood. A chopping axe can penetrate much more deeply into the wood, and so doesn't require as many strikes to cut all the way through the tree.
Chopping axes can also be used to cut fallen trees into round logs before splitting – this is called processing the tree. You may also use a limbing axe to remove the branches before chopping them into smaller pieces. Limbing axes have shorter handles than a felling axe to make them more maneuverable.
Chopping axe is the generic term for an axe used for chopping down trees, but these axes can also be called felling axes. Learning how to fell a tree with an axe is important for any outdoorsman to understand.
31-inch Hickory Handle
Hand Forged 3.3 lb Axehead
20 Year Warranty
Made in Sweden from the World's Premier Forge
Powerful 5-Pound Axehead
36-inch American Hickory Handle
USA Forged Steel Axe-Head
Great Customers Service
Lightweight 2.8 Pound with 2.2 Pound Axehead
28-inch Solid American Hickory Handle
Solid Swedish Steel Axehead
Holds a Razor Sharp Edge for Longer
Chopping Axe Design Features
There are certain design features that are exclusive to chopping axes. These allow the axe head to penetrate more deeply into the wood without getting stuck in the fibers.
Axe Head Shape – Sharp, Thin Profile
Axe Head Weight – 2 to 4 pounds
Axe Total Weight – 3 to 5 pounds
Axe Handle Length – 28 to 32 inches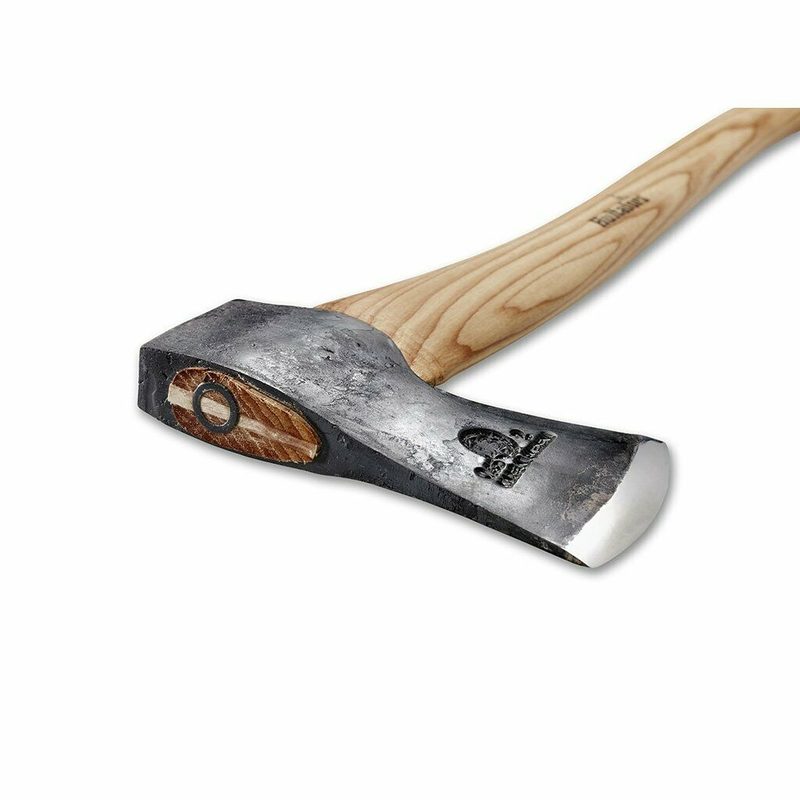 Splitting Axe vs Chopping Axe Differences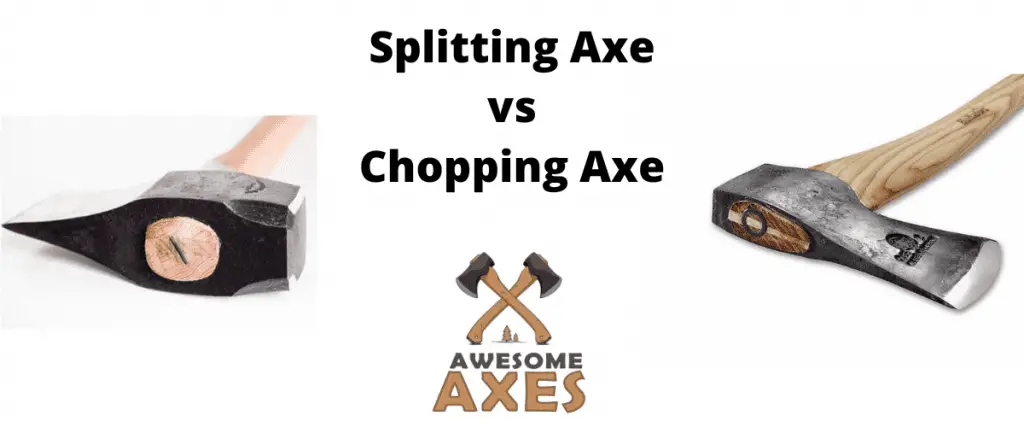 The main difference between a splitting axe and a chopping axe is the profile of the axehead. Splitting axes have a much thicker profile to force the wood fibers apart when cutting with the grain. Chopping axes have a much thinner profile to cut through the wood fibers when cutting across the grain. Splitting axes are used primarily for cutting wood rounds into smaller firewood logs. Chopping axes are used primarily for cutting down trees.
There are dozens of modern brands that manufacture high-quality splitting and chopping axes that you may be interested in. I have put together a few specific guides to help sift through the poor-quality axes and find a tool that will last a lifetime without breaking the bank:
Conclusion
Understanding the difference between a splitting axe vs chopping axe is important to ensure you select a tool that best suits your needs. I generally recommend getting two different axes if you are going to be processing firewood – one for chopping and one for splitting. Otherwise, you will notice that either one or both of these tasks is incredibly difficult and time-consuming. There are multi-purpose axes available, but if you spend multiple days chopping firewood, then I suggest getting the right tools for the job.