Fiskars is a brand that people associate with a level of quality that other mass-production toolmakers can't seem to reach. From knives to axes, this Finnish company produces tools that are affordable and effective, rugged workhorses. This article is a review of the Fiskars X11 splitting axe. It's a handy little splitting axe best suited to splitting small logs and secondary tasks, such as clearing branches or working in tight conditions. Read on to find out the details!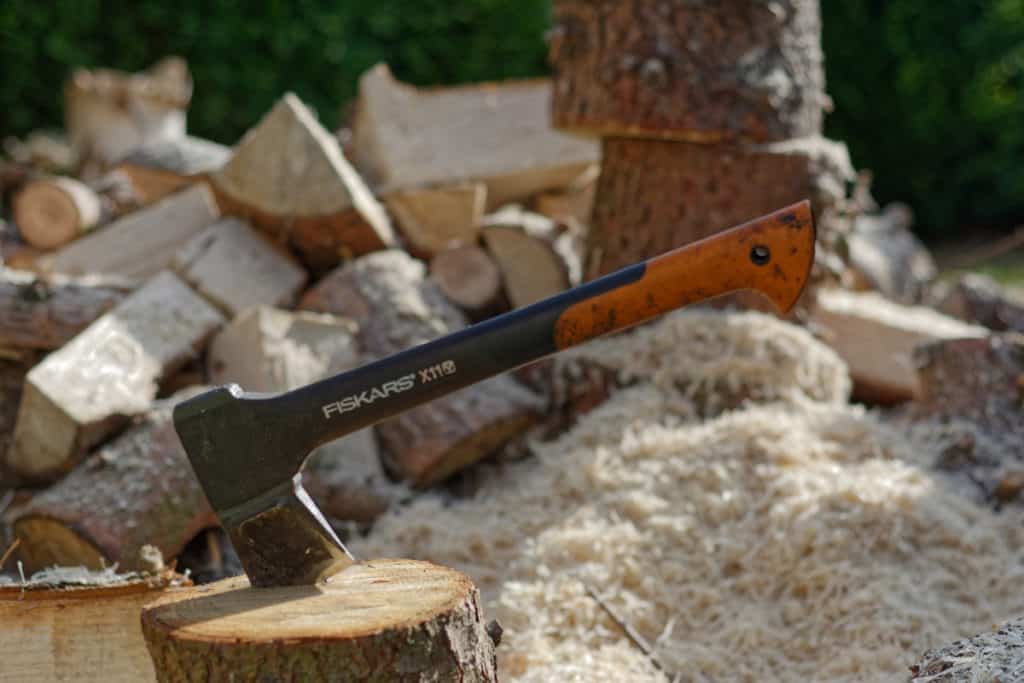 The Fiskars X11 17-Inch Splitting Axe
The Fiskars X11 can split small logs with ease, even if you're using just one hand. The handle is big enough to grip it comfortably with both hands, though, and give some force to your swing. It promises maximum performance with its innovative blade geometry and weight distribution. It has a couple of other features, like a low-friction coating that helps the axe bit power through the wood without getting stuck in it.
The X11 is an excellent solution for those looking for a secondary axe to perform several quick jobs. It's suitable for making tinder and splitting small to medium-sized logs. You can get more than one-strike splits with less effort with each swing.
Features and Benefits
Protective Sheath
The sheath with the X11 is made of a nice, hard plastic protective case. It's also bright orange, so it's easy to spot if you misplace it somewhere at home – or worse, in the bush! I've had that happen with axes in earthy colors more often than I'd admit.
Axehead Design
The performance of an axe largely depends on the material and design of the axehead and blade. The head of the X11 is made of hardened forged steel. The edge is designed with an improved bevel convex geometry making it more straightforward to remove the blade from the wood. The axehead is also coated in a low-friction coating which prevents the axe head from getting stuck in the wood.
Almost Indestructible
Fiskars X11 features a FiberComp (an advanced fiberglass composite) handle that absorbs the shock from splitting wood. The handle is lightweight, so it eases out the strain from your arm when used. Fiskars claims that ounce for ounce, FiberComp is stronger than steel. I don't know about that, but it certainly feels very durable. I made a few intentional overstrikes on purpose, giving the log a good whack with the handle each time, and there was barely a mark on it and no sign of damage.
The axe head is fused into the handle, so it won't come loose and fly off. I appreciate this and know that many other axe users do, too.
Non-Slip Grip Handle
The handle of the Fiskars X11 includes a textured non-slip grip at the base of the handle. This prevents the axe from slipping out of your hands when in use. It reduces the micro-strains on your hand muscles when gripping the axe handle for long periods. Personally, I could take it or leave it, but I suppose it's good to have, especially if you're working in the rain or an otherwise wet environment.
Length: 17 Inches, Weight: 2.2 lbs
Just 17 inches long, the X11 is convenient to bring on camping or backpacking trips. Its head weight is 1.75 lb with a total weight of 2.2 lbs. You can use the axe with one hand without any trouble. It's heftier than a small hatchet and provides more striking power, too, so it's great if you plan on doing a fair amount of work or if you're going to be chopping or splitting something more substantial than small pieces of wood. Trail-clearing, felling small trees, splitting wood for kindling – this axe will do it all, which makes it an excellent all-around choice, in my opinion.
Good Balance And Power-To-Weight Ratio
The X11 has its heavier axe head mounted on a lightweight handle. The weight distribution design gives you a good swing speed and balance with it. Fiskars are big on ergonomic and practical designs – they aim to provide as much power for as little weight and effort as possible.
Lifetime Warranty
Fiskars is so confident with the quality of the X11 that it offers a lifetime warranty coverage. If you find any defects on the product after purchase, you can get it replaced. Contact them or fill out the online warranty web page, and they'll send you a new axe after reviewing your claim.
Alternatives
If the Fiskars X11 doesn't catch your fancy, here are a few interesting, larger and smaller alternatives.
Council Tool 2lb Hudson Bay Axe with 18 inch Handle and Sheath
Council Tool is a renowned name in American axe-making tradition (and it's still made in the USA!). What I like about this axe is its fine hickory handle and slightly longer bit compared to the X11. It is just an inch longer than the Fiskars and has excellent construction. This includes a wooden wedge and a round metal wedge in the eye of the axe to keep the axehead as tight as possible. This made-in-the-US tool is only slightly more expensive than the Fiskars X11. Check it out!
Gransfors Bruks Small Splitting Axe
The Gransfors Bruks small splitting axe is a step up in quality and workmanship. It features a 3-lb axe head and a 23-inch wooden handle. Below its head, you'll find a steel collar to offer protection against overstrikes.
This axe costs more than others, but it goes through wood like a hot knife through butter. Clean, beautiful chops. It comes with a handbook to teach you the different methods of splitting, stacking, and proper axe care. It works two-handed, but you can work it one-handed if you like. Truly a great all-around small axe.
Hults Bruk Gran Splitting Axe
The Hults Bruk Gran splitting axe is another excellent alternative for its size and durability. It weighs 3.2 lbs and comes with a leather protective sheath adorned with some stylish Swedish decorative elements. Hults Bruk is rightly famous for the quality of its axes, with over 300 years of unbroken experience in forging them. It is a work of art as much as it is a tool, much like their closest rivals, Gransfors Bruks.
What is the Difference Between a Fiskars X11 and X7?
A common question is whether you should pick between a Fiskars X11 and X7. They are similar axes with slightly different sizes. The X11 is larger than the X7, with a head weight of 1.75 lb vs 1.4 lb. The X11 is also longer at 17 inches than 14 inches in the X7.
Both axes include Fiskar's proprietary shock-absorbing composite, lifetime warranty, and friction-reducing blade coating.
The main difference between the Fiskars X7 and X11 is that the X7 is a hatchet suited for chopping kindling, while the X11 is a small splitting axe designed for chopping small logs and can be used one-handed.
| | | |
| --- | --- | --- |
| Key Specifications | Fiskars X7 | Fiskars X11 |
| Head Weight | 1.4 lb | 1.75 lb |
| Length | 14 inches | 17 inches |
| Handle Material | Shock Absorbing Composite | Shock Absorbing Composite |
| Low Friction Blade Coating | Yes | Yes |
| Best Suited For | Chopping Kindling and Smaller Logs | Chopping Small to Medium Logs |
| Ideal User | Hikers and Outdoor Enthusiasts | Campers and Outdoorsman |
| Manufacturer's Warranty | Lifetime | Lifetime |
Comparison between the Fiskars X7 and X11 Axe
Conclusion
The Fiskars X11 is an excellent lower-budget axe – a real workhorse. The axehead's profile is a bit wider than some might like, but since it is designed as a splitting axe, that isn't a big problem – you can chop just fine with it, too. The handle is rugged, durable fiberglass – very hard to break. You don't need to worry about the axehead coming off and dropping on your head as you're about to execute a mighty swing.
This is a great axe for splitting smaller rounds of wood and lopping limbs off of trees. It's on the small side, so if you're planning on splitting some monster logs or 20-inch rounds, you should look into something heftier. But I think you'll be delighted with the amount of oomph it has for the money for lighter work and smaller wood!