If you're looking to split logs or big rounds of wood, splitting wedges are just as important as a good axe or maul. They make the splitting process easier and safer, allowing you to do more with what you have – namely, your physical strength and your main splitting tool (an axe, maul, or even sledgehammer).
The Estwing Sure Split Wedge is my top choice because its extra wings improve its ability to force the firewood fibers apart. It is made from high-quality American steel in Rockford, Illinois. It is ideal if you want a splitting wedge that splits wood with fewer strikes and will last for years.
Splitting wedges allow you to force the wood fibers apart, expand the break, and keep it open. This allows you to split further down the line (if processing a log) with your main splitting tool, and helps prevent it from getting pinched and stuck in the log.
They also make for cleaner splits – instead of swinging at the same place several times with your axe to deal with a tough section, mangling it and making for an ugly job, you can hammer in the wedge. Even if it doesn't force the fiber apart fully, you can move on further down the line and try there.
5 lb Forged Steel Design
1 7/8-inch Cutting Edge
Hand Sharpened Edge
Made in USA
1045 High Strength Steel
Solid, Forged Twisted Splitting Wedge
Slanted Grooves to Keep Wedge from Rebounding
Powerful 6.5 Pound Wedge
1045 High Strength Steel
45-60 HRC Hardness
5 Pound Weight Wedge
Lifetime Warranty
So without further ado, here are the best splitting wedges for the money today. If you're short on time, I've created a table comparing their specifications and with my most important aspects or comments. Let's get into it!
1. Estwing Sure Split wedge
The Estwing Sure Split wedge is a 5-pound wedge with extra "wings" on each side that are meant to improve the splitting potential of the wedge by increasing width and preventing the edge from getting pinched and stuck in the wood fiber. It is also inexpensive, made by an American company in Rockford, Illinois with American steel. It's great quality for a great price.
The Sure Split wedge is not as sharp or well-crafted as more expensive wedges, but it is a very good workhorse for the money. 
Pros
Made in Rockford, Illinois
High-quality American steel
Wings on each side improve the splitting efficiency
Cons
Not as well crafted as premium alternatives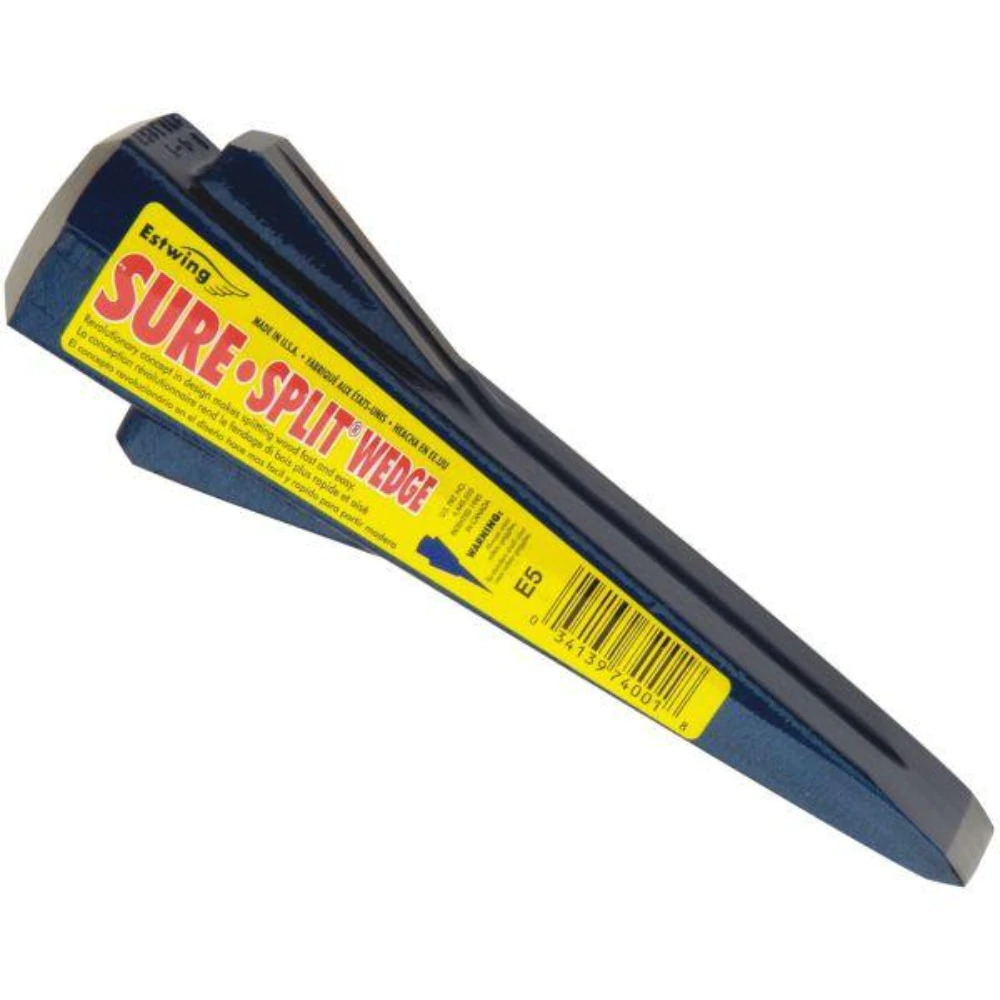 2. Hooyman Splitting Wedge
The Hooyman Splitting wedge is another 5-pound wedge that does not have the wings of the Estwing. Nevertheless, it is a great simple wedge for a low price. It is nine inches long and 2.25 inches wide, made of 1045 high-strength steel with an HRC (hardness) value of 45-60. It is also covered by a Limited Lifetime Warranty, so if anything goes wrong you should be covered.
Pros
It has a limited lifetime warranty
Made from 1045 high-strength steel
Cons
It lacks the wings of the Estwing and isn't as efficient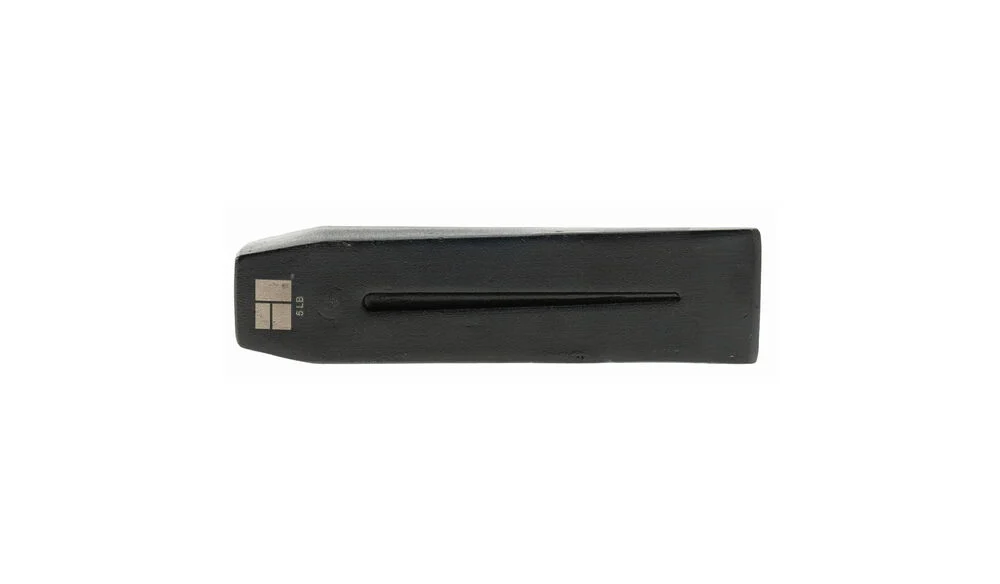 3. Halder Splitting Wedge
The Halder 6.5 pound splitting wedge is a step up from the previous two. It weighs 1.5 pounds more, but is also twisted at a 20-degree angle and twists with each blow to help it split the wood apart.
It is also forged with several grooves or steps that reduce friction and help prevent it from jumping out of the wood or getting jammed in it.
Pros
Grooves are forged to reduce friction
20-degree twist to help force firewood apart
Cons
Higher price tag than the previous options

4. Collins Forged Steel Diamond Splitting Wedge
The Collins Diamond Splitting Wedge is a different kind of wedge. This kind of wedge is sometimes called a "wood grenade" or "splitting diamond", as its design – the diamond or 4-pointed star shape – forces the wood fibers apart in all four directions.
In practice, the wood won't split into 4 pieces, it'll split in half like with a regular wedge, but the design means that pressure is applied in four directions at first, and if you're lucky and skillful, you might need just a couple of whacks to split apart a big log or round of wood. The Collins Diamond Splitting Wedge weighs 4.5 pounds and is also slight twisted to better dig into the wood.
Good price for a good diamond wedge.
Pros
4-point diamond shape forces firewood fibers apart effectively
Slight twist to dig into the wood
Cons
It rarely actually splits the wood into four separate pieces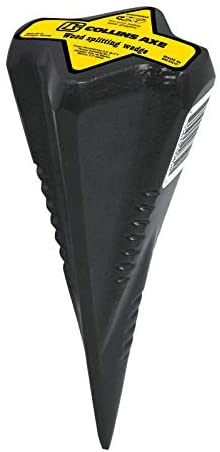 5. Helko Werk Handforged Twisted Splitting Wedge
Helko Werk is a German toolmaker that makes very fine axes, and their splitting wedges are no exception in quality. This handforged, twisted German steel splitting wedge weighs 4.5 pounds and is made of C50 high carbon steel with a hardness of 53-56 HRC. It's twisted design and notches help prevent slippage, and the central groove – pinching. What's nice is that it comes with a leather sheath and a 1-ounce bottle of Axe Guard oil.
It's pricier than other, mass-produced wedges on the market. Still, you can be sure that it won't start warping or mushrooming after a few splitting sessions, unlike wedges made with lesser-quality steel in places where the focus is on quantity, not quality. The high carbon steel edge will also ensure better penetration and edge retention than wedges made of softer, "scrappier" steel.
Highly recommended if you're going to be using your splitting wedge a lot and want it to last.
Pros
Made from C50 high carbon steel
Twisted design prevents slippage
Extremely durable and well made
Cons
One of the more expensive options, but it will last for a lifetime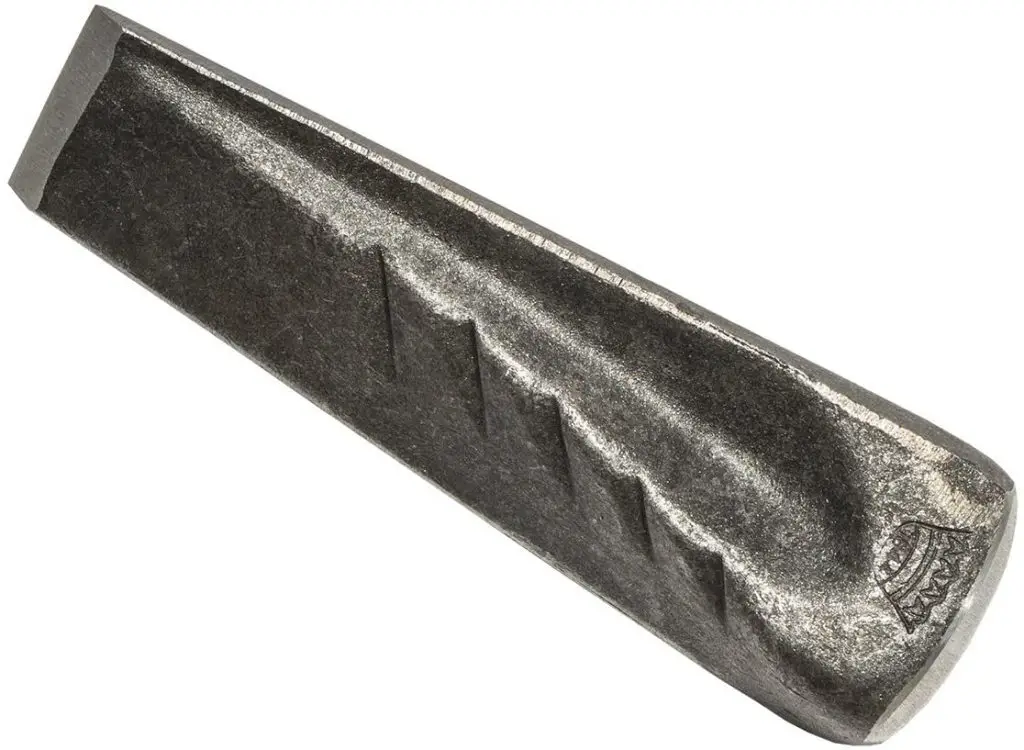 Splitting wedge buyer's guide
Splitting wedges are very useful for splitting a large, long log that a splitting axe or maul won't take care of by itself, or for knotty wood that needs to be held open while you take care of a tough knot. It's not hard to use a splitting wedge, as long as you stick to a few simple principles. If it's your first time using a splitting wedge, do yourself a favor – don't try to drive it perpendicular to the wood fibers. The edge should go up and down as the tree grows, not across. That's the most basic thing to get right, but it must be said because new users sometimes try it!
Splitting wedge placement
Try to place the wedge as centrally as you can. That'll help you split it into two even pieces, and will also weaken the fibers the most. That doesn't mean place it in the middle of the log length-wise – the wedge certainly doesn't have to be dead center if it's big piece. What I mean by "centrally" is the middle across.
This applies to long logs. If you're splitting big, tough rounds of wood, you can of course start at one edge with one wedge, place the other in the middle, and finally use a maul, axe, or third wedge on the opposite edge to split it. The split should be central. If it's too tough or knotty still, you can of course start splitting off-center, to weaken the fibers of the outer rings, before working your way in.
Should a splitting wedge be sharp?
Yes and no. You're not making cuts with a wedge as you would with, say, a felling axe. It doesn't need a fine, razor-sharp edge. You're using the shape of the wedge and the kinetic energy of your swing to force the wood fibers apart. It's good, though, if the edge of your wedge is sharp enough to penetrate the wood and stick there without slipping out.

Otherwise, if you have a very dull wedge, you'll probably have to make a cut in the wood and only then will you be able to use the wedge. The duller, rounder, and thicker the edge, the bigger and deeper a cut you'll have to make – or expend way more effort on the (dangerous for your fingers and hand) balancing act of holding the wedge in place while you whack away with your hammer. It's not fun – believe me. A simple, fine metal file is good enough to shape and sharpen your wedge to a good level. Take the 5 or 10 extra minutes to prepare your wedge if it's dull – it'll make your splitting session much less of a chore.
How many splitting wedges do I need?
One is enough to start with, but you might as well get two if you're getting one. They're cheap enough that it won't hurt your wallet, and the benefit of having at least two wedges far outweighs the cost of the second one. That's because splitting wedges can get stuck deep in the wood if you're not careful or just unlucky, and a second wedge is useful in such situations to save the first one.
Two wedges are great if you're splitting a large log because you can leapfrog the previous over the next one as you move down the line.The second wedge can also be driven in further down to help weaken the fibers and loosen them up if you're having trouble getting the first wedge to split the piece of wood properly.
I'd recommend getting three wedges – two traditional ones and a diamond splitting wedge or wood grenade. Then you're covered for most situations – long logs, "good" wood, knotty wood, rounds of wood for firewood.
Traditional vs diamond splitting wedge
Both are good choices. Some say that traditional splitting wedges give a cleaner split since you're not driving in a single point, as with a diamond splitting wedge (also known as a wood grenade or diamond splitter). Still, for most people, this is not important. Diamond splitting wedges are nice because you don't have to line the edge up straight since they don't have one.
Simply stick the point into the wood and drive it in to split. On the other hand, traditional wood splitting wedges usually stick better with just one or two whacks – diamond splitting wedges can roll out if they do not drive deep enough into the wood, which means you'll have to hold it in place a bit more (risky if you're not careful with your hammer or striking tool).
Finally, some people say that diamond splitting wedges are especially effective at forcing apart knotting wood. This is because diamond splitting wedges, due to their shape, force the wood fibers apart in several directions at once. This comes in handy when knots are giving you trouble. Wood grenades are also nice for rounds of wood that you mean to split apart into firewood as the same principle applies – the fibers are forced apart in several directions at once, which might make splitting the round straight from the center easier than with a traditional wedge.