While San Antonio is known for its heritage and cultural landmarks, it leaves much to be desired on the fun things to do. But fret not! San Antonio has some of the best axe throwing spots. I mean, what's more fun than throwing axes at a target with your friends and family? That's right, nothing.
So if you're in San Antonio wanting to have some fun, check out these axe throwing spots for a good time!
1. Class Axe Throwing
Overview of Services
Class Axe Throwing gives you the option for both indoor and outdoor axe throwing. The outdoor session lasts for 1.5 hours while the indoor session goes on for an hour. At the start of either session, you first get a tutorial on handling an axe and how to throw it. After that, you can start throwing axes for the remainder of the time.
Key Features
You need a reservation, no walk-ins are allowed
You can only bring your own beer if you're opting for the indoor location
You must be 12 years or older to throw an axe
For individuals younger than 18 years, they must be accompanied by an adult
You can't bring your own food
You will have to reschedule if you're late
There are no refunds
You will have to wear close-toed shoes
Review/Comments
"The games are fun, the staff is nice, and they even added a birthday game to make it special. 10/10 will for sure come back!"-Google reviews
"Amazing time! Shout out to Alex Ramirez for going above & beyond with our team!"-Google reviews
"We had an excellent host named Robert.. he was very interactive ver knowledgeable and whole lot of fun"-Google reviews
Address
1203 E Commerce St, San Antonio, TX 78205, United States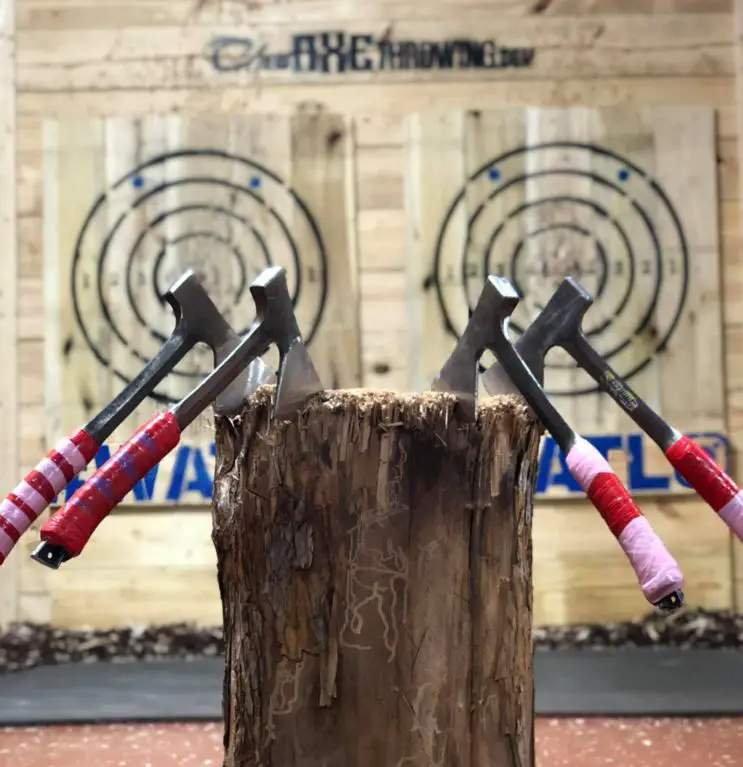 2. Stumpy's Hatchet House
Overview of Services
Stumpy's Hatchet House is an indoor axe throwing setup. You go in after making a reservation. On the day of, they get your food and drinks setup while you learn the basics of axe throwing along with important safety instructions. Once you're all set, you can throw axes, complete with friends and family, and have a great time!
Key Features
No open toe shoes or sandals allowed
You can make a reservation for 1-hour or 2-hour slots
You can bring your own food
There's free WiFi
They also have a menu you can order off of
They have a unique scoring system
You need to be 21 or older in order to play
They do accept walk-ins but it's always better to make a reservation in advance
They allow spectators 21+ years with a fee of $15 plus tax
You can rent the place for parties and corporate events
Review/Comments
"Very cool hangout to de-stress and hang out with family/friends/first dates"-Yelp
"The owner, Joe and the best doggo ever, Cinder were definitely awesome to hang out with and throw some steel!"-Yelp
"Your group will get your own section with a table. It is BYOB. You can also bring snacks."-Yelp
Address
758 Isom Rd San Antonio, TX 78216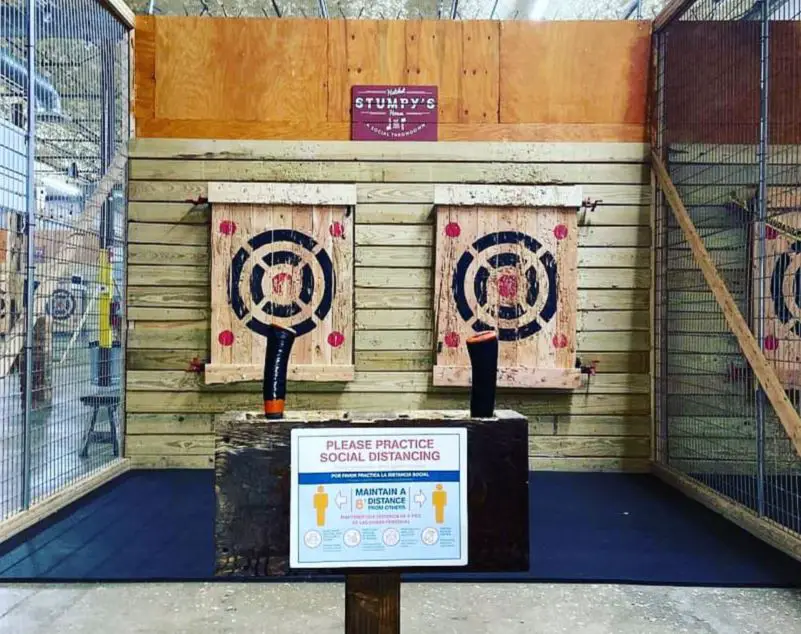 3. Axe Master Throwing
Overview of Services
Enjoy indoor axe throwing at axe master with your own group! They offer two packages for 1-hour and 2-hours each. You start by getting an introduction to axe throwing and learning the basics of it all. Then you get to throw for the remainder of the time, with their instructors guiding you throughout the game.
Key Features
The targets are interactive so they automatically keep score
You can throw at more than just targets, choose your own throwing projection
You can bring your own beer
Each lane is private for you, you won't have to throw with strangers
You need to book online in advance
You need to be 8 years or older to play
They offer a birthday discount
You'll have to sign the waiver available online before coming in
Review/Comments
"Really great Service and fun at a great price!!" -Google reviews
"Wonderful time, clean place, great environment." -Google reviews
"The projectors and games are a really cool idea to give more variety." -Google reviews
Address
8015 Bandera Rd, Suite 108
San Antonio, TX 78250
4. Smashing Hatchet
Overview of Services
Smashing Hatchet is a mobile axe throwing service that offers you the experience of axe throwing anywhere in the San Antonio area! Their mobile unit has one trailer with 2 lanes and is completely enclosed for safety. The axe masters guide you at the start of the game and then help you as you throw.
Key Features
You need to book the trailer in advance for your event
They cater to all types of events including birthdays, gender-reveals and even fundraisers!
Their team comes prepared for other games they can play with your group
Only 2 throwers are allowed in the throwing zone at one time
Your venue must have ample space to fit the unit (20ft long x 10ft wide x 14ft high)
Review/Comments
"Such a fun, family activity! Steph and her team were awesome, too. We look forward to throwing a lot of axes!"-Facebook reviews
"Our family has thrown with Smashing Hatchet twice now and both times were a lot of fun!"-Facebook reviews
"We had so much fun!  My son loves throwing the hatchets"-Facebook reviews
Address
Bulverde/Spring Branch area, San Antonio, TX (but they can bring their mobile unit to a venue of your choice)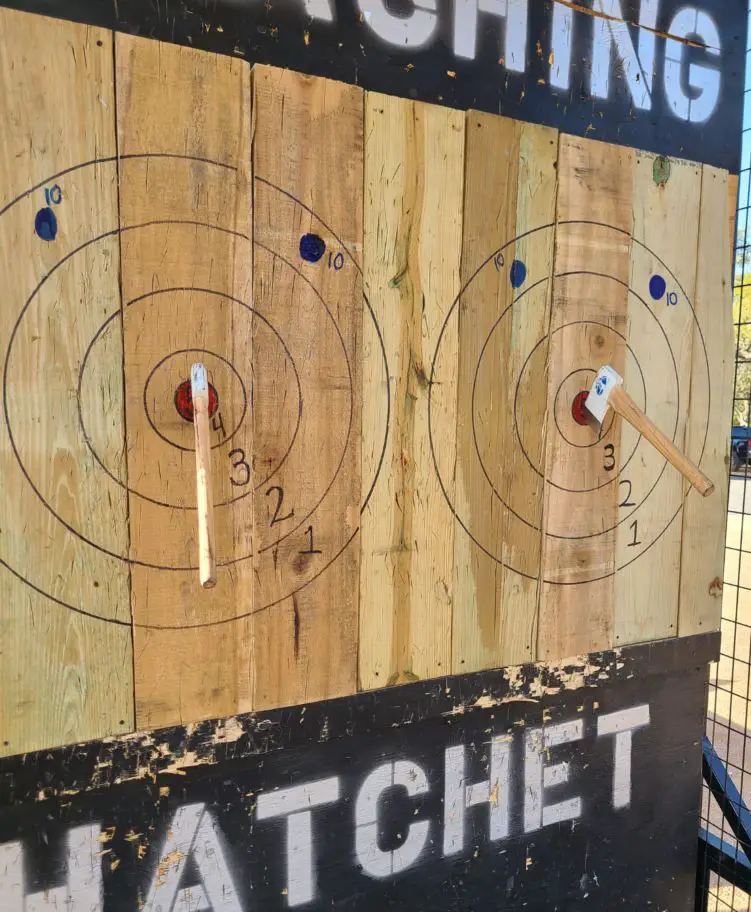 5. Alamo Mini Golf
Overview of Services
Alamo mini golf offers axe throwing along with mini golf, arcade gaming, splashpad, and also basketball loops. They also have an enclosed area for toddlers to play in. The axe throwing begins with a short introduction on rules and basics of the game, after which you can practise throwing.
Key Features
Outdoor setup, they have arrangements to cover the area in case of rain
They offer beer and wine
Character appearances available for parties
Full concession stand on venue
Airbnb available nearby
Review/Comments
"Alamo Mini Golf is such a hidden gem for small families with young children and even teenagers. I threw a party of 11 teenagers for my daughter's 15th birthday. I lucked out on this place and we are so pleased that we did.:-Yelp
"Great prices and everything is included in one price"-Google reviews
Address
509 Sassman Road
Marion, TX 78124
So next time your kids complain about being bored in San Antonio, hit one of these axe throwing places for a blast.