The best log splitters for firewood have sufficient power to cut through your largest log, are manufactured by a reputable brand, are easy to transport, and with a simple user interface.
The Champion Power 27 Ton Log Splitter is my top choice because it has a fast 11-second cycle that can split up to 300 logs an hour. It is extremely versatile with a vehicle tow transport method and is suited for landowners who need to process a lot of firewood.
Selecting the best log splitter to help you process your firewood this winter is crucial to getting as much done quickly as possible. Looking at the fallen oak in your yard and thinking about how long it will take to chop with your splitting axe can be daunting. Sometimes, buying or renting a hydraulic log splitter can be wise to get the job done right.
There are dozens of different brands, types, and sizes of log splitters, from gas to electric and even manual versions. Understanding your requirements is key to finding the tool that best suits your needs. Thankfully I have sifted through the marketing hype to find the top models that can help you out.
If you are looking for a quick summary of the best log splitters on the market, these are the top 3 based on my experience in the forestry industry and knowledge of chopping wood:
1. Champion Power 27 Ton Log Splitter
Regarding an industrial strength log splitter, surpassing the Champion Power Equipment model is hard. I have used this for years and am extremely happy with its performance. It is powerful, fast, easy to operate, and durable.
It has one of the fastest cycle times in this list at 11 seconds, but it can go even faster if you are processing shorter logs than the maximum 24 inches. You can't go past this Champion if you need to process hard firewood quickly.
This is a gas-powered combustion engine, so in terms of maintenance, you need to keep an eye on the fuel, oil, and hydraulic fluid. At over 400 lb in weight, you will need to tow this behind a vehicle, but that is even easier in my view. You can easily take this out into the wilderness of your land and still chop wood easily.
This machine is built like a workhorse with a thick metal structure and quality welds. The only downside is that you will need to conduct the normal gas engine maintenance compared to the following electric models.
Specifications
Splitting Force: 27 ton
Maximum Log Diameter: 12 inches
Power Type: Gas
Cycle Time: 11 seconds
Weight: 429 pounds
Pros
This heavy-duty machine can split logs of 12 inches in diameter and 24 inches long.
The log catchers keep the split firewood in an easily accessible location.
Fast cycle time can process 300 logs an hour – as long as you can keep up!
Cons
The price – this is the most expensive model on this list, but in my view, it justifies its price. It is worth it if you are processing an entire winter's worth of hardwood and intend to use this machine for the next decade.
Must be towed behind a vehicle with a speed limit of 45 mph.
Verdict
The Champion Power Equipment 27 Ton Hydraulic Log Splitter is the best log splitter for firewood.
It can handle anything you can throw at it, including the hardest woods in North America. If you process an entire season's firewood in one hit, selecting an industrial design like this is a no-brainer.
The fact that you are considering a log splitter means that you have a lot of work to do – there is nothing worse than picking a model that is too small and you still need to pull out the splitter mauls whenever you find a large log.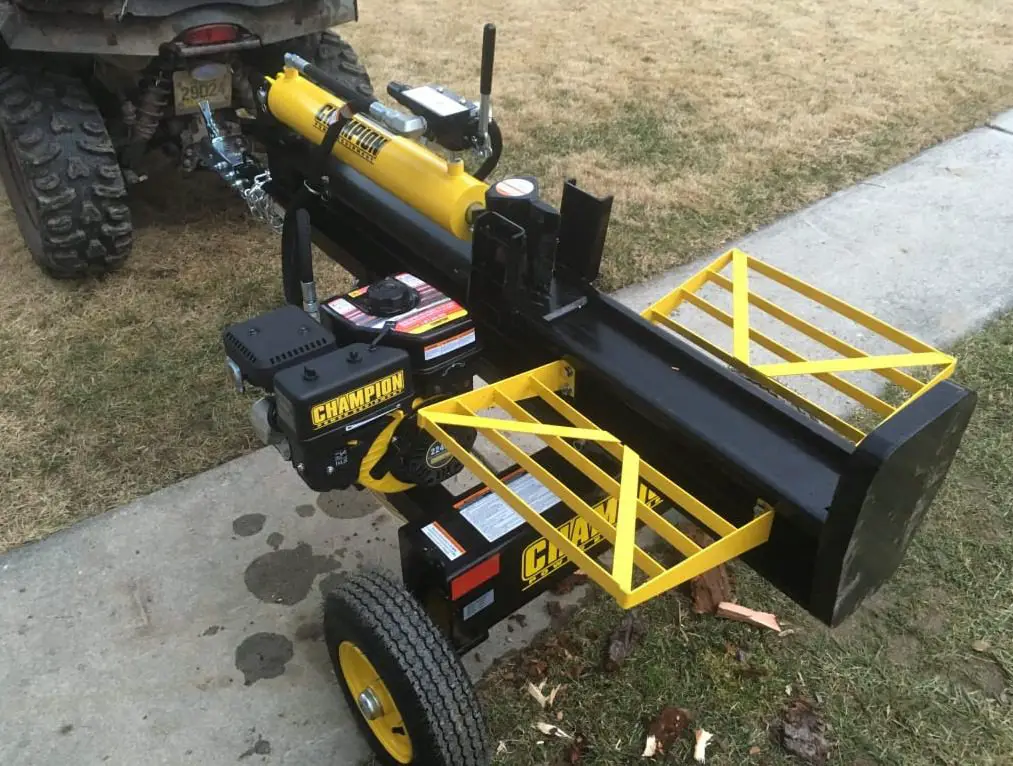 2. Boss Industrial ES7T20
The first electric-powered log splitter on my list is by Boss Industrial. It can split logs up to 20 inches in length and 10 inches in diameter – smaller than the Champion. It has a 2-horsepower electric motor with 3500 psi of hydraulic pressure. This is significantly lighter at only 121 pounds and is much more portable. You lift one end and wheel it around like a wheelbarrow. You may want to lift it onto a table or bench as it is close to the ground at only 20 inches tall.
It has a single push button start, so no mucking around with chokes and pull starts. It has a 14-second cycle time, slower than the 1st pick but still reasonably good. This is not an industrial design but is better suited for the landowner who only needs to process a few logs at a time.
It has 7 tonnes of splitting force, which limits it to 6-inch hardwoods or 10-inch softwoods. You will find that you can place 10-inch hardwood on it, but it may struggle to split them in a single cycle. I did find it stalled on some larger black locust wood. You have to restart the electric motor, which is no big deal.
Although I would prefer more splitting force, this model has a lower price, and I can understand the justification for selecting a smaller option.
Specifications
Splitting Force: 7 ton
Maximum Log Diameter: 10 inches
Power Type: Electric
Cycle Time: 14 seconds
Weight: 121 pounds
Pros
Easily portable and transportable with handles and wheels.
Easy to start and operate the electric motor. You need electricity, so you can't take it camping without a generator.
Cons
It cannot handle larger hardwood logs.
Requires a stand or table to bring it up to a decent height.
Verdict
The Boss Industrial ES7T20 log splitter gets my rating for the best electric log splitter. This is because it is still well-designed with metal parts and is well-constructed.
It comes at a higher price than other electric models but is significantly cheaper than the industrial scale splitters. At 7 tonnes of splitting force, this is plenty for the average landowner, but you may find the motor stalls on larger logs and requires a second cycle to split.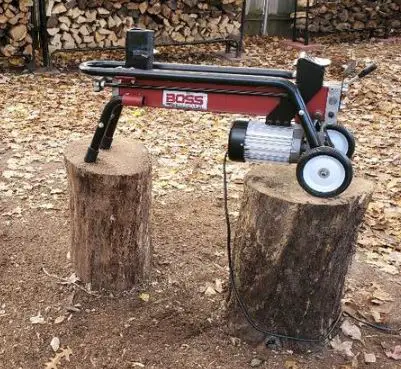 3. Ryobi 5 Ton Electric Log Splitter
I am a big fan of Ryobi products, especially their interchangeable battery systems. This is their electric log splitter, which only makes it to #3 because of its lower splitting force and plastic structure construction. It can fit logs of 20 inches in length and 10 inches in diameter, but with only 5 tonnes of splitting force, you will find this isn't enough to split a 10-inch hardwood log.
It starts easily with a single press of a button. There is no need to refuel the gas or top up the oil – it is almost maintenance-free. It is lightweight at just over 100 lb, and you can move and transport it easily. It is also much more affordable than the first two options on this list, so if budget is a concern, check out the Ryobi.
It is 40 inches tall, so lift it onto a stand or table for easy access. One of its main downsides is the slow cycle time of 20 seconds. This is almost twice the speed of the #1 pick, the Champion so you will have half as many split logs after an hour of work.
Specifications
Splitting Force: 5 ton
Maximum Log Diameter: 10 inches
Power Type: Electric
Cycle Time: 20 seconds
Weight: 104 pounds
Pros
Much more affordable – this is ideal for a landowner just looking to split a few softwood logs on the weekend.
Ryobi is one of my favorite brands, and I would be happy to pick up this model to store in the back of my truck when I need it.
Cons
I worry about the plastic structure wearing out and breaking over time.
Although it is easy to transport you need electricity so you can't use it camping without a generator.
The cycle time is much slower, which can be frustrating if you have a lot of work to do.
Verdict
I was happy to love this Ryobi log splitter and place it higher in the list because of its value for money, but I couldn't because of its low 5-ton splitting force and lightweight design. I worry about its longevity and any breaking of the green, plastic materials.
If you aren't spending all weekend splitting wood but want to split a few logs at a time, this is ideal.
4. WEN 6.5 Ton Electric Log Splitter
One of my main criticisms of the smaller electric log splitters is that you must lift them onto blocks or a table to bring them up to chest height. This WEN splitter has solved that problem with a stand included.
It is affordable, and the 6.5-ton splitting force is enough for most landowners to split 10-inch logs. It folds tight to store it in your garage without too much space.
It comes with a 2-year warranty, which gives you some trust in the quality of its design. Speaking of its design, I don't like its little wheels. They are only 5.5 inches and claim to be 'never-flat', but I felt like they are too small for a 100-pound machine, and you won't want to wheel them around the uneven ground.
One of its key downsides is the slow cycle time of 20 seconds. This is twice as slow as the fastest options and means you can't process as many logs. However, if you are picking this option, it is because you don't have much work to do, so this mightn't be too much of an issue for you.
Specifications
Splitting Force: 6.5 ton
Maximum Log Diameter: 10 inches
Power Type: Electric
Cycle Time: 20 seconds
Weight: 98 pounds
Pros
The built-in stand puts it at a good working weight, so you don't need to lift it up onto blocks like the other smaller electric log splitters.
6.5-ton splitting force is plenty of landowners looking to split a few logs at a time.
Cons
Its little wheels are difficult to move around. You don't want to go over any uneven ground.
Slow cycle time reduces the overall amount of wood you can split.
Verdict
This WEN log splitter has made it fourth on the list primarily because of its low cost. It has a few downsides in its design, like the small wheels. I like the built-in stand, but even the stand is a little spindly when you start to put heavy logs on top.
This is well suited for a landowner who doesn't want to spend hours splitting logs, but it is on the small side for me.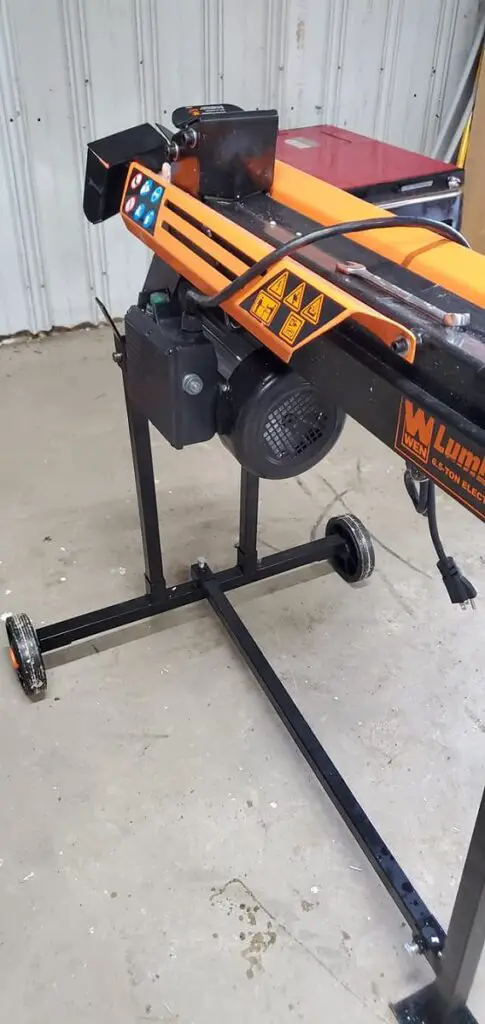 5. Swisher 22 Ton Electric Log Splitter
The next log splitter is a heavy-duty electric-powered option – the Swisher 22-ton LS22E Timber Brute. It is towable behind a vehicle and can be operated both horizontally and vertically. It is surprising how quiet this machine is considering its power, which is just one of the benefits of electricity. It has a 13-second cycle time, which is a little slower than the top-tier options but is fine. The opening is 25 inches so you can put some seriously large logs through it.
I am a big fan of the ability to run the log splitter in a vertical position so that you can use something like a cant hook to maneuver large logs into position without lifting them onto the machine – this saves you back after a day of splitting wood.
One of the problems with these towable designs is that you feel like you can take it anywhere, but you can only take it within 25 feet of the nearest power socket. Combined with a generator, it is a mighty bit of gear. It is roadworthy but can only go up to 45 mph, which I don't like.
Specifications
Splitting Force: 22 ton
Maximum Log Diameter: 24 inch
Power Type: Electric
Cycle Time: 13 seconds
Weight: 456 pounds
Pros
This well-designed heavy-duty electrical model can split large logs in silence.
The ability to operate in horizontal and vertical positions is a must-have for larger towable designs.
Cons
It is roadworthy but can only go up to 45 miles per hour, which is a pain.
The cycle time is a little slower than the premium models, so it has a 15% lower output at the end of the day.
This costs more than double the next most expensive model, so you may need to refinance your house.
Verdict
I like the Swisher as a well-made, heavy-duty electrical-powered log splitter. It can be operated in multiple positions and is roadworthy to take it anywhere.
However, it is extremely expensive, and I can't see any features, specifications, or characteristics that justify the cost.
6. Southland Outdoor Power Equipment Log Splitter
Next up is the Southland Outdoor Power Equipment SELS60. It has 6 tonnes of splitting force through a 1.75 HP electric motor. Its 7-inch wheels can be wheelbarrow pushed into any position, but you must lift it onto blocks to raise it to a more suitable height.
With an 18-second cycle time, you won't get through much work at the end of the day. This is more suited for the landowner looking to split wood for a few hours rather than a few days. You can adjust the stroke length to increase the cycle time for smaller logs which is a feature I appreciate.
The ram stops about 8 inches away from the blade, which is too far away. I ended up placing a block on the end of the ram to force more of the log through the wedge to ensure it split completely without rework. 6 tons is plenty of force for the size of logs it can use.
You can store it vertically, which is a good way to save space in your garage rather than taking up an entire corner.
Specifications
Splitting Force: 6 ton
Maximum Log Diameter: 10 inches
Power Type: Electric
Cycle Time: 18 seconds
Weight: 103 pounds
Pros
I like the ability to change the stroke length to speed up the cycle time for smaller logs. This is a good way to counteract one of this tool's biggest disadvantages.
6 tons of splitting force is plenty for 10-inch logs.
Cons
The ram stops pushing 8 inches from the wedge, which doesn't always completely split the log and requires some intervention to finish the job. This is another task that isn't required.
Verdict
This Southland SELS60 is a great option for splitting smaller logs. It is well-made and has plenty of force. You must place it on a stand to raise the height, and I extended the ram to force more wood past the wedge.
But these are relatively minor modifications for convenience. This good quality log splitter would be ideal for many people's requirements.
7. NorthStar Log Splitter
This NorthStar log splitter is the most powerful on this list. It has 37 tonnes of splitting power which is enough for almost any sized hardwood round. It can only fit 16-inch diameter logs, so it will also have plenty of power. It has a commercial Honda GX270 gas engine and is well made to an industrial scale. The main structure is an industrial strength I beam with heavy plate steel reinforcement. There is no way you will damage this machine even after decades of hard use.
You can change the operation between horizontal and vertical, which I am a big fan of – it allows you to split large logs without lifting them off the ground. Just grab your cant hook and twist them into position. There is almost nothing this machine can't split – even a 24-inch long knotty spruce log was split without hesitation.
It is towable with high-speed tires.
NorthStar has over 30 years of reputation for building high-quality gear. An example is the hydraulic system, which has a 100 mesh strainer, a 40-micron breather, and a 10-micron in-line filter to get the highest performance and longest-lasting system possible.
Specifications
Splitting Force: 37 ton
Maximum Log Diameter: 16 inches
Power Type: Gas
Cycle Time: 14 seconds
Weight: 747 pounds
Pros
The ability to switch between horizontal and vertical operation gives ultimate flexibility.
This is the kind of log splitter you will use for your entire life and then hand it down to your children – it is made to be durable. There is no way to get better value for money than to ensure it is the last machine you ever buy.
Cons
This industrial-scale gas-powered log splitter comes with an industrial price tag.
Verdict
This is the machine of your dreams. It is expensive but given it will last forever, it still rates well in terms of value for money.
I have ranked it at #7 because it is probably overkill for most landowners and would only be useful for commercial timber yards and forestry workers. I love the design and the philosophy behind its features.
8. Sun Joe 5 Ton Electric Log Splitter
The Sun Joe is another transportable electric log splitter. Its combination of 5-ton splitting force on 10-inch logs means that only the densest hardwoods can stop it. It has a slow cycle time of 20 seconds, so you won't want to have a deadline to process an entire winter's worth of firewood. It has 6-inch wheels to wheel it around your yard easily. You must lift it onto stumps to raise the working height closer to your chest.
Included is a 2-year manufacturer's warranty which does offer some trustworthiness. It is made from durable steel but is manufactured in China, so expect that level of workmanship. The wheels are made from plastic and I have heard reports of damaged wheels so treat them carefully.
Specifications
Splitting Force: 5 ton
Maximum Log Diameter: 10 inch
Power Type: Electric
Cycle Time: 20 seconds
Weight: 97 pounds
Pros
This log splitter has plenty of power and will cut through 90% of what you can throw.
It is lightweight and easy to transport and store.
Cons
I wasn't impressed with the quality of the construction, in particular the plastic components.
The cycle time is too slow.
Verdict
The plastic components dropped the Sun Joe log splitter down the list. You want something lasting for multiple years when spending hundreds of dollars on a log splitter instead of using your axe.
The lack of durability concerns me, but the performance is great. The cycle time is my main downside – I hate waiting to chop the next log. I should be the hold-up, not the machine.
9. CountyLine 25 Ton Log Splitter
Next up is another industrial-scale 25-ton gas log splitter. This is a vehicle towable design, and at almost 500 pounds in weight, it needs to be. It has a hydraulic pressure of 3800 PSI. It can process logs 36 inches in diameter and 26 inches in length.
This is a serious splitter for serious-sized logs.
For a 36-inch log of hardwood, I would prefer to have at least 30 ton of splitting force, but I didn't have any issues with this model.
It has a fast cycle time of 11.5 seconds which is right up there in terms of speed. If you switch between a log splitter with a 20-second cycle time and an 11-second time, you will notice how much more wood can be processed.
It can be raised into a vertical position so you can split logs without needing to lift them onto the opening. It costs a similar amount to the #1 pick of the Champion, which is why I kept out so low in the list. It also has a 5-year warranty on workmanship which helps to build trust in the design.
Specifications
Splitting Force: 25 ton
Maximum Log Diameter: 36 inch
Power Type: Gas
Cycle Time: 11.5 seconds
Weight: 490 pounds
Pros
It can process the largest logs of any log splitter at 36 inches in diameter.
The ability to operate in both horizontal and vertical positions gives it a lot of versatility and is user-friendly.
Cons
It costs similar to the Champion log splitter but has less splitting force, keeping it down this list.
To split a 36-inch hardwood log, I would prefer to have at least 30 tons of splitting force.
Verdict
This CountryLine Log splitter is a great option at the higher end of the spectrum. It can process large logs and has the splitting force to back them up. It has a 6.5 horsepower gas engine, so you can tow it anywhere and get to work.
I love the ability to operate in both horizontal positions for easy access and vertical, so you don't need to lift heavy logs.
10. Kindling Cracker Firewood Splitter
The last on the list is the only manual log splitter. I hesitated to add this, but it has earned its spot because of its high performance. Made from cast iron, this is a heavy piece of gear. It has a sharp fixed blade that can cut through most woods you can throw at it. You place a log inside the 6-inch wide opening to use it and hit it with a hammer.
This is much more efficient than using an axe because all the force goes into the blade rather than being dispersed into the ground or chopping block.
You must sharpen the blade regularly, but it holds its edge very well. The shape of the blade splits the logs well like a maul is designed to. If you place this on a raised chopping block, you will find a neat stack of logs on either side of this device.
There are different sizes available, so you can pick one that suits your own requirements. You can also bolt it onto a stand or block so that you don't have to keep moving it back into position after every few strikes.
Specifications
Maximum Log Diameter

: 6 inch

Material: Cast Iron
Power Type: Manual
Pros
It allows you to cut wood with a hammer rather than an axe.
Much more efficient way to apply force into the wood.
Cons
It only has a 6-inch opening, so you must have already split your rounds into a small size. It is better suited for chopping logs into kindling.
Verdict
This is the best manual log splitter that I have seen. The cast iron construction is heavy-duty – this is the kind of tool you will hand down to your children because it will be new after decades of use. This is the most affordable option for any other log splitters.
Log Splitter Buying Guide
There are so many different types and sizes of log splitters on the market that I have put together this buying guide to help explain all of the terms and marketing jargon. Read this before going to the top products below to make a sensible buying decision.
How Does a Log Splitter Work?
Log splitters use an engine to drive a blade backwards and forwards through a fixed path. The user then places a log in the way of this blade when it is retracted. As the blade is extended again, it splits the log and rejects the pieces onto the ground. This is done in a repeatable cycle. You need to keep feeding logs into the way of the blade over and over again and clear away the split wood when it builds up.
The blade must be sharpened over time, and the fuel source filled.
The logs must be cut to size and limbed before they can fit in the log splitter's path.
Do You Need a Log Splitter?
Log splitters are expensive machines, so it can have you asking the question of whether it is worthwhile. Log splitters are worth the investment if you will be processing significant amounts of firewood for multiple years to come.
They significantly reduce the workload of the landowner and can save weeks of work with an axe. If you need to process entire hardwood trees in short periods, such as a rare weekend, wheeling out the log splitter is wise.
They can also help to reduce the drying time for any firewood as you can split the entire tree into smaller pieces that can be stacked properly and save weeks' worth of seasoning time. Just remember to place your firewood cart directly next to the log splitter so you can load it and stack your wood more easily.
I have written an entire post dedicated to answering this question if you are still on the fence.
Let's start off by looking at the design features that change the performance, durability, and circumstances for each log splitter. These can be broken down into their power source, physical size, cutting mechanism force, and cycle time.
Power Source
The most noticeable design feature is the power behind the log splitter – gas, electricity, or manually powered. These each have their own advantages and disadvantages that make them best suited for different scenarios.
Gas Powered
Gas-powered log splitters were the most popular options a decade ago but are slowly being replaced with electric alternatives. They are still more common in the largest sizes where the most power is needed. Gas-powered log splitters use a combustion engine to drive the hydraulics and operate the cutting mechanism. They need regular refuelling and maintenance.
They also produce combustion gases and noises. Gas-powered log splitters are best for when you need to process the firewood directly at the source which doesn't have electricity nearby, or you don't have a generator.
Electric Powered
You can also find log splitters that use an electric motor to drive the splitting mechanism. These have become much more popular over the last decade as technology advances. The key consideration is whether you have electricity available. If you are camping in the middle of nowhere, this won't help.
Electric-powered log splitters are often lighter and require less maintenance. They don't need to be refuelled and are much quieter. If you like the serenity of the wilderness, then pick an electric-powered log splitter.
Manual Powered
Finally are manually powered log splitters. These are generally a fixed blade within a housing that allows you to place a log vertically and strike it with a hammer. This directs the force against the blade and disposes of the split logs onto the ground.
This is more efficient than using an axe because the force is not dispersed through the ground. They are limited in terms of the log size they can fit, and you still need to apply a lot of elbow grease to process a significant amount of firewood.
Size and Force
The size and hardness of the wood you are splitting will dictate the force the log splitter needs to apply. Selecting the size log splitter is one of the key considerations in narrowing down your suitable models. Larger log splitters also cost significantly more as they have larger motors and can handle long/heavier logs.
This is a rule of thumb guide about how much force your log splitter needs for different-sized logs – this will change depending on the type of wood you are splitting.
5 ton = 6 inch logs
10 ton = 10 inch logs
20 ton = 12 inch logs
30 ton = 24 inch logs
Wet, unseasoned wood also takes significantly more force than seasoned wood. Cutting green wood helps season it more quickly, an important consideration. Green wood often has stringy fibres that are difficult to cut through, especially with an axe or maul.
Green wood = twice the force as seasoned wood
The type of wood also plays a big role in how much force you will require. Softwood requires significantly less force than more dense hardwoods. A 12-inch oak hardwood log will require a 22-ton log splitter, while a 12-inch pine log will only need a 10-ton log splitter.
6-inch Softwood = 6 ton force
6-inch Hardwood = 10 ton force
This is important to understand when selecting the size of your log splitter. I think pick a larger log splitter than your largest/hardest logs. You cannot go wrong with having a larger log splitter – you will just split the smaller logs more efficiently and faster.
Cycle Time
The cycle time refers to how long it takes for the log splitter to move from one end to the other and reset back again. This dictates how quickly you can split each log and how many logs you can split over an hour. This can be a crucial factor if you have many logs to split. Most log splitters have a cycle time between 10 and 20 seconds.
A slow cycle time can double the time it takes to process a single tree. It can be hard to understand how frustrating this can be from your computer screen. But count to 20 seconds and realize how long that is to split a single log. You will want the fastest cycle time possible when processing hundreds of logs.
Frequently Asked Questions
How much does a log splitter cost?
Log splitters cost around $1000 on average. Manual log splitters often cost under $100. Electric log splitters cost around $500. Gas-powered log splitters can cost anywhere from $1000 to $8000, depending on their size and power.
How much does a log splitter cost?
This depends on the wood type and your log splitter size. A 10-ton log splitter can split almost any kind of 6-inch log. A 22-ton log splitter can split any kind of 12-inch log. A 30-ton log splitter can split any kind of 24-inch log. If you intend to split a log larger than 24 inches, you may want to consider preparing it first with a splitting axe and wedges.
Can a log splitter cut green wood?
Wet logs often require twice as much force as seasoned wood to split. This means you must select a machine with sufficient power to split greenwood. But yes, a log splitter can certainly split wet logs.
Conclusion
Selecting a log splitter can be a wise decision to save you hundreds of hours of chopping wood. Although I love splitting wood with my axe, then are times when I need to process an entire hardwood tree in a few hours that I couldn't do without my trusted log splitter.
Plenty of electric models available at reasonable prices have made this decision even easier. As long as you have power available, then the improvement in technology has made these models much more appealing.
If you have any questions or queries, please email me so I can continue improving this article.