So you're thinking of buying a diamond/ceramic sharpening stone (or whetstone) for your axe or knife. And you've narrowed it down to the Fallkniven DC4 or DC3. That's great! These are both solid, high-quality sharpening stones and will serve you well. They do have a few differences, though, and this article is dedicated to providing an overview of both and explaining those differences. In the end, I hope you'll be able to make an informed decision about which of the two is right for your needs.
With that said, let's get into it!
Product
Dimensions
Dimensions
0.27 x 1 x 3 inches
0.35 x 1.3 x 4 inches
Weight
Weight
1.3 ounces
2.3 ounces
Includes Leather Pouch
Includes Leather Pouch
Yes
Yes
Fallkniven DC4 vs DC3 – Overview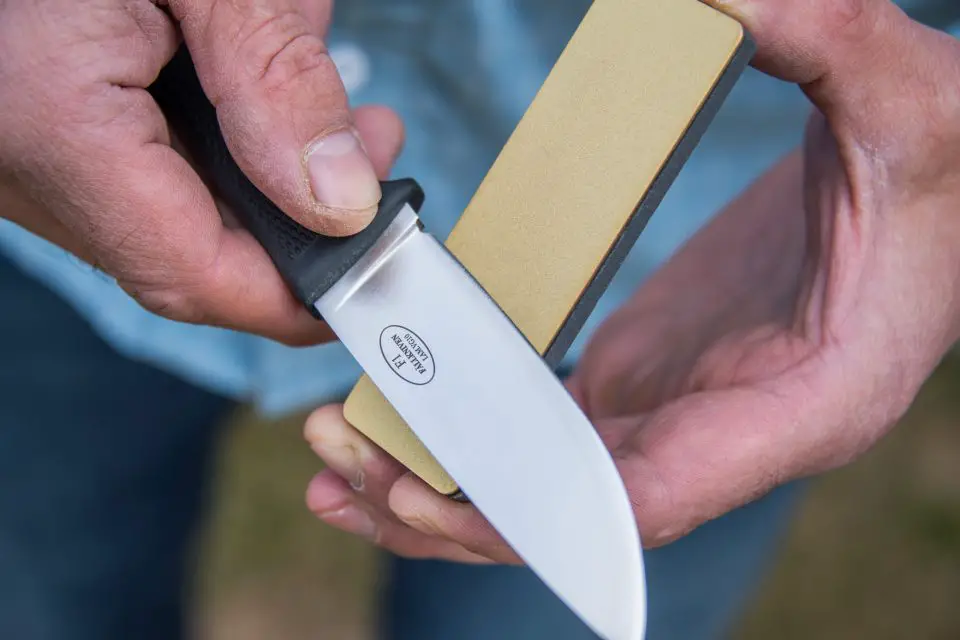 The DC stands for "diamond/ceramic". One side of the sharpener is made of fine diamond grit, while the other – of ceramic. The main difference between the Fallkniven DC4 and DC3 models is size. The numbers stand for inches in length – so the DC4 is four inches long, while the DC3 is only 3 inches. The second main difference is the price – the DC4 is a bit more expensive than the DC3 due to its larger size.
Here are the dimensions of both:
DC3: 1 inch x 3 inches (2.5cm x 7.5cm), 1.3 ounces (38 grams)
DC4: 1.3 inch x 4 inches (3.2cm x 10cm), 2.3 ounces(65 grams)
You can see that the DC4 is also a little bit wider than the DC3, in addition to being longer. It is also slightly heavier, by just under 30 grams. 
Overall – if you need a sharpening stone to be as light, as small, and as compact as possible, the DC3 would probably be better for you. It'll also be easier to sharpen small tools, such as hooks, with the DC3 than with the DC4. On the other hand, the DC4 will be handier for edges of any length, such as medium-to-large knives or axes. If you've got larger hands, the DC4 will probably feel better in them than the petite DC3.
I use a DC4 and am very happy with it – for sharpening knives and axes it works beautifully. And this is just my subjective feeling, but I think the DC4 is harder to lose track of. If you put it down on the ground dark side up, the mass is easier to see in undergrowth than the smaller DC3. Finally, since the DC4 is both longer and wider, it has a larger sharpening surface than the DC3, so you'll be able to get more use out of it before it wears out and you need to think about replacing it. That's about it!
Overall recommendation: Get the DC4 if the (slightly) larger weight and size doesn't bother you. It'll last longer and is, in my opinion, easier to use than the DC3. 
Fallkniven DC3 Review:
Dimensions: 0.27 x 1 x 3 inches, weight: 38 g
Diamond/ceramic whetstone
Includes Leather Slip Pouch
The Fallkniven DC3 is a small, compact sharpening stone with two sides – the golden diamond dust-coated side and the ceramic side. It is 7 mm (0.27 inches) thick, 1 inch wide, and 3 inches long. It weighs just 38 grams, allowing you to have a powerful sharpening tool at your disposal with barely any impact on the overall weight of your pack. You use it by making small circular motions while holding the DC3 at a slight angle against the edge of the blade – the DC3 is a bit too small, in my opinion, to use traditional pulling/pushing sharpening motions. It comes with a leather slip pouch, which has the excellent design touch of having one side left raw, so that you can use it as a leather sharpening strop.
Fallkniven DC4 Review:
Dimensions: 4 x 1.3 x 0.35 inches, weight: 65 grams
Diamond/ceramic whetstone
Includes leather slip pouch
The Fallkniven DC4 is the larger and, in my opinion, easier to use big brother of the DC3. With its larger size, you don't have to use circular motions to sharpen the blade, and can instead use push and pull motions comfortably if that's what you're used to. It's also slightly heavier than the DC3. For some people each gram counts, but the extra 27 grams were never an issue for me. It has a leather slip case, just as the DC3 does. It's also slightly thicker than the DC3, which makes it less likely to break if you sit on it or drop it onto a hard surface. The larger size and thicker build also gives you a longer working life than the DC3.
Overall, the Fallkniven DC4 is my choice, although make no mistake – both are excellent sharpening tools.
If you don't like either of these options, then have a read through my axe sharpening stones guide.