DIY knife throwing targets can be made using a wooden log round, a plywood sheet, or stacked softwood planks. Mount your chosen material on a sturdy frame or wall, ensuring a safe distance from nearby structures. Regularly rotate or replace target sections to maintain consistent throwing conditions.
As a close cousin to axe throwing, I am also a big fan of knife throwing. It takes a very different technique which is an extra challenge. However, one of the great aspects is that your target can be very similar and often interchangeable. If you head out to an axe throwing bar you might also find their offer knife throwing as a bonus.
But if you want to do some knife throwing at home then you will need your own knife throwing target. If you just want to buy your own knife throwing target rather than build your own, then I would recommend this Big Shot target – it's made from plywood backed boards with hanging hardware included and is the correct, official size.
Heavy Duty Wooden Target
Suitable for Axes and Knives
Hanging Chain Included
Official Target Size
In this post I have scoured the web for the best (and most interesting) knife throwing targets so that you can be inspired to head out to your nearest home depot and start construction. Some of these ideas are simple, some complex, some portable, and some heavy duty. I have attempted to be as diverse as possible so that you can really find one that suits your own personal situation and given my own commentary and flavor on each one.
But before I dive into the individual knife throwing targets, let's quickly explore a few key attributes you will need to know, such as the ideal dimensions and construction materials.
Knife Throwing Target Dimensions
The most popular dimensions for a knife throwing target are:
Width – 4 feet
Length – 4 feet
Height – the centre of the bullseye should be 63 inches off the ground
These numbers are based on the World Axe Throwing League's official dimensions, and I am a firm believer that you might as well build an axe throwing target that is suitable for knives as well. They also recommend adding another foot of protection on the top and the bottom.
What Wood to Use?
Select a wood that is both hard enough to be durable and soft enough so that the knife can penetrate the surface. The best wood for knife throwing targets is:
Cotton Wood
Poplar
Willow
Pine
Spruce
Avoid plywood based targets as these will be damaged much more quickly. The holes caused by a knife puncture will close up as the knife is removed.
10 DIY Best Knife Throwing Targets
Let's get straight into my list.
1. Single Slab
Let's start simple, with a single wooden slab by Nico Pay. This couldn't be easier, just grab a round piece of wood and put it onto a simple stand. This makes it portable and easily replaced. I love the addition of the red and black bullseye and target stripes painted on so that you can score easily.
For scoring recommendations I would suggest something similar to an axe throwing scoring system which is:
If your knife strikes the bullseye, you score 6 points. 
If your knife strikes the area between the first ring and bullseye, you score 5 points. 
If your knife strikes the second ring area, you score 4 points. 
If your knife strikes the third ring area, you score 3 points. 
If your knife strikes the fourth ring area, you score 2 points. 
If your knife strikes the fifth ring area, you score 1 point.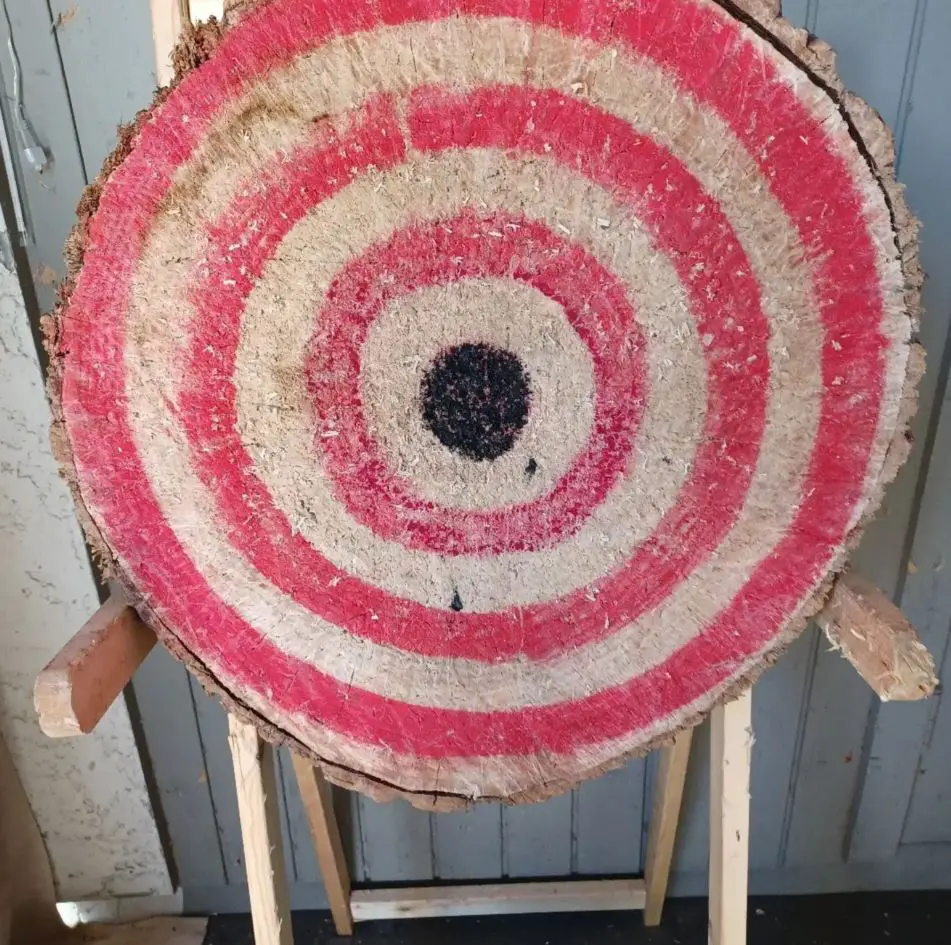 2. Multiple Options
The Nuclear Races Team has got this great setup with 3 target options per lane. This gives variations in height which is ideal if you have both tall and shorter people involved. It also gives a bit of fun as you can change your target whenever you want. This adds some variety and keeps the game fresh.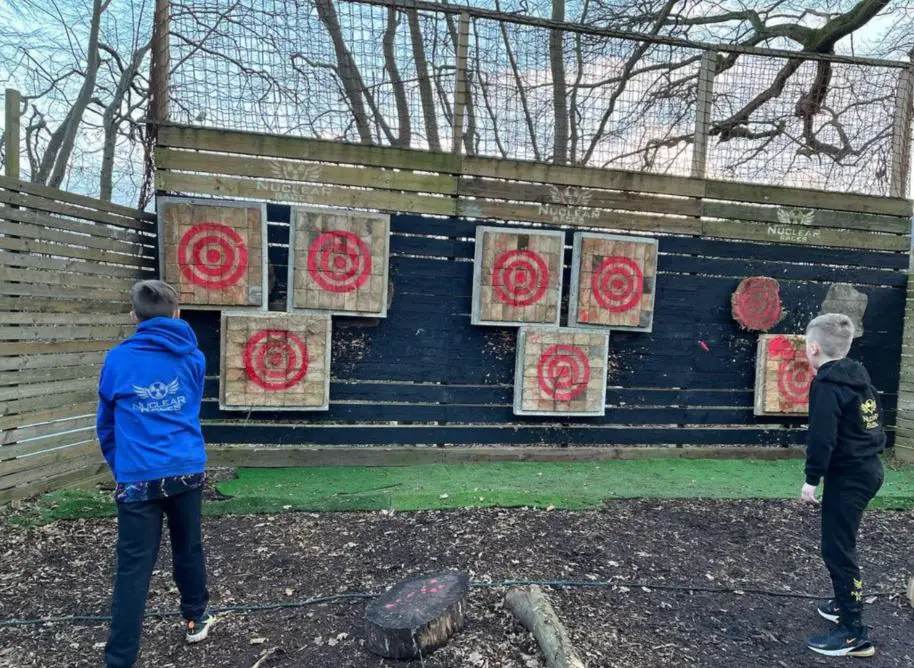 3. Hanging Slabs
Klim Knife has built this hanging slab design. This consists of 8 different wooden slabs held up against the wall by chains. This means that each slab can be easily replaced when they are worn out. It also means that you can change targets easily to keep the game interesting.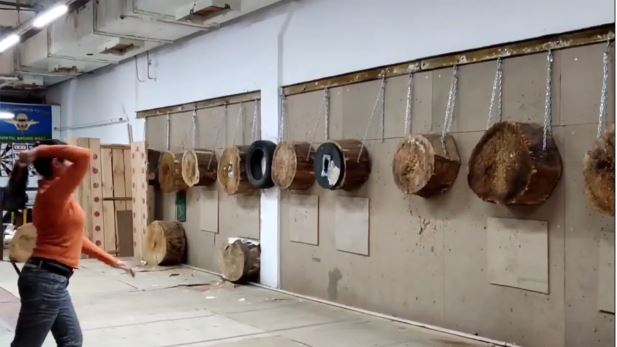 4. Portable Stand
Sztuka Rzucania's axe throwing target is made up of a simple wooden slab held up on a portable stand. This makes it extremely versatile and portable. You can move it wherever you want and don't need to have a solid wall to hang your target from. The stand is similar to an artist's easel and wouldn't take long for your to construct with a few leftover wooden beams.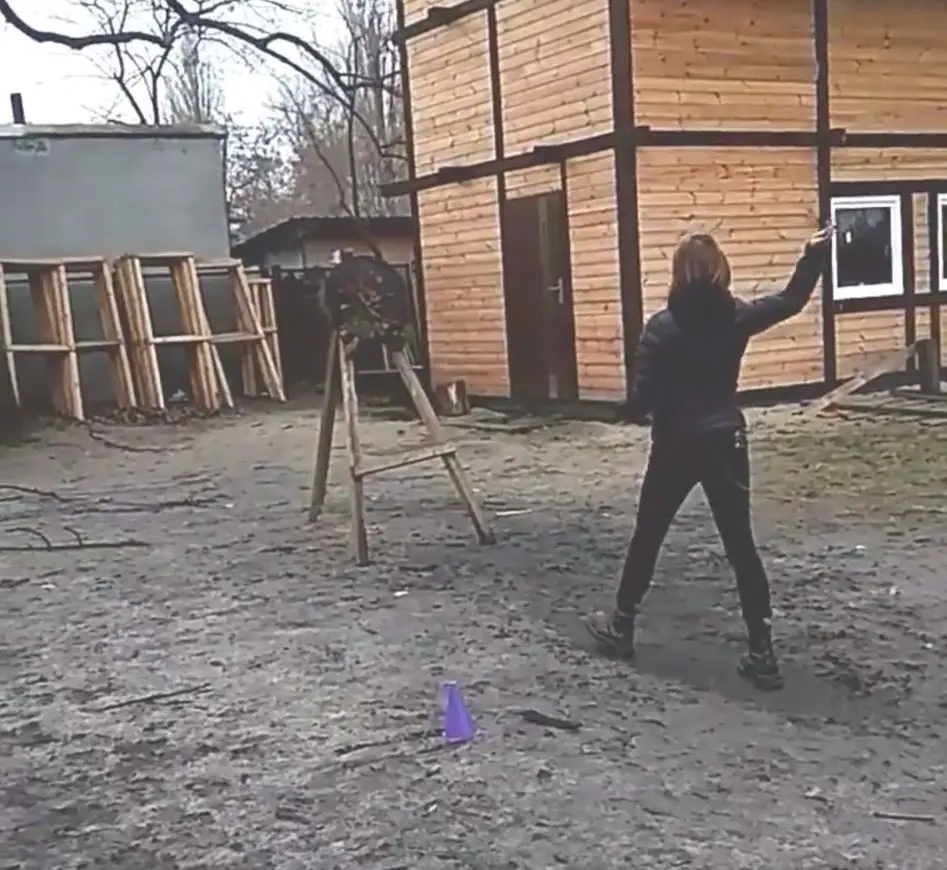 5. Heavy Duty Slabs
This axe throwing target by Camp Site Athens consists of 4 wooden slabs held up against a more heavy duty stand. It is placed in a field which means that you don't need to have a solid wall behind it but can utilize the empty field as a safety buffer instead. Although it could be portable, that wouldn't be easy. I love the idea of putting some bowling pins on top of the targets and throwing knives at them for a run variation.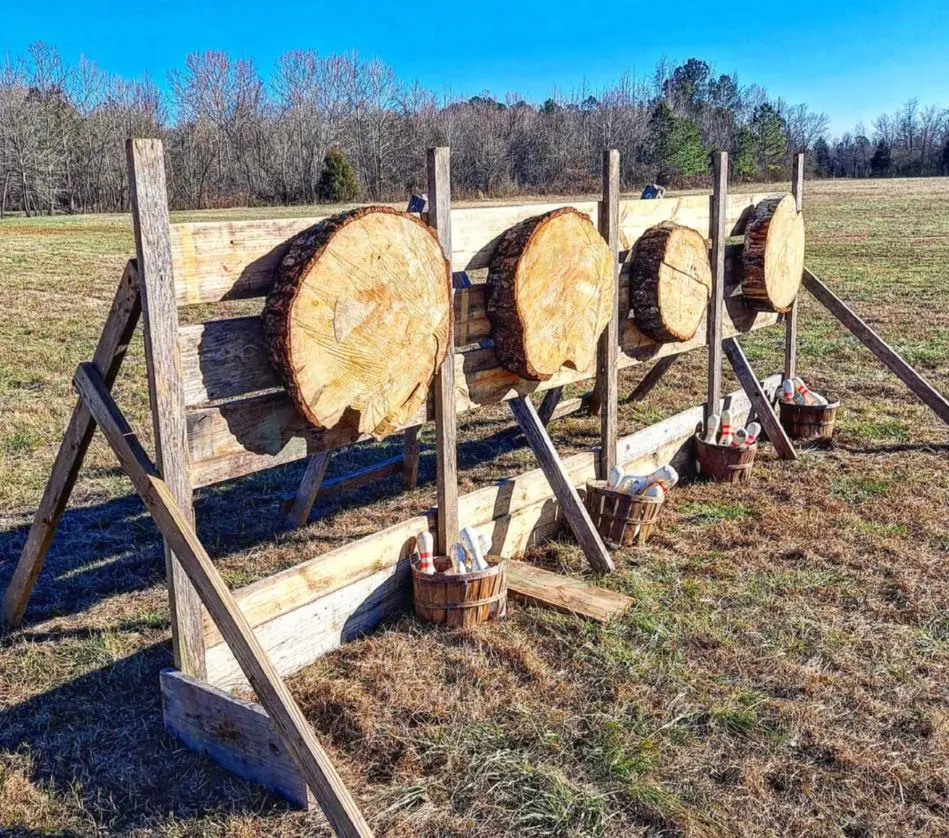 6. DIY Knife Throwing Target
ITS Tactical have put together this video of how to make an end grain knife throwing target at home. This is a more traditionally designed approach that you will see in a few of the following options. This tends to be more durable and individual blocks can be removed and replaced as required.
7. End Grain Target
Another end grain style DIY target by RC3. This uses a significantly larger block than the previous video so it can be easier to construct. The frame design is very popular and keeps all the blocks aligned so that you don't get too many gaps in between each section.
8. Tutorial for End Grain Targets
The Bladed Broad has put together this great video with End Grain targets. This is really well produced, and you can see the depth of those blocks. This knife throwing target will last a lifetime. While the design isn't anything special, those materials of construction really make it stand out. Remember, you can select any wood type and size that you want, so make sure you get a design that is both easy to make and long lasting.
9. $0 DIY Target
Survival Know How has put out this video showing a $0 (yes, that is free) axe throwing target. It is a very simple concept, so I won't ruin the surprise. Have a look:
10. Traditional End Grain Target
Finally is this end grain target by Burning Oak Forge. This is a more traditional design but you can see the sheer number of blocks used. This is quite a different variation of the previous videos of the same style that we have seen. You can add as many or as few blocks in whatever size you would like.
That brings me to the end of my list. If you are still interested in giving knife throwing at home a go then make sure you select high quality throwing knives.