Council Tool makes a range of sharp, tough, premium-quality axes and other large hand tools for both industrial and home use. Their axe line is a creation by American craftsmen and workers in their Lake Waccamaw, North Carolina factory. The Woodcraft pack axe is a portable axe made for doing all the work you might need to do at camp – felling small trees, splitting wood, but also rough carving and hewing and other key bushcrafting activities.
It's got a premium build-quality, using American steel that is heat-treated on both ends for extra strength, so it'll take everything you throw at it and more. Read on for a detailed review!
Solid Build for Serious Work
The Council Tool Woodcraft pack axe has something that many cheap, foreign-made axes don't – a build quality that makes it able to regularly deal with heavy-duty tasks. The axehead is heat-treated on both ends to ensure that you can both chop and use the butt of the axehead to hammer in stakes (and the axehead won't get scratched or dented, even with metal stakes). The Woodcraft pack axe takes a lot of abuse with ease and stays sharp and hard during work, so you don't have to sharpen it as often as softer steel axes.
It's made with premium quality material that offers outstanding durability even after performing heavy-duty tasks. You'll also receive a high-quality leather sheath that will make it comfortable to carry around and also keep the blade safe from moisture and the environment.
Axehead
The head of the Woodcraft Pack axe is tightly secured to the handle which will enable you to exert maximum power while chopping or slicing the woods. The head weighs 2 pounds which helps deliver more force with each blow, leading to more bite and easier felling of trees. With a 25-degree flat grind and a profile (or cheeks) widened with some creative forge work, the Woodcraft pack axe works well as a splitter of wood, too – not just a cutter. Finally, since both ends of the axehead are heat-treated to harden them, the butt of the axe can be used to hammer in stakes – and it won't dent or get scratches even while hammering in metal ones.
The head is made with American 5160 steel. It's hardened to low-to-mid RC 50's. The head is made by humans (not an automated assembly line) and manually adjusted, which ensures a high level of craftsmanship.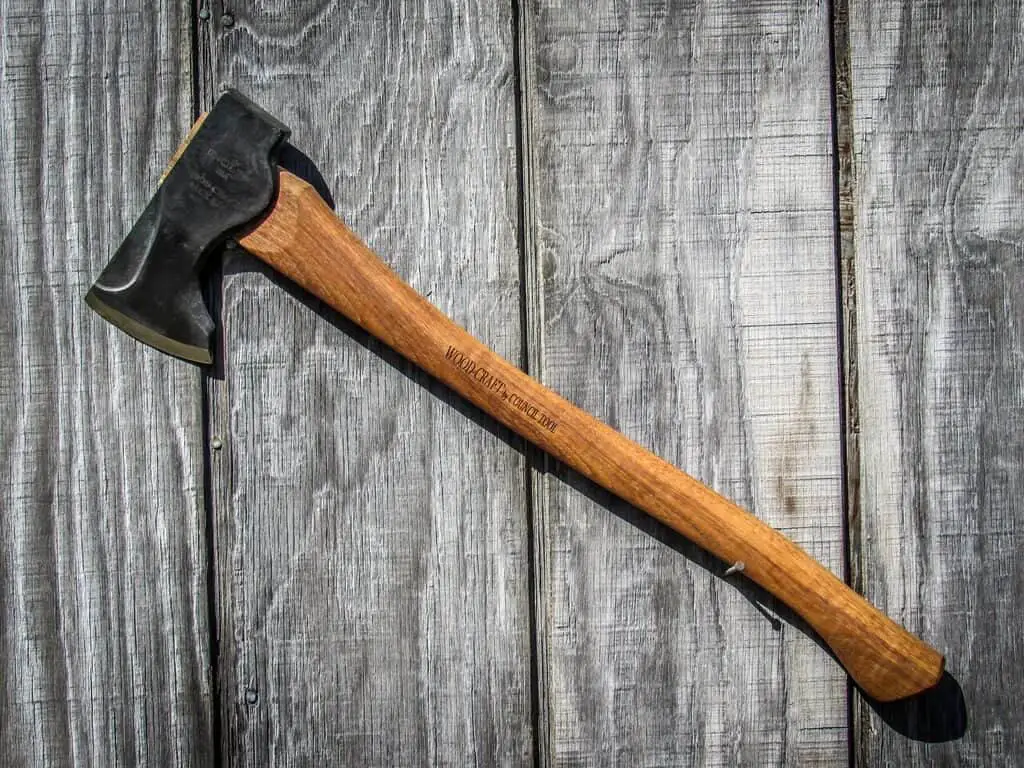 Handle
The handle of the Woodcraft has a sturdy construction as they're made with premium grade Hickory. The handle is sized at 19" which offers good space for you to properly grip it with both hands on the handle. It's small enough, though, that you can use it one-handed without any problem – it's like a large hatchet in that sense. The Woodcraft has a nice straight grain orientation throughout. The palm swell is there in lamb's-foot handle end which allows the user to have a nice solid hold at the end of the handle.
The 19-inch handle (that's before the axehead is fitted) might be too small for some. You can get the Woodcraft pack axe with an extended, 24-inch handle, too, in case you need bigger swings and more power to work on larger trees and pieces of wood.
Wrapping Up
The Council Tool Woodcraft pack axe is a very solid all-round camping axe. It's small enough – 2.6 pounds in total – to strap to a backpack and carry around on multi-day trips, but it is heavy enough to have a mean bite and do all the things you would usually need while camping. One great thing about it is Council Tool's customer service. As a US-based company, doing right by the customer and their reputation is important to them.
If you get a defective axe – as occasionally happens with any product, handmade or not – they will replace it no questions asked. Whether you need to fell,split, carve, hammer, or hew, the Woodcraft pack axe will do that work faithfully and effectively. It's what it's made for – all the possible camp tasks you might need to do.
All in all, a very good axe and, while the quality is reflected in the price, you get what you pay for with this one – American technology and craftsmanship coming together to create something that will serve you well for years and even decades to come. You can also buy a replacement handle straight from Council Tool if it ever does break from use and misuse.