If you're looking for a lightweight axe with a traditional Viking design that is good value for the money (affordable), the Cold Steel Norse Hawk is probably one of the top five you should consider. Cold Steel has a wide range of tools and the Norse Hawk is one of their most popular products.
This axe has a sleek, simple, and sturdy design which makes it an excellent choice for rough work for extended periods in the outdoors – or even just historical reenactments and axe-throwing competitions. Read on for a detailed review of the Cold Steel Norse Hawk!
Drop forged axehead
Wide curved cutting edge that terminates in horns
Premium 30 inch long American Hickory handle
35.4 ounces weight
Cold Steel Norse Hawk Design
The Cold Steel Norse Hawk has a solid construction based on a simple, classic design. A curved, symmetrical four-inch cutting edge has its place on a carbon steel axehead (which has no poll aka butt) fitted onto a straight hickory handle. It's dimensions of 3 x 10 x 12 inches with a weight of only 1.4 pounds. This tomahawk is lightweight which makes you easily operate the tool without getting fatigued. Unlike many modern tactical tomahawks, which are made out of steel, the Cold Steel Norse Hawk is a classic design and so has a wooden handle. That's fine, though, because the simplicity of the handle means that it's easy to replace in case you ever do need to change it or even want to change it up to make it longer or shorter.
Axehead
The head is made with drop forged 1055 carbon which offers a serious amount of strength and cutting potential. It's available in both with or without sheath variant. However, the sheath makes it easier to carry around and make it less prone to accidents such as biting its owner or user. A drawback is that the edge comes sharp but rough, so you'll probably want to sharpen it to perfection. Also, Cold Steel paint the axeheads black, so if you want a more traditional and authentic-looking Norse 'hawk you'll have to strip the paint and polish the axehead, which isn't hard at all and which is actually quite fun (more on projects with this axe later).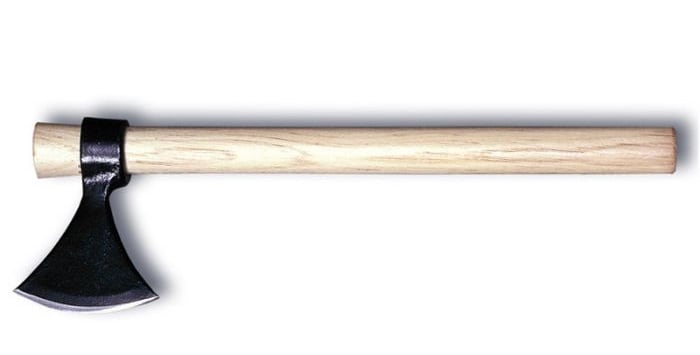 Handle
The handle of the Norse Hawk is made with American hickory that offers outstanding durability and performance. The overall length of the tool is 19-inches which enables you to hold it with both hands if you so desire. The top of the handle has a bit of a swell to make sure that the axehead stays in place.
One of the cons of the handle is that it comes with a lacquer finish. In my opinion this makes the handle slippery, especially when wet. That's why I sand or chemically strip off the lacquer and then just treat it with a vegetable oil or some BLO (boiled linseed oil). Luckily that takes very little time and you end up with a handle that both feels and looks nice to use.
Great Axe for Projects and Upgrades
Another thing that I think is great about the Cold Steel Norse Hawk is that it's an excellent axe to modify and upgrade for yourself, as a gift for a friend, or for a child. It's inexpensive enough that you won't be afraid to mess it up like you might be with a pricey Swedish axe. You can do lots of things with it – from removing the lacquer on the handle and re-treating it, to stripping the paint from the axehead, shining it by using some rough-grit sandpaper, and then polishing it to perfection. You can acid etch the steel as well, or carve runes or something else into the handle. Wrapping it in leather is an option, as is staining it to get a color more to your taste. The Cold Steel Norse Hawk is fine out of the box, but with just a bit of time and elbow grease, you can really make it shine.
Just check out this video of an upgrade to the Norse Hawk – you'll hardly believe it's the same axe!
Final Thoughts on the Cold Steel Norse Hawk
The Cold Steel Norse Hawk is a great, fun tool that you'll love having in your collection. It's super convenient and easy to use. It's also a great basic axe that can really be modified and upgraded to your heart's desire – a great solo project or something to do with the kids. So, if you're looking for a budget-friendly axe made with quality materials then do give the Norse Hawk a try – I think that you'll be quite happy with it!