The best firewood carts offer durability, easy maneuverability, large load capacity, and efficient transportation of firewood.
The Sunnydaze Firewood Cart is my top choice because of its high 150 pound carrying capacity, lightweight tubular design, and heavy-duty wheels. The open sides allow you to fit more firewood. It is ideal if you need to move a lot of firewood across uneven ground.
If you are like me and store your firewood some distance from your house, you must get a heavy-duty firewood cart. This allows you to move large quantities of firewood logs between your stack and your fireplace. It can also function as temporary storage daily or weekly as you add more logs to the fireplace.
But dozens of options are available online or in your local hardware store, so it can be challenging to pick between them. Based on their capacity, quality, and durability, I have put together my top 5 firewood carts in this article. A comprehensive buying guide at the end also explores the important criteria and what to look for.
I tested each cart by moving several loads between my home and firewood storage, across multiple surfaces including gravel, grass, and concrete. I rated each cart based on their performance, workmanship, durability, and value.
Excellent 150 Pound Carrying Capacity
Heavy Duty Off-road Wheels
Tubular Steel Design
Portable, Lightweight Option at 21 Pounds
Heavy Duty Steel Design at 42 Pounds
Elevated Base to Avoid Termites
Limited 50 Pound Carrying Capacity
This Cart with Last for Decades
Plow & Hearth Rolling Wood Caddy
Largest Wheel Design for Uneven Ground
Galvanized Steel Construction
Lightweight Design at 19 Pounds
Excellent 150 Pound Carrying Capacity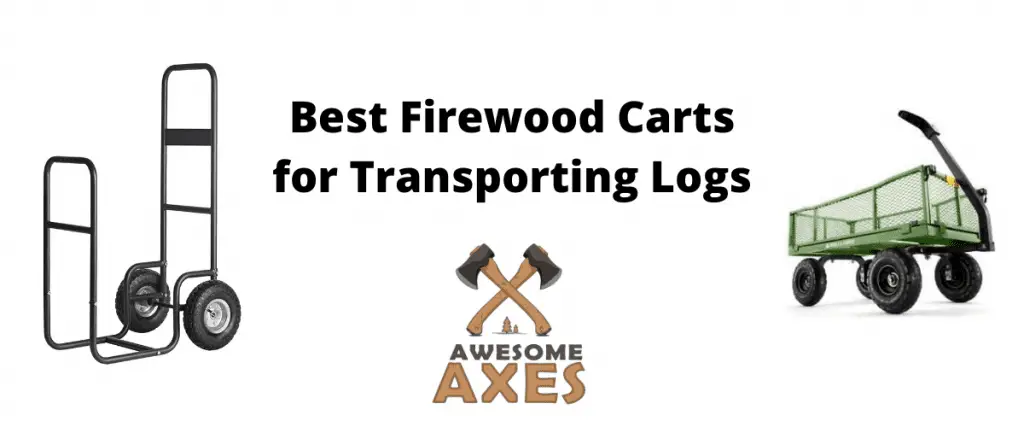 There are two main designs for firewood carts – the wagon model and the trolley option. They both have their own advantages and disadvantages based on carrying capacity and maneuverability. I prefer the trolleys as they can move upstairs or over uneven ground more easily, even if they cannot carry as much wood.
With that in mind, let's dive into the best firewood carts list, starting with the Sunnydaze cart.
1. Sunnydaze – Best Firewood Cart
The Sunnydaze firewood cart tops the list and earns my rating of the best overall option. It has an excellent carrying capacity of 150 pounds of firewood. Depending on the weather, your location, and the size of your house, I budget for 100 lb of firewood per day to keep your home warm throughout winter. This firewood cart has excess capacity, so you can safely store an entire day's worth in the depth of winter. In the spring and fall months, you may be able to get up to a week's worth of firewood if you are only burning at night.
I also like the tubular steel design – this makes it both lightweight and strong. It only weighs 21 pounds, empty, which is easy enough to move on its heavy-duty wheels. I could roll this over uneven ground and pull it upstairs relatively easily – or at least easier than some of the other brands.
The open sides allow you to store longer than standard logs if you cut them in uneven dimensions. This can be a problem in the wagon designs I'll show later.
The wide tyres could also handle being pushed or pulled through snow.
Specifications
Material: Steel
Height: 42 inches
Width: 21.5 inches
Depth: 26 inches
Weight: 21 pounds
Capacity: 150 pounds (1/8 face cord)
Pros
Open-sided walls so you can stack longer logs.
Stores more than one day's worth of logs.
The lightweight design is easy to move around.
Heavy-duty wheels are suitable for uneven ground.
Cons
The design allows the base to touch the ground, inviting termites if you leave it in one position for an extended period while fully loaded.
Verdict
The Sunnydaze cart is the best option based on its heavy-duty design, excellent capacity, and lightweight construction. I found it to be simple to use and wouldn't hesitate to make it my primary mode of firewood transportation.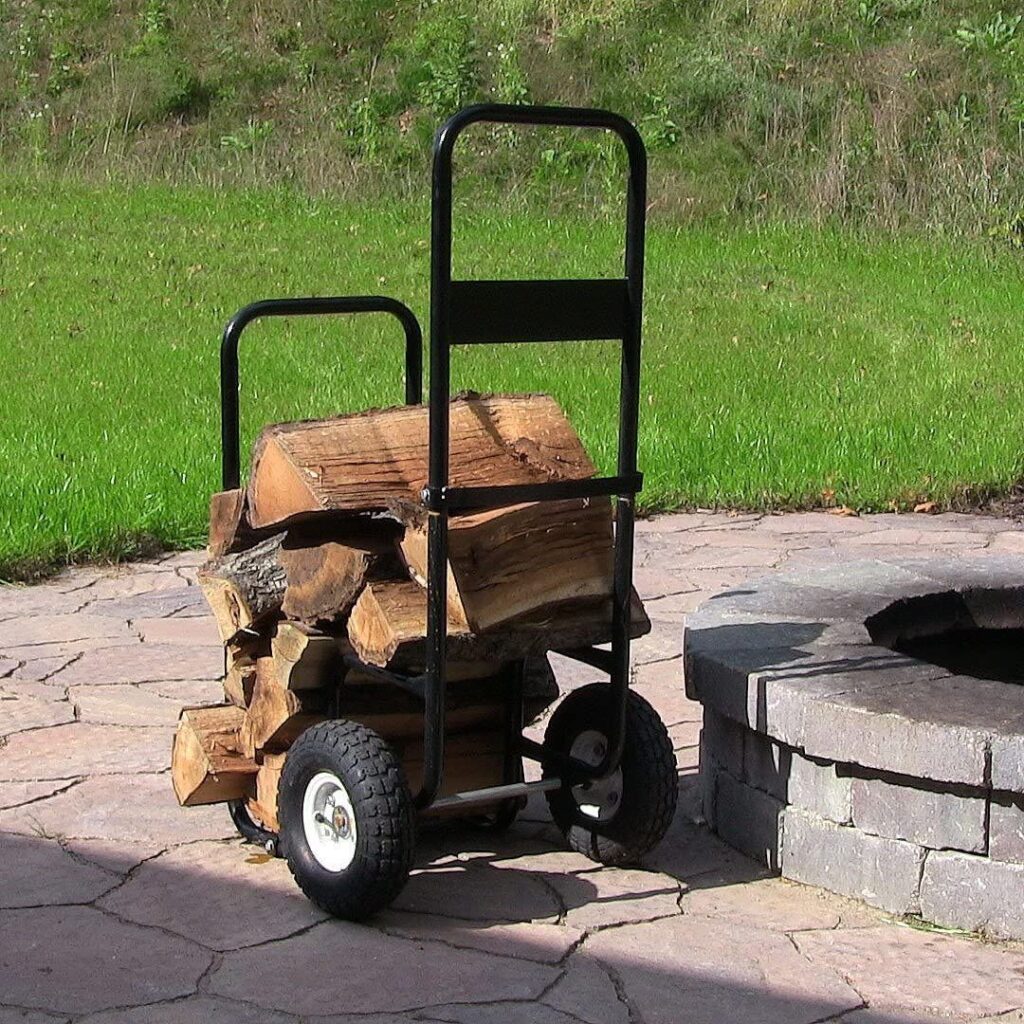 2. Vogelzang LC-37 – Best Heavy-Duty Log Cart
Second on my list is the Vogelzang LC-37, which I have rated as the most heavy-duty option. It is a heavy trolley weighing 42 pounds. This is because it doesn't use tubular steel but rather has flat steel, which adds to the weight.
I also like the raised base that helps prevent termites from moving into your firewood if you leave it full all summer. There is also no upper limit to the wood stack, so you can keep piling more and more on top – the heavy-duty construction will handle this easily.
The wheels are thinner than the Sunnydaze alternative, but I still found them acceptable. The combination of a heavier cart and thinner wheels means it does sink further into the soil, which you should consider if you need to move it through sand or snow.
The sides of the trolley are also open, which allows you to stack longer logs and uneven firewood. The manufacturer claims that it can only handle 50 pounds of carrying capacity. This is a big red flag because that is less than I would budget for in a day for the depth of winter – and I have no intention of getting a second cart of firewood when it is that cold outside. But I don't know where this number would come from – the cart's dimensions, the open sides and top, and the heavy-duty design allowed me to store 150 pounds of firewood on it without any problem. The only issue would be the thinner wheels that could sink into the soil if it is that heavily loaded.
Specifications
Material: Steel
Height: 45 inches
Width: 13.5 inches
Depth: 16 inches
Weight: 42 pounds
Capacity: 50 lbs
Pros
Open top and sides allow you to store uneven firewood dimensions.
This is the most heavy-duty construction on my list and will last for decades. There is no better way to get value for money than ensuring this is the only firewood cart that you ever need to buy.
Cons
The limited carrying capacity of only 50 pounds is a big issue, but I wouldn't have any problem overloading this cart if you have solid ground to push it over.
Verdict
If it weren't for the weight of the Vogelzang at 42 pounds, it would've been number 1. But the weight and the thin wheels have made it a close second. If you need the heavy-duty construction because you will be using it so often with extremely dense hardwood, it is the best option for you.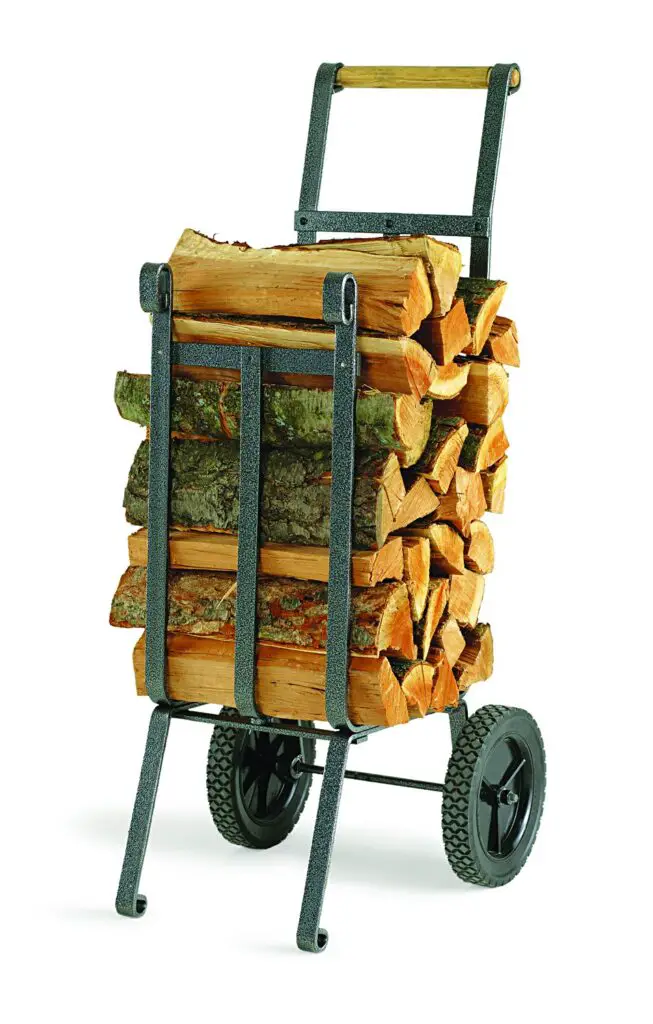 3. Plow & Hearth – Best Lightweight Wood Caddy
The Plough and Hearth wood caddy are at the opposite end of the weight spectrum. This is a very stylish design with huge bicycle wheels. At only 19 pounds, it is the lightest option while still being manufactured well from galvanized steel.
My main issue with this design is the amount of weight 150 pounds of firewood will have on the thin tyres when moving through sandy soil. If you will be moving over hard but even ground or upstairs, this is ideal. It will also dig through snow easily and punch down towards the ground.
It is also much wider in dimensions at the top of the firewood stack, so you must be careful with how much you stack or the trolley could tip over.
Specifications
Material: Galvanized Steel
Height: 43 inches
Width: 26 inches
Depth: 28 inches
Weight: 19 pounds
Capacity: 150 pounds (1/8 face cord)
Pros
Huge bicycle tyres make moving it up and down stairs extremely easy.
The carrying capacity is excellent at 150 pounds of firewood which should last multiple days.
Cons
The wide distance between the top of the handle and the top of the front support allows you to overload the trolley, which could cause it to fall over.
Verdict
This firewood cart is designed for extremely specific purposes. It is lightweight with wide diameter but thin wheels that make it ideal for moving across uneven but hard ground. If you have sandy soil, then it will certainly bog down.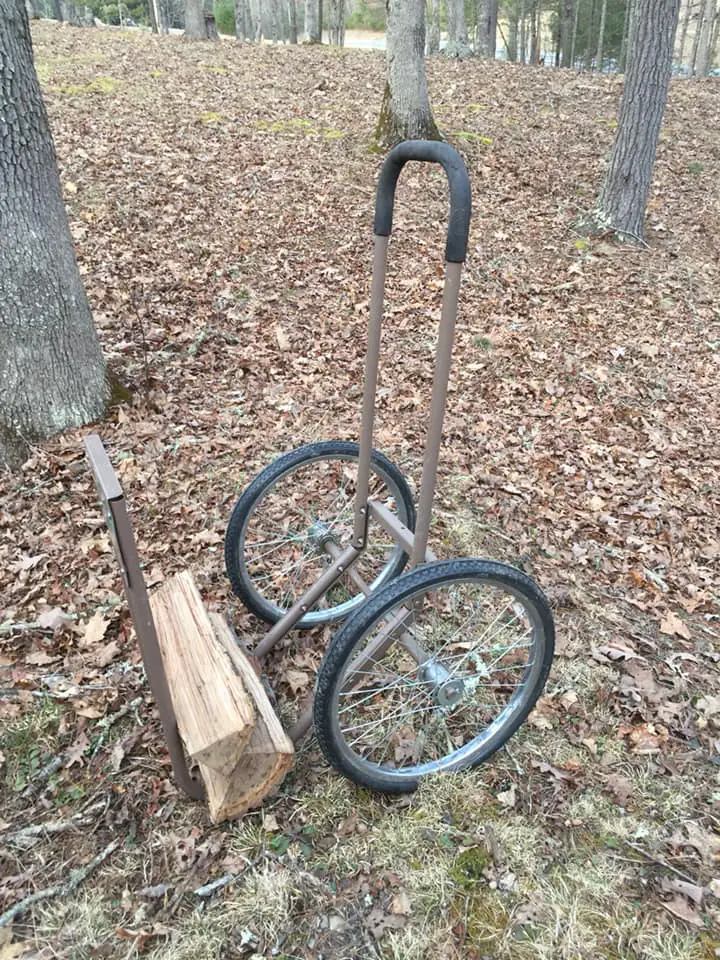 4. Gorilla Carts Wagon – Highest Capacity
The next option is a wagon design cart but Gorilla Carts. This has a huge 400 pounds of carrying capacity, which would almost get you through an entire week of burning, even in the middle of winter. It has no upper limit, so you can probably stack even more. This is by far the highest carrying capacity cart that I have tested.
It also has four wide, heavy-duty off-road wheels. These are extremely well made, and you won't have problems pulling them across uneven ground. The downside is that you won't be able to move this up or down stairs, so think about the most common pathway you will be moving your firewood between your stack and fireplace.
The other downside is that the sides limit your firewood to a maximum length of 18 inches. Personally, I think this is fine as I normally cut my firewood much shorter, but it is important to keep in mind.
Specifications
Material: Steel
Width: 18 inches
Depth: 24 inches
Weight: 38 pounds
Capacity: 400 pounds
Pros
An extremely high carrying capacity of 400 pounds will likely get you through an entire week of firewood.
The wheels are well made and will handle any surface you need to pull it over.
Cons
You can't move this wagon up or down stairs, so think about the route you will use before purchasing.
The sides limit the firewood to a maximum length of 18 inches.
Verdict
This is another great option better suited for anyone with a substantial home burning high quantities of firewood or who doesn't want to go and get more firewood every day. It is well-constructed and durable.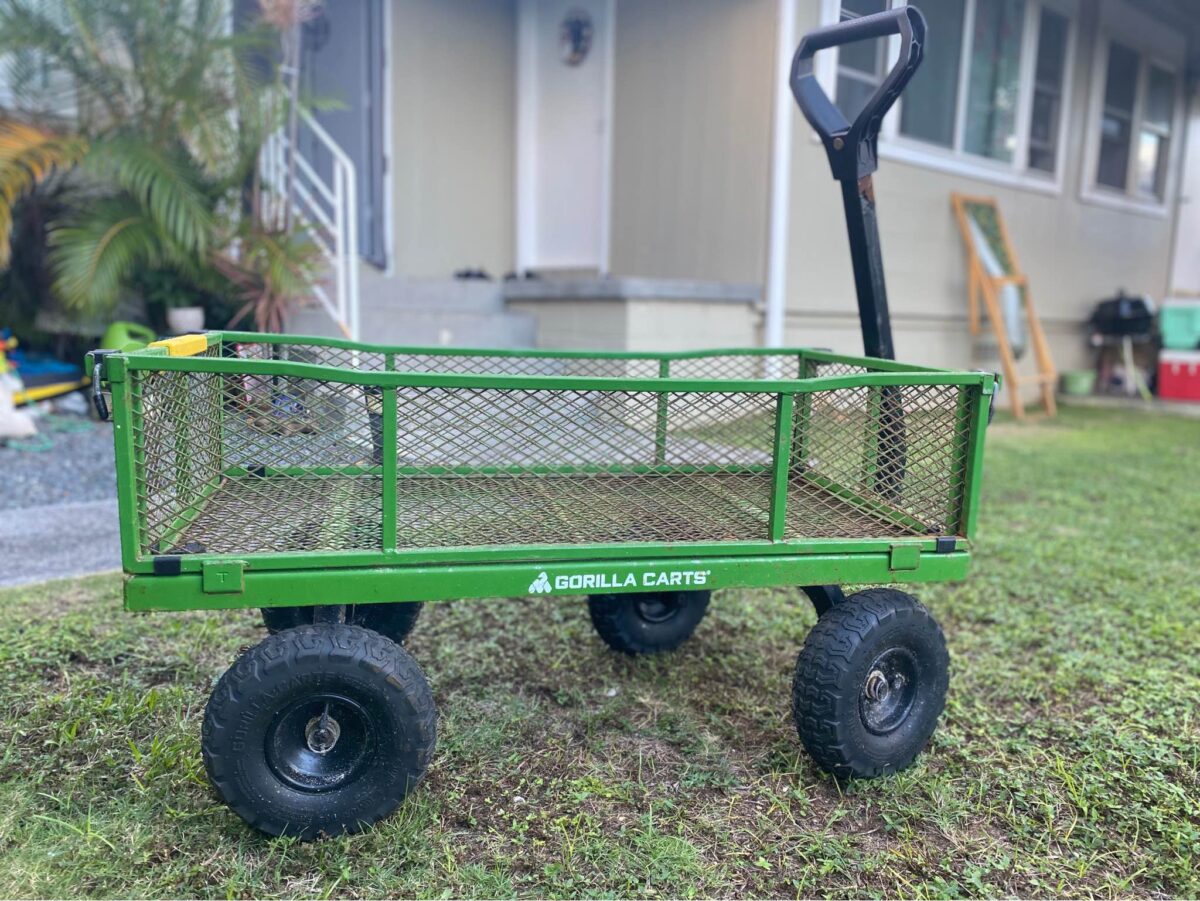 5. Shelter Logic Firewood Cart
Finally, last on my list is the Shelter Logic firewood cart. Even though it is last on the list, this is still an excellent cart I would happily use myself. There are plenty of other options that I didn't bother testing.
It has an excellent carrying capacity of 250 pounds due to its height of 38 inches. You can stack a lot of firewood on this trolley.
It is made from tubular steel, which makes it strong and lightweight at only 25 pounds. The wheels are heavy-duty but also wide. The combination of carrying capacity and the wide wheels means it can handle snow or sandy soil without too much of a problem. You can also pull this cart upstairs as long as you have the strength – I wouldn't load the full 250 pounds of firewood if required.
It does place the base of the firewood on the ground, which is good for the stability of the cart, but as I've mentioned above, it does mean that termites can entire your firewood if you leave it in one position throughout the summer months.
Specifications
Material: Steel
Height: 38 inches
Width: 21 inches
Depth: 24 inches
Weight: 25 pounds
Capacity: 250 pounds
Pros
Lightweight and strong design with tubular steel at only 25 pounds.
The extremely high carrying capacity of 250 pounds of firewood.
Wide heavy-duty wheels can move across uneven ground.
Cons
The base places the firewood on the ground, inviting termites into your firewood.
Verdict
Even though this is the number 5 option, I wouldn't be unhappy to have this as my primary mode of transportation. Although the manufacturer claims it can load 250 pounds of firewood, I would likely limit it to around 150 pounds for ease of use. The wheels are well made, and it is simple and functional.
Firewood Cart Buying Guide
You can choose from dozens of different brands and models of firewood carts. They generally fall within two categories:
Trolley Design
Wagon Design
Selecting the ideal option should be based on your circumstances. The first step is to consider the route you will take between your firewood supply and your fireplace or firepit. If you need to take firewood up or down stairs, this will limit you to a trolley design.
The other aspect is the ground condition. If you have sandy soil or snow coverage, you must pick wider wheels that won't sink into the ground when fully loaded with firewood. I would recommend selecting a heavy-duty wheel anyway, just for durability improvement.
Carrying Capacity
The next aspect is the carrying capacity. I base this on how much firewood I would use on the coldest day in winter, which is generally around 100 pounds in my environment. If you have a larger home or live somewhere colder, you may need more than this, pushing you towards a higher carrying capacity.
The alternative is if you will be using it to move firewood towards an outdoor fire pit, then you may only need 50 pounds of carrying capacity.
Materials of Construction
The materials of construction are important for ensuring long life. Remember, you will be placing a lot of weight on this cart, and it needs to be able to handle these forces. Most high-quality carts are made from steel – I wouldn't recommend anything else.
Dimensions
The dimensions of the cart, especially the width, can impact its performance. Most firewood is cut to around 12 inches in length, and all of the carts listed here can handle that. But if you want to move longer logs to an outdoor firepit, this is a key consideration. I prefer open width carts that don't limit the size of logs that I have processed.
Many carts also have open sides or open tops that allow them to be overloaded. This can cause safety issues if the cart falls over or the wheels get bogged in the soil or snow.
Frequently Asked Questions
How Large Should Firewood Cart Wheels Be?
Heavy-duty cart wheels should be at least 10 inches in diameter. This allows the cart to maneuver over uneven ground like rocks or roots without falling over. Thin wheels will also get stuck in the soil when the weight of the firewood is applied. Selecting high-quality wheels is an essential decision when comparing firewood carts.
How Much Firewood Should a Cart Hold?
This depends on how much firewood you will burn in a day and how often you want to reload your firewood cart. I recommend selecting a cart that will hold at least 100 pounds of firewood so that you can cart an entire day's worth, even in the depths of winter. Some wagon-style designs can hold significantly more than this, and you could, even more, an entire week's worth of firewood at a time.
How Much Firewood Do I Use in a Day?
You will use up to 100 pounds of firewood daily, depending on your location, weather, and house size. This will be significantly less as the weather warms up or if you are burning firewood for camping or outdoors. You should also budget for more firewood than you need so that you never run out.

It also depends on the type of firewood you will be burning. Different wood has higher or lower heat production, so hardwood can produce significantly more heat than softwood. Look through this list of firewood BTU to understand how your selection of firewood impacts the quantity required.
Conclusion
There are so many options available, both online or in your local hardware store, that selecting a firewood cart that suits your needs can be challenging. The first step is understanding your requirements – how much firewood you burn daily, how often you want to restock, and the route the cart needs to travel over. This gives you clear guidelines about the carrying capacity and the wheel design, which can help narrow down the options.
I rate the Sunnydaze Firewood cart as the premier option based on its quality construction, heavy-duty wheels, and excellent carrying capacity. It can travel over almost any surface and can hold enough wood for even the depths of winter.
If you have any questions or comments, please email me your thoughts.