The best folding saws for bushcraft have a 6 to 10-inch blade, weigh less than 10 ounces, have a non-slip handle coating, and have a locking safety mechanism.
The Bahco Laplander Folding Saw is my top choice because it is sturdy and well made with a special anti-rust and friction reduction coating. it features a 7.5 inch sawblade with replacement blades to choose finer or coarser teeth. It is ideal for campers looking for a tool that is durable enough for limbing trees and clearing brush.
A folding saw is such a handy tool to have with you when bushcrafting, backpacking, or camping. They're light, take up little space when folded, and allow you to do so many things – make clean cuts in green and dead wood, cut through bone, clear brush around your campsite, build a shelter, prepare wood for burning or transporting and more.  This article is an in-depth review of my top picks for the best folding saws for bushcraft, backpacking, camping, and includes budget and higher-end choices.
I took all of these saws with me on my latest backpacking trip, and tested them on various tasks, including limbing trees, clearing brush, and preparing kindling. I judged each based on their performance, durability, and comfort.
7.5-inch Blade Length with 7 Teeth Per Inch
Two-Piece Hard Plastic Handle with Leather Strap
Anti-Rust Coating for Low Friction
Safety Lock for Protection
7-inch Blade
Ultralight at Only 5.5 Ounces
One Touch Blade Locking Mechanism
Value for Money, No Frills Option
Double Row of Teeth in 7-inch Carbon Steel Blade
6.3 Ounces in Weight
Beachwood Handle
Made in France
You'll also find a short buyer's guide at the bottom, with frequently asked questions answered and folding saw tips given (for example, think about greenwood and drywood blades and teeth!)
Finally, if you don't have much time, I've created a handy little comparison table of folding saw models below with the most relevant information and my own comments.
1. Bahco Laplander Folding Saw
At the top of the list is the Bahco Laplander folding saw. This is my pick for overall best all-round folding saw. It's compact, but not small – people with large hands can hold it comfortably just fine, nor is the sawblade so short that it would be a pain to deal with larger branches or other pieces of wood. The sawblade is 7.5 inches long, the handle is 9 inches, for an overall length of 16 inches when unfolded, and a weight of 7 ounces or 200 grams. 
The Laplander folding saw is also well put together and sturdy – I noticed that the hard plastic handle and folding mechanism are well-constructed and will take as much work as you can put them to without problem. The sawblade has a special anti-rust and friction reduction coating, so that's another feature that makes it easier to use than other folding saws and means you can worry less about moisture damage. I did notice the low friction coating did help to prevent the saw from getting stuck in the wood.
The only thing I can really mention as a negative is the color of the handle – it's a dark forest green color and the sawblade is black – it was easy to lose track of if you're packing up in a hurry or not paying the closest attention to it. If you're worried about it, that's easy enough to solve with some DIY creativity, like bright red electrical tape or something along those lines.
Overall the Bahco Laplander is very good value for the money, made by a company with lots of experience in a country known for its saws and axes (Sweden).
You can also buy replacement sawblades for it, and blades from other Bahco folding saws will fit on it, too (standardized mounting design) – so if you want a sawblade with finer or larger teeth, you can get that, too.
I have also written a comparison between Bahco Laplander and Silky that will give you more details.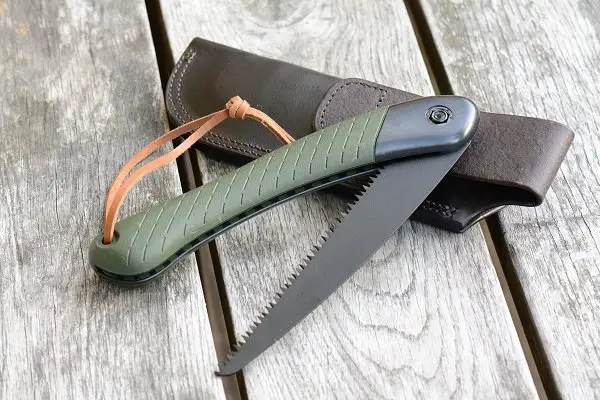 Pros
The Bahco Laplander folding saw is compact yet comfortable to use, even for those with larger hands, like myself.
The saw is well-constructed with a sturdy handle and folding mechanism, designed to withstand heavy-duty use.
The sawblade is coated with a special anti-rust and friction reduction layer, increasing the tool's lifespan and efficiency.
Given its features and the reputation of the Swedish company behind it, the Bahco Laplander offers good value for the money.
The saw allows for blade replacements and is compatible with blades from other Bahco folding saws, offering flexibility.
Cons
The dark forest green color of the handle and the black sawblade make it easy to lose track of, especially in outdoor environments.
To counter the issue of the color, you might need to use some DIY solutions like brightly colored tape or paracord.
2. Coghlan's Sierra Folding Saw
Coghlan's Sierra Saw is a very light folding saw that I think is underappreciated. It certainly doesn't get as much hype as the Bahco Laplander or Silky folding saws, but Coghlan's Sierra is an "ultralight" folding saw that doesn't call itself "ultralight" and certainly doesn't come with the "ultralight" price tag. What I mean to say is that this folding saw, which has a 7-inch blade (overall length 16 inches) and that weighs only 5.5 ounces (155 grams), is excellent value for money for a no-frills folding saw. I liked the "one-touch system" that locks the blade in place when open or closed.
Some people have commented that the saw feels "flimsy" and the blade bends, but I have a feeling that's because of the weight of the saw itself. I didn't notice any flimsy feel to it myself. The handle is made out of plastic, but then again, so are the handles of almost all other folding saws on the mass market. The same goes for saw blades – as with all saws they will bend with excessive force, but you should not be forcing so much that the blade bends, instead let the teeth do the work. 
Overall Coghlan's Sierra is a great folding saw if you're looking for something lighter than similar-sized folding saws for half or a third of the price of other saws.
You won't be getting premium cutting quality of the sort that Japanese saws deliver, but for this price the Sierra performs just fine.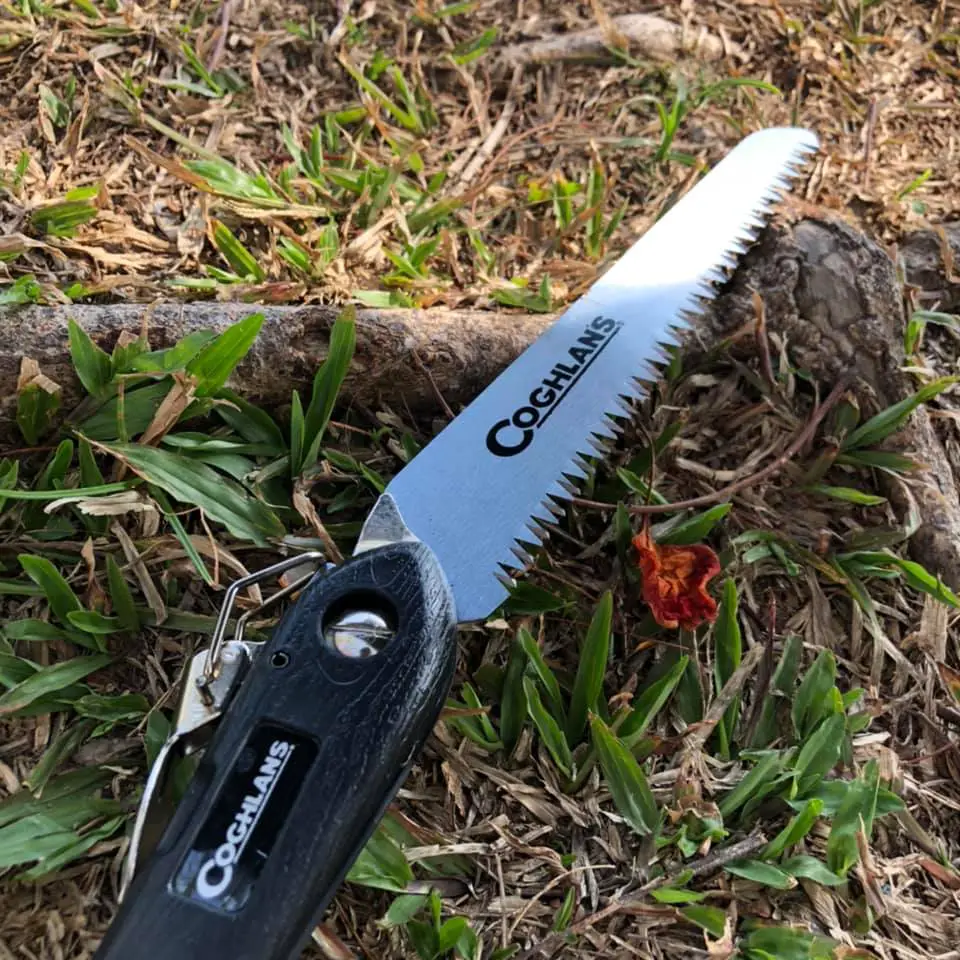 Pros
The Coghlan's Sierra folding saw is extremely lightweight, making it easy to carry and handle.
Given its features and functionality, it offers excellent value for money, particularly for those looking for a basic, no-frills folding saw.
The one-touch system that locks the blade in place when open or closed is a convenient feature that enhances safety and ease of use.
Cons
Some users have commented that the saw feels flimsy, and the blade may bend under pressure.
The handle is made of plastic, which, while common among folding saws, may not offer the same durability and comfort as other materials.
While it performs adequately for its price, the Sierra's cutting quality does not match that of more premium saws.
 3. Opinel No. 18 Folding Saw
Weight: 6.3 oz
Blade length: 7 inches
Folded length: 7.15 inches
Open length: 14.15 inches.
Next up is the Opinel brand of folding saws. No. 18 refer to the length, in centimeters, of the sawblades, so the No. 18 is 7 inches long. I love the feel and aesthetics of the beechwood handle. There's nothing quite like a wooden handle when working outdoors, for me at least. It feels timeless. Probably romanticizing it a bit, but that's how it is for me.
Opinel are also highly-regarded as a toolmaker. They are based in the French Alps and have been making knives and other tools since 1890. Many people in the US and UK remember Opinel knives as the "good" knives from their childhoods. These saws are no different.
The saw blade is made from carbon steel, with a special coating that provides some protection against corrosion and rust. The sawblades are replaceable, and the Opinel No. 18 folding saw has a safety latch that will keep it firmly locked in place while in use. It is also quite light as well – the No. 18 weighs 6.3 ounces.
The main drawbacks to the Opinel folding saws I noticed is that the saw blades will get damaged if you let moisture get to and stay on them (and carbon steel can be brittle, so care is necessary when using it). The wooden handles can also behave strangely if they get too wet. Some people have reported receiving saws with misaligned folding (meaning the teeth dig into the wood when closing)  – if that's the case, send it back as that is a manufacturing defect. My model didn't have any defects.
Overall, Opinel saws are good if you're looking for a more traditional-feel folding saw and have the extra coin to spend. They also produce a shorter No 12. model which has a 5-inch blade.
Suppose you're looking for something that will easily take prolonged use in adverse weather conditions without a hiccup, which is more of a "workhorse." In that case, I'd recommend picking the Bahco Laplander after all.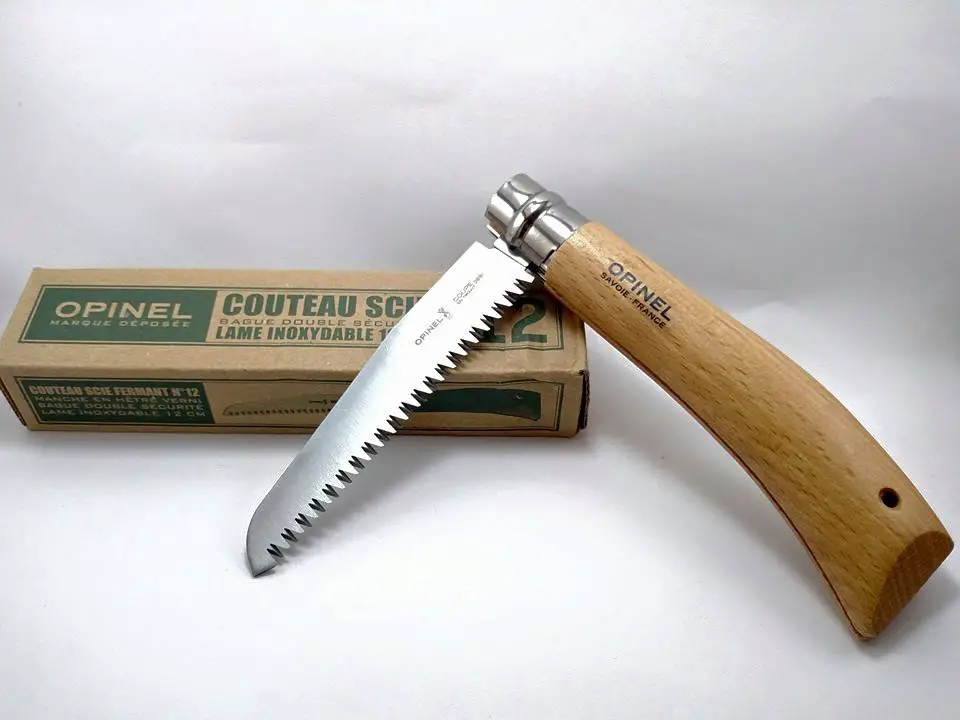 Pros
Opinel is a highly-regarded toolmaker with a rich history, which speaks to the reliability and quality of their tools.
The beechwood handle gives the saw a traditional, timeless feel.
The folding saw features a replaceable carbon steel blade, extending the product's lifespan.
The Opinel No. 18 is lightweight, which aids in ease of use and portability.
The safety latch feature ensures the blade stays firmly locked in place during use.
Cons
The saw blade can get damaged easily if exposed to moisture, which limits the product's usability in damp conditions.
The carbon steel blade may be brittle and require careful handling to prevent damage.
The Opinel saws are relatively more expensive, which might not be ideal for those on a tight budget.
4. EverSaw Folding Saw
This is a great little folding saw. The 8-inch blade is made from SK5 carbon steel, with triple-cut, hardened teeth that provides dependable cutting for a long time without re-sharpening. When open, it's just about 17 inches long, with a closed length of 9.5 inches. The EverSaw weighs 10 ounces and I loved the thermoplastic rubber handle which gives a firm grip and no slippage.
The bright orange gear lock fixes the blade in place but also serves as a good visual marker – makes the saw hard to lose around camp and easy to find. I'm not sure where it's manufactured, but the company is a family-owned business based in the US, and if you have any problems the seller is happy to address them or provide a replacement saw.
Finally, this folding saw is great value – less than $20 – and is used by all sorts of serious institutions, including Texas Parks & Wildlife, the Alaska Department of Fish and Game, California State Parks, the US Forest Service, the Bronx and Cincinnati Zoos and more. That has to count for something, right?
I didn't judge this as a top-performing saw during my testing, but it is certainly one of the most affordable.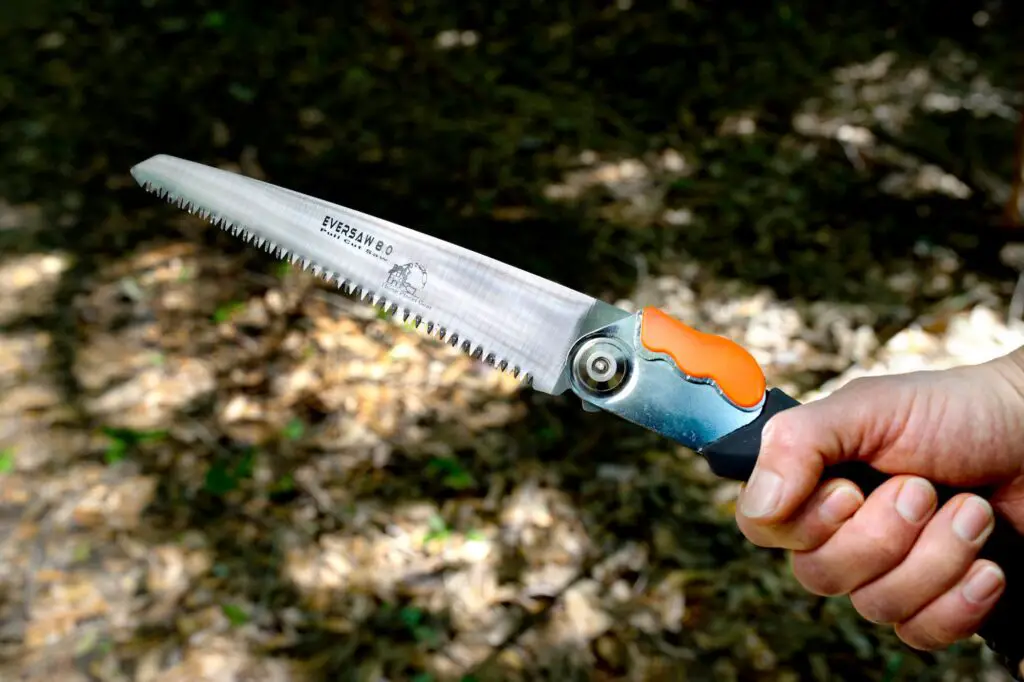 Pros
The saw has an 8-inch SK5 carbon steel blade with triple-cut, hardened teeth, providing long-lasting cutting efficiency without frequent re-sharpening.
The thermoplastic rubber handle ensures a firm grip and prevents slippage, enhancing safety during use.
The bright orange gear lock secures the blade in place and serves as a visual marker, making the saw easy to locate in a camp setting.
This folding saw is affordably priced.
Cons
At 10 ounces, this saw might be a bit heavy for some people, and can increase the weight of your backpack.
5. Sven Folding Saw
This saw gets an honorable mention because even though it is a bow saw, it does fold – so it is a folding bow saw and a very fine one at that.
Sven saws have been made in the US for over 60 years and have a track record of stable quality. Unlike other saws, you can be certain that any Sven saw you buy is manufactured in the heartland of the United States – Minnesota forestry.
It's made of all-metal and the simple, but the ingenious design means that when folded, the Sven saw takes up barely any space. The saw blade and backbar slide into the handle when not in use (and the wingnut screws into place to make sure they don't slide out), and you only have to unfold, fit the backbar into the holes on the handle, and screw in the wingnut to fixate the blade, create the iconic triangle shape, and have an incredibly rigid, sturdy, and ready-to-cut bow saw in your hand.
The Sven 15-inch folding saw weighs 11.1 ounces, which is not that much for what you're getting – an all-metal tool that folds up to take almost no space in your pack – and can comfortably cut 4 to maybe 6-inch in diameter pieces of wood. Any bigger than that and I'd recommend going with the 21-inch Sven saw model.
When ordering the base product, I'd recommend grabbing a replacement blade or two – if you haven't used a bow saw or are just unlucky, you might end up bending the saw blade, and it's always good to have a replacement.
Overall I highly recommend the Sven saw. In fact, if I don't have my Bahco Laplander on me – if I want to cut bigger stuff – I'll be carrying my Sven 21-inch saw.
It hasn't failed me so far and the design strikes a great balance between functional and portable – it's a real bushcraft saw, perfect for extended trips to the woods or the backcountry, reliable and highly-visible, so no need to fear losing track of it. It is a great piece of kit.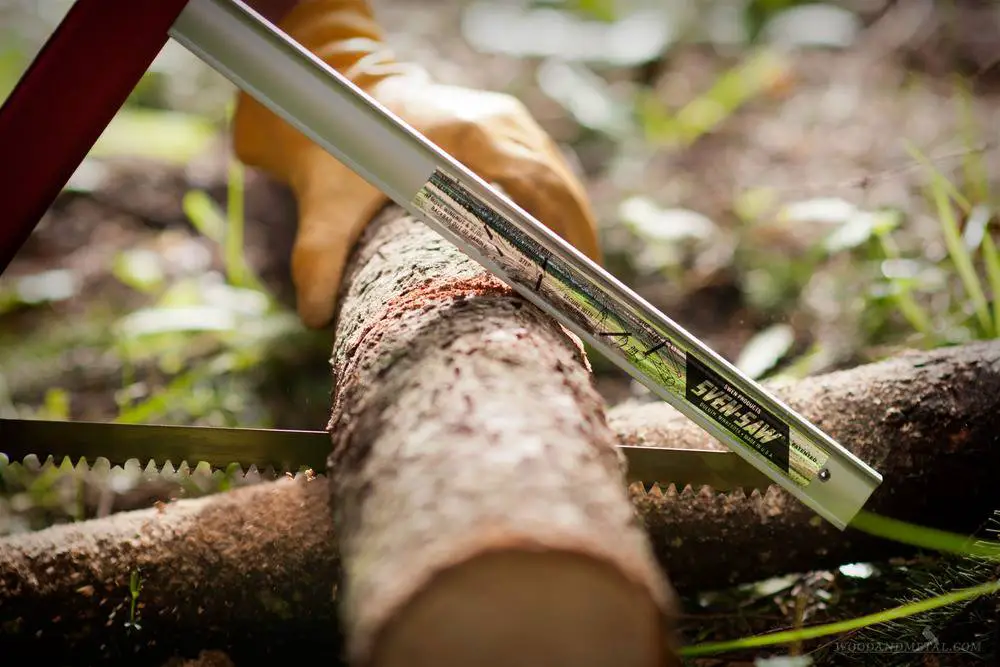 Pros
Sven saws have been made in the US for over 60 years, ensuring consistent quality and reliability.
The all-metal design allows the saw to fold into a compact size, making it easy to carry and store.
Once unfolded and assembled, the saw transforms into an incredibly rigid, sturdy, and ready-to-cut bow saw, ideal for cutting 4 to 6-inch diameter pieces of wood.
The saw is highly visible, reducing the chances of misplacing it during outdoor activities.
Cons
At 11.1 ounces, this saw is heavier than other folding saw models.
The saw blade might bend if not used correctly, making it essential to have replacement blades on hand.
Unlike other folding saws, the Sven saw needs to be assembled before use.
Guide to Choosing a Folding Saw
You should keep some important things in mind when choosing a folding saw – such as length of the blade, weight, number of teeth per inch, availability of replacement blades, and so on. Below you'll find the most important factors to consider when choosing a folding saw.
Intended Use
Think about what you want to use the folding saw for. It's not worth getting a large saw if you're only cutting up small pieces of wood for the fire or making simple structures. Likewise, if you're going on a long hike (say, a section of the Appalachian trail), you'll want something light, not heavy.
Also, if you're going to be using it a lot, I recommend spending the extra $10 or $20 to get a quality folding saw that you can rely on and make sure that replacement blades are readily available online or in a store near you.
Cheaper saws are fine for occasional use and day trips, but you want to have something good and reliable if your folding saw is responsible for processing the wood for a shelter on a multi-day backcountry trip, for example.
Teeth Per Inch
This is important to think about when buying a folding saw. Do you want a finer, but slower cut, or a faster, but rougher one?
The general rule is that the more teeth per inch there are on a saw blade, the finer the end cut is, but the slower the blade will get through the wood. The less teether per inch there are, the rougher the end cut but you'll finish it faster.
Greenwood vs Dry Wood
Teeth per inch is also important because a saw blade made for woodworking, with fine teeth and a lot of them per inch, will be a nightmare to use if you're going to be cutting hefty greenwood with it in the outdoors.
These kinds of saw blades will cut well in general, but may often get stuck and clogged up with the fibers, as tends to happen with green wood.
Dry wood tends to flake and crumble, falling out and away as the teeth pass through the cut. Saw blades made for greenwood specifically have less teeth per inch (what some call a "wider rake"), and will often be specified as such on the packaging.
If you're not sure – after all, the great outdoors contain plenty of green and dry wood alike – get a sawblade with medium teeth. Go for the Goldilocks approach – not too many teeth per inch, not too little. I've found the Bahco Laplander to be very reliable for both types of wood.
Locking and Safety Mechanism
It's convenient to have a locking mechanism on your folding saw – either single (locks only when the blade is opened) or double-locking (locks when both open and closed). With some folding saws it might be a button that you press, with others such as the Opinel No. 18 it might be a latch that you operate.
Either way, it's nice to not have to worry about the saw blade swinging down when open or out when closed.
Push or Pull
This one you won't have to think about too much. Most folding saws cut on the pull (as with Japanese style saws.) This allows the saw blade to be thinner, more compact. A pull-stroke cut gives you more control and allows you to make more precise cuts.
It's important to remember to pull the saw "gently"! You don't have to employ a lot of force to make the saw cut. Let the teeth do the work. If you force it, you'll only get it stuck in the wood or bend the saw blade.
Replacement Blades
Sooner or later something will happen that you'll need a replacement blade.
Either the teeth will go dull and you won't be up for sharpening them, or the saw blade will bend, break, or go rusty from moisture damage – a saw blade is not forever, so you should think about whether it's possible to replace the saw blade on your folding saw or whether you have to get a whole new folding saw in case of breakage.
Folding Saw vs Bow Saw
A folding saw is a small, compact saw that is easy to carry and store. It can be opened and closed with one hand. A folding saw is designed to cut wood up to 2-1/2 inches in size, but it can also be used for cutting drywall or plastic pipe.
A bow saw has a longer blade than a folding saw and is designed to cut larger pieces of wood. The blade of the bow saw has a curved shape that helps the user make smoother cuts by drawing the blade through the wood at an angle.
The difference between these two types of saws is that one is smaller and can be folded while the other has a longer blade with a curved shape, making it easier to cut through large pieces of wood.
Can you cut down a tree with a folding saw?
Yes, folding saws are ideal for cutting down small trees. You can also use them in combination by cutting the notch cut with an axe and then the felling cut with a saw. I would limit trees with a diameter of 6 inches or less to cut just with a pruning saw.
How much does a folding saw cost?
Depending on the brand and size, a folding saw will cost between $15 and $50. You should consider the design and quality when selecting the saw that suits your own requirements. The best way to get value for money is to pick a saw that will last for decades rather than buying a new one in two years after the first saw has broken.
Good luck choosing the right folding saw for your needs!