Hatchets are compact, wood-cutting tools with curved handles, while tomahawks have straight handles, bottom hafting, and a longer handle-to-head ratio. Designed for both weapon and tool use, tomahawks excel in self-defense, camping, and survival situations.
Although they have similar appearances, the tools are poles apart in design and usage. You can use a hatchet to chop firewood, but they won't help while hunting. Instead, the tomahawk is the ideal tool for hunting. 
To help you pick the right tool for the right occasion, we will discuss hatchet vs. tomahawk differences in shape, type, and usage. So, without further ado, let's dive in. 
Comparison: Hatchet vs Tomahawk 
Before jumping the gun, let's take a brief look at the key differences between a hatchet and a tomahawk:
| | | |
| --- | --- | --- |
| Features  | Tomahawk  | Hatchet  |
| Head Design  | Lightweight, detachable, single-blade, double blade, single with spike  | Heavy, not detachable, single-blade  |
| Cutting Edge  | 4″ length, sharp and tapered end, thin  | 4″ – 5″ length, sharp and tapered end, thick  |
| Handle Structure  | Longer, 19″ – 21″ length, lightweight, thin, rarely curved  | Very short, 12″ – 18″ length, heavy, stout, curved  |
| Usage  | Split wood, digging, axe throwing | Chopping wood, hammering nails, camping |
This table explains the differences between a tomahawk and a hatchet
What Is a Tomahawk? 
A tomahawk is a long single-handed ax with a shorter, narrower blade and a straight wooden shaft. As the blade is very thin, the tomahawk is lightweight and used in ax-throwing, hunting, and self-defense. 
Tomahawks fall into two categories as per usage: tactical tomahawk and throwing tomahawk. Tactical tomahawk is used by campers, crafters, and military troops. On the other hand, throwing tomahawk is specialized for sports and games.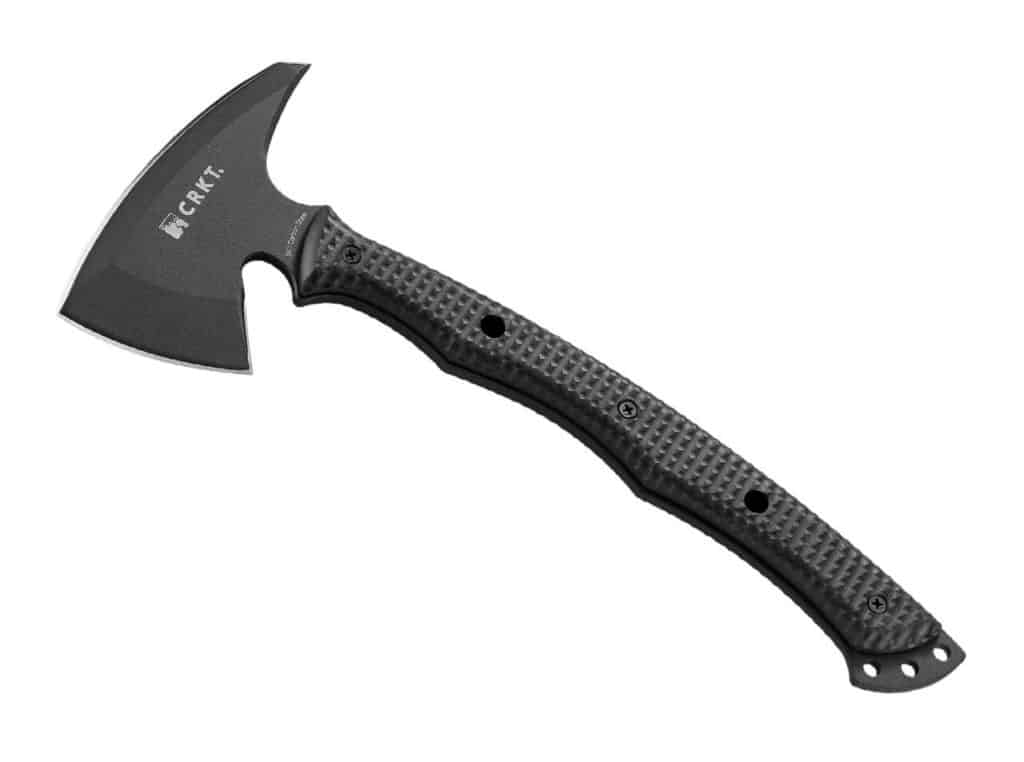 Identifying Features of Tomahawks 
From the early ages to the present days, tomahawk has undergone many changes, and you'll see many differences in various tomahawk brands. Below we have rounded up some distinct features that you'll find common in every brand. 
Design of the Head 
The head portion of a tomahawk is made pretty lightweight for extra convenience and weighs only 260 to 570 grams. There are 3 different designs of tomahawk head to serve multiple purposes, including – 
Single Blade 
Single-bladed tomahawks have a cutting edge at one side, only resembling the regular hatchets. 
Single with Spike 
This type of tomahawk has a sharp blade on one side and a pointed metal spike on the other side that serves for penetrative purposes. 
Double Head 
Here, the tomahawk features thin and sharp edges on both sides, resembling the regular double-sided axes. 
You can use the poll side for digging, breaching, or penetrating. The piercing spike is particularly useful in combats since both sides can be weaponized and used for striking more efficiently. 
In many brands, you will see small circles on the tomahawk head. These circles give the tool aesthetically pleasing looks and serve to make it more lightweight without discounting the performance efficiency. 
As the heads are easily detachable from the handle, you can carry the parts separately without concerning about storage. Moreover, if the handle is broken, you must separate the head and fix it with another handle to restart your work within minutes. 
The Cutting Edge 
The tomahawks feature a very sharp and tapered cutting edge for improved penetration. This bit is usually made from heavy-duty metal with stainless steel coating to prevent rust and corrosion. 
As the cutting edge is extremely narrow and has only a four-inch length, it faces less resistance while penetrating the wood. So, you can make deeper cuts without putting much force. Also, it easily sticks to the target in ax-throwing games. 
The Handle 
Handles of tomahawks are comparatively larger than hatchets but smaller than those of the typical axes. Usually, you will find tomahawks with a length of 19 to 21 inches. 
The handle is made from maple or hickory wood to make the tool strong and durable. You can create a forward motion more easily for precise hunting and throwing sports with long handles. 
Furthermore, tomahawk handles are suitable for two-hand use so that you can split woods quickly without facing the trouble of hand fatigue. The handle is the primary identifying factor of a tomahawk that gives the tool an upper hand over the hatchet in hunting and piercing. 
Size and Weight 
Typically, a tomahawk is longer than a hatchet but shorter than an ax. You can quickly identify a tomahawk among many other axes from the long handle size. 
Also, a tomahawk will weigh somewhere between 700g to 900g only. When you throw the ax or strike it on wood, the weight will distribute the force evenly, making it easier to complete the task. 
Here is my recommendations for the top 3 tomahawks:
One-Piece Forged Steel Design
Shock Reduction Grip
Heavy Duty Edge Sheath Included
Made in USA
420 Stainless Steel Hatchet Blade
Hammer Edge and Piercing Spike Poll
Lightweight at 19 Ounces
Glass Reinforced Nylon Grip
G10 Fiberglass Composite Handle
Full-Tang Design
Stainless Steel Construction
Hammer Poll and Prybar Features
What Is a Hatchet? 
Just like many other axes, a hatchet is a compact tool with a short handle and a heavy blade on the head. A small handle and a sharp, thick head is the key to identifying a hatchet. 
As the hatchet has a smaller size, you can easily carry it in your backpack while you go camping outside. The top-heavy design makes it suitable for splitting wood to make shelter, campfires, and other outdoor tasks.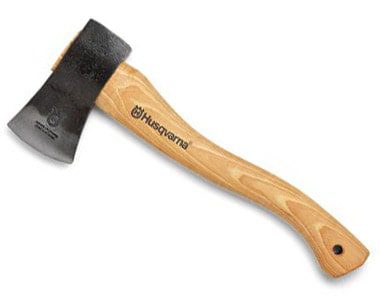 Identifying Features of Hatchets 
So, you already know the key features of a tomahawk. Now it's time to look at the identifying features of a hatchet so that you can easily differentiate between the two tools. Below are the common traits of a typical hatchet. 
Design of the Head 
Unlike the tomahawk head, the hatchet is much heavier to penetrate deeper into the wood logs. A hatchet head is made from strong and heavy metal with a proper anti-rust coating. In general, the head weighs from 560 grams to 800 grams. 
You can easily identify a hatchet from its heavyweight and sharp, wedge-shaped head design. In contrast to tomahawks, the hatchet is single-headed only and may or may not feature a hammer-head on its poll side. 
If it features a hammer-head, most of the hammer's weight is concentrated on the head, making it simpler to split hardwood and other rigid objects. Moreover, you can use the hammer-like head to insert nails, clear trails, create fire, and set up your tent for camping. 
The Cutting Edge 
Although the cutting edges of both hatchet and tomahawk are pretty similar, you can distinguish them by the size and thickness of the edge.  
A hatchet has a thicker cutting edge than a tomahawk so that the weight isn't evenly distributed and is focused only on the bit. The blade is 4 to 5inches long and less tapered. You'll also notice that the cutting bit has no circle like the ones of the tomahawk. 
The Handle 
Without a doubt, the handles are the unique feature of a hatchet. Usually, the handles are stout, heavy, curved, and short. If you see an ax, a tomahawk, and a hatchet together, you can instantly recognize a hatchet as the smallest one. 
The handle features a curve or multiple grooves for a firmer grip, making it perfect for heavy chopping and splitting. Another feature that makes a hatchet unique is the fact that you can't detach the head from its handle. 
The handle is made from high-density wood, steel, or fiberglass, which makes the hatchet extraordinarily reliable and long-lasting and makes up for the slight drawback of not having a detachable head. 
Size and Weight 
For its small and compact size, a hatchet is an ideal choice to carry for camping in distant locations. Between a hatchet and a tomahawk, the hatchet is the heavier one. 
Typical hatchets weigh from 500 to 1360 grams. You can use them for axe-throwing as the extra weight makes it easy to rotate and strike the target with a decent amount of force. 
Here are my recommendations for the best 3 hatchets:
Extremely Durable Design
Carbon Steel Head and Full-Tang Design
Shock Reduction Composite Handle
Lifetime Warranty
One-Piece Forged Steel Design
Available in Multiple Colors
Patented Shocked Reduction Grip
Made in USA
Anti-Friction Coating
Heat Treated Poll for Hammering Tent Pegs
Powerful Heavy Hatchet at 1.9 Pounds
Comfortable Non-Slip Grip
Conclusion 
So that was everything about the hatchet vs tomahawk differences. By following this write-up, you can specify the tools immediately. If you're still undecided about which one to pick, let us help you a bit. 
We recommend you use the curved, small-handled hatchet for splitting heavy wood, building shelter, hammering nails, and camping. 
Similarly, you can opt for the lightweight, large-handled tomahawk for hiking, axe-throwing, hunting, and dealing with light wood. Choose the right weapon and do some hunting, chopping, and camping to your heart's content.