The Fiskars Pro Isocore splitting maul is a beast of a maul which comes in two models – the 6-pound and the 8-pound one. Design-wise they're both the same, with 36-inch handles, but one has a lighter head than the other. The Fiskars Isocore maul has a patented shock-absorbing handle, which protects the user from the shocks and vibrations that are a common experience with other heavy mauls and splitting axes that can cause wear and tear to your wrist and arm joints. Read on for the full review!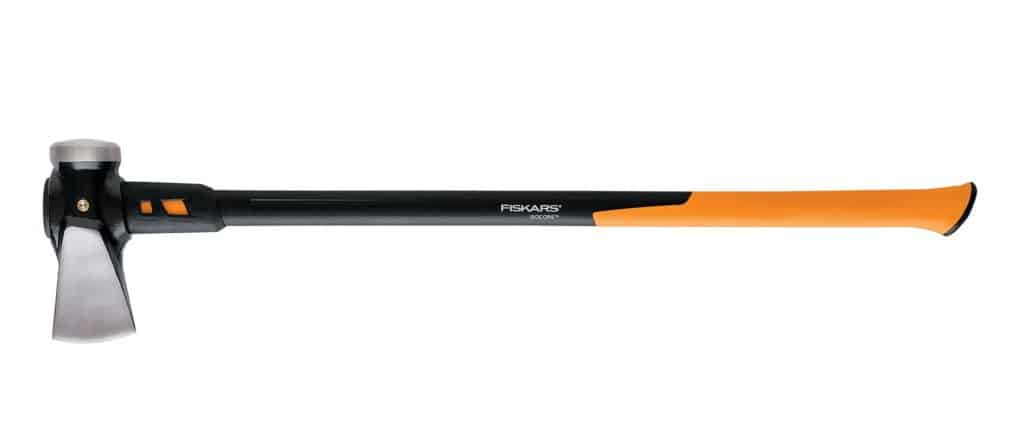 Fiskars Isocore maul features and specifications
Weight: 6 lbs / 8 lbs
Length: 36 inches
Isocore Shock Control handle technology (claim x2 less shock than wood handles)
Axehead geometry optimized for wood splitting tasks
Flat hammer face for driving wedges or striking with other tools
Axehead riveted to handle for extra durability and fixation
Heat-treated steel axehead treated with rust-resistant coating
Steel reinforcement sleeve to protect against overstrike damage
Flared handle end to help keep it in your grip
Full lifetime warranty
Full Review
For me, the best feature of the Fiskars Isocore splitting maul is undoubtedly the shock-reducing handle. Compared to the handle of my old maul, it is indeed less jarring to the whole upper body after splitting a decent amount of rounds and half-rounds with it and getting a few overstrikes here and there. The Fiskars handle is also smaller in diameter than wooden handles – because it's made out of a composite material, it is more durable than and doesn't need as much mass as wood handles to take the force of the axehead and each strike.
While other Fiskars axes have the axeheads enveloped in the mould of the handle, the Isocore splitting maul design goes the extra few yards and is also riveted to the handle for extra stability – not a joke when you're swinging an 8 or even 6-pound maul. The thinner handle is not so thin that it becomes awkward to hold – in fact, I felt it was quite a bit easier on my hands (probably also to do with the shock reduction feature). The handle also has an oblong shape instead of a simple round one – this is to prevent rolling in the hands.
A rubber over-mold covers the bottom third part of the handle. After using the Isocore maul I never get any blisters, which is always a good sign and tells me that Fiskars have put a lot of effort into the design and material choice.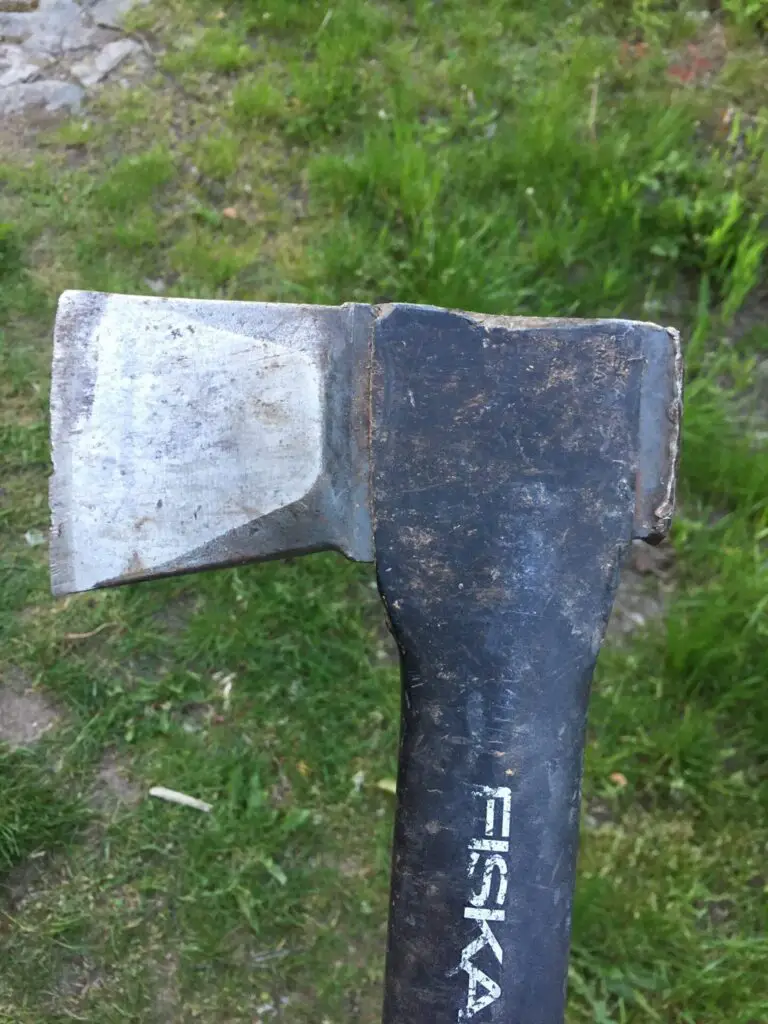 Isocore splitting maul axehead geometry
The axehead geometry is another design success – even though the edge has what looks like a hollow grind, instead of the fatter-cheeked convex shape that many splitting mauls do, the edge of the maul never got really stuck in any wood that I split. This makes me think that they've done a lot of testing to find the ideal balance between penetration and brute splitting force – it certainly does violently split wood. Some rounds and half-rounds practically exploded and flew apart when I struck them with the Fiskars Isocore maul. The back side of the head has a flat and wide hammer surface that is great for either driving wedges, stakes, and so on by itself, or for being struck by other tools to drive the cutting edge deeper in – often needed if you're trying to split large, knotty hardwood logs, for example.
Fiskars Isocore maul handle and value
Fiskars also added an extra over-molded segment below the head to protect against overstrikes (with a steel reinforcement sleeve beneath it for extra toughness).
The price of the Fiskars Isocore splitting maul is also a big positive – it is great value for the money, especially considering that it will save your joints a lot of stress and pain in the short and long term.
Now, the Fiskars Isocore splitting maul isn't a heirloom, hand-crafted maul axe like a Gransfors Bruks or Hults Bruk, but it is a very reliable workhorse that will take a lot of use and abuse before giving up on you (if it ever does). It is also cheap enough that you won't be afraid to damage it by using it, which is often something that you think about if you've paid $150-$200 for a high-end axe or splitting maul. The handle should hold up for longer than a wooden handle, while also being easier and more comfortable to use than a similar nylon or fiberglass handle on a cheaper axe that doesn't have the same amount of research and design put into it.
Overall, I highly recommend the Fiskars Isocore splitting maul for people that want to do serious, heavy splitting work on hardwoods, logs, and large rounds of wood, and especially for people whose hand and arm joints might be bothering them or who are concerned about their long-term health. If you're only going to be splitting smaller rounds of wood, then you might be better off with a smaller splitting axe, such as the Fiskars X27. Which brings me to my next point… 
Fiskars Isocore Maul vs X27
Fiskars produce both the Isocore splitting maul and the Fiskars X27 splitting axe, and the buyer can be forgiven for being unsure about which to choose. They both have 36-inch handles, however, that is where the similarities end. The Fiskars Isocore splitting maul has a much heavier axehead. It also has a hardened poll end or back side of the axehead that you can strike or use to drive in wedges. The Fiskars X27, on the other hand, doesn't, and attempts to strike the back of the axehead with a metal tool such as a hammer or use the backside of the axehead to drive in metal wedges will probably lead to deformation and breakage.
The Fiskars X27 is, as mentioned, lighter than the Isocore splitting maul – while the Isocore comes in two weight models, 8 lbs and 6 lbs, the X27 has only one model that comes in at just under 6 lbs – to be specific, at around 5.8 lbs. Finally, the Fiskars X27 has a different edge profile – it has a more convex shape, with wider or "fatter" cheeks for better splitting. The Isocore maul has a narrower grind, but the sheer force to the axehead is usually enough to keep it from getting stuck in the wood. For that, the Fiskars X27 axehead has a special non-stick coating to prevent it from getting stuck in the wood that you're splitting and also to make it easier to pull out if it does get stuck.
The Fiskars X27 will do for many tasks – splitting small logs and rounds of wood for firewood, but to split larger logs and rounds the Isocore maul will be a better choice overall. It's just a bit more versatile – you can use the poll side to drive splitting wedges, for example. Although it is heavier than the X27, that extra weight (if you can handle it, but again – there are 6-pound and 8-pound models to choose from) will give each swing that much more oomph and force the wood fibers apart with more explosiveness. This is especially important if you're going to be splitting tough American hardwoods. The X27 might be more suited to smaller hardwoods or softwoods, which don't need that much force to split them apart.
Whatever your choice, Fiskars axes are high-quality workhorses that come at a very reasonable price. Thanks for reading!
Check out the video below to see how the Fiskars Isocore maul compares to the X27 when splitting a big block of tough maple! That's the difference summed up in one short demonstration.