A table saw is an electric saw mounted to a benchtop for cutting joints and bevels.
A table saw is likely to be the best tool for the job when you need to make many straight cuts with complete accuracy. It allows you to quickly cut 2x4s or sheets of plywood with less effort than using a circular saw or a jigsaw. 
Table saws also take up more space. Before getting a table saw, you may want to know more about its main features, common uses, and top brands. 
Purpose
A table saw is most used for rips and crosscuts. However, a table saw is more versatile than it initially appears. 
Here are some of the most common uses for a table saw:
Crosscutting
Ripping
Cutting bevels
Cutting joints
A rip occurs when you cut with the wood grain while a crosscut involves cutting across the grain. Both cut types include straight lines with the blade sitting at a 90-degree angle compared to the cutting surface.
You can also adjust the angle of the blade. Tilting it to the left or right allows you to cut bevels. 
I find that it's easier to cut bevels for trim and molding with a table saw compared to a compound miter saw. You can quickly adjust the angle and cut bevels more consistently when working with multiple pieces. 
A table saw is also useful for carpentry because it can cut joints. You can easily cut rabbets, grooves, and other types of joints for making cabinets and furniture. 
Features and Design 
Table saws feature a circular saw blade connected to an arbor mounted to a table. Unlike most other types of saws, the table saw is stationary. You bring the material to the blade instead of bringing the blade to the material.
The stationary design of the table saw allows for greater accuracy and less effort when making rip cuts and crosscuts. Some of the main features of the typical table saw include:
Driver configuration
Rip capacity
Blade size
Angle range
Table saws either feature a direct-drive system or a belt-drive. Direct drive table saws use a motor linked directly to the blade while a belt drive system includes a belt. Using a belt drive table saw requires more maintenance but is quieter to operate.
The rip capacity is the space between the blade and the fence. A benchtop table saw may include a rip capacity of about two feet.
The typical blade size varies from eight inches to ten inches. A smaller blade produces less noise and waste but cannot cut as deep.
Some table saws allow you to tilt the blade to the left or right to cut a bevel. Depending on the table, you may be able to adjust the blade 45 degrees to the left or right. 
Types of Table Saws
Size is the main difference between the various types of table saws. Here are some of the most common choices:
Cabinet table saws
Compact table saws
Benchtop table saws
Jobsite table saws
A cabinet table saw is the standard table saw found in workshops and industrial sites. A cabinet table saw comes equipped with its own cabinet. You can get cabinet table saws with rails that measure over 50 inches, making them convenient for cutting long lengths of lumber. 
A compact table saw is a portable version of a cabinet table saw. However, they are bulky and may weigh between 60 and 100 pounds.
The benchtop table saw is my preferred choice for household projects. They are easier to transport or store when not needed.
Benchtop table saws are smaller compared to compact table saws, but still come mounted to a large base. Some designs also include stands.
You can also find a variety of table saws designed for specific scenarios. For example, if you need to use a table saw at remote sites, look for a jobsite table saw. A jobsite table saw is essentially a compact table saw mounted on a portable folding work table.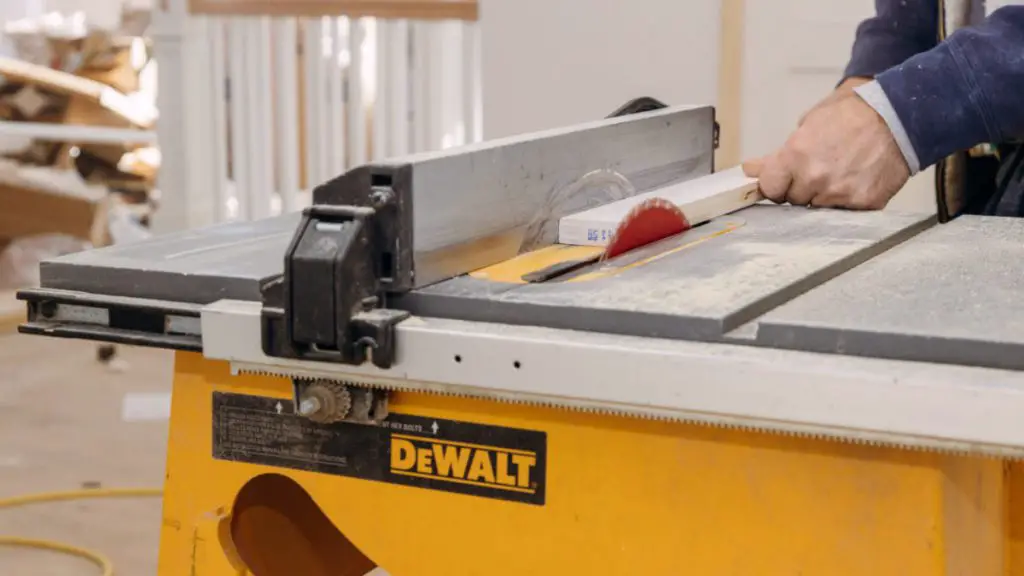 Table Saw Brands
Here are some of the most reliable brands of table saws currently available:
SawStop
Powermatic
ALPHA
DeWalt
The first three brands mostly produce cabinet table saws and compact table saws. DeWalt is one of the most trusted choices if you want a benchtop table saw.
What Is the Difference Between a Table Saw and a Circular Saw?
Circular saws are handheld tools while table saws are mounted. A table saw includes a circular blade, but the cutting area faces upward and cuts the material from underneath instead of cutting from above. As a table saw is stationary, it offers greater accuracy and cutting speed compared to using a circular saw.
Conclusion
You can use a table saw to cut boards and lumber of all sizes efficiently and precisely, depending on the size of your work area and table. Table saws also come in a variety of sizes. 
Consider getting a benchtop version if you want a table saw for completing projects around the house. Benchtop table saws take up less space compared to other designs but can still complete large tasks.