A hand axe is a small, versatile tool that helps cut firewood, prepare kindling, and perform other camp tasks. They are significantly smaller and lighter than standard axes with a sharp head that is dangerous if not used with care.
Read on to learn what hand axes are and how to use them. 
Purpose
Hand axes are originally prehistoric stone tools. You might be surprised to know that it is one of the oldest tools in human history. The hand axe was usually made from chert or flint and has been shaped from a large piece of stone by hitting or knapping against another stone. Experts believe this tool was made around 1.6 million years ago and used by the homo erectus. Archaeologists discovered parts of hand axes on animals' bodies found in excavations. This shows that the hand axe was the common tool for butchering in the older days. 
Hand axes are extremely versatile. They have a short handle, making them maneuverable and suitable for a wide range of tasks. The primary purpose is to cut wood, whether it is kindling, limbing branches, pruning trees, felling small trees, or splitting firewood. You can also use a hand axe for hunting, skinning small game, and carving. Some people use hand axes to dig the soil, cut roots, or hammer in camping stakes.
Some of the common purposes of hand axe are:
Splitting firewood
Preparing kindling
Limbing branches
Pruning trees
Carving
Skinning small game
Hunting
Felling small trees
Camp tasks
You will often hear of a hand axe called a bushcraft axe, camp axe, or hatchet. These are all different names for similar axe designs.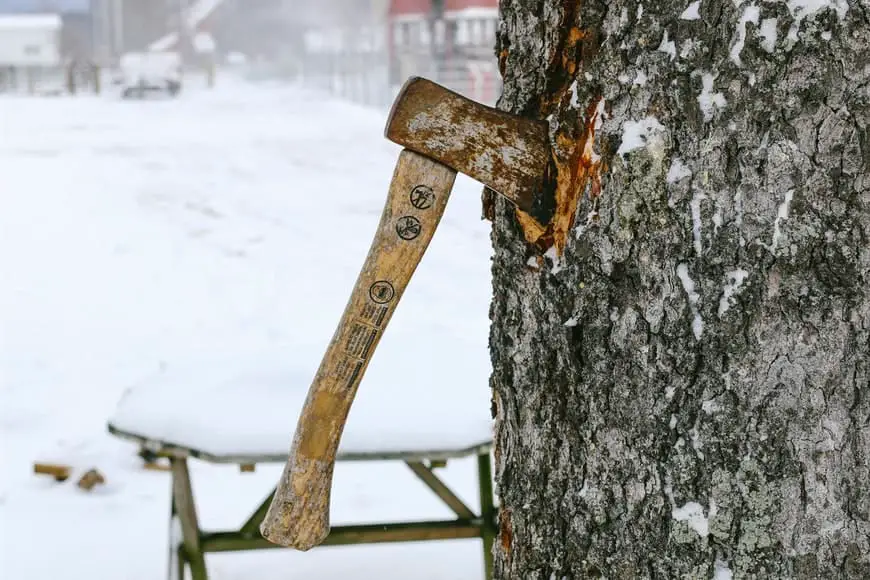 Design and Features
Hand axes are typically made with a handle made from wood like American hickory or modern composite fiberglass. They have a 20 to 24 inch total length that makes them easy to swing in tight spaces or for pressing when carving. Having a short handle also allows hand axes to be packed or tied onto your backpack when hiking and camping.
They are also much lighter than heavy felling and splitting axes. Hand axes are usually between 1 and 2 pounds. This is light enough that you can transport it easily but still has a large enough head to fell trees that a knife could never do.
There are many different axe head shapes for a hand axe depending on your needs. If you are skinning small game, then you will want a pointed heel or toe to help get started. If you are carving, then having a curved blade is more useful.
A summary of the key design features of a hand axe includes:
Weight: 1 to 2 pounds
Length: 20 to 24 inches
Handle Material: Wood or Fiberglass
Modern Brands
Manufacturing companies' cutting-edge technology and high-tech machinery allow them to offer top-notch products that last for many years. This means you can invest in a durable axe just once and reap its benefits for decades to come. This way, you can avoid the hassle of replacing or repairing your hand axe every couple of years, as long as you maintain it properly. 
Not only have this, but modern brands have incorporated features that make it easier to use a hand axe. Nowadays, you can find hand axes with colorful designs, different sizes, various shaped blades, and styles. This allows you to choose a product based on your needs and preferences.
Here are a few brands you can trust to purchase a quality product.
Coleman
Szco
Estwing
Fiskars
Gransfors Bruks
| | | | |
| --- | --- | --- | --- |
| Editor's Choice | Best Overall | Best Steel Built | Best Value for Money |
| Product | Fiskars X7 Hatchet | Estwing Campers Axe | Husqvarna Composite Hatchet |
| Preview | | | |
| Weight | 1.4 pounds | 2.0 pounds | 1.9 pounds |
| Total Length | 12.5 inches | 14 inches | 13.5 inches |
| Handle | Shock Absorbing Composite | Steel with Shock Resistant Grip | Composite |
| More Info | Check Latest Price | Check Latest Price | Check Latest Price |
Frequently Asked Questions 
What is the Difference Between Hatchet and Hand Axe?
Hatchets and hand axes are effectively the same tools. These are different names for similar tools. They are both small axes that can be applied to various axe styles and designs.
How Heavy is a Hand Axe?
It depends on your chosen product, but generally, a hand axe weighs around 1 to 2 lb. They also have a handle length of around 20 to 26 inches. 
Conclusion
A hand axe is an effective tool used to cut wood. While it is one of the oldest tools in human history, it is still relevant today and is perfect to use while camping due to its versatility.