A bushcraft knife is a versatile tool used when camping for everything from food preparation, cutting kindling, carving wood, and skinning small game. They generally have a 4 to 12-inch blade and a durable handle for outdoor use.
The bushcraft knife has been around for many years and has evolved. In the early days, it was used to cut through wood and other tasks such as skinning animals. Nowadays, it is used mainly for cutting wood and carving; however, some bushcraft knives have saw teeth on their blades which can be helpful when working with smaller branches or logs.
I have used numerous different types or styles of bushcraft knives over my career and have learned a lot about their strengths in weaknesses. In this article, I will answer some of the most common questions about choosing a bushcraft knife and how to maintain it.
What is a Bushcraft Knife?
A bushcraft knife is a type of knife that is typically used for survival purposes. This type of knife is used primarily in wilderness situations since it can be used for various tasks such as chopping, cutting, and slicing.
This type of knife has a longer blade than other knives, and it has a serrated edge on one side to make sawing through wood easier. Bushcraft knives are usually made with carbon steel or stainless steel blades.
Bushcraft knives are designed to cut and carve in the wilderness. They are usually equipped with a blade about 4-6 inches long and a handle that is generally 5-6 inches long.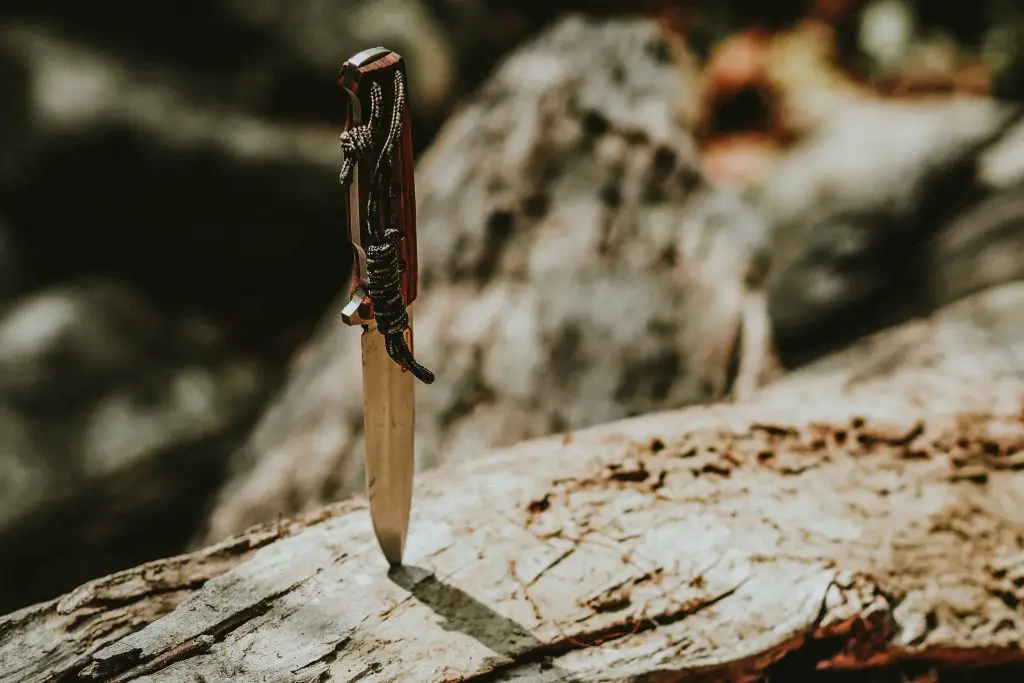 What Makes a Good Bushcraft Knife?
A good bushcraft knife can be used in a variety of situations. It should be able to handle tasks like chopping, slicing, carving, and whittling. It should also have a blade that is easy to sharpen and maintain.
The best bushcraft knives are made from carbon steel blades with a full tang design. The blade should be at least four inches long and have a drop point tip for maximum versatility in the field.
I have put my recommendations of the top 3 bushcraft knives here:
| | | | |
| --- | --- | --- | --- |
| Editor's Choice | Best Overall | Best Carving Knife | Best Wood Handle Knife |
| Product | KA-BAR Marine Corps Knife | Morakniv Fixed Blade Knife | Condor Bushlore Knife |
| Preview | | | |
| Weight | 11.2 ounces | 4.1 ounces | 7.0 ounces |
| Blade Length | 7 inches | 4.1 inches | 4.25 inches |
| Handle | Stacked Leather | High Friction Grip | Walnut Wood |
| More Info | Check Latest Price | Check Latest Price | Check Latest Price |
Length
A bushcraft knife is a special type of knife designed for use in wilderness survival. It has a blade that is usually between 4 and 12 inches long. This length ensures that the edge will be able to handle most jobs without being too heavy or bulky to carry around.
The blade should have a straight edge, which makes it easier to sharpen and less likely to get damaged.
Thickness
A bushcraft knife should be thick enough to do the job but not too thick that it is difficult to carry.
For a bushcraft knife to be practical, it needs to have just right thickness. A blade that is too thick will make it difficult for the user to carry and use, but one that is too thin may not cut through materials as effectively.
It depends on the work you will be doing. I prefer a 3/32″ thin knife for fine wood carving and a 5/32″ thick knife for more heavy-duty tasks such as firewood prep.
The thickness of a bushcraft knife is the width of the blade. This is an important measurement to take into consideration when purchasing a knife.
A thicker blade can be used for heavier tasks such as splitting logs and chopping wood. In contrast, a thinner blade can be used for more delicate tasks such as carving or whittling.
Carbon vs. Stainless Steel
Carbon steel is a metal that is often used for bushcraft knives. It is easy to sharpen, and it has a high carbon content. The downside of this metal is that it can rust and corrode quickly. On the other hand, stainless steel has a lower carbon content than carbon steel and will not corrode or rust as soon as the latter. However, stainless steel does not sharpen as well as carbon steel does.
I have both carbon steel and stainless steel knives, and I like both.
Handle
The handle should be made of durable wood or plastic and have some type of guard to keep your hand from sliding onto the blade accidentally. This will ensure that you can hold the knife firmly and it won't slip out of your hand while you are using it.
Some people prefer to use a rubber handle because it is easier to grip, but this type of handle may not be as durable.
How Sharp?
I feel that a knife should be as sharp as possible. This means that all tasks require less effort, and you are less likely to injure yourself because you will be applying less pressure. A bushcraft knife, mainly used for food preparation or carving, should be sharp enough to shave with – run the blade along your forearm to see if it can take the hair off your arm.
Do You Need a Bushcraft Knife?
A bushcraft knife can be used for a variety of tasks, such as preparing food and building shelter. In my opinion, the answer to this question is always yes. You can get by with just a bushcraft axe, but you need to be experienced enough to do all survival tasks, including hunting, skinning, food preparation, and preparing firewood. My general rule is to have both a survival knife and a hatchet, but a knife is essential if I had to choose.
It should always be carried in the outdoors or when going on trips into the woods or wilderness.
How to Clean a Bushcraft Knife?
Cleaning a bushcraft knife is an integral part of knife maintenance. A dirty bushcraft knife can be less effective and can also harbor bacteria. Dirt, dust, and debris can get caught in the blade requiring more attention to clean.
There are many ways to clean a bushcraft knife, but it is best to use a specialized cleaner that will not damage the blade or handle. A good quality oil should also be used to lubricate the blade.
A good way of cleaning your bushcraft knives is by using boiling water or dishwasher detergent in order to remove any dirt or debris from the blades and handle. You could also use an old toothbrush with some dishwasher detergent for stubborn dirt that is difficult to remove with water alone.
I have written this article about how to remove sap from an axe blade which might be useful if you are using your knife for firewood preparation.
How to Sharpen a Bushcraft Knife?
There are many methods to sharpen a bushcraft knife, but they all have one thing in common: they require patience and time.
Here are some steps on how to sharpen a bushcraft knife:
First, you need to get your hands on the right equipment for sharpening your blade. There are many different whetstones, diamond stones and ceramic rods that can be used for this task.
Second, you need to know what type of blade you want for your bushcraft knife. Is it serrated or straight? A serrated blade is much more difficult to sharpen and requires more time.
I recommend the following grit honing stones – pick the lowest grit depending on your knife condition and work your way up:
Blunt or damaged knife – 200 grit
Dull blade – 500 grit
General Honing – 1000 grit
Fine Polishing – 4000 grit
Razor Sharp – 12000 grit
Bushcraft Knife vs Hatchet
A knife is the best tool for bushcraft because it can be used for both cutting and chopping. It is also more versatile than a hatchet. A hatchet is better for chopping wood and can be used to make kindling, but it cannot cut with the same precision as a knife.
I view a knife as essential, and a hatchet is handy but optional for bushcraft. A knife is simply more versatile, especially when it comes to the tasks that will keep you alive – hunting and food preparation. You can always clumsily use a knife to prepare firewood, but unless you are very experienced, a hatchet is more challenging to use for food prep.
Bushcraft Knife vs. Survival Knife
I use the terms bushcraft knife and survival knife interchangeably; however, there can be some differences. A bushcraft knife is generally shorter, around 4-6 inches, and is primarily used for wood carving, while a survival knife is longer, around 6-12 inches, and is used for hunting.
Conclusion
In conclusion, bushcraft knives are an excellent tool for survivalists and people who like to spend time outdoors. They have been around for a long time, and their popularity is unlikely to decrease in the future. If you have any suggestions to improve this article, I would love to hear them.