Bow saws are metal-framed crosscut saws that can cut through thicker wood due to the distance between the blade and the handle.
Even if you don't understand bow saws, you've probably seen them at least once in your life. They are a common tool used by carpenters and woodworkers. Though technological advancement has offered several alternatives, many people still use bow saws because of their portability and ease of use.
Read the article further to understand what is bow saw and why anyone would use it. 
Purpose
A bow saw gets its name due to having a shape of a bow. It is a metal-framed crosscut saw with a coarse wide blade. The blade is attached at both ends to the bow or handle. This provides a large gap between the blade and the handle so that it can cut through very wide wood or deeper into planks.
The bow saw is also known as Finn saw, Swede saw, or bucksaw.
Bow saws are primarily used to:
Pruning small to medium size branches
Woodworking
Maintaining trees
As it is a multi-purpose tool, gardeners, carpenters, and artists use it for specific purposes. People who love to do DIY projects also require them for different wooden home projects. These tools are small, lightweight, and easy to use. Therefore, anyone with a bit of an understanding of woodworking can use them. Of course, it might take some time before you can cut wood with a professional finish.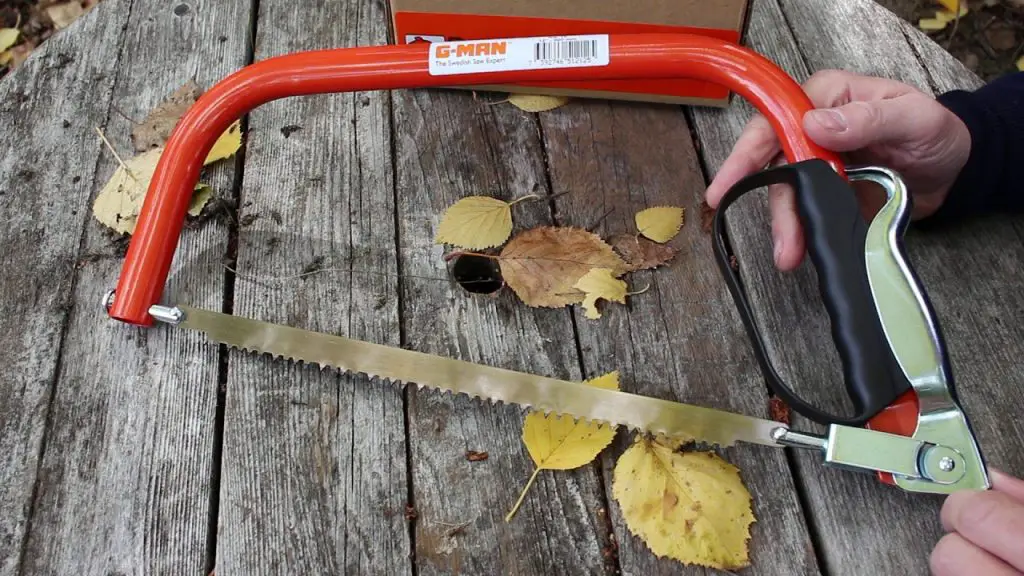 Design and Features
A bow saw is a simple tool with only two parts – the blade and the handle. This makes them super easy to maneuver while cutting or pruning a branch. They are best suited for branches that are not more than six inches in diameter.
Here are some features of a bow saw.
Portable
Replaceable blade
Wide range of cutting tasks
Thin cutting profile
Lightweight
While it doesn't require any expertise and training, it has some drawbacks. A bow saw can easily break when you use it excessively or cut at an angle. As a wide tool, it has limited cutting depth. As you can't use it to prune or cut branches in tight spaces, consider its purpose before purchasing it.
Modern Brands
Bow saws are quite popular and used for regular tasks like maintaining gardens. Over time, manufacturers have upgraded bow saws to meet users' requirements. The newly updated bow saws come with no-slip handles so you can quickly move your hands to cut the wood. Many brands offer multiple blades that you can fix in the tool based on your project. 
You can also find saws with adjustable blade features, allowing you to change the size of the blade based on your needs. Based on the product you've purchased, you may get a cover to store it away safely. 
Besides all these unique properties, you can also get a tool with different sizes, colors, and shapes. Most importantly, each bow saw varies in price. So, prepare a budget before you decide to purchase a bow saw. 
Here are a few brands that produce quality tools. 
Bacho
Hooyman
Truper
AB Tools 
Coghlan's 
Craftsman
These modern brands offer different types of tools, including bow saws. Check out these brands to choose a product that suits your needs.  
Frequently Asked Questions 
Is a Hand Saw the same as a Bow Saw?
Bow saws are a type of hand saw. Bow saws are designed to cut deep into wood using the wide gap between the blade and the handle. Most hand saws usually cut thin wood but don't have a limit to the depth they can cut. Another major difference between them is shape. The hand saw has a large handle attached to a big blade. A bow saw, on the other hand, has a bow shape. Hand saws help you make cross cuts, while bow saws help to cut thicker and more challenging logs. 
What is the Benefit of a Bow Saw over a Coping Saw?
Coping saws are not as practical as bow saws. To be precise, you can perform several cutting tasks from a bow saw, while coping saws work best to cut hard-to-reach areas.