Husqvarna manufacture a wide range of axes, from full-size felling axes to small hatchets and everything in between. They have a combination of wooden and fiberglass handles that offer very different performance and durability, so it can be difficult to make a choice between all of their products.
In this article, I have tested all of their axes and hopefully can give you some insights that will help make your buying decision.
Who Are Husqvarna?
Husqvarna are a huge manufacturer of products from axes to chainsaws and all kinds of outdoor tools. Incredibly, they were formed in 1689 as a rifle factory using hydropower from a waterfall at Huskvarna in Sweden. From that beginning, they have evolved dozens of times and added to their product range through innovation and technology, recently announcing robotic lawnmowers.
Husqvarna Axe Range
Let's have a look at each of Husqvarna's axes and their key specifications and purpose:
| | | | | |
| --- | --- | --- | --- | --- |
| Husqvarna Axes | Purpose | Length | Weight | Handle Material |
| Multi-Purpose Axe | Felling small trees, limbing branches, clearing brush | 26 inch | 1.8 lbs | Wood |
| Splitting Axe | Splitting firewood | 30 inch | 3.3 lbs | Wood |
| Hatchet | Splitting firewood, camping, backpacking, gardening | 13 inch | 1.5 lbs | Wood |
| Universal Axe | Debarking and limbing branches | 24 inch | 2.7 lbs | Ash |
| Carpenter's Axe | Carpentry and woodwork | 20 inch | 2.2 lbs | Wood |
| S2800 Splitting Axe | Splitting firewood | 27.5 inch | 6.1 lbs | Fiber-reinforced polyamide  |
1. Multi-Purpose Axe
The multi-purpose axe is your traditional forest axe and the most popular made by Husqvarna. It is 26 inches in length and only weighs 1.8 pounds. This is very lightweight and makes it well-suited for a camping axe. It is long enough that you can generate a moderate amount of power but doesn't have the weight to split large logs or fell large trees. It is best suited for clearing brush and limbing branches rather and shouldn't be compared to a full-size felling axe.
This solidly made, value-for-money axe is very versatile without having the performance or cost of a premium Gransfors Bruks alternative. If you are looking for a backpacking or camping axe at the cheaper end of the market, then give the Husqvarna multipurpose axe a try.
Purpose – Felling small trees, limbing branches, clearing brush
Length – 26 inches
Weight – 1.8 pounds
Material – Wooden Handle

2. Splitting Axe
The Husqvarna splitting axe comes in several varieties, but I will focus on the 30-inch wooden-handled axe. You can get this head on a 20-inch hatchet handle if you are looking for a more lightweight and compact alternative for camping or backpacking. The larger option
Personally, I'm not particularly impressed with the quality of the handle. You can generate a huge force when you have a long handle with a heavy head. I fear that a few misstrikes and hitting the handle against your wood round could break the entire handle. This hasn't happened to me yet, but I certainly never get this feeling when splitting wood with my Hults Bruk splitting axe.
You can see from the photo below that the axe head has a wide bit profile and can force the fibers apart, splitting the wood in fewer strikes. For the price tag, I would pay a bit more for a more premium brand, especially if you will be processing all of your firewood needs every year.
Purpose – Splitting firewood
Length – 30 inches
Weight – 3.3 pounds
Material – Wooden handle
3. Hatchet
The Husqvarna hatchet is a great option for camping or backpacking. It has a short handle of only 13 inches and weighs under 2 pounds. You can easily tie this onto your backpack through a leather loop through a hole in the handle.
It comes with a leather edge cover, which is always beneficial to keep your axe sharp and avoid damaging your other tools if you don't store it securely.
This is a relatively low-cost option and well constructed with a wood and steel wedge securing the head to the handle. I would have no problem recommending this hatchet if you are going to be heading into the wilderness. The problems I have mentioned about handle quality in the larger axes isn't relevant in this hatchet because you cannot generate enough power to risk breaking the handle.
Purpose – Splitting firewood, camping, backpacking, gardening
Length – 13 inches
Weight – 1.5 pounds
Material – Wooden handle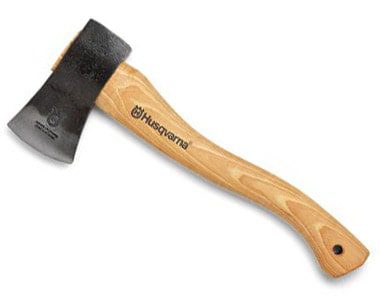 4. Universal Axe
Next on the list is the Husqvarna Universal Axe. This is a versatile axe that comes with a 24-inch ash handle with a hardened, forged steel head. It has a wide cutting edge that is well-suited for limbing branches and debarking logs.
The top part of the handle has been painted orange to improve its visibility, but I think it is purely for aesthetic reasons. It comes with an edge cover made from a textile material, so you can throw it in the back of your truck without damaging the bit.
The handle also has a comfortable curve to the belly and a fawn foot toe that I liked using.
Purpose – Debarking and limbing branches
Length – 24 inches
Weight – 2.7 pounds
Material – Hardened, forged steel with an ash handle
5. Carpenter's Axe
If you are a carpenter or a keen woodworker, you may be interested in the Husqvarna Carpenter's axe.
The hole in the handle allows you to attach a leather thong to attach it to your tool belt or store it hanging up. The recessed head (also called a bearded axe) allows you to get your hands much higher up the handle and apply pressure directly behind the edge. This is particularly useful for carving or planing tasks.
It also has a leather edge cover which is particularly important for professionals to avoid needing to resharpen your axe after every journey in your truck as it bounces around. The head is securely attached with both a wood and steel wedge.
Purpose – Carpentry and woodworking
Length – 20 inches
Weight – 2.2 pounds
Material – Wooden handle

6. S2800 Splitting Axe
Last on the list is one of Husqvarna's composite polymer-handled splitting axes. This is surprisingly heavy. At over 6 pounds it is heavier than most splitting mauls but with only a 27-inch handle. You can generate a huge amount of force and can split even the hardest firewood rounds.
The handle has been described as almost indestructible, and I would probably believe it. It feels very comfortable when wielding it, and the thick and reinforced neck of the handle can withstand all kinds of battering and misstrikes. The handle protector is made from stainless steel, so don't worry about corrosion over time.
The axe head is coated in a non-stick coating and the profile is thicker to be able to force fibers apart more easily and remove the axe after every strike. The head is also hardened with a flat pole, so you can use it as a splitting wedge by hammering the back end.
Purpose – Splitting axes
Length – 27.5 inches
Weight – 6.1 pounds
Material – Fiber-reinforced polyamide handle